Researchers Create New Micro Device That Could Boost Infertility Treatments
Australian researchers from the University of Adelaide and the medical technology company, Fertilis, have created a new micro device that has the potential to increase the availability and the success of male infertility treatment ICSI.ICSI or Intracytoplasmic Sperm Injection is a slow and difficult fertility procedure that involves injecting a single sperm into an egg to achieve fertilisation and is often utilised by fertility doctors to treat infertility in men, particularly those with very low or nonexistent sperm counts. Lead researcher Kylie Dunning from the Adelaide University's Robinson Research Institute said in an email to The Epoch Times that ICSI can only be performed by experienced embryologists. Embryologists are scientists that retrieve and develop the embryos used in fertility treatments. "Successful fertilisation following ICSI is dependent on how many times the embryologist has performed the procedure before," Dunning said. "Our new device removes the need for the holding pipette and holds up to 10 eggs in segregated positions for quicker injection, making it easier for embryologists to track and avoid the risk of errors." She said that the new device would improve the accessibility of ICSS by eliminating the need for the well-trained staff and quality operating conditions that some IVF laboratories lack. The device will also cut treatment time in half and will allow embryologists with less training to perform the procedure with less expensive equipment, opening up ICSS to more patients. An embryologist shows an Ovocyte after it was inseminated in Virginia, the United States, on June 12, 2019. (Ivan CouronneI/AFP/Getty Images) How the Device Improves ICSI "A problem with the current ICSI technique is separating injected and uninjected eggs during the procedure," device inventor and Fertilis co-founder, Prof. Jeremy Thompson, said in an email to The Epoch Times. Thompson said that ICSI requires a "holding pipette"—a thin glass tube that has been manufactured with a rounded bevel on the end to perform as the egg's "seat." The embryologists will then apply a little suction to the pipette allowing it to hold the egg in position during the injection process, which is carried out by a horizontally aligned "injection pipette." "The holding pipette position is controlled with equipment called a micromanipulator, which uses hydraulics to orientate the holding pipette in the microscope's field of view." "However, there can only be one micromanipulator-controlled holding pipette in use," Thompson said. "So, when an egg is sucked onto the holding pipette then injected, you need to release that egg from the holding pipette before sucking the next uninjected egg." He said that to stop the injected eggs from mixing with eggs that have not been injected, which is a known risk, embryologists must keep them separate. "You certainly don't want eggs being injected twice, or not at all, as both events end with no viable embryo," he said. "Our system segregates the eggs into their own identifiable position before the injection is even initiated, eliminating that risk." Embryologist Ric Ross holds a dish with human embryos at the La Jolla IVF Clinic February 28, 2007 in La Jolla, California. (Sandy Huffaker/Getty Images) Two Types of Male Infertility Thompson said that male fertility treatments fall into two groups. "1) Treatments that aim to improve the quality and density of sperm," he said. "These include men taking oral antioxidants (such as 'Menevit'), making lifestyle changes, such as changing diet and quitting smoking." "2) Performing assisted reproductive technologies, such as Intracytoplasmic sperm injection (ICSI), especially for men with very low (to no) sperm counts in their ejaculate." He said that before ICSI's development, 30 years ago, several other techniques were investigated within the IVF laboratory. He said that the aim of these investigations was to achieve successful "fertilisation and embryo development with limited sperm numbers or compromised sperm quality in the ejaculate." "But when the serendipitous discovery of ICSI was published in 1992, it all changed as the direct injection of a sperm into an egg consistently provides a 70-80% fertilisation rate," Thompson said. A 70 to 80 percent rate is the same fertilisation rate that is achieved when IVF is performed with a "high-quality ejaculated sperm sample." "So ICSI changed everything for IVF clinics, but even so, it hasn't changed in the way it is conducted ever since." "Continued innovation in the IVF lab like this is the only way we will boost success and reduce the financial and emotional burden for patients," Thompson said in the release. What Does This Mean For Those Seeking Fertilty Treatments Global clinical trials of the device will begin in 2022. If the device is determined safe and effective, it will not only assist men struggling with infertility but will also improve female fertility procedures such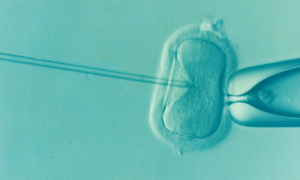 Australian researchers from the University of Adelaide and the medical technology company, Fertilis, have created a new micro device that has the potential to increase the availability and the success of male infertility treatment ICSI.
ICSI or Intracytoplasmic Sperm Injection is a slow and difficult fertility procedure that involves injecting a single sperm into an egg to achieve fertilisation and is often utilised by fertility doctors to treat infertility in men, particularly those with very low or nonexistent sperm counts.
Lead researcher Kylie Dunning from the Adelaide University's Robinson Research Institute said in an email to The Epoch Times that ICSI can only be performed by experienced embryologists. Embryologists are scientists that retrieve and develop the embryos used in fertility treatments.
"Successful fertilisation following ICSI is dependent on how many times the embryologist has performed the procedure before," Dunning said.
"Our new device removes the need for the holding pipette and holds up to 10 eggs in segregated positions for quicker injection, making it easier for embryologists to track and avoid the risk of errors."
She said that the new device would improve the accessibility of ICSS by eliminating the need for the well-trained staff and quality operating conditions that some IVF laboratories lack. The device will also cut treatment time in half and will allow embryologists with less training to perform the procedure with less expensive equipment, opening up ICSS to more patients.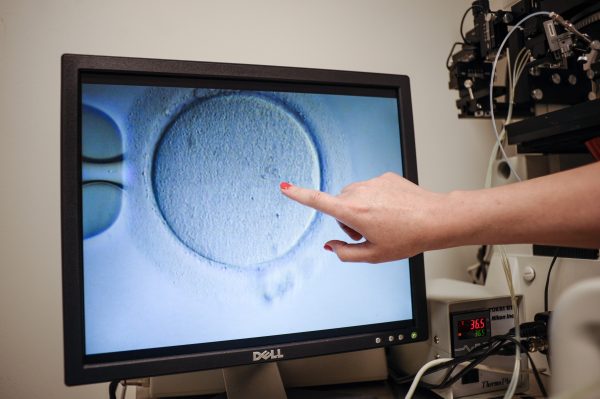 How the Device Improves ICSI
"A problem with the current ICSI technique is separating injected and uninjected eggs during the procedure," device inventor and Fertilis co-founder, Prof. Jeremy Thompson, said in an email to The Epoch Times.
Thompson said that ICSI requires a "holding pipette"—a thin glass tube that has been manufactured with a rounded bevel on the end to perform as the egg's "seat." The embryologists will then apply a little suction to the pipette allowing it to hold the egg in position during the injection process, which is carried out by a horizontally aligned "injection pipette."
"The holding pipette position is controlled with equipment called a micromanipulator, which uses hydraulics to orientate the holding pipette in the microscope's field of view."
"However, there can only be one micromanipulator-controlled holding pipette in use," Thompson said. "So, when an egg is sucked onto the holding pipette then injected, you need to release that egg from the holding pipette before sucking the next uninjected egg."
He said that to stop the injected eggs from mixing with eggs that have not been injected, which is a known risk, embryologists must keep them separate.
"You certainly don't want eggs being injected twice, or not at all, as both events end with no viable embryo," he said. "Our system segregates the eggs into their own identifiable position before the injection is even initiated, eliminating that risk."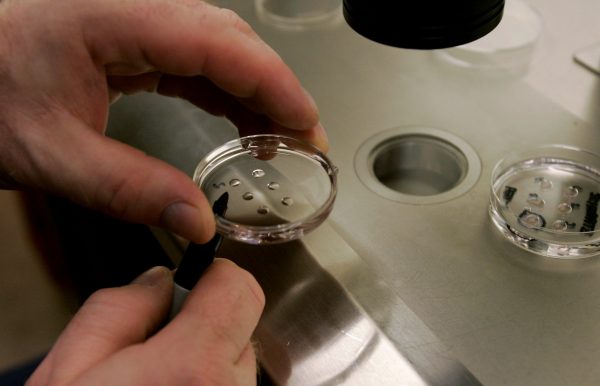 Two Types of Male Infertility
Thompson said that male fertility treatments fall into two groups.
"1) Treatments that aim to improve the quality and density of sperm," he said. "These include men taking oral antioxidants (such as 'Menevit'), making lifestyle changes, such as changing diet and quitting smoking."
"2) Performing assisted reproductive technologies, such as Intracytoplasmic sperm injection (ICSI), especially for men with very low (to no) sperm counts in their ejaculate."
He said that before ICSI's development, 30 years ago, several other techniques were investigated within the IVF laboratory.
He said that the aim of these investigations was to achieve successful "fertilisation and embryo development with limited sperm numbers or compromised sperm quality in the ejaculate."
"But when the serendipitous discovery of ICSI was published in 1992, it all changed as the direct injection of a sperm into an egg consistently provides a 70-80% fertilisation rate," Thompson said. A 70 to 80 percent rate is the same fertilisation rate that is achieved when IVF is performed with a "high-quality ejaculated sperm sample."
"So ICSI changed everything for IVF clinics, but even so, it hasn't changed in the way it is conducted ever since."
"Continued innovation in the IVF lab like this is the only way we will boost success and reduce the financial and emotional burden for patients," Thompson said in the release.
What Does This Mean For Those Seeking Fertilty Treatments
Global clinical trials of the device will begin in 2022. If the device is determined safe and effective, it will not only assist men struggling with infertility but will also improve female fertility procedures such as embryo culture, embryo cryopreservation and in vitro maturation, as well as decrease the cost of ICIS.
Dunning said that the cost of ICSI varies from company to company.
"But you also need to consider that a reduction in the number of cycles it takes for a patient to have a baby will be a huge saving to the family also," she said.
"Our novel device simplifies the procedure, and thus we expect, will improve success resulting in a baby in fewer cycles."
"The company commercialising the device (Fertilis) claims that that the microdevice is less expensive than the current equipment used for ICSI globally."
Dunning said in a University of Adelaide media release that this device is an important breakthrough for the families that are struggling to have the baby they want because of male infertility.
"This discovery removes significant barriers to treatment for people with infertility and will improve IVF success," she said.
Paul Flynn, Chief Executive Officer of the Hospital Research Foundation Group, a group whose support made the development possible, said that the organisation has been proud to support Dunning's research to improve IVF.
"This device is set to be a game changer for thousands of hopeful parents who need to rely on ICSI," Flynn said.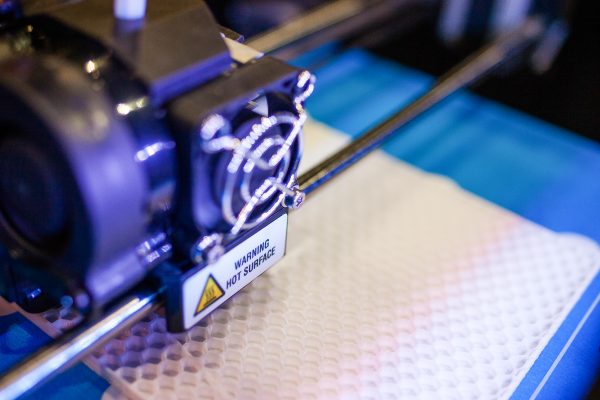 Making the Micro Device
Thompson said that the tiny device is measured in micrometres.
"We wanted to effectively build a 'box' for an egg (which is 0.1 mm (100 micrometres) in diameter) and have features that are resolvable to 1 micrometre."
He said that the team achieves this design using a piece of technology called "2-photon polymerisation 3-D printing."
"Everyday 3-D printing uses molten plastic that is injected through a nozzle like ink printers. The 3-D dimensionality comes from building layer upon layer as the plastic rapidly hardens once deposited."
Thompson said that the printer's resolution is controlled by the size of the nozzle's opening. He said that 2-photon polymerisation 3-D printing uses laser light that is focused by a microscope lens as a nozzle, allowing for "resolution of the printer at around 0.2 micrometres".
"In our case, the plastic starts as a liquid, but then instantly hardened by the highly focussed laser light, so in a reverse process, we "build" our device."
The research behind the development of the new micro device was published in the Journal of Assisted Reproduction and Genetics. The primary author of the paper, Suliman Yagoub, is a PhD candidate at Adelaide University's School of Biomedicine.