Republicans Are Right to Be Alarmed
Commentary China's nuclear arsenal is getting more powerful. On Feb. 7, the public learned from U.S. Strategic Command that the number of China's land-based intercontinental ballistic missile launchers exceed those of the United States. Lawmakers in Washington raised the launchers as a "wake-up call." "We have no time to waste in adjusting our nuclear force posture to deter both Russia and China," several Republicans said in a joint statement. "This will have to mean higher numbers and new capabilities." The U.S. military is already modernizing its nuclear forces, but the discovery of China's production speed will quicken the pace. Another factor in U.S. nuclear modernization is Russia's violation of the New START Treaty of 2011. Russia has refused to fully honor the treaty's inspection requirements, making it unverifiable. China refuses to join the treaty altogether, claiming it has a smaller number of nuclear weapons than either the United States or Russia. According to the Pentagon, the People's Liberation Army (PLA) had over 400 nuclear warheads in 2021, trending toward 1,500 by 2035. However, this number is hard to verify, and there are suspicions that the PLA has many more. Paul Dibb, an emeritus professor of strategic studies at the Australian National University, claims China has 2,000 shorter-range nuclear missiles that could reach much of the Indo-Pacific. An undated photo shows a nuclear-powered submarine of the People's Liberation Army Navy's North Sea Fleet preparing to dive into the sea. The Chinese regime has begun deploying submarines armed with intercontinental ballistic missiles. (AFP/Getty Images) North Korea's mass production of nuclear weapons is also driving concerns. On Feb. 8, Pyongyang paraded at least 11 liquid-fueled Hwasong-17 ICBMs that take hours to fuel and erect but can still reach the continental United States. Pyongyang also displayed what appeared to be a prototype of a faster-launch solid-fueled ICBM on a transporter erector. Such rockets can be launched within minutes of an order. China will claim that its nuclear warheads and nuclear-capable missiles are far fewer in number than those of the United States or Russia, which is likely true. However, they are reaching or have passed the number necessary for a survivable second strike in case of a first strike. The PLA's expanding nuclear weapons capabilities serve a second function for the Chinese Communist Party (CCP), which is the ability to threaten non-nuclear U.S. partners in Asia, including the Philippines, Taiwan, Australia, Japan, and South Korea. Such threats against U.S. partners, who can never be sure the United States would risk nuclear war to defend them, can be effective at nuclear compellence. This is the threat of nuclear strikes not to deter, but to obtain concessions from a targeted state. Over the past few years, the CCP threatened the Philippines over the South China Sea and Taiwan over its claims to sovereignty. Both included threats of war, backed by strategic signaling with nuclear-capable bomber flights. In 2021, Beijing threatened Australia with a missile strike to deter it from joining the United States in a war over Taiwan. While Japan is not officially a nuclear power, repeated threats from the CCP, for example, against the Japanese Senkaku Islands, reportedly led Japan to develop the capability to field nuclear weapons within months. Polls show that most South Koreans favor developing nuclear weapons to deter both China and North Korea. South Korea already has a submarine-launched ballistic missile that could be used to deliver nuclear weapons if Seoul so decides. While the United States is developing its nuclear deterrent in response to the increased nuclear belligerence of China, Russia, North Korea, and Iran, the deterrent effect of nuclear weapons is subject to diminishing marginal returns. The first deliverable nuclear weapon a country possesses has a large deterrent effect, but the 4,000th weapon (about how many nuclear warheads the United States and Russia each have, according to the Federation of American Scientists) has relatively less. A war resulting in large-scale use of nuclear weapons might also produce so much aerosolized ash and smoke as to block out the sun and cause a nuclear winter, killing crops globally and much life on the planet. The risk of nuclear war thus makes the U.S. "nuclear umbrella" that supposedly protects our allies insufficiently reliable. The United States is not even willing to risk escalation by supplying Ukraine with fighter jets or Taiwan with boots on the ground. Given U.S. risk aversion to conventional deterrence, a nuclear strike on Russia or China in retaliation for their strikes on a U.S. ally are almost inconceivable. The greater deterrent effect, given incalculable risks from nuclear war and decreasing marginal deterrence from nuclear weapons, is to provide some of these threatened democracies with a modest but independent nuclea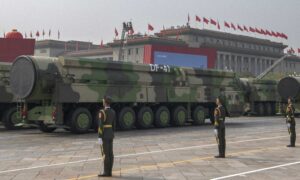 Commentary
China's nuclear arsenal is getting more powerful. On Feb. 7, the public learned from U.S. Strategic Command that the number of China's land-based intercontinental ballistic missile launchers exceed those of the United States.
Lawmakers in Washington raised the launchers as a "wake-up call."
"We have no time to waste in adjusting our nuclear force posture to deter both Russia and China," several Republicans said in a joint statement. "This will have to mean higher numbers and new capabilities."
The U.S. military is already modernizing its nuclear forces, but the discovery of China's production speed will quicken the pace.
Another factor in U.S. nuclear modernization is Russia's violation of the New START Treaty of 2011. Russia has refused to fully honor the treaty's inspection requirements, making it unverifiable.
China refuses to join the treaty altogether, claiming it has a smaller number of nuclear weapons than either the United States or Russia. According to the Pentagon, the People's Liberation Army (PLA) had over 400 nuclear warheads in 2021, trending toward 1,500 by 2035.
However, this number is hard to verify, and there are suspicions that the PLA has many more.
Paul Dibb, an emeritus professor of strategic studies at the Australian National University, claims China has 2,000 shorter-range nuclear missiles that could reach much of the Indo-Pacific.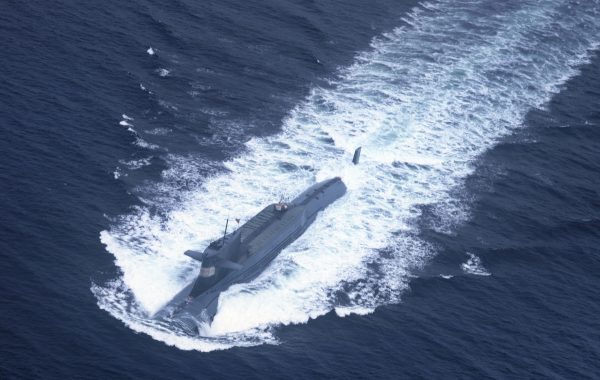 North Korea's mass production of nuclear weapons is also driving concerns. On Feb. 8, Pyongyang paraded at least 11 liquid-fueled Hwasong-17 ICBMs that take hours to fuel and erect but can still reach the continental United States. Pyongyang also displayed what appeared to be a prototype of a faster-launch solid-fueled ICBM on a transporter erector. Such rockets can be launched within minutes of an order.
China will claim that its nuclear warheads and nuclear-capable missiles are far fewer in number than those of the United States or Russia, which is likely true. However, they are reaching or have passed the number necessary for a survivable second strike in case of a first strike.
The PLA's expanding nuclear weapons capabilities serve a second function for the Chinese Communist Party (CCP), which is the ability to threaten non-nuclear U.S. partners in Asia, including the Philippines, Taiwan, Australia, Japan, and South Korea. Such threats against U.S. partners, who can never be sure the United States would risk nuclear war to defend them, can be effective at nuclear compellence. This is the threat of nuclear strikes not to deter, but to obtain concessions from a targeted state.
Over the past few years, the CCP threatened the Philippines over the South China Sea and Taiwan over its claims to sovereignty. Both included threats of war, backed by strategic signaling with nuclear-capable bomber flights. In 2021, Beijing threatened Australia with a missile strike to deter it from joining the United States in a war over Taiwan.
While Japan is not officially a nuclear power, repeated threats from the CCP, for example, against the Japanese Senkaku Islands, reportedly led Japan to develop the capability to field nuclear weapons within months.
Polls show that most South Koreans favor developing nuclear weapons to deter both China and North Korea. South Korea already has a submarine-launched ballistic missile that could be used to deliver nuclear weapons if Seoul so decides.
While the United States is developing its nuclear deterrent in response to the increased nuclear belligerence of China, Russia, North Korea, and Iran, the deterrent effect of nuclear weapons is subject to diminishing marginal returns. The first deliverable nuclear weapon a country possesses has a large deterrent effect, but the 4,000th weapon (about how many nuclear warheads the United States and Russia each have, according to the Federation of American Scientists) has relatively less.
A war resulting in large-scale use of nuclear weapons might also produce so much aerosolized ash and smoke as to block out the sun and cause a nuclear winter, killing crops globally and much life on the planet.
The risk of nuclear war thus makes the U.S. "nuclear umbrella" that supposedly protects our allies insufficiently reliable. The United States is not even willing to risk escalation by supplying Ukraine with fighter jets or Taiwan with boots on the ground. Given U.S. risk aversion to conventional deterrence, a nuclear strike on Russia or China in retaliation for their strikes on a U.S. ally are almost inconceivable.
The greater deterrent effect, given incalculable risks from nuclear war and decreasing marginal deterrence from nuclear weapons, is to provide some of these threatened democracies with a modest but independent nuclear deterrent of their own.
Views expressed in this article are the opinions of the author and do not necessarily reflect the views of The Epoch Times.