Reports of Rare Vulvar Ulcers in Adolescent Girls Following Pfizer COVID-19 Injections
Cases of rare vulvar ulcers have been diagnosed in adolescent girls after receiving a second dose of the Pfizer messenger RNA (mRNA) shot, according to the April edition of the Journal of Pediatric & Adolescent Gynecology.Six cases of adolescent girls ages 12 to 16 developing painful genital ulcers within four days of their second vaccine dose were reported in the medical journal, including two cases occurring after infection with COVID-19. This is the first time that cases of vulvar ulcers in adolescents and young women are being addressed and discussed in the medical literature. Doctors of these cases say that it is "important to identify and explain possible adverse effects to help dispel the hesitancy some patients might feel about receiving a novel vaccine." The vulvar ulcers—known as vulvar aphthous ulcers, lipschütz ulcers, or acute genital ulcerations—are non-sexually acquired painful lesions formed on the external structures of the female genitalia, or the vulva. The condition mainly affects adolescents and young women, but cases of older women have also been reported. Unlike mouth sores which are an established adverse reaction of certain vaccines, including the COVID-19 injections administered in the United States, vulvar ulcers are not. A simple search on the Vaccine Adverse Event Reporting System (VAERS) for aphthous ulcer, vaginal ulceration, vulval ulceration, and Pfizer COVID-19 vaccine, resulted in 282 total events as of April 14. Of those, over 40 reports were related to genital ulcers in adolescents and young women several days after the second Pfizer shot, while the rest were reports of mouth ulcers. Several cases have also occurred following the first and third dose. The youngest to experience the vulvar ulcers was a 10-year-old girl from North Carolina, who developed several painful lesions 24 hours after her second Pfizer injection on Jan. 29, 2022, [VAERS ID number: 2087752-1]. She tested negative for the herpes simplex virus. The report did not mention whether a COVID-19 test was administered. The Centers for Disease Control and Prevention (CDC) cautions that reports made to VAERS do not necessarily prove causation. "While very important in monitoring vaccine safety, VAERS reports alone cannot be used to determine if a vaccine caused or contributed to an adverse event or illness," the CDC wrote. Syringes and vials of Pfizer-BioNTech COVID-19 vaccine are seen on a work surface during a drive-through clinic at St. Lawrence College in Kingston, Ont., on Dec. 18, 2021. (The Canadian Press/Lars Hagberg) Case Reports The first case report to describe a potential association between the development of vulvar ulcers and Pfizer COVID-19 vaccination was of a 16-year-old patient from Minnesota. She experienced fever, body pain, fatigue, and vaginal lesions within 24 hours of getting a second dose of the mRNA COVID-19 shot. The ulcers became extremely painful and the patient had difficulty with walking, urination, and defecation when she was seen at the pediatric gynecology clinic six days after her vaccination. The patient was tested for COVID-19, sexually transmitted diseases, and two common viruses—Epstein-Barr virus (EBV) and cytomegalovirus (CMV). Every test was negative except for the EBV test, which indicated she had a prior infection. Non-sexually acquired vulvar ulcers have been associated with several viral infections, including EBV, influenza, and most recently, COVID-19. However, based on the patient's clinical presentation, the doctors concluded that the ulcers were associated with the Pfizer mRNA vaccine. With no standard treatment protocol for these types of ulcers, treatment usually involves administering oral and topical medications for pain control. Sitz baths are also prescribed to relieve pain, swelling, and other symptoms. The second case report (pdf) involved a 14-year-old girl from Nebraska who reported vulvar pain and lesions two days after she received her second Pfizer vaccine. Prior to experiencing vulvar pain, the patient had "transient but severe symptoms of fatigue, body aches, and insomnia" 12 hours following the mRNA injection. All of her tests, including for COVID-19 were negative. "We believe this case demonstrates a possible novel association between the Pfizer vaccine and development of a vulvar aphthous ulcer in an adolescent patient," the authors of the report wrote. At Children's Mercy Hospital in Missouri, three female patients aged 12 to 15 were diagnosed with genital ulcers between June to September 2021. All three presented to the emergency room with pain and multiple vulva ulcers within 24 to 48 hours after their second Pfizer vaccine dose. They tested negative for cytomegalovirus and Epstein-Barr virus and none were recently exposed to COVID-19. Their condition resolved spontaneously by week three. The sixth report was of a 16-year-old from Massachusetts who developed painful urination, vulvar itching and discharge, and labial swe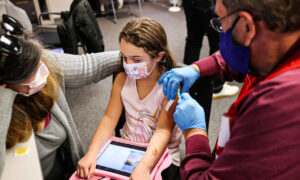 Cases of rare vulvar ulcers have been diagnosed in adolescent girls after receiving a second dose of the Pfizer messenger RNA (mRNA) shot, according to the April edition of the Journal of Pediatric & Adolescent Gynecology.
Six cases of adolescent girls ages 12 to 16 developing painful genital ulcers within four days of their second vaccine dose were reported in the medical journal, including two cases occurring after infection with COVID-19.
This is the first time that cases of vulvar ulcers in adolescents and young women are being addressed and discussed in the medical literature.
Doctors of these cases say that it is "important to identify and explain possible adverse effects to help dispel the hesitancy some patients might feel about receiving a novel vaccine."
The vulvar ulcers—known as vulvar aphthous ulcers, lipschütz ulcers, or acute genital ulcerations—are non-sexually acquired painful lesions formed on the external structures of the female genitalia, or the vulva. The condition mainly affects adolescents and young women, but cases of older women have also been reported.
Unlike mouth sores which are an established adverse reaction of certain vaccines, including the COVID-19 injections administered in the United States, vulvar ulcers are not.
A simple search on the Vaccine Adverse Event Reporting System (VAERS) for aphthous ulcer, vaginal ulceration, vulval ulceration, and Pfizer COVID-19 vaccine, resulted in 282 total events as of April 14.
Of those, over 40 reports were related to genital ulcers in adolescents and young women several days after the second Pfizer shot, while the rest were reports of mouth ulcers. Several cases have also occurred following the first and third dose.
The youngest to experience the vulvar ulcers was a 10-year-old girl from North Carolina, who developed several painful lesions 24 hours after her second Pfizer injection on Jan. 29, 2022, [VAERS ID number: 2087752-1]. She tested negative for the herpes simplex virus. The report did not mention whether a COVID-19 test was administered.
The Centers for Disease Control and Prevention (CDC) cautions that reports made to VAERS do not necessarily prove causation.
"While very important in monitoring vaccine safety, VAERS reports alone cannot be used to determine if a vaccine caused or contributed to an adverse event or illness," the CDC wrote.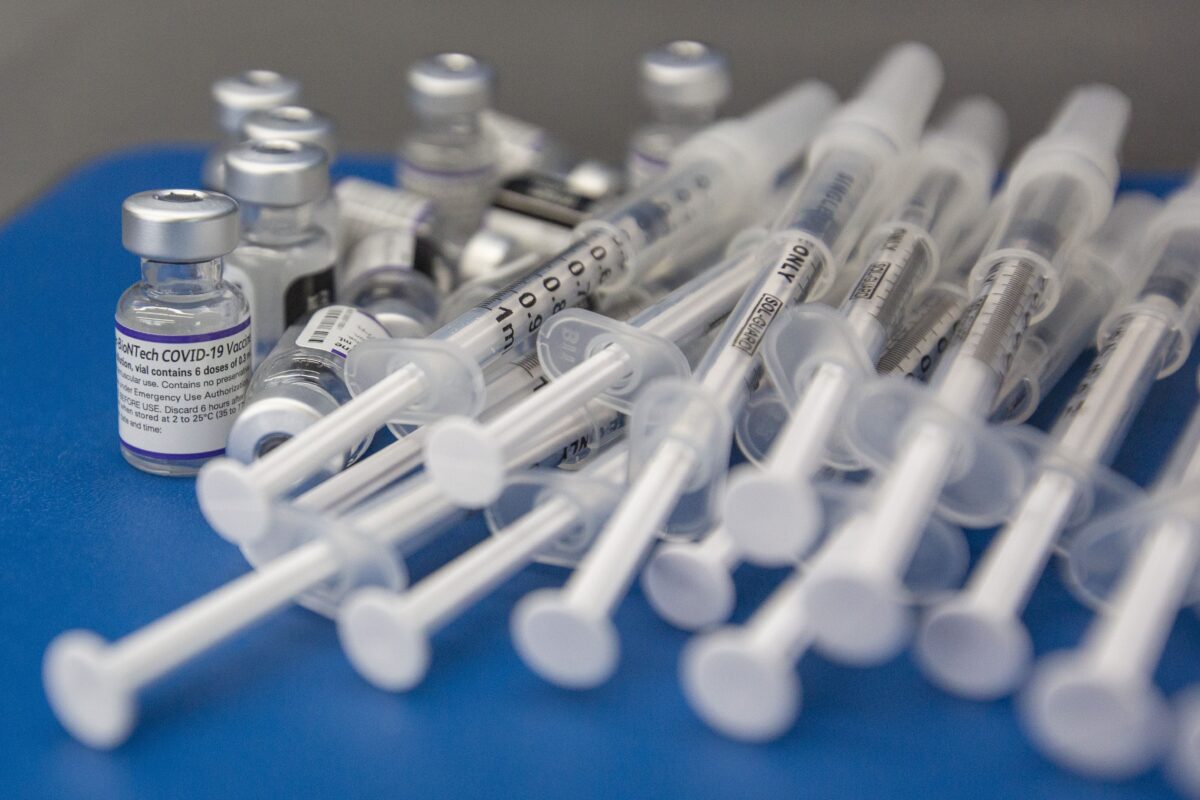 Case Reports
The first case report to describe a potential association between the development of vulvar ulcers and Pfizer COVID-19 vaccination was of a 16-year-old patient from Minnesota. She experienced fever, body pain, fatigue, and vaginal lesions within 24 hours of getting a second dose of the mRNA COVID-19 shot. The ulcers became extremely painful and the patient had difficulty with walking, urination, and defecation when she was seen at the pediatric gynecology clinic six days after her vaccination.
The patient was tested for COVID-19, sexually transmitted diseases, and two common viruses—Epstein-Barr virus (EBV) and cytomegalovirus (CMV). Every test was negative except for the EBV test, which indicated she had a prior infection.
Non-sexually acquired vulvar ulcers have been associated with several viral infections, including EBV, influenza, and most recently, COVID-19. However, based on the patient's clinical presentation, the doctors concluded that the ulcers were associated with the Pfizer mRNA vaccine.
With no standard treatment protocol for these types of ulcers, treatment usually involves administering oral and topical medications for pain control. Sitz baths are also prescribed to relieve pain, swelling, and other symptoms.
The second case report (pdf) involved a 14-year-old girl from Nebraska who reported vulvar pain and lesions two days after she received her second Pfizer vaccine. Prior to experiencing vulvar pain, the patient had "transient but severe symptoms of fatigue, body aches, and insomnia" 12 hours following the mRNA injection. All of her tests, including for COVID-19 were negative.
"We believe this case demonstrates a possible novel association between the Pfizer vaccine and development of a vulvar aphthous ulcer in an adolescent patient," the authors of the report wrote.
At Children's Mercy Hospital in Missouri, three female patients aged 12 to 15 were diagnosed with genital ulcers between June to September 2021. All three presented to the emergency room with pain and multiple vulva ulcers within 24 to 48 hours after their second Pfizer vaccine dose. They tested negative for cytomegalovirus and Epstein-Barr virus and none were recently exposed to COVID-19. Their condition resolved spontaneously by week three.
The sixth report was of a 16-year-old from Massachusetts who developed painful urination, vulvar itching and discharge, and labial swelling four days following her second dose of Pfizer vaccine. The following day, she presented to the gynecological clinic with vulva ulcers. She tested negative for herpes simplex virus 1 and 2, Epstein-Barr, cytomegalovirus, and mycoplasma, a bacteria.
"In this time of pandemic, testing for COVID-19 infection or inquiring about recent COVID-19 vaccination should be considered in all young women presenting with acute genital ulcerations," the authors of the case report said.
All six patients had no adverse reaction to their first Pfizer injection. Resolution of the ulcers and pain varied for each patient, ranging from one week to three weeks with medications and other supportive care.
Pfizer didn't respond to a request for comment.