Record Crime in Philadelphia Could Throw the Senate to Republicans
CommentaryThe future of the United States may be decided by the next carjacking in Philadelphia. If there is one butterfly that could cause a storm in U.S. politics, it is a crime in swing states like Pennsylvania. Last week, the number of carjackings in the City of Brotherly Love reached a record 1,000. Homicides reached 400 as of Sept. 26. Pennsylvanians, especially in Philadelphia, are fed up with crime. Democrats and Republicans, true to form, approach the problem with the tools they have handy: gun control and more police, respectively. Democrats are at a disadvantage on the issue as many have promoted defunding the police, clemency for felons, and no cash bail. Every new shooting on television is more free campaign advertising for Republicans. Grainy footage of hooded characters boosting cars is gold for the GOP. Democrats are desperate to hold onto the Senate, currently just by a thread called Vice President Kamala Harris. She's the tiebreaker in the 50-50 split between Republicans and Democrats that, in November, looks increasingly at risk in favor of Republicans. If Republicans win just one more seat in the Senate, which looks more likely than not, then Democrats will have to compromise their legislative agenda. The campaign in Pennsylvania, and other swing states, is therefore critical. Mehmet Oz, the Republican celebrity doctor endorsed by former President Donald Trump, is competing for the seat of outgoing Republican Sen. Pat Toomey. His opponent: Democratic candidate John Fetterman, who often wears hoodies and shorts, and shows off his tattoos at campaign rallies. Every constituency counts and Fetterman is not the only one appealing to communities that traditionally vote Democrat. "With the latest polls showing a tightening race, Mehmet Oz returned to Philadelphia on Sunday night to meet with local Black clergy members to press his case to be elected to the U.S. Senate," according to The Philadelphia Inquirer. Republican U.S. Senate candidate Dr. Mehmet Oz (C) holds a press conference with U.S. Sen. Pat Toomey (R-Pa.) in Philadelphia, Pa., on Sept. 6, 2022. (Mark Makela/Getty Images) The meeting, held on Oct. 2 in Philadelphia, included a dozen clergy and a doctor visiting from Haiti, who spoke about how his community "has been held hostage" by criminality for over five months. The group talked about better schools, safer neighborhoods, accountability for federal tax dollars spent in the city, and especially gun violence. "It's not just the shooter and the victim, but everybody that pays the price," Oz said at the gathering. "Ten percent of small kids have witnessed these shootings, and the impact is similar to having PTSD, like being in a war zone." Oz noted that much of the crime is committed by teens, and asked those assembled for the causes and solutions to violence. "Participants suggested a breakdown of community bonds, as well as a lack of trust and respect for the police, and a lack of faith in religion," according to the Inquirer. Could the "Defund the Police" and "All Cops Are Bastards" slogans found liberally at recent Black Lives Matter protests have encouraged such thinking? More than likely. Citing the example of Oregon, Oz added drug use and decriminalization to what he argues fuels crime. Anyone familiar with the toughest neighborhoods in the United States, like Kensington in Philadelphia, would find it hard to disagree. The Democratic district attorney of Philadelphia, with his progressive prosecution strategies, has so far failed to stem crime. While some African Americans are reconsidering their traditional support for the Democratic Party, which they tend to see as not doing enough to address economic empowerment in their communities, the shift between 2016 and 2020 was more pronounced among Latinos, according to The Wall Street Journal. Pennsylvania's Latino population grew by 330,000 between 2010 and 2020, according to the U.S. Census. Latinos now make up 8 percent of the state's population. State Rep. Manuel Guzman, a supporter of President Joe Biden, had complaints about the Democratic Party as early as November. "The party has taken people of color for granted and taken our votes for granted," he said in an interview. "I'm not surprised that many Latinos feel disenfranchised and feel left out of the political process because, quite frankly, I can imagine that no one has cared enough to knock on somebody's door to ask them about what they care about and what they look for in a representative." Between 2016 and 2020, 7.2 percent of voters in census tracts with at least 70 percent Hispanic residents shifted Republican, according to the Journal. Some Latino neighborhoods in Allentown, Pennsylvania, shifted Republican by 10 percent in 2020. Asian-Americans are also shifting Republican by 5.3 percent in census tracts that are at least 70 percent Asian. While approximately 90 percent of black voters support Democrats, that lead eroded in 2020. Predominant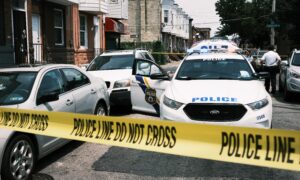 Commentary
The future of the United States may be decided by the next carjacking in Philadelphia. If there is one butterfly that could cause a storm in U.S. politics, it is a crime in swing states like Pennsylvania.
Last week, the number of carjackings in the City of Brotherly Love reached a record 1,000. Homicides reached 400 as of Sept. 26. Pennsylvanians, especially in Philadelphia, are fed up with crime. Democrats and Republicans, true to form, approach the problem with the tools they have handy: gun control and more police, respectively.
Democrats are at a disadvantage on the issue as many have promoted defunding the police, clemency for felons, and no cash bail. Every new shooting on television is more free campaign advertising for Republicans. Grainy footage of hooded characters boosting cars is gold for the GOP.
Democrats are desperate to hold onto the Senate, currently just by a thread called Vice President Kamala Harris. She's the tiebreaker in the 50-50 split between Republicans and Democrats that, in November, looks increasingly at risk in favor of Republicans.
If Republicans win just one more seat in the Senate, which looks more likely than not, then Democrats will have to compromise their legislative agenda.
The campaign in Pennsylvania, and other swing states, is therefore critical. Mehmet Oz, the Republican celebrity doctor endorsed by former President Donald Trump, is competing for the seat of outgoing Republican Sen. Pat Toomey. His opponent: Democratic candidate John Fetterman, who often wears hoodies and shorts, and shows off his tattoos at campaign rallies.
Every constituency counts and Fetterman is not the only one appealing to communities that traditionally vote Democrat.
"With the latest polls showing a tightening race, Mehmet Oz returned to Philadelphia on Sunday night to meet with local Black clergy members to press his case to be elected to the U.S. Senate," according to The Philadelphia Inquirer.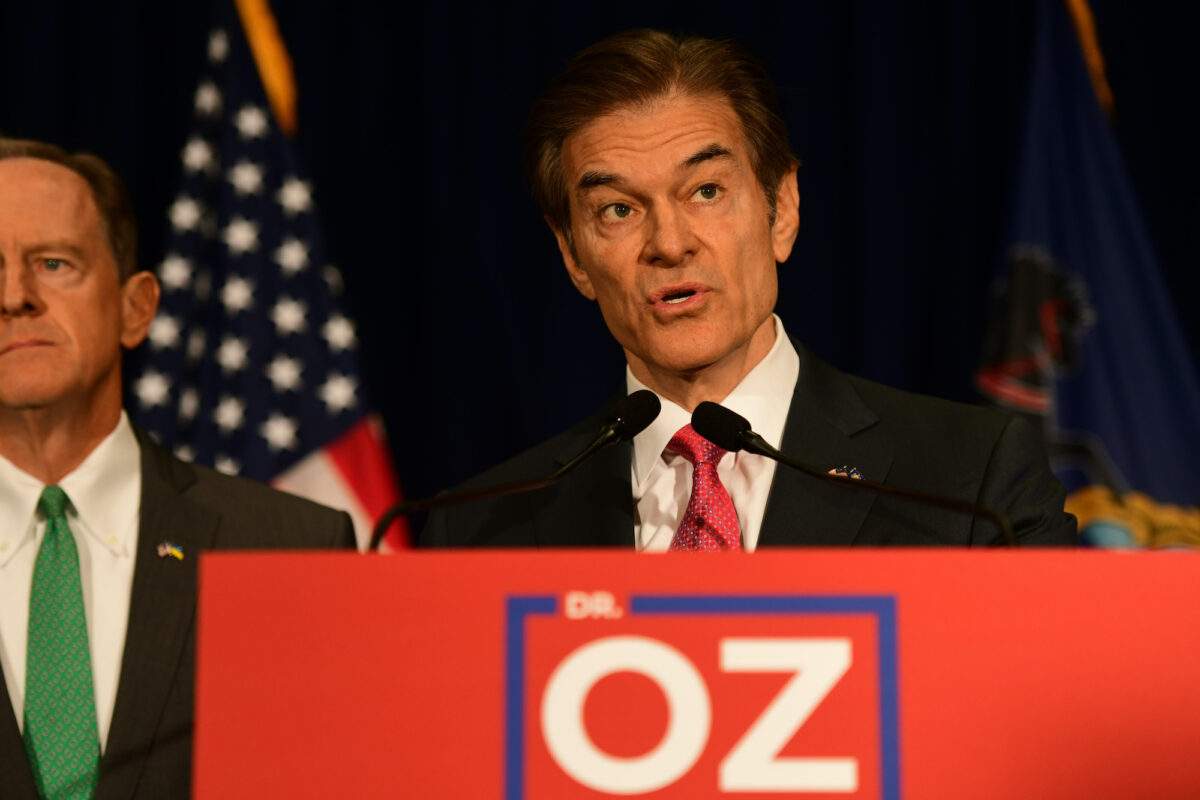 The meeting, held on Oct. 2 in Philadelphia, included a dozen clergy and a doctor visiting from Haiti, who spoke about how his community "has been held hostage" by criminality for over five months.
The group talked about better schools, safer neighborhoods, accountability for federal tax dollars spent in the city, and especially gun violence.
"It's not just the shooter and the victim, but everybody that pays the price," Oz said at the gathering. "Ten percent of small kids have witnessed these shootings, and the impact is similar to having PTSD, like being in a war zone."
Oz noted that much of the crime is committed by teens, and asked those assembled for the causes and solutions to violence. "Participants suggested a breakdown of community bonds, as well as a lack of trust and respect for the police, and a lack of faith in religion," according to the Inquirer.
Could the "Defund the Police" and "All Cops Are Bastards" slogans found liberally at recent Black Lives Matter protests have encouraged such thinking? More than likely.
Citing the example of Oregon, Oz added drug use and decriminalization to what he argues fuels crime. Anyone familiar with the toughest neighborhoods in the United States, like Kensington in Philadelphia, would find it hard to disagree. The Democratic district attorney of Philadelphia, with his progressive prosecution strategies, has so far failed to stem crime.
While some African Americans are reconsidering their traditional support for the Democratic Party, which they tend to see as not doing enough to address economic empowerment in their communities, the shift between 2016 and 2020 was more pronounced among Latinos, according to The Wall Street Journal.
Pennsylvania's Latino population grew by 330,000 between 2010 and 2020, according to the U.S. Census. Latinos now make up 8 percent of the state's population.
State Rep. Manuel Guzman, a supporter of President Joe Biden, had complaints about the Democratic Party as early as November.
"The party has taken people of color for granted and taken our votes for granted," he said in an interview. "I'm not surprised that many Latinos feel disenfranchised and feel left out of the political process because, quite frankly, I can imagine that no one has cared enough to knock on somebody's door to ask them about what they care about and what they look for in a representative."
Between 2016 and 2020, 7.2 percent of voters in census tracts with at least 70 percent Hispanic residents shifted Republican, according to the Journal. Some Latino neighborhoods in Allentown, Pennsylvania, shifted Republican by 10 percent in 2020.
Asian-Americans are also shifting Republican by 5.3 percent in census tracts that are at least 70 percent Asian.
While approximately 90 percent of black voters support Democrats, that lead eroded in 2020. Predominantly black neighborhoods shifted by 1.5 percent toward Republicans that year, which could be enough to throw the closest elections in November.
Republicans will face a headwind on the issue of abortion in the upcoming election, as there have been a large number of voter registrations in response to the overturning of Roe v. Wade. But the GOP has more than a fighting chance to get back the Senate over the issues of crime and inflation. They will likely be helped in that goal by new independent-minded voters from Hispanic and African-American communities that are the most heavily hit by these scourges.
Views expressed in this article are the opinions of the author and do not necessarily reflect the views of The Epoch Times.