RCMP Had Other Large Contract With China-Linked Company in 2019 for Wireless Antennas
The federal government announced on Dec. 8 it was suspending an RCMP contract for radio frequency filter equipment with a China-linked company, but RCMP wireless infrastructure already features hundreds of thousands worth of radio antennas from the same company, contract data shows.The contract that was suspended was for the sum of $549,637 and was awarded to Sinclair Technologies in October 2021. It was for the provision of radio frequency filters, which protect communications from interception, as well as on-site maintenance and engineering support services. The Epoch Times found another contract between the RCMP and Sinclair in 2019 for "antennas, waveguides and related equipment" worth $289,107. That contract was linked to previous ones for similar material for a total value of $561,708. Sinclair is based in Ontario, but it was acquired by Norsat in 2011, which in turn was acquired by Chinese telecommunications giant Hytera in 2017. The Liberal government allowed the sale without a formal national security review, despite Norsat's technology being used by Canada and its allies for security, public safety and defence applications, reported The Globe and Mail at the time. Hytera has since been banned from operating or selling equipment in the United States due to national security risks and has been indicted by the U.S. Department of Justice for industrial espionage. The RCMP was contacted about Sinclair's antenna contract to ask if it would now undertake a more fulsome review of its wireless infrastructure, but the police force spokesperson Corporal Kim Chamberland said "We have no further comments at this point." Chamberland had provided a comment in reaction to the announcement of the suspension of the radio frequency filter contract on Dec. 8. "The RCMP confirms that the standing offer with Sinclair is suspended until further notice, pending the Government's announcement of a review of the standing offer and related processes," she said. "While RCMP radio communications are protected with end-to-end encryption, and Radio Frequency filtration equipment is installed, configured and monitored by RCMP Radio Technicians and poses no security concerns nor allows access to radio communications, in light of yesterday's announcement, the RCMP will review installed equipment to determine if further action is required." The radio frequency filtration equipment had been installed in Ontario and Saskatchewan, the RCMP previously said. Sinclair was contacted for comment and provided the same response initially offered. "As you know, we are an independent company registered and operating in Canada, and our products are trusted by public safety agencies globally for over 70 years," said the company's general manager Wee Er. Other Government Contracts Other government departments have purchased equipment from Sinclair Technologies, some before the company was acquired by Hytera and some after. The Department of National Defence (DND) had also purchased antennas and waveguides from Sinclair as early as 2013, but it wouldn't say whether the equipment is still being used. "We are aware of the concerns surrounding Sinclair Technologies," DND spokesperson Jessica Lamirande told The Epoch Times. "We are investigating these procurements and the way in which this equipment is used, alongside counterparts in other government departments." A more recent contract with Sinclair pertained to Fisheries and Oceans Canada. The 2019 contract worth $93,020 was for "structures, prefabricated." The department was contacted for clarification on exactly what was purchased and where it's being used, but a response was not available by publication time. 'Hostile Actors' Prime Minister Justin Trudeau was asked about the suspended Sinclair contract in the House of Commons on Dec. 8. "The contract was for a filtering system that ensures the confidentiality of the communications of the Prime Minister and foreign heads of state visiting Canada. No one thought any security checks were in order. Can the Prime Minister explain this?" said Bloc Québécois MP Alain Therrien. "Our eyes are always open when it comes to threats from hostile actors," Trudeau replied without mentioning China directly. "We are very concerned about what happened with these contracts with Sinclair Technologies, and our government is looking at them carefully. We will take all necessary steps to ensure the integrity of our national security, and we will put measures in place to ensure that nothing like this happens in the future." While the government said the contract was suspended, it hasn't said it's been cancelled or indicated if the equipment already installed will be removed. The Trudeau government took steps last May to protect Canada's wireless infrastructure by banning Chinese telecommunications giants Huawei and ZTE from the 5G network. But Canadian companies have until June 2024 to remove the existing Huawei and ZTE 5G equipment, and until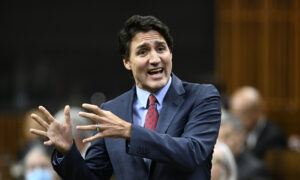 The federal government announced on Dec. 8 it was suspending an RCMP contract for radio frequency filter equipment with a China-linked company, but RCMP wireless infrastructure already features hundreds of thousands worth of radio antennas from the same company, contract data shows.
The contract that was suspended was for the sum of $549,637 and was awarded to Sinclair Technologies in October 2021.
It was for the provision of radio frequency filters, which protect communications from interception, as well as on-site maintenance and engineering support services.
The Epoch Times found another contract between the RCMP and Sinclair in 2019 for "antennas, waveguides and related equipment" worth $289,107. That contract was linked to previous ones for similar material for a total value of $561,708.
Sinclair is based in Ontario, but it was acquired by Norsat in 2011, which in turn was acquired by Chinese telecommunications giant Hytera in 2017.
The Liberal government allowed the sale without a formal national security review, despite Norsat's technology being used by Canada and its allies for security, public safety and defence applications, reported The Globe and Mail at the time.
Hytera has since been banned from operating or selling equipment in the United States due to national security risks and has been indicted by the U.S. Department of Justice for industrial espionage.
The RCMP was contacted about Sinclair's antenna contract to ask if it would now undertake a more fulsome review of its wireless infrastructure, but the police force spokesperson Corporal Kim Chamberland said "We have no further comments at this point."
Chamberland had provided a comment in reaction to the announcement of the suspension of the radio frequency filter contract on Dec. 8.
"The RCMP confirms that the standing offer with Sinclair is suspended until further notice, pending the Government's announcement of a review of the standing offer and related processes," she said.
"While RCMP radio communications are protected with end-to-end encryption, and Radio Frequency filtration equipment is installed, configured and monitored by RCMP Radio Technicians and poses no security concerns nor allows access to radio communications, in light of yesterday's announcement, the RCMP will review installed equipment to determine if further action is required."
The radio frequency filtration equipment had been installed in Ontario and Saskatchewan, the RCMP previously said.
Sinclair was contacted for comment and provided the same response initially offered.
"As you know, we are an independent company registered and operating in Canada, and our products are trusted by public safety agencies globally for over 70 years," said the company's general manager Wee Er.
Other Government Contracts
Other government departments have purchased equipment from Sinclair Technologies, some before the company was acquired by Hytera and some after.
The Department of National Defence (DND) had also purchased antennas and waveguides from Sinclair as early as 2013, but it wouldn't say whether the equipment is still being used.
"We are aware of the concerns surrounding Sinclair Technologies," DND spokesperson Jessica Lamirande told The Epoch Times.
"We are investigating these procurements and the way in which this equipment is used, alongside counterparts in other government departments."
A more recent contract with Sinclair pertained to Fisheries and Oceans Canada.
The 2019 contract worth $93,020 was for "structures, prefabricated." The department was contacted for clarification on exactly what was purchased and where it's being used, but a response was not available by publication time.
'Hostile Actors'
Prime Minister Justin Trudeau was asked about the suspended Sinclair contract in the House of Commons on Dec. 8.
"The contract was for a filtering system that ensures the confidentiality of the communications of the Prime Minister and foreign heads of state visiting Canada. No one thought any security checks were in order. Can the Prime Minister explain this?" said Bloc Québécois MP Alain Therrien.
"Our eyes are always open when it comes to threats from hostile actors," Trudeau replied without mentioning China directly.
"We are very concerned about what happened with these contracts with Sinclair Technologies, and our government is looking at them carefully. We will take all necessary steps to ensure the integrity of our national security, and we will put measures in place to ensure that nothing like this happens in the future."
While the government said the contract was suspended, it hasn't said it's been cancelled or indicated if the equipment already installed will be removed.
The Trudeau government took steps last May to protect Canada's wireless infrastructure by banning Chinese telecommunications giants Huawei and ZTE from the 5G network.
But Canadian companies have until June 2024 to remove the existing Huawei and ZTE 5G equipment, and until December 2027 to remove their 4G equipment. This means any security concern that was likely identified leading to the ban could remain a potential vulnerability until that time.