Rare Mass Protests Erupt in Chinese Cities as Outrage Over Zero-COVID Restrictions Boils Over
Protests in some areas have been successful at getting authorities to lift their lockdown ordersRare mass protests against COVID-19 lockdowns have broken out across China, including in major cities, as more cities have announced lockdowns due to a surging number of COVID-19 infections. Despite the regime releasing new epidemic prevention regulations, aimed at preventing excessive use of control measures by local authorities, the updated policies still adheres to the restrictive "zero-COVID" approach. With rapidly rising infection numbers, more cities have expanded their lockdowns, causing growing public anger. Large-scale protests have been seen in Xinjiang, Guangzhou, Shanghai, Zhengzhou, and other cities against the "zero-COVID" control measures. Angry residents broke blockades and pushed down fences, shouting slogans of "down with the Communist Party" and "Xi Jinping should resign." Facing the protests, authorities in some places had to put out announcements saying that there was no longer a lockdown or that restrictions had been lifted. At the beginning of November, the official number of new infections in Beijing exceeded 10,000 for the first time. Despite forcing 20 new areas into lockdown, Beijing authorities did not dare announce a city-wide lockdown, although most parts of the city were under lockdown. Beijing Residents Stand Together to Disregard Lockdown Orders Students take part in a protest against COVID-19 curbs at Tsinghua University in Beijing, in a still from video released on Nov. 27, 2022. (Video obtained by Reuters) Protesters shout slogans during a protest against the Chinese Communist Party's strict zero COVID measures in Beijing, China, on Nov. 28, 2022. (Kevin Frayer/Getty Images) Many residents in Beijing, unable to bear the lockdowns anymore, broke through the blockades and freed themselves, breaking the lockdown orders. Some successfully got the authorities to lift their lockdown through their protests and open letters. Ms. Li from Beijing's Daxing District told The Epoch Times on Nov. 27 that the residential community she lives in was locked down, and the whole city is mostly under lockdown these days. "Everyone in our community pushed their sealed doors open and went outside. In the communities behind us and next to us, residents also pushed down the blockade and went out." She also revealed that shops are now open for business despite verbal lockdown orders from the local authorities. The residential communities in Beijing were frequently sealed off due to individual residents testing positive for COVID. The residents have started to take collective actions to support their neighbors who test positive and don't want to be forcefully taken away to centralized quarantine by authorities. According to a report by the Chinese regime-controlled media ifeng.com, in Beijing's large residential area Wangjing, residents in many communities posted public letters on Chinese social media, stating: "If the infected neighbors encounter any form of coercion, such as quarantine and re-examination and other related measures, I am willing to assist them in safeguarding their individual rights in accordance with the law. "We do not blame or discriminate the innocent infected neighbors. This is to maintain the most basic moral respect for human beings in a civilized society! And we provide them with help as much as possible." China observer Zhou Xiaohui wrote in his column for The Epoch Times: "This action of the Beijing residents is self-organized help against the regime's strict COVID control, and it shows their awakening." Xinjiang Tragedy After a fire broke out in a locked down apartment in Urumqi city, Xinjiang, on Nov. 25, killing at least 10 people according to state media, protests broke out in many places across the city and angry residents demanded the city-wide lockdown that has lasted three to four months be lifted. On Nov. 26, authorities loosened Urumqi's COVID-19 restrictions, announcing that citizens who have been isolation at home for three days can now leave their residences and that shops are allowed to reopen. High-risk areas that have not reported new infections for five consecutive days will become low-risk areas, where residents are allowed to go downstairs or go out. Protests against strict COVID-19 curbs in Urumqi city, Xinjiang, China, in this screen grab obtained from a video released on Nov. 25, 2022. (Video obtained by Reuters/via Reuters) A resident of Lianxing community in Urumqi told The Epoch Times on Nov. 26 that many residents rushed out of their residences on the night of Nov. 25. "People came out to protest in all communities in Urumqi, all of them came out." A resident who has a restaurant in Midong District said: "Everyone is so suffocated [by the lockdowns] that they are about to explode, and restaurants should be allowed to open now after the protest. This time, the protest was quite fierce, so it worked, and quite a lot of people in o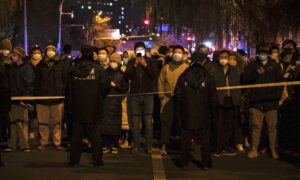 Protests in some areas have been successful at getting authorities to lift their lockdown orders
Rare mass protests against COVID-19 lockdowns have broken out across China, including in major cities, as more cities have announced lockdowns due to a surging number of COVID-19 infections.
Despite the regime releasing new epidemic prevention regulations, aimed at preventing excessive use of control measures by local authorities, the updated policies still adheres to the restrictive "zero-COVID" approach. With rapidly rising infection numbers, more cities have expanded their lockdowns, causing growing public anger.
Large-scale protests have been seen in Xinjiang, Guangzhou, Shanghai, Zhengzhou, and other cities against the "zero-COVID" control measures. Angry residents broke blockades and pushed down fences, shouting slogans of "down with the Communist Party" and "Xi Jinping should resign." Facing the protests, authorities in some places had to put out announcements saying that there was no longer a lockdown or that restrictions had been lifted.
At the beginning of November, the official number of new infections in Beijing exceeded 10,000 for the first time. Despite forcing 20 new areas into lockdown, Beijing authorities did not dare announce a city-wide lockdown, although most parts of the city were under lockdown.
Beijing Residents Stand Together to Disregard Lockdown Orders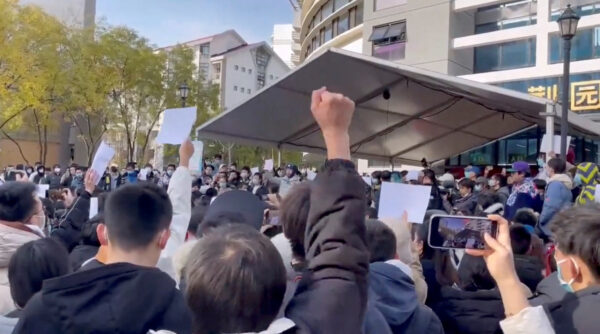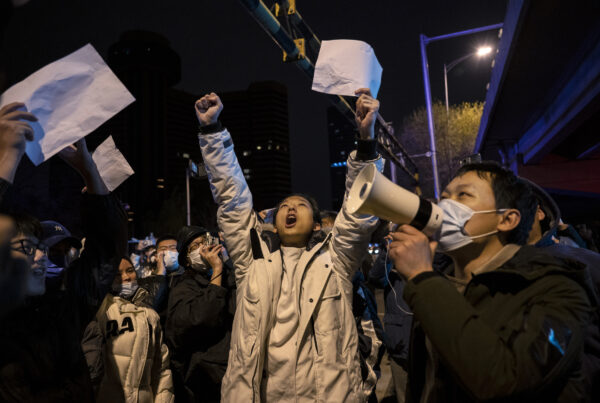 Many residents in Beijing, unable to bear the lockdowns anymore, broke through the blockades and freed themselves, breaking the lockdown orders. Some successfully got the authorities to lift their lockdown through their protests and open letters.
Ms. Li from Beijing's Daxing District told The Epoch Times on Nov. 27 that the residential community she lives in was locked down, and the whole city is mostly under lockdown these days.
"Everyone in our community pushed their sealed doors open and went outside. In the communities behind us and next to us, residents also pushed down the blockade and went out."
She also revealed that shops are now open for business despite verbal lockdown orders from the local authorities.
The residential communities in Beijing were frequently sealed off due to individual residents testing positive for COVID. The residents have started to take collective actions to support their neighbors who test positive and don't want to be forcefully taken away to centralized quarantine by authorities.
According to a report by the Chinese regime-controlled media ifeng.com, in Beijing's large residential area Wangjing, residents in many communities posted public letters on Chinese social media, stating: "If the infected neighbors encounter any form of coercion, such as quarantine and re-examination and other related measures, I am willing to assist them in safeguarding their individual rights in accordance with the law.
"We do not blame or discriminate the innocent infected neighbors. This is to maintain the most basic moral respect for human beings in a civilized society! And we provide them with help as much as possible."
China observer Zhou Xiaohui wrote in his column for The Epoch Times: "This action of the Beijing residents is self-organized help against the regime's strict COVID control, and it shows their awakening."
Xinjiang Tragedy
After a fire broke out in a locked down apartment in Urumqi city, Xinjiang, on Nov. 25, killing at least 10 people according to state media, protests broke out in many places across the city and angry residents demanded the city-wide lockdown that has lasted three to four months be lifted.
On Nov. 26, authorities loosened Urumqi's COVID-19 restrictions, announcing that citizens who have been isolation at home for three days can now leave their residences and that shops are allowed to reopen. High-risk areas that have not reported new infections for five consecutive days will become low-risk areas, where residents are allowed to go downstairs or go out.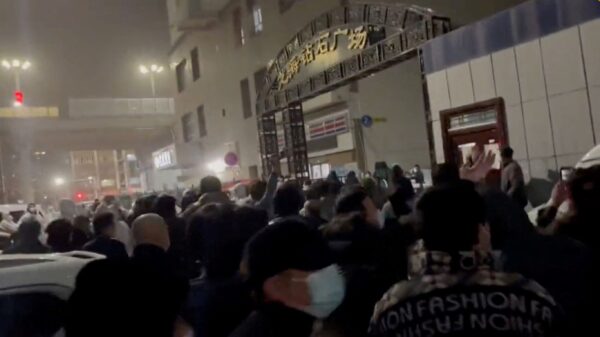 A resident of Lianxing community in Urumqi told The Epoch Times on Nov. 26 that many residents rushed out of their residences on the night of Nov. 25. "People came out to protest in all communities in Urumqi, all of them came out."
A resident who has a restaurant in Midong District said: "Everyone is so suffocated [by the lockdowns] that they are about to explode, and restaurants should be allowed to open now after the protest. This time, the protest was quite fierce, so it worked, and quite a lot of people in other communities also come out. We have been sealed in for too long."
A supermarket owner in Shuimu Shangcheng, Urumqi, told The Epoch Times that her store was allowed to reopen on Nov. 26.
Guangzhou Residents Fight with Police
A video that has been circulating on social media shows residents in Haizhu district of Guangzhou city fighting with police on Nov. 25. They tore down iron fences and threw away stools and other objects from the authorities' epidemic prevention tents in their neighborhood.
Mr. Meng (pseudonym), a villager in Houjiao Village in a district where many residents are migrant workers in the city, confirmed with The Epoch Times that the video footage is true. "It's too chaotic now, the outbreak is everywhere, and Haizhu District is completely locked down."
Mr. Meng said that the direct cause of the conflict was that the community store sold highly-priced cigarettes during the lockdown, and that local residents started a fight with the store owner.
Meng said, "Our area has been shut down for a month. Some people are unable to buy food, and many people have nothing to eat." The people took the opportunity to revolt, he said.
Another resident, Mr. Shen (pseudonym), told The Epoch Times that the authorities only distributed supplies once on Nov. 16, and at other times, residents were left to buy highly-priced vegetables and supplies.
Meng said that after the incident with the store owner, police came in a few vehicles and started a violent conflict with the residents. After that, vegetable sellers were unable to enter the area, and officials did not let residents go out to buy food.
"There is no food to eat, and everyone vents their anger through the fights and quarrels. They [the authorities] locked all the migrant workers inside and they have no food to eat. Of course [the residents] pushed down all the iron sheets that blockaded the area."
"The fight lasted from morning to night," Meng said. "Four or five cars of policemen came. It ended at 7 or 8 in the evening. In the end, thousands of villagers came out including those who watched from the sidelines. The police carried weapons and batons, and arrested a few people. The riot police beat some unarmed residents."
Large-scale protests have also been seen in Shanghai, Zhengzhou, and other major cities.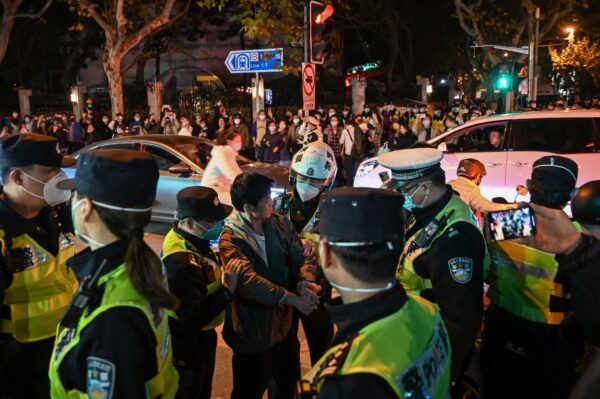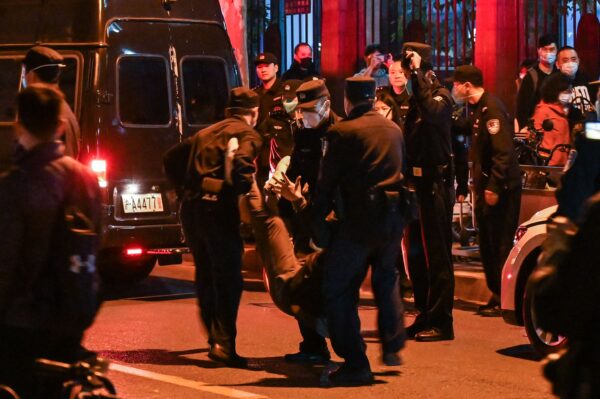 Chinese People Can No Longer Bear It
Zheng Xuguang, a U.S.-based economist, told The Epoch Times that the Chinese Communist Party (CCP) can no longer justify its strict epidemic prevention measures as so many people are angry, and the restrictions have reached an unbearable level. After almost three years living under the zero-COVID policy, more and more people are joining in the protests.
Current affairs commentator Hui Huyu told The Epoch Times on Nov. 27 that the recent rise of people in Shanghai, Beijing, Xinjiang, Guangzhou, and other places shows that the tolerance of the general public in China for the "zero-COVID" policy has reached a critical point—the people are unwilling to bear it any longer, and they want to revolt.
If the government does not take the initiative to lift the lockdowns, then the people will rise up to overthrow this policy. "Ninety percent of the people clearly shout the resounding slogan of an era, 'Down with the communist party. I think it's very difficult for the CCP to survive this time."
Columnist Zhou also said that what the CCP has done to China and the Chinese people during the three years of the pandemic has not only caused the economy to wither and the people to live in dire circumstances, but it has also caused social chaos and various tragedies.
He questioned why the CCP has spent so much money, manpower, and effort to send COVID-positive people to places for centralized quarantine.
"No matter what it is, the CCP disregards public opinion and sentiment, and continues to go down the way that only ends by killing itself."
Gu Xiaohua, Xiao Lusheng, Hong Ning, and Luo Ya contributed to this report.