Ramaswamy Assails 'Woke Capital' in California's Corporate Sphere
Ramaswamy Assails 'Woke Capital' in California's Corporate Sphere - 'We expect the new Left to look the other way when it comes to leaving our own corporate power intact,' the 2024 candidate said of leftist corporations.
Ramaswamy Assails 'Woke Capital' in California's Corporate Sphere
Days after a relatively subdued performance at the second GOP presidential debate, businessman Vivek Ramaswamy pitched to California Republicans about the dangers of cronyistic "woke capital" from leftist corporations at their autumn convention on Sept. 30.
"I'll take you back to the 2008 financial crisis," 2024 presidential candidate Mr. Ramaswamy said.
He described how the pre-woke "old Left" responded to bank bailouts that President George W. Bush signed into law: "Occupy Wall Street showed up to say … we want to redistribute money from those wealthy corporate fat cats and give it to poor people to help poor people."
But since then, he argued that the rise of wokeness and identity politics has blunted that frontal assault on the system.
-
"Occupy Wall Street is a pretty tough pill to swallow but the new woke stuff is actually pretty easy. [Add] some diversity and inclusion, put some token minorities on your boards, muse about the disparate impact of climate change after you fly in a private jet to Davos," he said.
"They didn't do it for free. They had a demand in return. They said, 'You know what, we expect the new Left to look the other way when it comes to leaving our own corporate power intact.' So, that's the arranged marriage between these two unlikely bedfellows," he added, describing the relationship between the "woke" new Left and corporate America as "mutual prostitution."
Mr. Ramaswamy's comments followed Florida Gov. Ron DeSantis, Sen. Tim Scott (R-S.C.), and former President Donald J. Trump, who also addressed the California GOP convention on Sept. 29.
-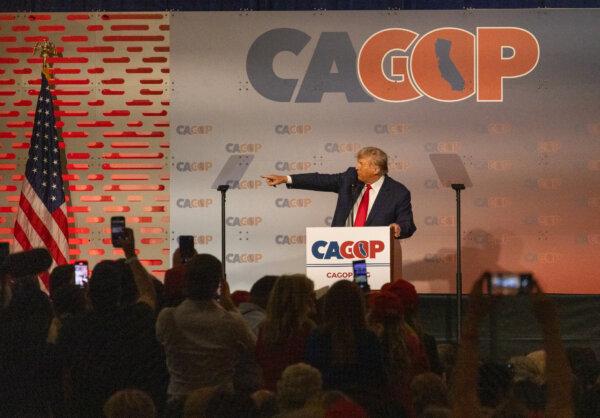 His speech comes days after the second Republican primary debate at the Reagan Library in Simi Valley, about 75 miles northwest of the Anaheim hotel where members of California's declining Republican Party have feted a few prominent speakers while holding smaller meetings and hashing out their platform.
At the big, messy televised event, Mr. Ramaswamy still held his own when pressed by his rivals on various issues—particularly foreign policy—where his views on the Ukraine-Russia conflict set him apart from every GOPer, except former President Trump. Yet, he had a lighter touch on Sept. 27 than he did at the
first debate
in Milwaukee, where many saw him as the winner.
In recent weeks, the businessman's early rise on a consciously Trump-like "America First 2.0" platform has met with headwinds, with critics such as Yale University's Jeffrey Sonnenfeld questioning his history in the private sector. On stage at the Reagan Library, rivals focused on his former pharmaceutical business Roivant's operations in China.
The entrepreneur responded by stressing that he "got the hell out of there" and has become a fierce critic of the Chinese Communist Party.
While some have dinged Mr. Ramaswamy's likability, one
recent
survey
by The Economist shows he has a lower unfavorability rating—at 41 percent—than all his rivals, except Sen. Tim Scott (R-S.C.).
Yet, Real Clear Politics'
latest opinion poll averages
show that Mr. Ramaswamy has also now fallen behind a rival with very different views on foreign policy: former South Carolina Gov. Nikki Haley.
-
Former Gov. Haley didn't come up in Mr. Ramaswamy's Anaheim speech.
He instead hit on themes he's outlined in much greater detail at other times; for example, his
plan
to "drain the swamp" by slashing jobs and regulations in Washington as well as his "
declaration
of independence from China."
Unlike Gov. DeSantis, who spoke at length about his issues with California, Mr. Ramaswamy said little about the Golden State and its influence on American life, though he did criticize the entrenched power of Silicon Valley. He pointed out that "breaking up Big Tech" used to be a left-wing rather than a right-wing issue.
"They [the tech companies] said, 'Okay, wait, we can do a deal here. We will use our monopoly power to censor 'hate speech' and 'misinformation' as you define it, but we will not do it for free. We expect the new Left to look the other way when it comes to leaving our monopoly power intact," he said.
In a subsequent press conference, Mr. Ramaswamy weighed in on the latest development in the government shutdown drama—a bill passed in the House to keep the federal apparatus funded but only for the next month and a half.
-
"This whole debate is a farce. It's a deflection. Even if the government were going to shut down, we know what happens every time. They get the back pay. It comes back bigger every time. We need to stop the artificial debate about fake government shutdowns and start having a real debate about how to achieve a true shutdown of the administrative state," he told reporters.
Before the recent spate of threatened or actual federal employee furloughs, there were numerous shutdowns throughout the 1980s and 1990s.
Mr. Ramaswamy sounded a little like Gov. DeSantis, who faced a similar question about House Majority Leader Kevin McCarthy's (R-Calif.) leadership after a speech in Long Beach.
-
"What they have been doing in Washington for the last three or four years is shutting down the American Dream for American families … We're going to be willing to yield the veto pen if they're spending too much money," Gov. DeSantis said, citing his
vetoes of budget items
in Florida.
A staffer with the convention did not provide an immediate estimate of the turnout for Mr. Ramaswamy. President Donald J. Trump's speech on Sept. 29 sold 1,500 tickets, according to that staffer.