Rallies in Japan Draw Crowds to Support China's 'White Paper Revolution'
Rallies were held in Japan last week in solidarity with the "white paper revolution" in mainland China—the largest wave of Chinese protests in three decades. The rallies joined a worldwide response to China's draconian COVID measures, sparked by a tragic fire in late November.On Nov. 24, the fatal apartment fire in Urumqi, the capital of China's Xinjiang Uyghur Autonomous Region, led to demonstrations in dozens of Chinese cities and at universities across the country. Chinese state media reported that there were 10 deaths in the Urumqi fire, but social media reports claimed at least 44 victims. It was reported that fire engines were blocked from accessing the building by pandemic control barricades. Meanwhile, doors in the building were reportedly sealed with iron bars, leaving many residents with no way to escape. Mass demonstrations, expressing outrage over the tragedy and protesting China's harsh zero-COVID measures, quickly spread overseas and gained widespread international solidarity—becoming what has been widely dubbed the "white paper revolution." Chinese demonstrators held up blank sheets of white paper in protest while chanting political slogans such as "Refuse dictatorship!" "Step down, Chinese Communist Party!" The blank sheets of white paper have been seen as a potent symbol of discontent that cannot be expressed openly in an authoritarian state. Protesters began using white paper during pro-democracy demonstrations in Hong Kong in 2019, as communist China tightened its control of the city. Protesters hold up pieces of white paper as a statement against censorship during a protest in Beijing, on Nov. 27, 2022. (Kevin Frayer/Getty Images) The Epoch Times interviewed rally participants in Tokyo and Osaka. Many spoke anonymously for fear of reprisal. Protestors in Tokyo: 'Don't Be Slaves, Be Citizens' On Nov. 30, at 7:00 p.m.—around the time the deadly fire broke out in Urumqi—Chinese nationals and students gathered at the public square in front of Tokyo's Shinjuku Station. A gathering on Nov. 30 at the public square in front of Tokyo's Shinjuku Station, mourning victims of the deadly fire in Urumqi, Xinjiang, China. (Ellen Wan/The Epoch Times) As at other rallies, a common slogan was "Anti-dictatorship, anti-tyranny! Give me freedom or give me death!" Demonstrators chanted: "We don't want COVID tests; we want food!" "We don't want lies; we want dignity!" "We don't need leaders; we need votes!" and "Don't be slaves; be citizens!" Hundreds of protesters, including many Chinese international students, participated in the rally, holding up blank pieces of white paper while chanting, "Free China!" Others demanded "human rights, freedom of elections, and constitutionalism." Demonstrators in Japan hold signs demanding fair elections and constitutional government in China. (The Epoch Times) Violinists played songs from the musical Les Misérables, while banners reading "Liberate Hong Kong, revolution of our times" were displayed. Chinese students at the event were mostly from local Japanese universities, including Tokyo University and Waseda University. Some students said that after news of the gathering spread, the Chinese embassy in Japan sent officials to the schools to try to stop it, deterring some students from attending. Despite that, the rallies took place, drawing hundreds. "As a Chinese, I have not been able to express my true feelings for many years. Now I can finally speak out, and I am very happy," a Chinese international student told The Epoch Times. Zhang Miao (pseudonym), who recently came to Japan to study, told The Epoch Times that "I overcame the fear and the obstacle of 'self-censorship' to stand here. The sympathy and anger in my heart prevented me from doing nothing or saying nothing … Today, so many people gathered here because of the same goal—to overthrow the Chinese Communist Party." Speakers at the rally, which was organized by the Japan Hongkongers Association, called for a unified challenge to the CCP. Wada Kenichiro told The Epoch Times he came to the rally to mourn lives lost due to China's zero-COVID policy. Kenichiro is a city council member in Shiroishi, Chiba Prefecture, just east of Tokyo. He made international headlines in 2018 after he was refused entry to Hong Kong for supporting a pro-democracy legislative candidate there. Kenichiro said rally attendees showed the courage "to be free, to be democratic, and I respect that from the bottom of my heart." Osaka Protestor: 'History Will Bear Witness' At 7:00 p.m. on Dec. 2, Chinese crowds stood silently near the Osaka Metropolitan Area's Nihonbashi Station, holding white papers, flowers, and candles to mourn compatriots who died in the fatal fire. Rallies were also held in Osaka on Dec. 2 and 3. On Dec. 3, 2022, Chinese students studying in the Kansai region of Japan held a rally in Utsubo Park, Osaka, in support of the "white paper revolution." (Kane Zhang/The Epoch Times) The rallies expre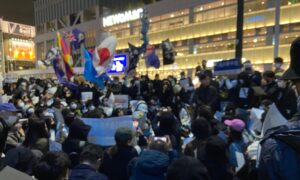 Rallies were held in Japan last week in solidarity with the "white paper revolution" in mainland China—the largest wave of Chinese protests in three decades. The rallies joined a worldwide response to China's draconian COVID measures, sparked by a tragic fire in late November.
On Nov. 24, the fatal apartment fire in Urumqi, the capital of China's Xinjiang Uyghur Autonomous Region, led to demonstrations in dozens of Chinese cities and at universities across the country.
Chinese state media reported that there were 10 deaths in the Urumqi fire, but social media reports claimed at least 44 victims. It was reported that fire engines were blocked from accessing the building by pandemic control barricades. Meanwhile, doors in the building were reportedly sealed with iron bars, leaving many residents with no way to escape.
Mass demonstrations, expressing outrage over the tragedy and protesting China's harsh zero-COVID measures, quickly spread overseas and gained widespread international solidarity—becoming what has been widely dubbed the "white paper revolution."
Chinese demonstrators held up blank sheets of white paper in protest while chanting political slogans such as "Refuse dictatorship!" "Step down, Chinese Communist Party!"
The blank sheets of white paper have been seen as a potent symbol of discontent that cannot be expressed openly in an authoritarian state. Protesters began using white paper during pro-democracy demonstrations in Hong Kong in 2019, as communist China tightened its control of the city.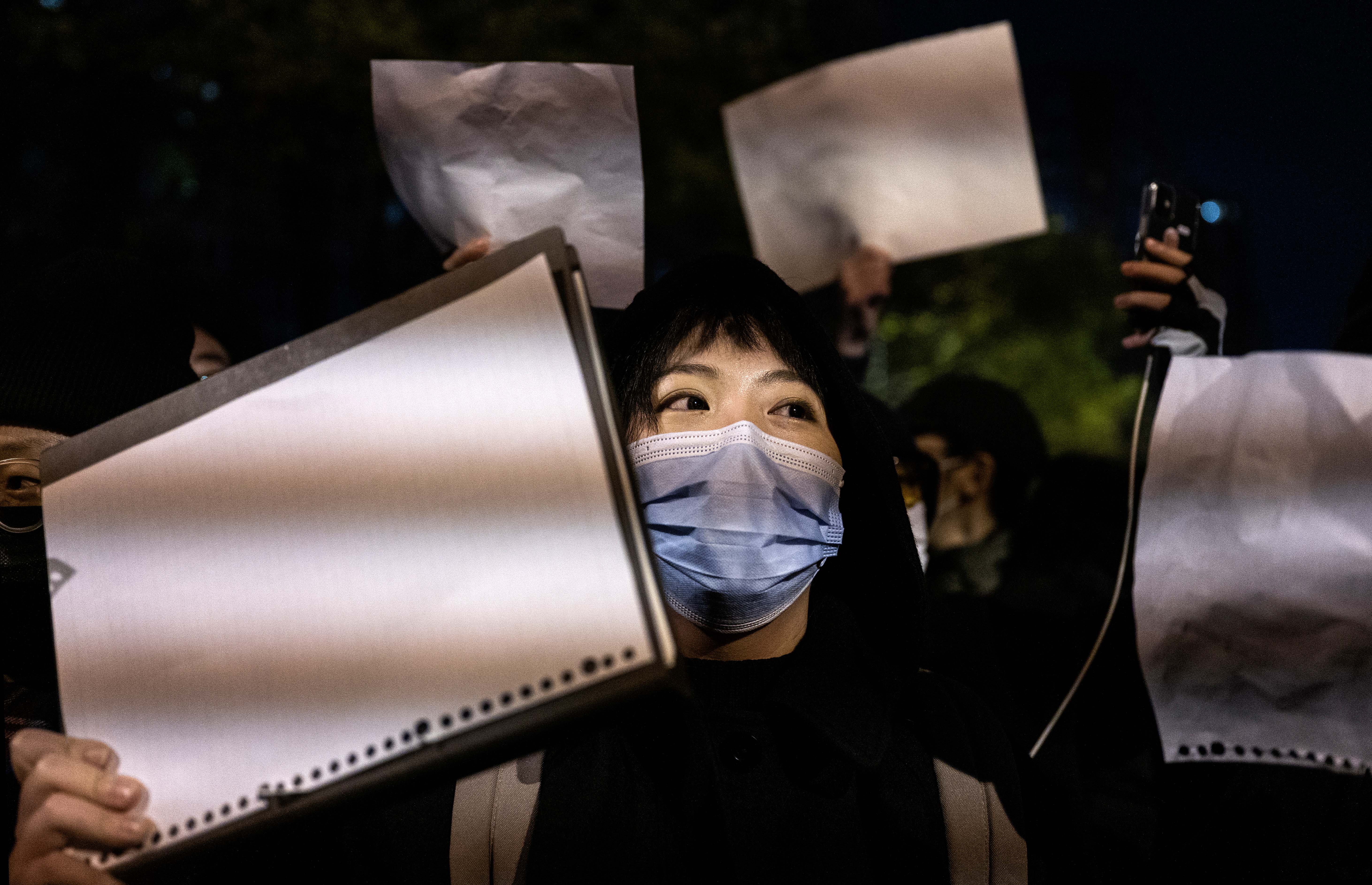 The Epoch Times interviewed rally participants in Tokyo and Osaka. Many spoke anonymously for fear of reprisal.
Protestors in Tokyo: 'Don't Be Slaves, Be Citizens'
On Nov. 30, at 7:00 p.m.—around the time the deadly fire broke out in Urumqi—Chinese nationals and students gathered at the public square in front of Tokyo's Shinjuku Station.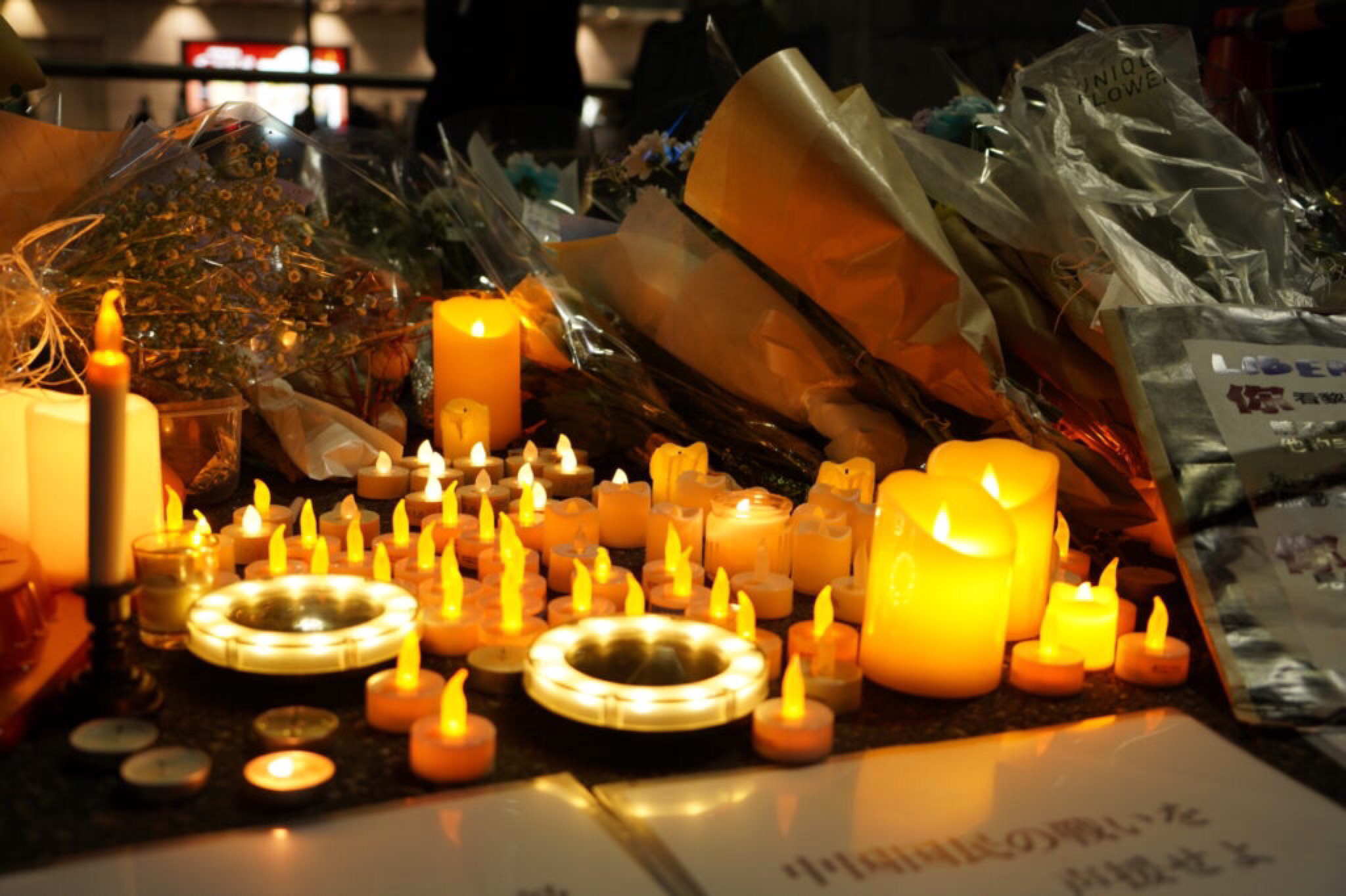 As at other rallies, a common slogan was "Anti-dictatorship, anti-tyranny! Give me freedom or give me death!"
Demonstrators chanted: "We don't want COVID tests; we want food!" "We don't want lies; we want dignity!" "We don't need leaders; we need votes!" and "Don't be slaves; be citizens!"
Hundreds of protesters, including many Chinese international students, participated in the rally, holding up blank pieces of white paper while chanting, "Free China!" Others demanded "human rights, freedom of elections, and constitutionalism."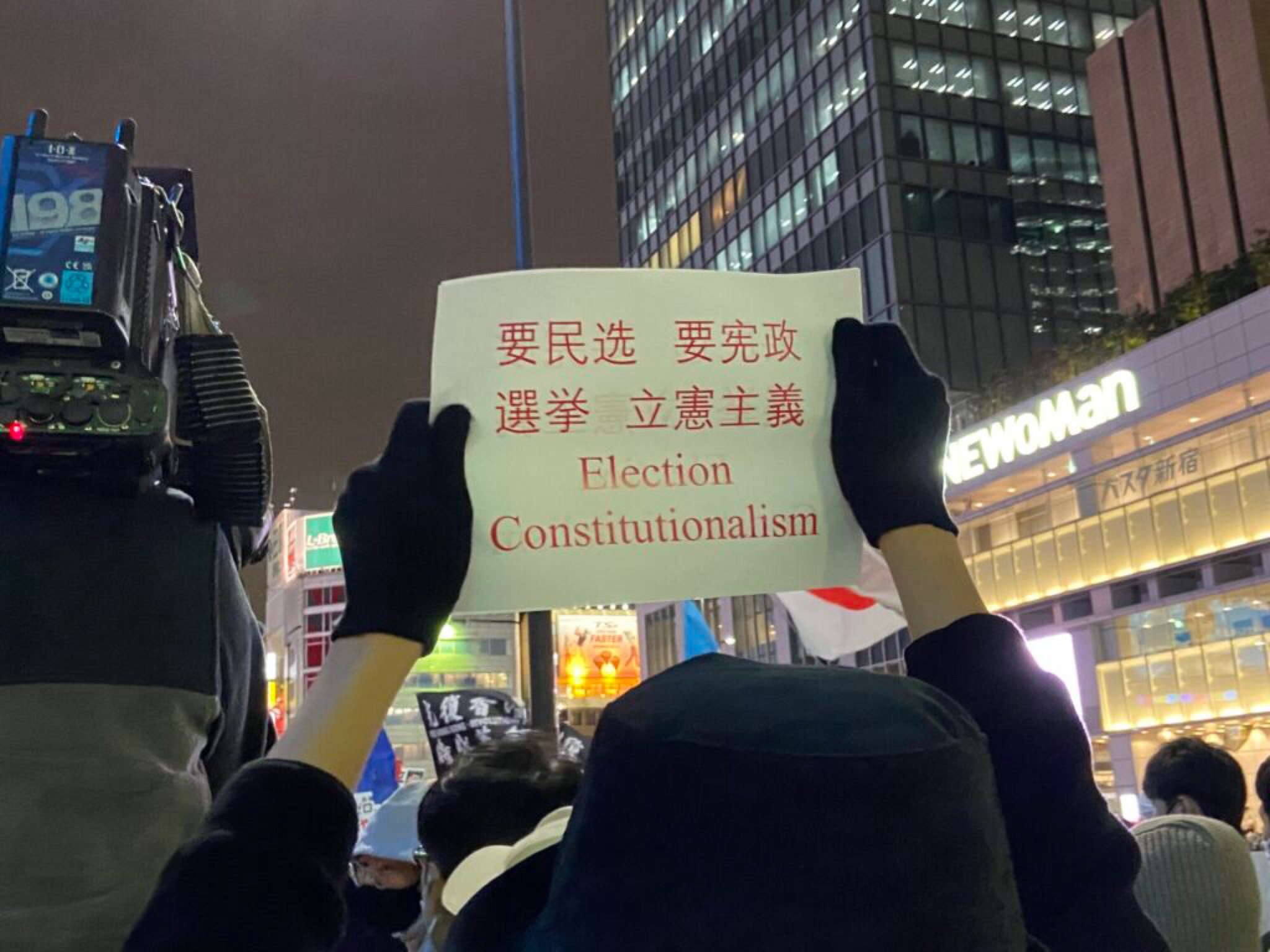 Violinists played songs from the musical Les Misérables, while banners reading "Liberate Hong Kong, revolution of our times" were displayed.
Chinese students at the event were mostly from local Japanese universities, including Tokyo University and Waseda University.
Some students said that after news of the gathering spread, the Chinese embassy in Japan sent officials to the schools to try to stop it, deterring some students from attending. Despite that, the rallies took place, drawing hundreds.
"As a Chinese, I have not been able to express my true feelings for many years. Now I can finally speak out, and I am very happy," a Chinese international student told The Epoch Times.
Zhang Miao (pseudonym), who recently came to Japan to study, told The Epoch Times that "I overcame the fear and the obstacle of 'self-censorship' to stand here. The sympathy and anger in my heart prevented me from doing nothing or saying nothing … Today, so many people gathered here because of the same goal—to overthrow the Chinese Communist Party."
Speakers at the rally, which was organized by the Japan Hongkongers Association, called for a unified challenge to the CCP.
Wada Kenichiro told The Epoch Times he came to the rally to mourn lives lost due to China's zero-COVID policy.
Kenichiro is a city council member in Shiroishi, Chiba Prefecture, just east of Tokyo. He made international headlines in 2018 after he was refused entry to Hong Kong for supporting a pro-democracy legislative candidate there.
Kenichiro said rally attendees showed the courage "to be free, to be democratic, and I respect that from the bottom of my heart."
Osaka Protestor: 'History Will Bear Witness'
At 7:00 p.m. on Dec. 2, Chinese crowds stood silently near the Osaka Metropolitan Area's Nihonbashi Station, holding white papers, flowers, and candles to mourn compatriots who died in the fatal fire.
Rallies were also held in Osaka on Dec. 2 and 3.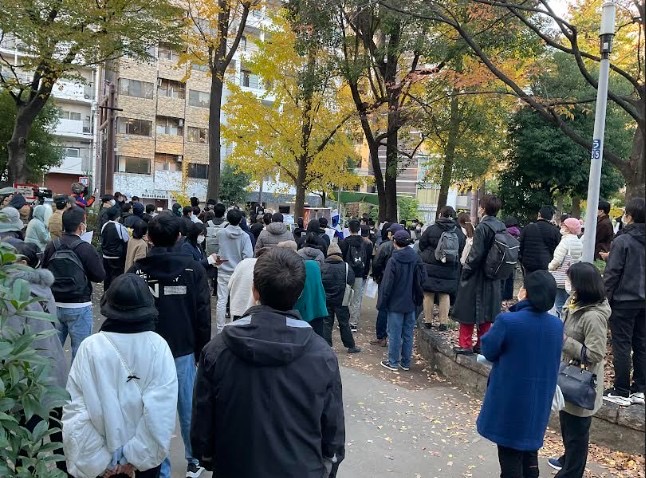 The rallies expressed four demands: that China open up its economy, adopt a democratic system, lift pandemic restrictions, and that Chinese leader Xi Jinping step down.
"The most important reason for holding this protest abroad is to let Chinese students know they are not alone and that we will support them," one of the event's moderators, Chinese international student Wen Long (a pseudonym) told The Epoch Times. "We also want the international community to hear our voice as more Chinese people yearn for democracy and freedom."
"It will be a victory for us if we let more people recognize the CCP's evil; only when the CCP is completely disintegrated can China have a future," he added.
A naturalized Japanese citizen at the event, who gave his name as Sato, told The Epoch Times: "People are suffering in China, and what the CCP fears most are people who disagree with them."
Ms. Wada, a Japanese English teacher, said she hurried to the rally right after work. She said she felt sympathy for the victims of the deadly fire in Urumqi but worries that protesting students may become the target of the CCP.
On the afternoon of Dec. 3, Chinese international students continued their white paper protest at the park near the Chinese Consulate in Osaka. There were over 200 Chinese students and some locals present at the event.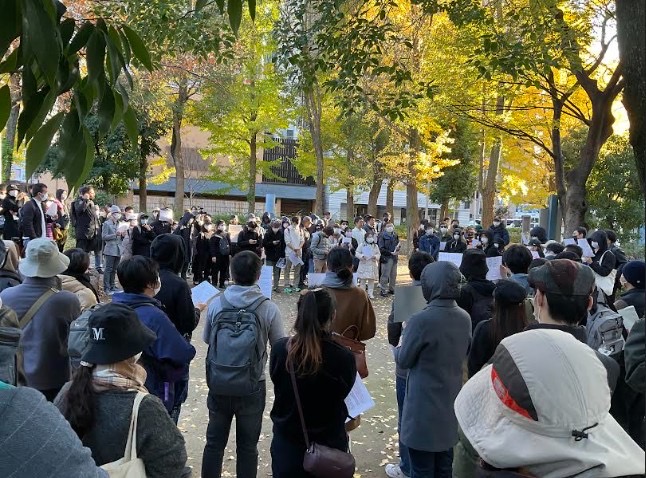 Demonstrators chanted slogans such as "Freedom of speech, freedom of the press!" "Step down, CCP!" "Step down, Xi Jinping!" "We don't want leaders; we want votes!"
"Do You Hear the People Sing?" from Les Misérables was played at the gathering. The song became an anthem during the 2019 pro-democracy protests in Hong Kong.
Speakers at the event also denounced the CCP's brutalities.
Liu Qi (pseudonym), the father of two children, angrily said: "the Chinese government didn't even apologize and continues to lie for its many atrocities against the people! That's why I am here today; I can't stand it!"
"If there is a fire and no one comes to save me, and I burn to death at home, this makes me really afraid. This happens in China," Sun Hao (pseudonym), a 21-year-old Chinese international student, told The Epoch Times. Sun came to Japan from Shanghai two months ago.
"If we don't stand up and save ourselves today, maybe no one will come to save us. I support those who are bravely protesting in China. Rather than being afraid, I am standing up for myself and my family!"
Another student from Shanghai, 29-year-old Zhen Ni (pseudonym), told The Epoch Times that she witnessed the death of a neighbor who was unable to go to the hospital because of lockdown measures. Zhen said that she came to the gathering to appeal for freedom and democracy in mainland China. Her hope is that her friends and relatives in China can live normal lives.
"The white paper revolution must continue. This is a historical movement. History will bear witness, " Yang Di (pseudonym), who came to Japan before the COVID-19 outbreak, told The Epoch Times.
Yang related an incident illustrating the danger that protesters face, even outside of China: "When I passed by the Chinese consulate, two men asked me if I was going to the rally. I didn't bother to answer. They followed me for a long time, but stopped as I came close to the gathering because they feared the protest."