Raising a Child in Hong Kong: Staggering Cost Surpasses US, UK, Australia
The cost of raising a child in Hong Kong soared to a staggering nearly $3,500 per month, topping costs in the United States and other advanced countries.A June survey conducted by Hang Seng Bank, after questioning 633 Hong Kong residents with liquid assets of HK$1 million ($130,000) or more, found that it costs an annual average of HK$284,000 ($36,000) to raise a child in Hong Kong. The cost of raising a child to the age of 18 is estimated to be approximately HK$5.87 million ($750,000) in Hong Kong, with an average expense of about HK$326,000 ($41,600) per year, or HK$27,158 ($3,472) per month. Education and tuition are a large part of that number. According to a 2018 HSBC report, parents spent an average of HK$400,000 (about $50,900) on their children's post-secondary education and daily living expenses. According to the June report, Hong Kong parents will need more than HK$6 million ($780,000) to support their children to the age of 22, or until financially independent. Child-rearing expenses for a family in Hong Kong make up nearly 70 percent of household income. The total amount exceeds that of Western countries such as the United States, the UK, Australia, and Canada. In the UK, the average expense to raise a child until age 18 is about £202,660 ($235,531). That averages to an annual cost of $13,085, or a monthly cost of $1,090, according to a report by The Times on April 22. Based on a report entitled Expenditures on Children by Families by the U.S. Department of Agriculture, in 2015 it cost $233,610 for a middle-income family in the United States to raise a child to age 18. That broke down to $12,978 per year. However, due to inflation, the cost will rise to $272,049, or $15,113 per year, for a child born in 2022, according to estimates by New York-based financial media site Investopedia. In Canada, most estimates place the cost of raising a child to the age of 18 in the $10,000–$15,000 a year range. That translates to $833–$1,250 per month. Meanwhile, in Australia, a 2013 research study by the University of Canberra (pdf) found that it cost a middle-income family $812,000 to raise two children to the age of 24. That means child-rearing costs of $16,916 per year or $1,409 per month. That cost is doubtless higher today due to inflation. Because countries consider different details when estimating the cost of raising a child, the above data is approximate. The cost depends on factors including political and economic environment, family revenue, number of children, lifestyle, and whether children attend public or private school. Customary expectations also play a part, such as whether parents are expected to help with the downpayment on a first home. Follow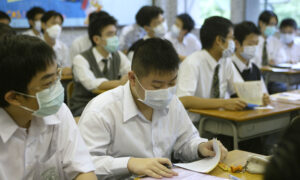 The cost of raising a child in Hong Kong soared to a staggering nearly $3,500 per month, topping costs in the United States and other advanced countries.
A June survey conducted by Hang Seng Bank, after questioning 633 Hong Kong residents with liquid assets of HK$1 million ($130,000) or more, found that it costs an annual average of HK$284,000 ($36,000) to raise a child in Hong Kong.
The cost of raising a child to the age of 18 is estimated to be approximately HK$5.87 million ($750,000) in Hong Kong, with an average expense of about HK$326,000 ($41,600) per year, or HK$27,158 ($3,472) per month.
Education and tuition are a large part of that number. According to a 2018 HSBC report, parents spent an average of HK$400,000 (about $50,900) on their children's post-secondary education and daily living expenses.
According to the June report, Hong Kong parents will need more than HK$6 million ($780,000) to support their children to the age of 22, or until financially independent.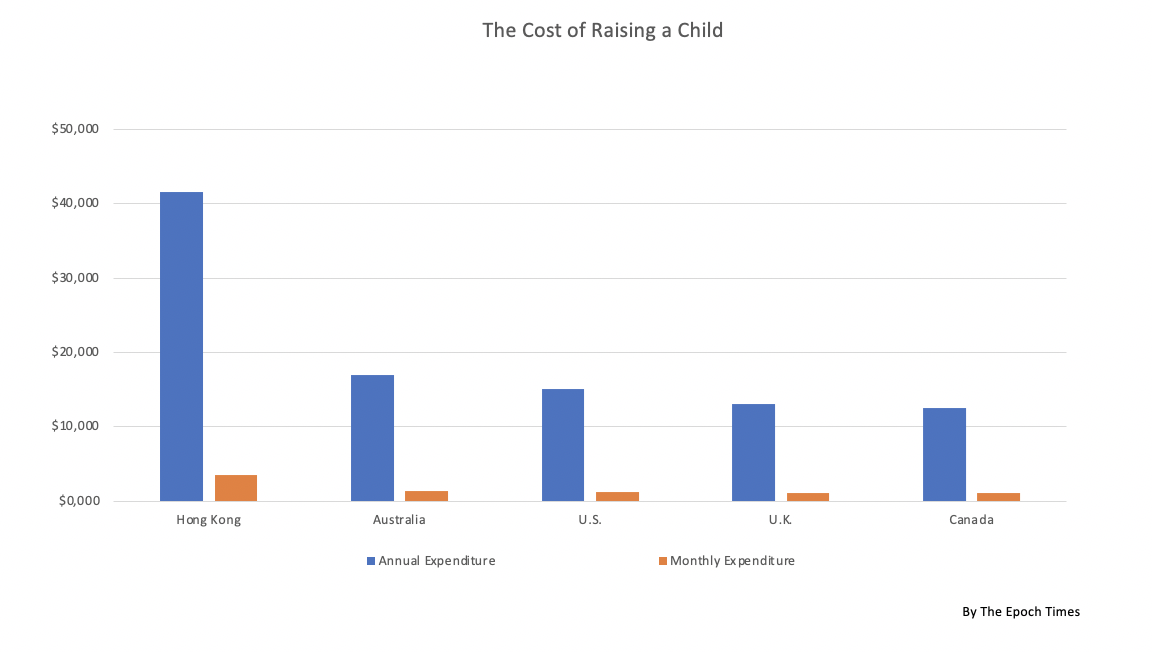 Child-rearing expenses for a family in Hong Kong make up nearly 70 percent of household income. The total amount exceeds that of Western countries such as the United States, the UK, Australia, and Canada.
In the UK, the average expense to raise a child until age 18 is about £202,660 ($235,531). That averages to an annual cost of $13,085, or a monthly cost of $1,090, according to a report by The Times on April 22.
Based on a report entitled Expenditures on Children by Families by the U.S. Department of Agriculture, in 2015 it cost $233,610 for a middle-income family in the United States to raise a child to age 18. That broke down to $12,978 per year. However, due to inflation, the cost will rise to $272,049, or $15,113 per year, for a child born in 2022, according to estimates by New York-based financial media site Investopedia.
In Canada, most estimates place the cost of raising a child to the age of 18 in the $10,000–$15,000 a year range. That translates to $833–$1,250 per month.
Meanwhile, in Australia, a 2013 research study by the University of Canberra (pdf) found that it cost a middle-income family $812,000 to raise two children to the age of 24. That means child-rearing costs of $16,916 per year or $1,409 per month. That cost is doubtless higher today due to inflation.
Because countries consider different details when estimating the cost of raising a child, the above data is approximate. The cost depends on factors including political and economic environment, family revenue, number of children, lifestyle, and whether children attend public or private school. Customary expectations also play a part, such as whether parents are expected to help with the downpayment on a first home.