Putin's Desperation and Russia's Disintegration
Commentary Vladimir Putin is desperate, which is good and bad. The bad—the really bad—is that cornered animals tend to lash out. In Putin's case, that could include the use of tactical nuclear weapons or a "stray" artillery shell hitting Europe's largest nuclear power plant in Zaporizhzhia, Ukraine. Either act would escalate the war and might draw in the NATO alliance directly. Apparently willing to risk it, Putin has taken two major steps in the past weeks. He deployed tactical nuclear weapons to his closest ally, Belarus. And he withdrew from the Treaty on Conventional Armed Forces in Europe, which limits Russian and NATO forces. Putin has already vowed to defend his Ukrainian conquests with nuclear weapons. On May 26, Moscow hit the Karlivka dam with an S-300 missile. On June 6, Russian forces apparently blew up the Kakhovka dam. Flooding the Dnipro River makes it more difficult for Ukrainian forces to retake their lost territory to its east. These are indicators, possibly intended as such by Putin in the "game" of brinkmanship, to prove that he could resort to tactical nuclear weapons. But like the blowing of the dam and threat against Zaporizhzhia, they only dig Putin deeper into the hole of his own making. He appears more and more the cornered aggressor and less the winning defender. "Putin, essentially, is down to his nukes in Ukraine. And even he likely knows that they are not a viable or winning option," wrote a former head of the U.S. European Command Intelligence Engagement Division. As bad as the storm clouds over Ukraine are, there is a silver lining. An autocratic Russian empire is again cracking under its own weight. That would be a welcome geopolitical shift, especially if it put a chill on China's invasion plans for Taiwan. A satellite image shows Nova Khakovka dam in the Kherson region, Ukraine, on June 5, 2023. (Maxar Technologies/Handout via Reuters) According to a June 6 report, Mikhail Khodorkovsky, the exiled Russian oil billionaire, warned that Putin's rule will lead to the "disintegration" of Russia. Pro-Ukrainian forces, including two Russian rebel groups, are raiding territories in Russia and targeting Moscow with drones and IEDs. Russia's answer to NATO, the Collective Security Treaty Organization (CSTO), has given next to zero support to Putin's war. One member state, Armenia, publicly disavowed support for the war, according to a June 5 article. This is the greatest weakness of authoritarian powers generally. They have no real friends or allies, just partners of convenience who can stab each other in the back. China is supposedly pressuring Russia not to use nuclear weapons. However, the language is so general as to be meaningless or, worse, framed to give countries like Russia and China, with large and powerful conventional armies, an edge over smaller nuclear powers. Russian President Vladimir Putin and Chinese leader Xi Jinping enter a hall during a meeting at the Kremlin in Moscow on March 21, 2023. (Alexey Maishev/Sputnik/AFP via Getty Images) The pressure is thus more wishful thinking on the part of Western commentators than real action by Beijing to constrain Putin. Xi Jinping clearly opposes Putin's "humiliation," the avoidance of which requires the Russian dictator to win at least a bit of territory—most likely a land bridge to Crimea. This is their version of slicing the salami from both sides, the incrementalist taking of neighboring territories by two allied dictators, one small slice at a time, until the salami of democracy is gone. Putin follows the Chinese Communist Party's method in Asia, which began with capturing a Chinese province in the 1930s, then expanded to Tibet, Xinjiang, and the South China Sea Islands over the next four decades. Beijing's aspirations of influence, the spearpoint of more permanent conquests, now include parts of what used to be Russia—the Central Asian republics. Russia could also eventually lose parts of its Far East, which is already penetrated by businesses and immigration from China. The more immediate threats by far are Ukrainian-made drones traveling as far as Moscow and plans by the United States to approve additional F-16 and F/A-18 fighter jets for delivery to Ukraine. These jets could down Russian drones and missiles. But they could also serve the offense. The Russian foreign minister is worried about the arming of Ukrainian fighter jets with nuclear weapons. The world is not showing much sympathy for Russia's concern, however, with a Pentagon spokesman directing a message to him: "If you're worried about Ukrainian military capabilities, then you should take your troops and leave Ukraine." There are also powerful conventional weapons that could be deployed on Ukraine's new fighter jets, for example, heat-seeking cluster bombs that open to distribute ordnance to as many as 40 armored vehicles. The United States no longer deploys them, but the technology could be produced in Ukraine's own weapons factor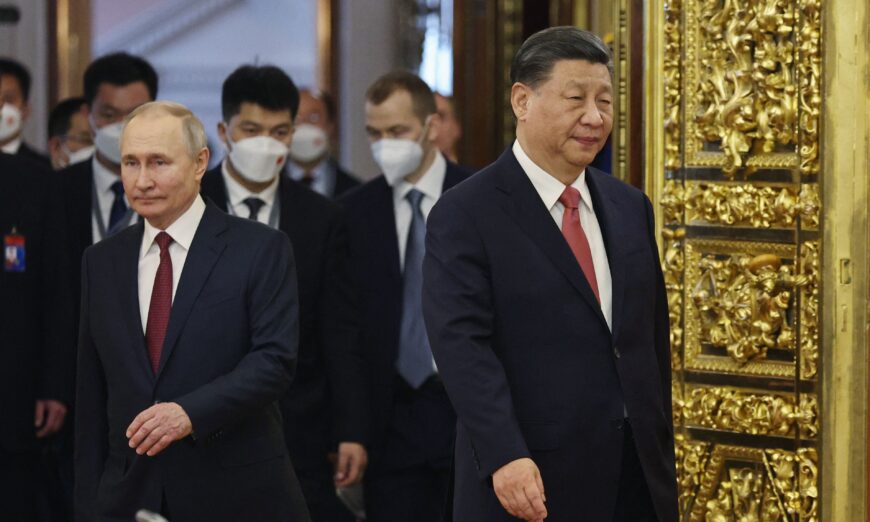 Commentary
Vladimir Putin is desperate, which is good and bad. The bad—the really bad—is that cornered animals tend to lash out.
In Putin's case, that could include the use of tactical nuclear weapons or a "stray" artillery shell hitting Europe's largest nuclear power plant in Zaporizhzhia, Ukraine. Either act would escalate the war and might draw in the NATO alliance directly.
Apparently willing to risk it, Putin has taken two major steps in the past weeks. He deployed tactical nuclear weapons to his closest ally, Belarus. And he withdrew from the Treaty on Conventional Armed Forces in Europe, which limits Russian and NATO forces. Putin has already vowed to defend his Ukrainian conquests with nuclear weapons.
On May 26, Moscow hit the Karlivka dam with an S-300 missile.
On June 6, Russian forces apparently blew up the Kakhovka dam. Flooding the Dnipro River makes it more difficult for Ukrainian forces to retake their lost territory to its east.
These are indicators, possibly intended as such by Putin in the "game" of brinkmanship, to prove that he could resort to tactical nuclear weapons.
But like the blowing of the dam and threat against Zaporizhzhia, they only dig Putin deeper into the hole of his own making. He appears more and more the cornered aggressor and less the winning defender.
"Putin, essentially, is down to his nukes in Ukraine. And even he likely knows that they are not a viable or winning option," wrote a former head of the U.S. European Command Intelligence Engagement Division.
As bad as the storm clouds over Ukraine are, there is a silver lining. An autocratic Russian empire is again cracking under its own weight. That would be a welcome geopolitical shift, especially if it put a chill on China's invasion plans for Taiwan.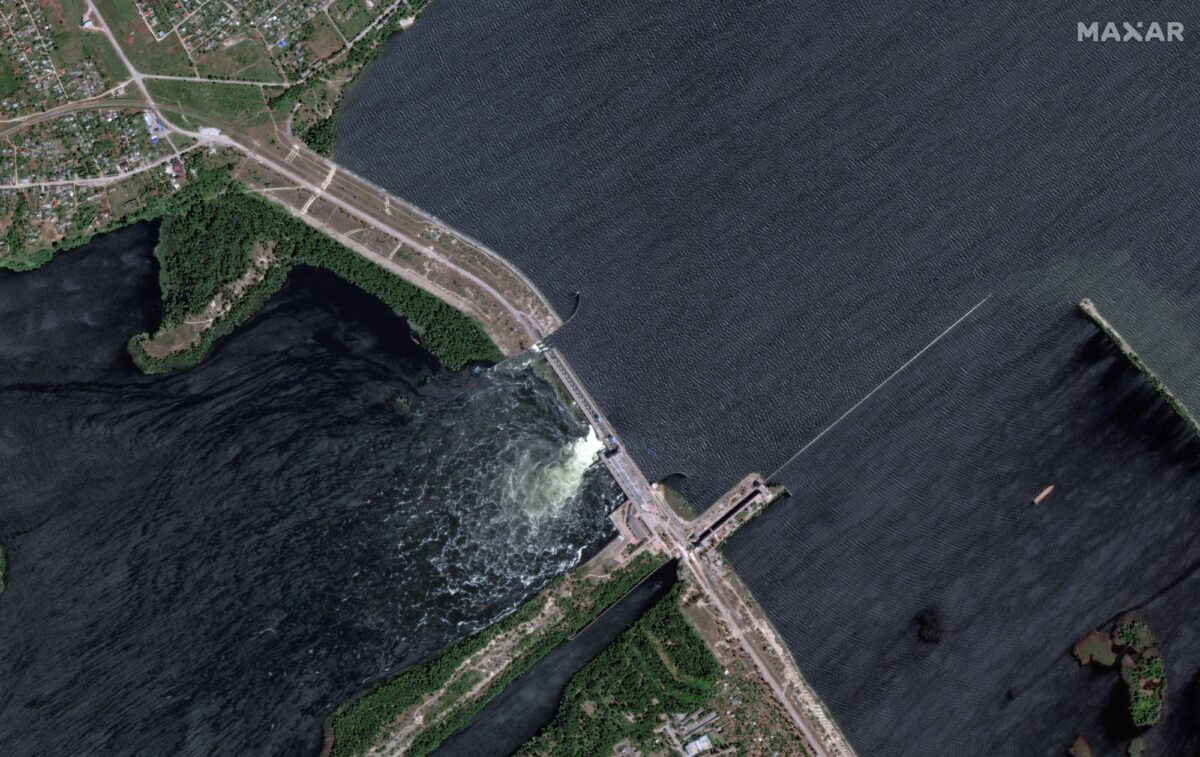 According to a June 6 report, Mikhail Khodorkovsky, the exiled Russian oil billionaire, warned that Putin's rule will lead to the "disintegration" of Russia.
Pro-Ukrainian forces, including two Russian rebel groups, are raiding territories in Russia and targeting Moscow with drones and IEDs.
Russia's answer to NATO, the Collective Security Treaty Organization (CSTO), has given next to zero support to Putin's war. One member state, Armenia, publicly disavowed support for the war, according to a June 5 article.
This is the greatest weakness of authoritarian powers generally. They have no real friends or allies, just partners of convenience who can stab each other in the back.
China is supposedly pressuring Russia not to use nuclear weapons. However, the language is so general as to be meaningless or, worse, framed to give countries like Russia and China, with large and powerful conventional armies, an edge over smaller nuclear powers.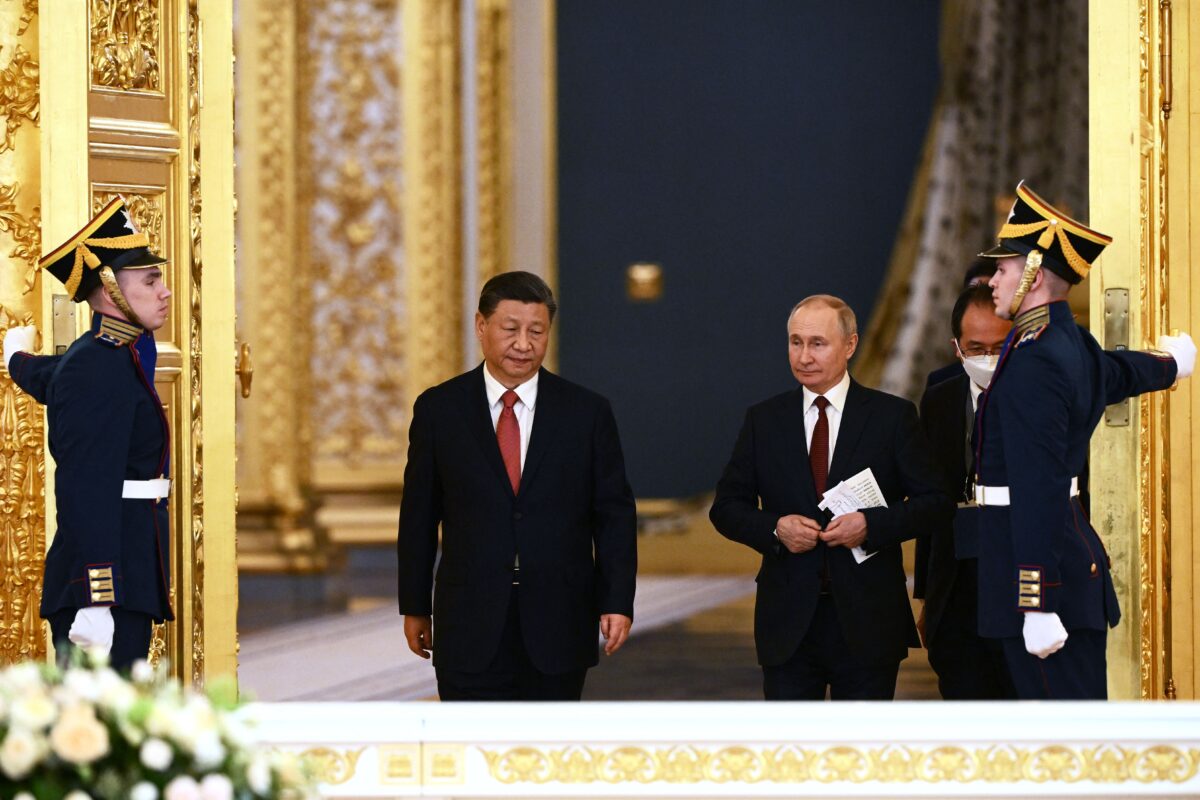 The pressure is thus more wishful thinking on the part of Western commentators than real action by Beijing to constrain Putin. Xi Jinping clearly opposes Putin's "humiliation," the avoidance of which requires the Russian dictator to win at least a bit of territory—most likely a land bridge to Crimea.
This is their version of slicing the salami from both sides, the incrementalist taking of neighboring territories by two allied dictators, one small slice at a time, until the salami of democracy is gone.
Putin follows the Chinese Communist Party's method in Asia, which began with capturing a Chinese province in the 1930s, then expanded to Tibet, Xinjiang, and the South China Sea Islands over the next four decades.
Beijing's aspirations of influence, the spearpoint of more permanent conquests, now include parts of what used to be Russia—the Central Asian republics. Russia could also eventually lose parts of its Far East, which is already penetrated by businesses and immigration from China.
The more immediate threats by far are Ukrainian-made drones traveling as far as Moscow and plans by the United States to approve additional F-16 and F/A-18 fighter jets for delivery to Ukraine. These jets could down Russian drones and missiles. But they could also serve the offense.
The Russian foreign minister is worried about the arming of Ukrainian fighter jets with nuclear weapons. The world is not showing much sympathy for Russia's concern, however, with a Pentagon spokesman directing a message to him: "If you're worried about Ukrainian military capabilities, then you should take your troops and leave Ukraine."
There are also powerful conventional weapons that could be deployed on Ukraine's new fighter jets, for example, heat-seeking cluster bombs that open to distribute ordnance to as many as 40 armored vehicles. The United States no longer deploys them, but the technology could be produced in Ukraine's own weapons factories.
Some civilians are now worried that Moscow is an unsafe place to live due to potential Ukrainian retaliation. Infighting between the Russian army and the militarized Wagner Group is out of even Putin's control, it seems. There is talk of a coup.
By now, Putin must be worried about saving his own neck. Saddam Hussein and Muammar Gaddafi, two dictators from Iraq and Libya who committed extensive human rights abuse, met their ends at the hands of their countrymen.
That risk makes Putin desperate and unpredictable. Logic and rationality can be difficult for those who fear for their life. They can lash out at their citizens and the citizens of other countries.
This is why the United States and our allies are relatively careful about "provoking" Putin.
Yet we can't let him slide, either. To do so would be to appease aggression, which would only beget more aggression from Putin, Xi, and other would-be tyrants.
Views expressed in this article are the opinions of the author and do not necessarily reflect the views of The Epoch Times.