Public Safety Minister Won't Say If Canada Will Ban a Chinese Company With Beijing Ties After RCMP Suspends Contract
After the RCMP suspended its contract with Sinclair Technologies Inc., a company with ties to Beijing and which is facing espionage-related charges in the United States, Public Safety Minister Marco Mendicino wouldn't say whether the federal government will ban future contracts with the firm. The parent company of Sinclair Technologies, Norsat International Inc., was acquired in 2017 by Chinese telecommunications firm Hytera, an enterprise partly state-owned by the Chinese Communist Party, which holds 10 percent of Hytera through an investment entity. The RCMP came under fire after Radio-Canada reported last December that it had contracted Sinclair to purchase radio frequency filtering equipment for the force. The contract, with a total value of $549,637, was issued on Oct. 6, 2021, for a period of three years until March 31, 2024. That contract was suspended on Dec. 9, 2022. Mendicino defended the RCMP's procurement of the Sinclair radio filtering equipment while testifying before the House industry committee on Jan. 30. He described the equipment as "unpowered assemblies of tin cans, metal rods, and cables" that "[do] not have the technical capability to access RCMP radio communications." "The radio frequency filtration equipment procured from Sinclair Technologies poses no security concerns given its specific function," he said. "There is no reason to believe Canada's national security was under threat at any time during this process." Previously, however, the minister announced a department-wide review of similar contracts on Dec. 19, 2022, after news emerged that, like the RCMP, the Canadian Border Services Agency (CBSA) had been using radios made by Hytera Communications for the past five and a half years. Both the RCMP and CBSA fall under Mendicino's portfolio. Mendicino also wouldn't say if the government will ban future contracts with the Chinese company. "You've now said you're going to put out a directive, but does that mean that directive says that in the future, [the government] won't be dealing with Sinclair, Hytera, and Norsat, or will you be dealing with them in the future?" asked Conservative MP Rick Perkins, who introduced a motion on Dec. 12, 2022, to have Mendicino testify at the House industry committee. "The RCMP assiduously applied the applicable policies and protocols in the case of the procurement involving radio technology filtration and the like from Sinclair, and that is an assurance that I provide to you and to all members of this committee," Mendicino said in response. "I have instructed my portfolio to apply with the strictest of standards all protocols as it relates to national security so that we can be sure as we purchase equipment, technology, and services, that it is done in a way to preserve and protect the integrity of our public safety-related critical infrastructure." "Hytera's subsidiaries will be banned in the future. That's what you're saying?" Perkins continued to ask. "We will continue to apply those protocols with the strictest of standard of rigour," Mendicino said. NDP MP Alistair Macgregor also pressed the minister on whether the suspended contract for Sinclair will be reinstated if his departmental review finds nothing wrong. "With regards to the future, I will say that the RCMP and all of the agencies in my portfolio are continuing to evaluate very, very carefully any threats, any risks that may apply. So when we have more to say about that, Mr. McGregor, we will be sure to let you and others know," Mendicino said. 'Unaware' of US Espionage Charges Hytera is currently facing 21 charges related to espionage in the United States for allegedly stealing trade secrets from Illinois-based Motorola Solutions Inc. In 2022, the U.S. Federal Communications Commission (FCC) blacklisted the company, saying it poses "an unacceptable risk to the national security of the United States or the security and safety of United States persons." Samantha Hazen, chief financial officer for the RCMP, told MPs at the industry committee that she was "personally" unaware of the charges against Hytera for alleged conspiracy to commit theft of trade secrets. "Whether a supplier is ineligible to do business with the Government of Canada is determined by PSPC [Public Services and Procurement Canada] through their integrity regime. In this case, PSPC determined that there were no ethical concerns with awarding Sinclair Technologies the standing offer," she said in response to a question from Conservative MP Brad Vis. "So you were aware of the 21 charges against that company when the contract was awarded, yes?" Vis asked. "I personally was not aware," Hazen said. Vis subsequently introduced a motion requesting all documents related to the contract awarded to Sinclair Technologies, from the RCMP and the minister of public safety, be provided to the members of the House industry committee for review. The motion was passed. Bryan Larkin, deputy commissioner for RCMP, was a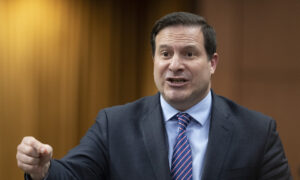 After the RCMP suspended its contract with Sinclair Technologies Inc., a company with ties to Beijing and which is facing espionage-related charges in the United States, Public Safety Minister Marco Mendicino wouldn't say whether the federal government will ban future contracts with the firm.
The parent company of Sinclair Technologies, Norsat International Inc., was acquired in 2017 by Chinese telecommunications firm Hytera, an enterprise partly state-owned by the Chinese Communist Party, which holds 10 percent of Hytera through an investment entity.
The RCMP came under fire after Radio-Canada reported last December that it had contracted Sinclair to purchase radio frequency filtering equipment for the force. The contract, with a total value of $549,637, was issued on Oct. 6, 2021, for a period of three years until March 31, 2024. That contract was suspended on Dec. 9, 2022.
Mendicino defended the RCMP's procurement of the Sinclair radio filtering equipment while testifying before the House industry committee on Jan. 30. He described the equipment as "unpowered assemblies of tin cans, metal rods, and cables" that "[do] not have the technical capability to access RCMP radio communications."
"The radio frequency filtration equipment procured from Sinclair Technologies poses no security concerns given its specific function," he said. "There is no reason to believe Canada's national security was under threat at any time during this process."
Previously, however, the minister announced a department-wide review of similar contracts on Dec. 19, 2022, after news emerged that, like the RCMP, the Canadian Border Services Agency (CBSA) had been using radios made by Hytera Communications for the past five and a half years. Both the RCMP and CBSA fall under Mendicino's portfolio.
Mendicino also wouldn't say if the government will ban future contracts with the Chinese company.
"You've now said you're going to put out a directive, but does that mean that directive says that in the future, [the government] won't be dealing with Sinclair, Hytera, and Norsat, or will you be dealing with them in the future?" asked Conservative MP Rick Perkins, who introduced a motion on Dec. 12, 2022, to have Mendicino testify at the House industry committee.
"The RCMP assiduously applied the applicable policies and protocols in the case of the procurement involving radio technology filtration and the like from Sinclair, and that is an assurance that I provide to you and to all members of this committee," Mendicino said in response.
"I have instructed my portfolio to apply with the strictest of standards all protocols as it relates to national security so that we can be sure as we purchase equipment, technology, and services, that it is done in a way to preserve and protect the integrity of our public safety-related critical infrastructure."
"Hytera's subsidiaries will be banned in the future. That's what you're saying?" Perkins continued to ask.
"We will continue to apply those protocols with the strictest of standard of rigour," Mendicino said.
NDP MP Alistair Macgregor also pressed the minister on whether the suspended contract for Sinclair will be reinstated if his departmental review finds nothing wrong.
"With regards to the future, I will say that the RCMP and all of the agencies in my portfolio are continuing to evaluate very, very carefully any threats, any risks that may apply. So when we have more to say about that, Mr. McGregor, we will be sure to let you and others know," Mendicino said.
'Unaware' of US Espionage Charges
Hytera is currently facing 21 charges related to espionage in the United States for allegedly stealing trade secrets from Illinois-based Motorola Solutions Inc. In 2022, the U.S. Federal Communications Commission (FCC) blacklisted the company, saying it poses "an unacceptable risk to the national security of the United States or the security and safety of United States persons."
Samantha Hazen, chief financial officer for the RCMP, told MPs at the industry committee that she was "personally" unaware of the charges against Hytera for alleged conspiracy to commit theft of trade secrets.
"Whether a supplier is ineligible to do business with the Government of Canada is determined by PSPC [Public Services and Procurement Canada] through their integrity regime. In this case, PSPC determined that there were no ethical concerns with awarding Sinclair Technologies the standing offer," she said in response to a question from Conservative MP Brad Vis.
"So you were aware of the 21 charges against that company when the contract was awarded, yes?" Vis asked.
"I personally was not aware," Hazen said.
Vis subsequently introduced a motion requesting all documents related to the contract awarded to Sinclair Technologies, from the RCMP and the minister of public safety, be provided to the members of the House industry committee for review. The motion was passed.
Bryan Larkin, deputy commissioner for RCMP, was also asked whether he had knowledge of the charges laid against Sinclair in the United States. Without answering directly, he said that it is "an interesting concern" that calls for "due diligence review in the internal audit."
Larkin told the MPs that the Sinclair equipment was designed, manufactured, and purchased from the company located in Aurora, Ontario, and was installed by RCMP radio technicians. When occasional technical support requiring an employee from Sinclair to provide services at the installation sites was needed, the deployed technician would also go through security clearance, he said.
"There's no computer encryption within [the equipment], there's no systems within it, there's no manipulation within it. We actually control that piece of equipment," Larkin said.