'Prosperous Era' of China's Real Estate Market May Be Over: Experts
Local governments across China are pushing various measures to stimulate growth in the floundering real estate market, following the defaults of several real estate giants in the last two years.However, experts believe that China's housing market saturation, coupled with low investor confidence, means that the decline of the property sector is unlikely to reverse itself. According to an article published on Sept. 15 by Securities Daily, a state mouthpiece for financial sector information, as of Sept. 14, at least 120 cities and regions across China have relaxed mortgage borrowing requirements for some buyers in the Housing Provident Fund (HPF) program. HPF loan amounts have also increased, and preference is being given to three-child families. In addition, China's central bank announced Sept. 30 that it would lower interest rates for HPF loans by .15 percentage points for first-time home buyers, starting on Oct. 1. In China, the Housing Provident Fund is a mandatory savings program for home purchases. The social insurance program also provides mortgages at subsidized rates. Housing Market at Saturation Point Wang Xiaolu, deputy director of China's National Economic Research Institute (NERI), said at the 2022 Phoenix Financial Forum on Sept. 21 that China's housing market has reached a saturation point, as the residential floor area, including vacant properties, ongoing projects, and current inventory, has reached 54 square meters (581 sq. ft.) per capita. Notably, the definition of residential floor area in China includes areas such as balconies, patios, and basements. "An average of 1.59 billion square meters was built annually in the past three years," Wang said at the forum. "To meet the goal of a 75 percent urbanization rate by 2035, we would only need to build 1.05 billion square meters annually." Additionally, according to Fu Linghui, director of the department of Economic Statistics at China's National Bureau of Statistics (NBS), the property market is "currently still on a decline." "In comparison to the same period last year, China's real estate investment had decreased 7.4 percent in the first eight months," Fu stated at a press conference on Sept. 16. Market Confidence Has Dropped 'Significantly' Qu Kai, a Japan-based current affairs commentator, told The Epoch Times that a lack of trustworthy investment choices in China has led investors to focus on real estate as an investment, rather than on the actual usage of the property. This phenomenon makes it impossible for the real estate market to rebound. "China's real estate was treated more as an asset investment than, for example, how would it be used, and this caused the real estate development to have strong ties with the Chinese economy, as real estate was one of the only few 'trustworthy' choices investors could choose from," Qu said in an interview with the Chinese edition of The Epoch Times. "However, following the defaults, or even cross-defaults, of Evergrande Group, Fantasia Holdings, China Fortune Land Development, and other prominent property developers, market confidence has dropped significantly, and, even if property developers decide to start new projects right now, determining the market value of the property, which will affect the property as a collateral, is a challenge," Qu said. No Fantasies About Booming Real Estate Fu Peng, the chief economist at top Chinese brokerage firm Northeast Securities, shared similar views at the Phoenix Financial Forum, noting that China's real estate sector may have to decline to reduce the risks associated with its massive expansion over the past decade. "Don't fantasize about another booming real estate market period," he said. "Technically, the prosperous era of the property sector may be over." According to the NBS, in comparison with the previous month, tier-one cities—Beijing, Shanghai, Guangzhou, and Shenzhen—saw a slight increase in the average sales price of residential units in August, as opposed to tier-two and tier-three cities, which saw a decrease. In China, cities are unofficially classified into a five-tier system based on economic development, with tier-one cities typically being the largest and wealthiest. Despite the slight increase in the average sales price of residential units among tier-one cities in August, growth has slowed in cities other than Shanghai in recent months, according to the NBS. Additionally, many tier-two and tier-three cities have lowered down-payment requirements for buyers interested in second properties. CCP Intervention Drove Up Prices In light of the real estate depression in China, Qu said he believes that the CCP's intervention in the real estate sector—an attempt to push and maintain a strong economy—was actually a key factor in driving up property prices. "If China's real estate bubble bursts like the South Korean financial crisis in 1997, that is, when homes become negative equity for everyone, then the banking industry in Chi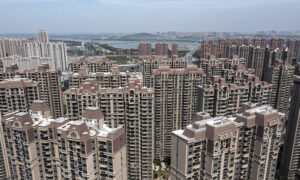 Local governments across China are pushing various measures to stimulate growth in the floundering real estate market, following the defaults of several real estate giants in the last two years.
However, experts believe that China's housing market saturation, coupled with low investor confidence, means that the decline of the property sector is unlikely to reverse itself.
According to an article published on Sept. 15 by Securities Daily, a state mouthpiece for financial sector information, as of Sept. 14, at least 120 cities and regions across China have relaxed mortgage borrowing requirements for some buyers in the Housing Provident Fund (HPF) program. HPF loan amounts have also increased, and preference is being given to three-child families.
In addition, China's central bank announced Sept. 30 that it would lower interest rates for HPF loans by .15 percentage points for first-time home buyers, starting on Oct. 1.
In China, the Housing Provident Fund is a mandatory savings program for home purchases. The social insurance program also provides mortgages at subsidized rates.
Housing Market at Saturation Point
Wang Xiaolu, deputy director of China's National Economic Research Institute (NERI), said at the 2022 Phoenix Financial Forum on Sept. 21 that China's housing market has reached a saturation point, as the residential floor area, including vacant properties, ongoing projects, and current inventory, has reached 54 square meters (581 sq. ft.) per capita. Notably, the definition of residential floor area in China includes areas such as balconies, patios, and basements.
"An average of 1.59 billion square meters was built annually in the past three years," Wang said at the forum. "To meet the goal of a 75 percent urbanization rate by 2035, we would only need to build 1.05 billion square meters annually."
Additionally, according to Fu Linghui, director of the department of Economic Statistics at China's National Bureau of Statistics (NBS), the property market is "currently still on a decline."
"In comparison to the same period last year, China's real estate investment had decreased 7.4 percent in the first eight months," Fu stated at a press conference on Sept. 16.
Market Confidence Has Dropped 'Significantly'
Qu Kai, a Japan-based current affairs commentator, told The Epoch Times that a lack of trustworthy investment choices in China has led investors to focus on real estate as an investment, rather than on the actual usage of the property. This phenomenon makes it impossible for the real estate market to rebound.
"China's real estate was treated more as an asset investment than, for example, how would it be used, and this caused the real estate development to have strong ties with the Chinese economy, as real estate was one of the only few 'trustworthy' choices investors could choose from," Qu said in an interview with the Chinese edition of The Epoch Times.
"However, following the defaults, or even cross-defaults, of Evergrande Group, Fantasia Holdings, China Fortune Land Development, and other prominent property developers, market confidence has dropped significantly, and, even if property developers decide to start new projects right now, determining the market value of the property, which will affect the property as a collateral, is a challenge," Qu said.
No Fantasies About Booming Real Estate
Fu Peng, the chief economist at top Chinese brokerage firm Northeast Securities, shared similar views at the Phoenix Financial Forum, noting that China's real estate sector may have to decline to reduce the risks associated with its massive expansion over the past decade.
"Don't fantasize about another booming real estate market period," he said. "Technically, the prosperous era of the property sector may be over."
According to the NBS, in comparison with the previous month, tier-one cities—Beijing, Shanghai, Guangzhou, and Shenzhen—saw a slight increase in the average sales price of residential units in August, as opposed to tier-two and tier-three cities, which saw a decrease.
In China, cities are unofficially classified into a five-tier system based on economic development, with tier-one cities typically being the largest and wealthiest.
Despite the slight increase in the average sales price of residential units among tier-one cities in August, growth has slowed in cities other than Shanghai in recent months, according to the NBS.
Additionally, many tier-two and tier-three cities have lowered down-payment requirements for buyers interested in second properties.
CCP Intervention Drove Up Prices
In light of the real estate depression in China, Qu said he believes that the CCP's intervention in the real estate sector—an attempt to push and maintain a strong economy—was actually a key factor in driving up property prices.
"If China's real estate bubble bursts like the South Korean financial crisis in 1997, that is, when homes become negative equity for everyone, then the banking industry in China will also come to a systemic collapse," he said.
Fear of collapse drove government intervention, Qi said: "Upon seeing that possibility, Beijing had to keep the prices high and even prohibited property developers from lowering them. If the market were to adjust itself based on supply and demand, the overabundance of properties in China would [have] lowered the prices much earlier."