President Biden's Green Initiatives Empower China: Republican Lawmakers
President Joe Biden's decision to put off new tariffs on solar imports from Southeast Asian countries benefits China, according to Sen. Roger Marshall (R-Kan.)"Joe Biden's religious experience with the Green New Deal is that it actually empowers and helps those countries like China [and] Southeast Asia. Whenever you're just pouring out billions of dollars of American cash, of course these foreign countries are going to find ways to take advantage of it," Marshall said Sept. 23, in an interview with NTD news, The Epoch Times' sister media. According to the White House's announcement on June 6, the tariff suspension applies to imports that supply about 80 percent of photovoltaic cells and modules used in the United States from Cambodia, Malaysia, Thailand, and Vietnam, and will be effective for two years. The move was made despite the ongoing probe launched by the Commerce Department to examine whether Chinese solar manufacturers had been improperly funneling parts through those four Asian countries. The Epoch Times reached out to the White House for comment. Threats The lawmaker also sounded the alarm about the threats that the regime poses to America. "My biggest national security concerns about China come more from bioterrorism concerns," he said, pointing to the National Institutes of Health's funding of gain-of-function research in Wuhan where the virus was first reported at the end of 2019. "We've lost over a million Americans from COVID, which is really gain-of-function research … and we're continuing to do that," he stressed. "Ninety-five percent of the counterfeits that come in this country come through China. Ninety percent of the fentanyl coming in across our southern border is made in China," Marshall said. The challenges include "$500 billion of intellectual property stolen by the regime every year" and the everyday cyber threats coming from the country. "[China is] absolutely the number one concern we have from a threat to America," he commented. 'Pumping Up China' Marshall's opinion echoed that of Sen. Tommy Tuberville (R-Ala.), who called the regime "a number one adversary." "They're buying things all over the world, including in our country, land here," Tuberville said on the same day. "We've got a lot of corporations that are pumping up China and giving them the opportunity to finance what they need to in their military to possibly one day go into Taiwan," the Alaskan lawmaker pointed out. He singled out the fact that investment and advisory groups have worked to pour United States pensions, retirement, and investment funds into the Chinese economy. "Almost hundreds of billions of dollars of the military's retirement funds [are] being invested in China stock, in propping up their economy," Tuberville underlined. Tuberville further urged that America curb its dependence on China. "We just found out through this pandemic, we had better start becoming self-sufficient in this country. If we don't, we're gonna regret it," Tuberville said. The lawmaker hopes that more people take this issue seriously. "Because if at the end of the day, if they don't start making adjustments, they're gonna be left out in the cold, our supply chain is going to really be affected," he said. Follow Hannah Ng is a reporter covering U.S. and China news. She holds a master's degree in international and development economics from the University of Applied Science Berlin. Follow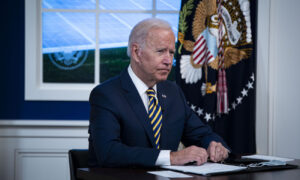 President Joe Biden's decision to put off new tariffs on solar imports from Southeast Asian countries benefits China, according to Sen. Roger Marshall (R-Kan.)
"Joe Biden's religious experience with the Green New Deal is that it actually empowers and helps those countries like China [and] Southeast Asia. Whenever you're just pouring out billions of dollars of American cash, of course these foreign countries are going to find ways to take advantage of it," Marshall said Sept. 23, in an interview with NTD news, The Epoch Times' sister media.
According to the White House's announcement on June 6, the tariff suspension applies to imports that supply about 80 percent of photovoltaic cells and modules used in the United States from Cambodia, Malaysia, Thailand, and Vietnam, and will be effective for two years.
The move was made despite the ongoing probe launched by the Commerce Department to examine whether Chinese solar manufacturers had been improperly funneling parts through those four Asian countries.
The Epoch Times reached out to the White House for comment.
Threats
The lawmaker also sounded the alarm about the threats that the regime poses to America.
"My biggest national security concerns about China come more from bioterrorism concerns," he said, pointing to the National Institutes of Health's funding of gain-of-function research in Wuhan where the virus was first reported at the end of 2019.
"We've lost over a million Americans from COVID, which is really gain-of-function research … and we're continuing to do that," he stressed.
"Ninety-five percent of the counterfeits that come in this country come through China. Ninety percent of the fentanyl coming in across our southern border is made in China," Marshall said.
The challenges include "$500 billion of intellectual property stolen by the regime every year" and the everyday cyber threats coming from the country.
"[China is] absolutely the number one concern we have from a threat to America," he commented.
'Pumping Up China'
Marshall's opinion echoed that of Sen. Tommy Tuberville (R-Ala.), who called the regime "a number one adversary."
"They're buying things all over the world, including in our country, land here," Tuberville said on the same day.
"We've got a lot of corporations that are pumping up China and giving them the opportunity to finance what they need to in their military to possibly one day go into Taiwan," the Alaskan lawmaker pointed out.
He singled out the fact that investment and advisory groups have worked to pour United States pensions, retirement, and investment funds into the Chinese economy.
"Almost hundreds of billions of dollars of the military's retirement funds [are] being invested in China stock, in propping up their economy," Tuberville underlined.
Tuberville further urged that America curb its dependence on China.
"We just found out through this pandemic, we had better start becoming self-sufficient in this country. If we don't, we're gonna regret it," Tuberville said.
The lawmaker hopes that more people take this issue seriously.
"Because if at the end of the day, if they don't start making adjustments, they're gonna be left out in the cold, our supply chain is going to really be affected," he said.