Prediabetic Youth Have Nearly 70 Percent Higher Risk of Cardiovascular Disease: Study
Pre-diabetes is a common health problem that is often overlooked or underdiagnosed due to a lack of public awareness. According to the Centers for Disease Control and Prevention, of the approximately 96 million people living with the condition, more than 80 percent are unaware they have it. A study in Hong Kong conducted by the Faculty of Medicine of the Chinese University of Hong Kong (CUHK) analyzed the clinical data of 2 million people and found that prediabetic patients diagnosed at an average age of 20 have a risk as high as 90 percent of developing diabetes at a later age. There is also evidence that these young people have a nearly 70 percent higher risk of cardiovascular disease. Relevant research has been published in the international medical journals PLoS Medicine, and The Lancet Regional Health—Western Pacific. Prediabetes at Age 20 Equals 90 Percent Risk of Developing Diabetes Prediabetes refers to blood sugar levels that are higher than normal but do not meet the diagnostic criteria for diabetes. According to the International Diabetes Federation, about 300 million people worldwide suffer from prediabetes. When not detected and treated early, there is a high risk of developing Type 2 diabetes (a chronic disease). The endocrinology and diabetes research team of the Faculty of Medicine at CUHK used the clinical database of the Hong Kong Hospital Authority from 2001 to 2019 to analyze the data of 2 million adults with normoglycemia or prediabetes to understand the impact of diabetes risk as a result of prediabetes. The results showed that healthy individuals with an average age of 20 had a lifetime risk of diabetes of 66 percent, while those at the same average age with prediabetes had a significantly increased risk of up to 90 percent, with diabetes lasting up to 33 years or half of their remaining lifespan (52 percent). The principal investigator of the study, Prof. Andrea Luk On-yan, of the Department of Medicine and Therapeutics, Faculty of Medicine, said, "Young people born in recent years appeared to be more affected than those born in earlier years, directly reflecting the adverse health effects of nutritional transition and a sedentary lifestyle. Given that diabetes is associated with many major diseases, such as ischaemic heart disease, stroke, kidney disease, and cancer, early progression to diabetes can be extremely devastating for a person, especially if affected when young." Young People with Prediabetes at Higher Risk for Other Serious Diseases Using the same set of data, the research team further explored the health impact of prediabetes on different age groups and found that "prediabetes independently predicted increased risk of various major clinical events" and the younger the group, the more obvious the risk of that. For example, those with prediabetes between 20 to 39 had a 67 percent increased risk of cardiovascular disease, compared with only 3 percent for those aged 80 or above. (See Table 1 below). (CUHK, Communications and Public Relations Office) However, Prof. Ronald Ma pointed out, "Although these estimates in our young people are alarming, in a post hoc analysis of a diabetes prevention study conducted in the United States, younger adults achieved greater improvement in body composition and cardiometabolic markers from lifestyle intervention than older adults." Prof. Juliana Chan said that past clinical trials have proven that lifestyle adjustments and drug treatments can effectively control blood sugar to normal levels, thereby preventing or delaying the onset of diabetes. The main problem lies in the insufficient understanding and/or awareness of prediabetes by the public and the medical staff. And patients are either undiagnosed or not receiving treatment even after diagnosis. Therefore, she stressed that it is very important for the public to conduct regular blood sugar screening, "Young people included, especially those with a family history of diabetes or other risk factors."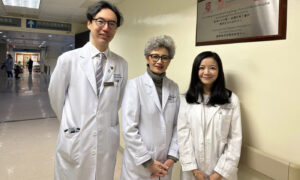 Pre-diabetes is a common health problem that is often overlooked or underdiagnosed due to a lack of public awareness. According to the Centers for Disease Control and Prevention, of the approximately 96 million people living with the condition, more than 80 percent are unaware they have it.
A study in Hong Kong conducted by the Faculty of Medicine of the Chinese University of Hong Kong (CUHK) analyzed the clinical data of 2 million people and found that prediabetic patients diagnosed at an average age of 20 have a risk as high as 90 percent of developing diabetes at a later age. There is also evidence that these young people have a nearly 70 percent higher risk of cardiovascular disease. Relevant research has been published in the international medical journals PLoS Medicine, and The Lancet Regional Health—Western Pacific.
Prediabetes at Age 20 Equals 90 Percent Risk of Developing Diabetes
Prediabetes refers to blood sugar levels that are higher than normal but do not meet the diagnostic criteria for diabetes. According to the International Diabetes Federation, about 300 million people worldwide suffer from prediabetes. When not detected and treated early, there is a high risk of developing Type 2 diabetes (a chronic disease).
The endocrinology and diabetes research team of the Faculty of Medicine at CUHK used the clinical database of the Hong Kong Hospital Authority from 2001 to 2019 to analyze the data of 2 million adults with normoglycemia or prediabetes to understand the impact of diabetes risk as a result of prediabetes. The results showed that healthy individuals with an average age of 20 had a lifetime risk of diabetes of 66 percent, while those at the same average age with prediabetes had a significantly increased risk of up to 90 percent, with diabetes lasting up to 33 years or half of their remaining lifespan (52 percent).
The principal investigator of the study, Prof. Andrea Luk On-yan, of the Department of Medicine and Therapeutics, Faculty of Medicine, said, "Young people born in recent years appeared to be more affected than those born in earlier years, directly reflecting the adverse health effects of nutritional transition and a sedentary lifestyle. Given that diabetes is associated with many major diseases, such as ischaemic heart disease, stroke, kidney disease, and cancer, early progression to diabetes can be extremely devastating for a person, especially if affected when young."
Young People with Prediabetes at Higher Risk for Other Serious Diseases
Using the same set of data, the research team further explored the health impact of prediabetes on different age groups and found that "prediabetes independently predicted increased risk of various major clinical events" and the younger the group, the more obvious the risk of that. For example, those with prediabetes between 20 to 39 had a 67 percent increased risk of cardiovascular disease, compared with only 3 percent for those aged 80 or above. (See Table 1 below).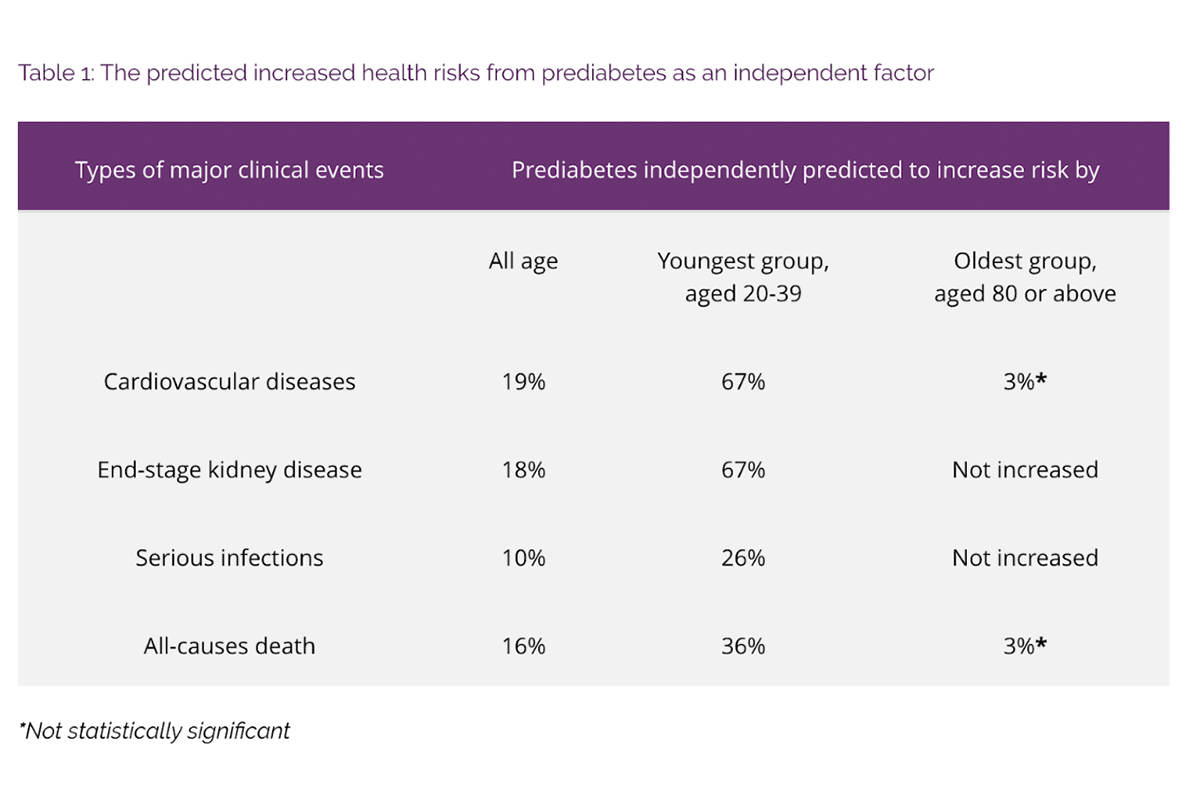 However, Prof. Ronald Ma pointed out, "Although these estimates in our young people are alarming, in a post hoc analysis of a diabetes prevention study conducted in the United States, younger adults achieved greater improvement in body composition and cardiometabolic markers from lifestyle intervention than older adults."
Prof. Juliana Chan said that past clinical trials have proven that lifestyle adjustments and drug treatments can effectively control blood sugar to normal levels, thereby preventing or delaying the onset of diabetes. The main problem lies in the insufficient understanding and/or awareness of prediabetes by the public and the medical staff. And patients are either undiagnosed or not receiving treatment even after diagnosis.
Therefore, she stressed that it is very important for the public to conduct regular blood sugar screening, "Young people included, especially those with a family history of diabetes or other risk factors."