Peter Menzies: Musk Versus Trudeau on Free Expression
CommentaryPerhaps it was a serious shot across the bow. Maybe it was just a flare illuminating the field of conflicts to come. Either way, Elon Musk and Justin Trudeau appear poised to clash over Canadians' right to freely express themselves. Trudeau and Heritage Minister Pablo Rodriguez have already pushed through two pieces of legislation—the Online Streaming Act and the Online News Act—that regulate speech on the internet and how most Canadian newsrooms will allocate their future resources. The big muzzle—the much anticipated Online Harms Act—is still to come. Long advertised as something needed to make things that are already illegal online more illegal online—child porn, terrorism, hate speech, incitement to violence, and sharing intimate images without consent—Trudeau has often hinted that he wants more. Much more. A recent example, according to Blacklock's Reporter, came in a meeting between Trudeau and lawyers from the Public Order Emergency Commission. Its minutes note Trudeau "believes in free speech, but …" "The Prime Minister noted since the invocation of the Emergencies Act there have been people spreading the message the government suspended civil liberties, used violence against peaceful protesters and suspended democracy, which did not happen," said the minutes. "There are those who take this message as confirmation the government is illegitimate and treasonous." That sort of "difficult to counter" thinking is clearly what Trudeau and Rodriguez find intolerable. They are determined to stop what they and others refer to as "misinformation" and "disinformation." The tricky part is how to do that so it can't apply to them for spreading howlers such as Russian backing of the Freedom Convoy (Attorney General David Lametti & CBC), the idea those protestors were Nazi sympathizers (Trudeau), that police were crying out for imposition of the Emergencies Act (Public Safety Minister Marco Mendicino), that the Online Streaming Act didn't involve regulation of user-generated content or free speech (Rodriquez), and that the latest firearms restrictions won't impact hunters (most of the above). Musk, meanwhile, has inspired panic within certain segments of the chattering classes since his $44 billion takeover of Twitter. He did so by taking a vigorously Voltairean stance on free speech and allowing the likes of Jordan Peterson to return from Twitter exile. Musk has also released data now known as the Twitter Files which indicate those who suspected the platform of favouring voices on the left over those on the right were far from wrong. Twitter co-founder Jack Dorsey, according to CNBC, used a blog post to express regret over not making needed changes due to being preoccupied by an activist investor, Elliott Management. And then, in a brief Tweet on Dec. 14, in response to a query from Andrew Lawton of True North, Musk raised a digital eyebrow towards Canada. After Lawton described Trudeau's plan to "deputize social media companies to enforce 'hate speech' bans," he got this response from Musk: "Sounds like an attempt to muzzle the voice of the people of Canada." I would like to think Trudeau's government has learned from its initial, thuggish efforts to manage the "lawful but awful" speech of which it disapproves. A draft of its initial proposal was roundly denounced by civil libertarians and pre-Musk Twitter described it as in line with approaches taken by Iran and North Korea. The good news is that rumour has it upcoming legislation will step back from that despotic brink and focus on ensuring social media platforms behave "responsibly"—something people could probably live with. On the other hand, every piece of internet legislation Trudeau and Rodriguez have come up with so far involves massive overreach and there's no reason to believe their next effort won't be similarly sweeping and stifling. The Online Streaming Act, for instance, wound up threatening the incomes of 100,000 Canadian digital creators. The Online News Act, rather than simply addressing an imbalance in negotiating power between international web giants and domestic publishers, turned into a gravy train for  an ideologically friendly CBC and profitable legacy broadcasters. It will achieve very little of financial significance for the struggling newspaper industry while undermining its credibility and placing it under the authority of Liberal appointees at the Canadian Radio-television and Telecommunications Commission. Trudeau may very well relish a fight with Musk and would certainly find support within Canada's self-styled media and faculty lounge elites who shudder at the thought of having to engage with voices beyond the boundaries of their tolerance. That perspective was succinctly summarized in the National Post last summer by Queen's University Law School professor Bruce Pardy: "Through a progressive lens . . . impartiality means having an open mind to all reasonable perspectives—but only progressive perspectives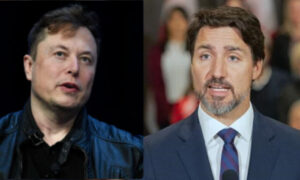 Commentary
Perhaps it was a serious shot across the bow. Maybe it was just a flare illuminating the field of conflicts to come. Either way, Elon Musk and Justin Trudeau appear poised to clash over Canadians' right to freely express themselves.
Trudeau and Heritage Minister Pablo Rodriguez have already pushed through two pieces of legislation—the Online Streaming Act and the Online News Act—that regulate speech on the internet and how most Canadian newsrooms will allocate their future resources.
The big muzzle—the much anticipated Online Harms Act—is still to come. Long advertised as something needed to make things that are already illegal online more illegal online—child porn, terrorism, hate speech, incitement to violence, and sharing intimate images without consent—Trudeau has often hinted that he wants more. Much more.
A recent example, according to Blacklock's Reporter, came in a meeting between Trudeau and lawyers from the Public Order Emergency Commission. Its minutes note Trudeau "believes in free speech, but …"
"The Prime Minister noted since the invocation of the Emergencies Act there have been people spreading the message the government suspended civil liberties, used violence against peaceful protesters and suspended democracy, which did not happen," said the minutes. "There are those who take this message as confirmation the government is illegitimate and treasonous."
That sort of "difficult to counter" thinking is clearly what Trudeau and Rodriguez find intolerable. They are determined to stop what they and others refer to as "misinformation" and "disinformation." The tricky part is how to do that so it can't apply to them for spreading howlers such as Russian backing of the Freedom Convoy (Attorney General David Lametti & CBC), the idea those protestors were Nazi sympathizers (Trudeau), that police were crying out for imposition of the Emergencies Act (Public Safety Minister Marco Mendicino), that the Online Streaming Act didn't involve regulation of user-generated content or free speech (Rodriquez), and that the latest firearms restrictions won't impact hunters (most of the above).
Musk, meanwhile, has inspired panic within certain segments of the chattering classes since his $44 billion takeover of Twitter. He did so by taking a vigorously Voltairean stance on free speech and allowing the likes of Jordan Peterson to return from Twitter exile.
Musk has also released data now known as the Twitter Files which indicate those who suspected the platform of favouring voices on the left over those on the right were far from wrong. Twitter co-founder Jack Dorsey, according to CNBC, used a blog post to express regret over not making needed changes due to being preoccupied by an activist investor, Elliott Management.
And then, in a brief Tweet on Dec. 14, in response to a query from Andrew Lawton of True North, Musk raised a digital eyebrow towards Canada.
After Lawton described Trudeau's plan to "deputize social media companies to enforce 'hate speech' bans," he got this response from Musk:
"Sounds like an attempt to muzzle the voice of the people of Canada."
I would like to think Trudeau's government has learned from its initial, thuggish efforts to manage the "lawful but awful" speech of which it disapproves. A draft of its initial proposal was roundly denounced by civil libertarians and pre-Musk Twitter described it as in line with approaches taken by Iran and North Korea.
The good news is that rumour has it upcoming legislation will step back from that despotic brink and focus on ensuring social media platforms behave "responsibly"—something people could probably live with.
On the other hand, every piece of internet legislation Trudeau and Rodriguez have come up with so far involves massive overreach and there's no reason to believe their next effort won't be similarly sweeping and stifling. The Online Streaming Act, for instance, wound up threatening the incomes of 100,000 Canadian digital creators. The Online News Act, rather than simply addressing an imbalance in negotiating power between international web giants and domestic publishers, turned into a gravy train for an ideologically friendly CBC and profitable legacy broadcasters. It will achieve very little of financial significance for the struggling newspaper industry while undermining its credibility and placing it under the authority of Liberal appointees at the Canadian Radio-television and Telecommunications Commission.
Trudeau may very well relish a fight with Musk and would certainly find support within Canada's self-styled media and faculty lounge elites who shudder at the thought of having to engage with voices beyond the boundaries of their tolerance.
That perspective was succinctly summarized in the National Post last summer by Queen's University Law School professor Bruce Pardy: "Through a progressive lens . . . impartiality means having an open mind to all reasonable perspectives—but only progressive perspectives are reasonable. Progressivism is the ideology of collectivism, equity, wokeness, safetyism, and the managerial state."
Musk, on the other hand, is a champion of free expression who has stated his belief that "free speech is the bedrock of a functioning democracy and Twitter is the digital town square where matters vital to the future of humanity are debated."
Something tells me there's one heck of a donnybrook coming in 2023.
Views expressed in this article are the opinions of the author and do not necessarily reflect the views of The Epoch Times.