Peter Menzies: How Bill C-11 Could Open the Door to State-Controlled Media
CommentaryJustin Trudeau's government is seizing control of the internet and granting itself sweeping new powers that turn its communications regulator into a political puppet. By now a lot of Canadians have heard of the controversial Online Streaming Act (Bill C-11) which defines the internet as broadcasting and puts it under the control of the independent, arms-length Canadian Radio-television and Telecommunications Commission (CRTC). I have written previously about the concerns that raises regarding speech censorship and the threat to the viability of online creators. But if that's not enough, within the body of the bill there are sections that erase any thought that future CRTC decisions will be anything other than political fiats dictated by prime ministerial minions. And it's not just me that's saying that. Len St-Aubin, a policy consultant, was formerly director general of telecommunications policy with the federal government and a member of the policy teams that developed both the Broadcasting Act and the Telecommunications Act. It's clear to him that Bill C-11 politicizes broadcasting by allowing cabinet to issue directions to the CRTC concerning almost everything it does. "Whether you're one of Canada's YouTube stars like Skyship Entertainment, a broadcaster like CBC and Global, or a major streamer like Disney and Netflix, cabinet will have the power to tell the CRTC how to regulate you," he told me. "The current Broadcasting Act lets cabinet give the CRTC 'directions of general application on broad policy matters.' By contrast, C-11 will let cabinet substitute itself for the CRTC," St-Aubin explained. "For example, cabinet will be able to tell the CRTC which online services should register with it, and how they, and broadcasters, should be regulated—right down to details like how much they must spend on CanCon (Canadian content), how to make CanCon discoverable, and what commercial and financial information they have to file." "For Canadians, that opens the door to state-controlled media," he said. "Broadcasting regulation has always walked a fine line when it comes to freedom of expression. C-11 crosses the line." Morghan Fortier is co-owner and CEO of Skyship Entertainment, an internationally successful Canadian online creative company. She says St-Aubin's assessment was  confirmed by officials at Canadian Heritage, the ministry driving the changes. "I have been told directly by members of @HeritageCanada that what THEY tell the CRTC to do, the CRTC will do," Fortier tweeted. "This isn't a secret. They've said it publicly." As a critic of Bill C-11 whose livelihood is threatened by it, that puts Fortier squarely in the cross-hairs unless the legislation—by some miracle—is amended by the Senate. Her business, and those belonging to anyone else who troubles him, could be destroyed with the wave of Justin Trudeau's hand. Monica Auer is executive director of Canada's Forum on Research and Policy in Communications and, like St-Aubin and Fortier, has absolutely no political axe to grind in this debate. She says Bill C-11 is making that wave of a hand look increasingly regal. "I can't figure out how to say it, but what troubles me the most is that this is a very 'royal' approach to government," she told me. "As flawed as Parliament's democratic processes (including delegation of some matters to quasi-judicial tribunals such as the CRTC) are, I prefer them to "L'etat, c'est moi'—which is where we are headed and where we no longer know whether the 'moi' is our PM or the next head of Google/Meta/Twitter." St-Aubin gave me just a few examples of the powers the Trudeau government is going to grant itself (remember, these are not just powers being granted to Parliament, but to cabinet, which will be able to decide: which online streamers must register with the CRTC how much money individual broadcasters online streamed must spend on CanCon (certified Canadian content) how much Canadian and French-language content broadcasters or streamers must offer) how to make Canadian content "discoverable" (i.e., ensure algorithms are manipulated to ensure you watch what the CRTC wants you to watch and not what you want to watch) what commercial and financial information must be filed with the CRTC The ultimate illustration of this government's contempt for the independence of its own institutions came mid-week when CRTC Chair Ian Scott, whose term ends in a few weeks, appeared before the Senate. University of Ottawa law professor and online law expert Michael Geist wrote on his blog that in doing so, Scott "shredded whatever was left of his legacy as chair." "The issue of Section 7(7), which erodes CRTC independence, was raised," Geist wrote. "Scott admitted that it does exactly that, yet he has never raised the issue during repeated appearances. Can anyone imagine the Privacy Commissioner of Canada or the Commissioner of Competition remaining silent if the government were to chip away at the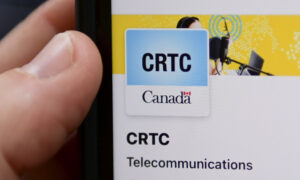 Commentary
Justin Trudeau's government is seizing control of the internet and granting itself sweeping new powers that turn its communications regulator into a political puppet.
By now a lot of Canadians have heard of the controversial Online Streaming Act (Bill C-11) which defines the internet as broadcasting and puts it under the control of the independent, arms-length Canadian Radio-television and Telecommunications Commission (CRTC). I have written previously about the concerns that raises regarding speech censorship and the threat to the viability of online creators.
But if that's not enough, within the body of the bill there are sections that erase any thought that future CRTC decisions will be anything other than political fiats dictated by prime ministerial minions.
And it's not just me that's saying that.
Len St-Aubin, a policy consultant, was formerly director general of telecommunications policy with the federal government and a member of the policy teams that developed both the Broadcasting Act and the Telecommunications Act. It's clear to him that Bill C-11 politicizes broadcasting by allowing cabinet to issue directions to the CRTC concerning almost everything it does.
"Whether you're one of Canada's YouTube stars like Skyship Entertainment, a broadcaster like CBC and Global, or a major streamer like Disney and Netflix, cabinet will have the power to tell the CRTC how to regulate you," he told me.
"The current Broadcasting Act lets cabinet give the CRTC 'directions of general application on broad policy matters.' By contrast, C-11 will let cabinet substitute itself for the CRTC," St-Aubin explained.
"For example, cabinet will be able to tell the CRTC which online services should register with it, and how they, and broadcasters, should be regulated—right down to details like how much they must spend on CanCon (Canadian content), how to make CanCon discoverable, and what commercial and financial information they have to file."
"For Canadians, that opens the door to state-controlled media," he said. "Broadcasting regulation has always walked a fine line when it comes to freedom of expression. C-11 crosses the line."
Morghan Fortier is co-owner and CEO of Skyship Entertainment, an internationally successful Canadian online creative company. She says St-Aubin's assessment was confirmed by officials at Canadian Heritage, the ministry driving the changes.
"I have been told directly by members of @HeritageCanada that what THEY tell the CRTC to do, the CRTC will do," Fortier tweeted. "This isn't a secret. They've said it publicly."
As a critic of Bill C-11 whose livelihood is threatened by it, that puts Fortier squarely in the cross-hairs unless the legislation—by some miracle—is amended by the Senate. Her business, and those belonging to anyone else who troubles him, could be destroyed with the wave of Justin Trudeau's hand.
Monica Auer is executive director of Canada's Forum on Research and Policy in Communications and, like St-Aubin and Fortier, has absolutely no political axe to grind in this debate. She says Bill C-11 is making that wave of a hand look increasingly regal.
"I can't figure out how to say it, but what troubles me the most is that this is a very 'royal' approach to government," she told me.
"As flawed as Parliament's democratic processes (including delegation of some matters to quasi-judicial tribunals such as the CRTC) are, I prefer them to "L'etat, c'est moi'—which is where we are headed and where we no longer know whether the 'moi' is our PM or the next head of Google/Meta/Twitter."
St-Aubin gave me just a few examples of the powers the Trudeau government is going to grant itself (remember, these are not just powers being granted to Parliament, but to cabinet, which will be able to decide:
which online streamers must register with the CRTC
how much money individual broadcasters online streamed must spend on CanCon (certified Canadian content)
how much Canadian and French-language content broadcasters or streamers must offer)
how to make Canadian content "discoverable" (i.e., ensure algorithms are manipulated to ensure you watch what the CRTC wants you to watch and not what you want to watch)
what commercial and financial information must be filed with the CRTC
The ultimate illustration of this government's contempt for the independence of its own institutions came mid-week when CRTC Chair Ian Scott, whose term ends in a few weeks, appeared before the Senate. University of Ottawa law professor and online law expert Michael Geist wrote on his blog that in doing so, Scott "shredded whatever was left of his legacy as chair."
"The issue of Section 7(7), which erodes CRTC independence, was raised," Geist wrote.
"Scott admitted that it does exactly that, yet he has never raised the issue during repeated appearances. Can anyone imagine the Privacy Commissioner of Canada or the Commissioner of Competition remaining silent if the government were to chip away at their independence? … Further, he claimed to be 'perplexed and confused' about CRTC transparency concerns, but later admitted that CRTC officials have held (secret) talks with Heritage officials on elements of a policy direction, a further violation of separation of regulator and government."
If Bill C-11 passes and internet regulation falls into political hands, Canadians will regret it for the rest of their lives.
Views expressed in this article are the opinions of the author and do not necessarily reflect the views of The Epoch Times.