People Across Political Spectrum Show Support for China's Anti-CCP Protests at Australian Rally
Flags were flying with voices decrying the Chinese Communist Party (CCP) and its leader Xi Jinping on Saturday night as those concerned about China's lack of freedoms and human rights gathered to remember the tragedies unfolding over the last three years in China under the far-left CCP's so-called "zero-COVID" virus elimination policies."Xi Jinping, step down, CCP step down," the protesters called out in front of Sydney's Town Hall. "Give me freedom or give me death." Over 100 protesters from all different backgrounds, ethnicities and political views came together, citing a sense of duty they felt to speak for their brothers and sisters back in China who do not enjoy the same extent of freedom to speak their minds, although the similar loss of freedoms was seen during Australia's own lockdowns earlier in the pandemic. A Common Target Not everyone at the protest agreed with all the chants, and there were tensions between some older Chinese diaspora and the younger student protesters who were more recent immigrants to Australia. The younger protesters were more vocal about their duty to a "resistance" and a "revolution." Meanwhile, an older protester said, "Why are we all here? We all want the CCP to step down." "Today, our friends from Hong Kong, the Uyghurs, have talked about their hardships. But actually, I need to remind everyone that us Han Chinese, under the iron-fisted rule of the CCP for the last 70 years, have suffered the biggest persecution. My parent's six siblings, under the CCP's revolutionary rule, were starved to death. Today, we need to say, 'The CCP is the root of evil.' It's not just about the COVID-19 virus," he said. "The CCP is our common target, so I hope we can work together and get stronger." One of the protest organisers, an international student from Shanghai, Laura Nguyen, who was supported by the socialist group Solidarity, said that people gathered at the rally were "different on the political spectrum." "Yet, we're standing here for the same reason: human rights, freedom, and democracy," she said. She told attendees that they were free to sit out of any slogans they did not agree with," she said. "We want to create a safe space for our common ground." People threw eggs and one protester was hit on the head by a rock as unknown individuals attacked a peaceful rally in support of China's mass protests in Sydney, Australia, on Dec. 3, 2022. (Melanie Sun/The Epoch Times) While the protesters were peaceful, some individuals passing by threw eggs at the rally, and one protester was hit in the head when a rock was thrown at her. A Tragedy Experienced Before Sun Baoqiang, who was a protester in Shanghai at the time of the Tiananmen Square Massacre, expressed her support for the people of "Xinjiang, Tibet, the countless people of China." "They are fighting against the government, and they are experiencing the tragedy that I experienced before, and they are censored and have no voice." Sun then shared her story of being jailed for three years for protesting and then imprisoned for another 20 years because she wrote an article in opposition to the CCP regime at the time, which was published online. "We need to fight for freedom, fight for freedom of speech, freedom of press. Chinese people can no longer allow the CCP to step all over them. Let us stand up and use our voice to stand firm against the CCP totalitarian regime," she urged. 'The CCP is Very Evil' A young feminist activist, who goes by the alias "Horror Zoo" for safety reasons, told The Epoch Times that she and her friends were attending the rally to call for freedom and democracy. "Even though the CCP has already lifted the lockdown restrictions, lots of protesters and activists are still in prison, and the CCP is still in power. And so I feel I have the responsibility to come here and speak for the Chinese people who don't have freedom, don't have democracy," she said. Student activist Horror Zoo (center) attends a protest in Sydney, Australia, to voice support for protesters in China fighting for their freedom and calling for and end to the CCP and its zero-COVID restrictions on Dec. 3, 2022. (Melanie Sun/The Epoch Times) While the local authorities in some regions in China have backflipped on their COVID-19 policies to date and have eased or lifted the lockdown restrictions, for most of the protesters, it's too little, too late. "We shouldn't stop; we need to keep going, keep protesting until the CCP steps down, until Xi Jinping steps down, until all the people have the freedom, have real [justice under the] law, and have a good policy. At that time, we can stop protesting." She said that the mass backlash against the CCP's rule in China in recent weeks reveals that "the CCP is very evil." "The CCP is a dictatorship; they only care about their power; they want to lock the people in their homes. When we see that the rest of the world has already learned to live with COVID-19, but China still keeps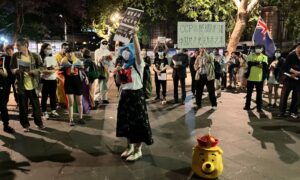 Flags were flying with voices decrying the Chinese Communist Party (CCP) and its leader Xi Jinping on Saturday night as those concerned about China's lack of freedoms and human rights gathered to remember the tragedies unfolding over the last three years in China under the far-left CCP's so-called "zero-COVID" virus elimination policies.
"Xi Jinping, step down, CCP step down," the protesters called out in front of Sydney's Town Hall. "Give me freedom or give me death."
Over 100 protesters from all different backgrounds, ethnicities and political views came together, citing a sense of duty they felt to speak for their brothers and sisters back in China who do not enjoy the same extent of freedom to speak their minds, although the similar loss of freedoms was seen during Australia's own lockdowns earlier in the pandemic.
A Common Target
Not everyone at the protest agreed with all the chants, and there were tensions between some older Chinese diaspora and the younger student protesters who were more recent immigrants to Australia.
The younger protesters were more vocal about their duty to a "resistance" and a "revolution." Meanwhile, an older protester said, "Why are we all here? We all want the CCP to step down."
"Today, our friends from Hong Kong, the Uyghurs, have talked about their hardships. But actually, I need to remind everyone that us Han Chinese, under the iron-fisted rule of the CCP for the last 70 years, have suffered the biggest persecution. My parent's six siblings, under the CCP's revolutionary rule, were starved to death. Today, we need to say, 'The CCP is the root of evil.' It's not just about the COVID-19 virus," he said.
"The CCP is our common target, so I hope we can work together and get stronger."
One of the protest organisers, an international student from Shanghai, Laura Nguyen, who was supported by the socialist group Solidarity, said that people gathered at the rally were "different on the political spectrum."
"Yet, we're standing here for the same reason: human rights, freedom, and democracy," she said. She told attendees that they were free to sit out of any slogans they did not agree with," she said.
"We want to create a safe space for our common ground."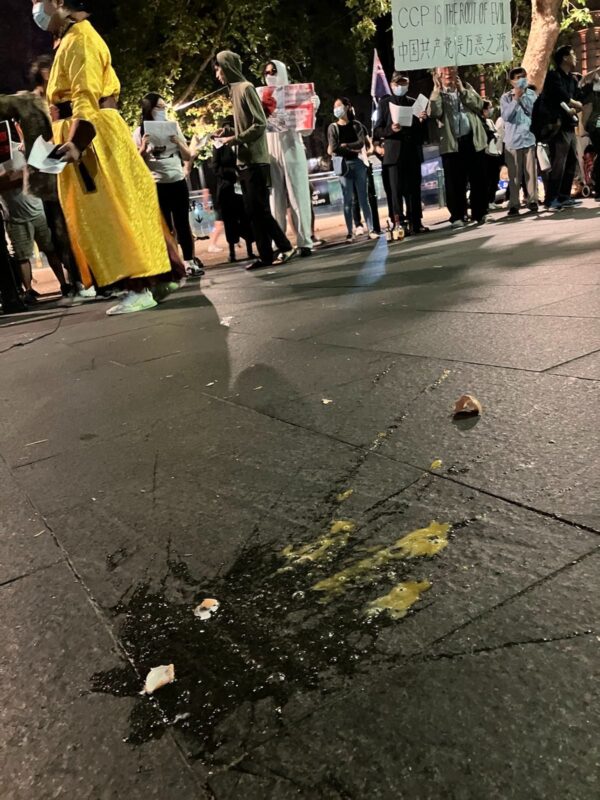 While the protesters were peaceful, some individuals passing by threw eggs at the rally, and one protester was hit in the head when a rock was thrown at her.
A Tragedy Experienced Before
Sun Baoqiang, who was a protester in Shanghai at the time of the Tiananmen Square Massacre, expressed her support for the people of "Xinjiang, Tibet, the countless people of China."
"They are fighting against the government, and they are experiencing the tragedy that I experienced before, and they are censored and have no voice."
Sun then shared her story of being jailed for three years for protesting and then imprisoned for another 20 years because she wrote an article in opposition to the CCP regime at the time, which was published online.
"We need to fight for freedom, fight for freedom of speech, freedom of press. Chinese people can no longer allow the CCP to step all over them. Let us stand up and use our voice to stand firm against the CCP totalitarian regime," she urged.
'The CCP is Very Evil'
A young feminist activist, who goes by the alias "Horror Zoo" for safety reasons, told The Epoch Times that she and her friends were attending the rally to call for freedom and democracy.
"Even though the CCP has already lifted the lockdown restrictions, lots of protesters and activists are still in prison, and the CCP is still in power. And so I feel I have the responsibility to come here and speak for the Chinese people who don't have freedom, don't have democracy," she said.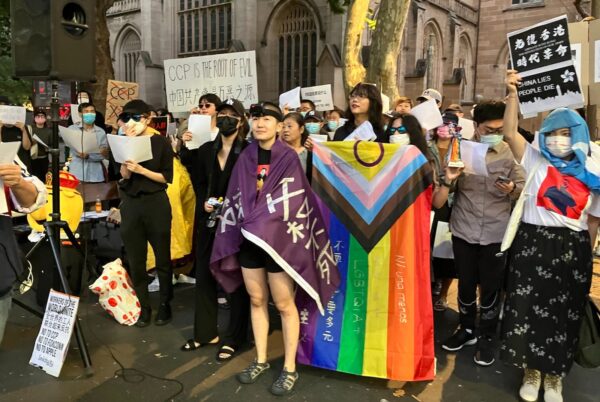 While the local authorities in some regions in China have backflipped on their COVID-19 policies to date and have eased or lifted the lockdown restrictions, for most of the protesters, it's too little, too late.
"We shouldn't stop; we need to keep going, keep protesting until the CCP steps down, until Xi Jinping steps down, until all the people have the freedom, have real [justice under the] law, and have a good policy. At that time, we can stop protesting."
She said that the mass backlash against the CCP's rule in China in recent weeks reveals that "the CCP is very evil."
"The CCP is a dictatorship; they only care about their power; they want to lock the people in their homes. When we see that the rest of the world has already learned to live with COVID-19, but China still keeps this policy, this means that this is not for protection from COVID; this policy is for restricting people, for locking people in a cage. This is the CCP."
She added that she doesn't personally know of anyone who has died from COVID in her hometown of Hefei.
"Maybe some people died, but I don't know any people who have died from COVID. This virus is not very, very, very dangerous. I think the world already knows that, but the CCP can't learn because they don't want to learn," she said, calling for an end to Xi Jinping's zero-COVID policy.
Kyinzom Dhongdue, a Free Tibet activist, also lent her support to those living under the CCP's oppressive rule and expressed her gratitude to those risking their lives to protest in China.
In 2008, in the lead up to Beijing Olympics, a massive Chinese rent-a-crowd hurled abuses at Tibetan protestors in Canberra during the torch relay.

Tonight I gave a speech to a mostly Chinese audience & together sang 'Do you hear the people sing? #A4Revolution pic.twitter.com/4DuX5dLWj7

— Kyinzom Dhongdue (@KyinzomDhongdue) December 3, 2022
"Thank you to the brave people of China. As a Tibetan, I have hope for the people of China.
What is happening in China right now, we should all be proud of as Chinese, as Tibetans, as Uyghurs, and Hong Kongers; we are all in this together."
'I See Hope'
A former CCP consular official, Chen Yongling, who defected to Australia in 2005, also attended the protest.
He noted that now the Chinese people had awoken, and this had made him very happy as he now saw hope for the country.
"I used to feel there was no hope," Chen said.
"The whole world is now clear of the CCP's hidden agenda—that the CCP have extended its dark influence into Australia, the United States, Europe—it has awakened.
"Most Chinese media are operation arms of the CCP. Now, during the time of the Chinese people's darkest hour of suffering, have any of them made any noise [about the lockdowns]? They have not."
"It's very clear now that they only stand with the CCP," he warned the Chinese-speaking population in Australia. "So I feel, especially seeing the next generation of young Chinese coming forward to stand up, using their independent judgement, you are really admirable."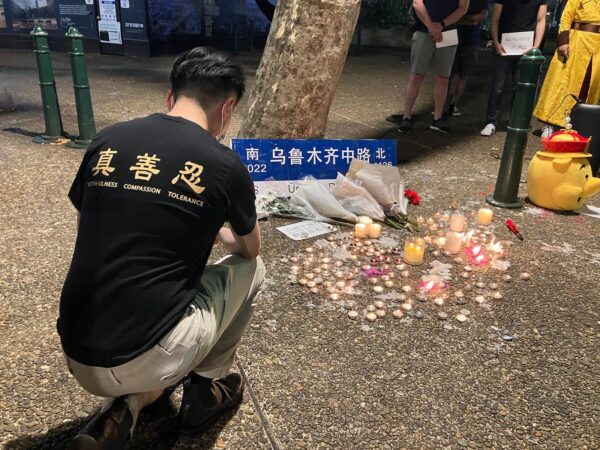 Chen also warned that while many people believe that China's progress is due to the CCP's economic policies, they failed to understand that this growth has been at the expense of many things, like China's environment.
"The Chinese-language media might be saying we're getting involved in politics, but this is our fundamental right. We can't let these people walk over us … So us Chinese overseas, we need to encourage more Chinese to come out to protest. If we don't protest, there will not be any change. Chinese people, everyone should go out to protest. Here [in Australia], we have freedom, we can use our voice," Chen said.
"Chinese people, we can't be silent. I'm speaking out for them [in the mainland]."
No Foreign Interference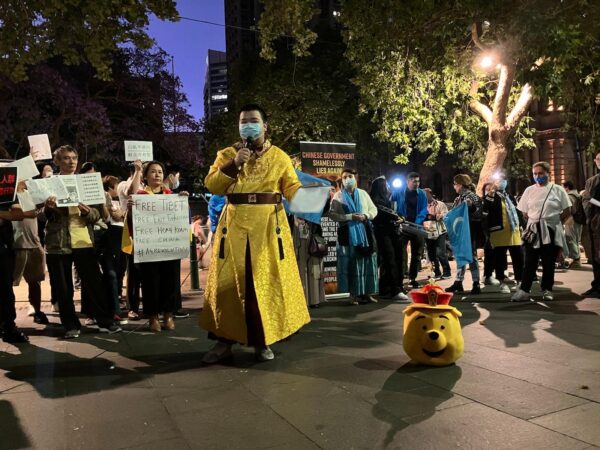 Another speaker, a Chinese student dressed as Winnie the Pooh—which has become synonymous with Xi Jinping—spoke to the CCP's criticisms that the protests are backed by foreign powers who, according to the party, are China's enemy.
"Are foreign powers that powerful?" he challenged.
"In Guizhou, was there a bus that foreign powers were able to push down a mountain?" he asked of the incident where at least 27 people died, and another 20 were injured after a bus transporting them to a forced quarantine facility crashed in the Chinese province in September. His fellow protesters replied loudly, "No!"
"Are the foreign powers also crafty enough to cause a miscarriage for a pregnant woman?" he said, citing a woman who lost her baby after she was not allowed to leave to seek medical treatment in Chongqing's Jiulongpo district in November," he said.
"The elderly in Shanghai who died of hunger, is that because of overseas influence?"
"You better open your eyes as the legal system has made so many mistakes," he urged his fellow Chinese citizens. "There is no way that foreign powers can have that much influence in China."
"We are not a foreign power; we are Chinese citizens," the protesters chanted in response to his speech.
He then joked, "Biden, CIA, where are you? Please give poor student Winnie some money," after explaining that he had bought the Winnie costume for over $1,000 and driven down from Queensland to participate in the protest all at his own expense.
I don't think there's any country left that's still prescribing lockdowns as the best way to tackle COVID," he said of the CCP's zero-COVID policy.
"No more tests, not more lies; No more camps, no more lies; No more dictators in my life," he lead the rally in chanting.
"This time, the government needs to take full responsibility. The central government is a full-blown totalitarian. In the 21st century, becoming a king with absolute power is a joke," he said of Xi under the CCP's one-party rule.
The protest was just one among hundreds of similar gatherings in cities all around the world and the second weekend of gatherings in Sydney. Protesters also gathered in the Australian cities of Brisbane and Melbourne over the weekend to support those under CCP rule in China.