Pentagon confirms new type of combat vehicle for Ukraine
The US military has announced a new $2.5 billion weapons package for Ukraine, including dozens of Stryker fighting vehicles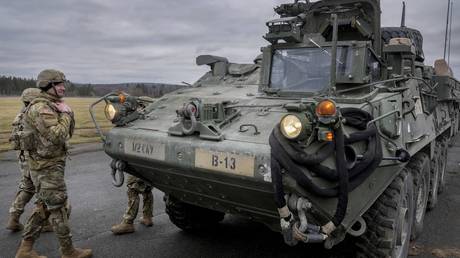 20 Jan, 2023 02:32
HomeWorld News
Pentagon confirms new type of combat vehicle for Ukraine
A massive new weapons package still falls short of Kiev's demands for heavier armor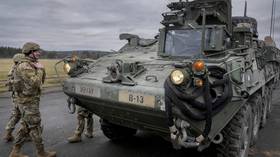 The United States government has authorized another $2.5 billion in military aid for Ukraine, including thousands of rockets and artillery rounds, as well as the first-ever shipment of Stryker fighting vehicles.
The Pentagon announced the new arms package on Thursday, marking the thirtieth drawdown from Defense Department inventories since the conflict in Ukraine erupted last year. In addition to 90 Strykers and a variety of other armored vehicles, Washington will supply 95,000 105-millimeter artillery shells, additional ammunition for the HIMARS multi-launch rocket platform, an unspecified number of rounds for the National Advanced Surface-to-Air Missile System (NASAMS) and eight Avenger air defense systems, among other gear.
In service since 2002, the eight-wheeled Stryker can be equipped with a range of main armaments depending on the model, including the M2 machine gun, the MK19 grenade launcher or the 30mm MK44 Bushmaster chaingun. The Pentagon did not say which variant Kiev would receive, only noting that the 90 Strykers would come with 20 landmine rollers.
The Defense Department said it would also send 59 Bradley fighting vehicles, added to 50 already authorized earlier this month. Officials have dubbed the platform a "tank killer," as it comes mounted with anti-armor TOW missiles, and have suggested it could be useful in future offensives against Russian forces. Another 590 TOW missiles were included in Thursday's arms package, bringing the total to 2,590.
Though Washington has approved more than $27 billion in direct military aid to Kiev over the last year, Ukrainian officials have continued to urge for more powerful weapons, such as the M1 Abrams main battle tank. The Joe Biden administration has yet to budge on that request, but some Western partners are increasingly willing to supply similar arms, with the UK vowing to send a squadron of Challenger 2 tanks earlier this week.
Berlin has also come under pressure to provide its own Leopard battle tanks, but has so far declined to do so, also barring other nations from shipping the German-made vehicle to Ukraine.
NATO members and some EU states are set to hold a meeting in Germany on Friday to discuss the possibility of heavier weapons for Kiev, though it remains unclear whether disputes over the tanks had been resolved. According to a German government source cited by Reuters, Berlin will lift its objections to sending Leopards only after Washington agrees to provide the M1 Abrams.
Russia has repeatedly warned against continued Western military aid to Ukraine, insisting it will only escalate and prolong the conflict. Following London's announcement that it would send tanks on Monday, the Kremlin said the vehicles "will burn just like the rest [of the weapons]," insisting they would not change the situation on the battlefield.