Paradigm Shift in the US Labor Market
CommentaryThe working paradigm in America seems to be shifting as unemployment and staff shortages exist alongside workers refusing to work and others obtaining their dream job through the gig economy. Some media have claimed that the reasons behind the shortage of workers are systemic racism, lack of childcare, and a mismatch between workers' skills and open jobs. If systemic racism or childcare were reasons to quit one's job now, these factors would also have existed in 2019. While there is more attention on these issues today, it does not explain why the United States is now experiencing a shortage of workers. As for a mismatch between workers' skills and open jobs, the jobs are available because workers have quit. This means people have the necessary skills in the labor force, yet job positions go unfilled. The most likely reason for the shortage of workers is a shift in mindset. The lockdowns caused a lot of people to rethink their lives and priorities. After the unemployment and stimulus checks stopped coming, many discovered that they were unwilling to return to low-end jobs that they hated. Some of these people sought new opportunities, such as freelancing, while others are opposed to working. A Reddit group dedicated to "antiwork" has over 1 million users who discuss a "work-free lifestyle." It is difficult to determine how widespread this phenomenon is. However, it may be large enough to distort unemployment statistics as people who are not seeking employment are removed from the unemployment and workforce numbers. The true number of people without jobs may be much higher than what the data reveals. A much larger number of people have taken to the gig economy to do work on a for-hire basis. Many use freelancing as a way to do jobs they are traditionally unqualified for. Artificial intelligence (AI) programs in companies' hiring processes also push people to the gig economy. The traditional job-hunting process demotivates people because AI disqualifies them from their desired jobs. Most resumes are never seen by a hiring manager. The barrier to entry is low for freelancing because people don't need formal education or qualifications to access better-paying jobs. All they need are a few reviews and samples for employers to decide whether to hire them or not. Freelancing websites such as Fiverr or Upwork have made it even easier because anyone can get started on them in minutes. Consequently, this new trend in employment is, in many ways, a return to a free-market labor economy. The buyer (employer) and the seller (freelancer) are free to enter or leave the market. And only freelancers who do good work or persevere end up succeeding. Adam Smith, the founding father of economics, would nod approvingly. (Shutterstock) Traditionally, getting a good job meant having a college degree. The necessity for a degree has driven up the cost of education while driving down the quality. It has also created a hurdle, which is limiting upward mobility. Poor people are less likely to come up with the $90,000 that it costs for a bachelor's degree, which would keep them at the bottom of the socioeconomic ladder. This degree requirement both maintains and expands the gap between the rich and the poor. The gig economy, where people are hired based on skill rather than qualifications, may help remove hurdles in upward mobility without the aid of government-funded programs. According to data from the Bureau of Labor Statistics, somewhere between 7 percent and 9 percent of American workers are self-employed. This number represents people whose primary income is from self-employment, but a much larger percentage of the workforce has an entrepreneurial side gig. These gigs are anything from selling products to driving Uber. Pew Research reported that in 2021, 16 percent of Americans had used gig jobs to earn money. This is up from only 1.2 percent in 2018. Over the past two years, the average wage in the United States has risen by 9 percent, while prices have risen by 15 percent. A weak economy, high inflation, and a number of other factors are driving Americans to self-employment. However, other factors make self-employment less lucrative. Delivery or Uber drivers have to contend with higher gas prices, and people dependent on tips report that tips are falling off. Customers forced to pay higher prices, and facing economic uncertainty of their own, tend to tip less than customers during a booming economy. As companies lay off workers to cope with rising inflation, more workers are also joining the gig and driving apps, creating competition for customer dollars. This makes it harder for gig workers and drivers to earn a living. The flexibility of gig workers and the fact that they are not subject to minimum wage requirements and insurance protections are driving large companies, such as Amazon, to use gig workers as a cost savings strategy. On the one hand, this may create gig employment opportunities for more p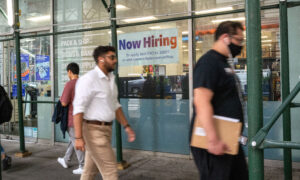 Commentary
The working paradigm in America seems to be shifting as unemployment and staff shortages exist alongside workers refusing to work and others obtaining their dream job through the gig economy.
Some media have claimed that the reasons behind the shortage of workers are systemic racism, lack of childcare, and a mismatch between workers' skills and open jobs. If systemic racism or childcare were reasons to quit one's job now, these factors would also have existed in 2019. While there is more attention on these issues today, it does not explain why the United States is now experiencing a shortage of workers. As for a mismatch between workers' skills and open jobs, the jobs are available because workers have quit. This means people have the necessary skills in the labor force, yet job positions go unfilled.
The most likely reason for the shortage of workers is a shift in mindset. The lockdowns caused a lot of people to rethink their lives and priorities. After the unemployment and stimulus checks stopped coming, many discovered that they were unwilling to return to low-end jobs that they hated. Some of these people sought new opportunities, such as freelancing, while others are opposed to working.
A Reddit group dedicated to "antiwork" has over 1 million users who discuss a "work-free lifestyle." It is difficult to determine how widespread this phenomenon is. However, it may be large enough to distort unemployment statistics as people who are not seeking employment are removed from the unemployment and workforce numbers. The true number of people without jobs may be much higher than what the data reveals.
A much larger number of people have taken to the gig economy to do work on a for-hire basis. Many use freelancing as a way to do jobs they are traditionally unqualified for. Artificial intelligence (AI) programs in companies' hiring processes also push people to the gig economy. The traditional job-hunting process demotivates people because AI disqualifies them from their desired jobs. Most resumes are never seen by a hiring manager.
The barrier to entry is low for freelancing because people don't need formal education or qualifications to access better-paying jobs. All they need are a few reviews and samples for employers to decide whether to hire them or not. Freelancing websites such as Fiverr or Upwork have made it even easier because anyone can get started on them in minutes.
Consequently, this new trend in employment is, in many ways, a return to a free-market labor economy. The buyer (employer) and the seller (freelancer) are free to enter or leave the market. And only freelancers who do good work or persevere end up succeeding. Adam Smith, the founding father of economics, would nod approvingly.
Traditionally, getting a good job meant having a college degree. The necessity for a degree has driven up the cost of education while driving down the quality. It has also created a hurdle, which is limiting upward mobility. Poor people are less likely to come up with the $90,000 that it costs for a bachelor's degree, which would keep them at the bottom of the socioeconomic ladder. This degree requirement both maintains and expands the gap between the rich and the poor.
The gig economy, where people are hired based on skill rather than qualifications, may help remove hurdles in upward mobility without the aid of government-funded programs.
According to data from the Bureau of Labor Statistics, somewhere between 7 percent and 9 percent of American workers are self-employed. This number represents people whose primary income is from self-employment, but a much larger percentage of the workforce has an entrepreneurial side gig. These gigs are anything from selling products to driving Uber. Pew Research reported that in 2021, 16 percent of Americans had used gig jobs to earn money. This is up from only 1.2 percent in 2018.
Over the past two years, the average wage in the United States has risen by 9 percent, while prices have risen by 15 percent. A weak economy, high inflation, and a number of other factors are driving Americans to self-employment.
However, other factors make self-employment less lucrative. Delivery or Uber drivers have to contend with higher gas prices, and people dependent on tips report that tips are falling off. Customers forced to pay higher prices, and facing economic uncertainty of their own, tend to tip less than customers during a booming economy. As companies lay off workers to cope with rising inflation, more workers are also joining the gig and driving apps, creating competition for customer dollars. This makes it harder for gig workers and drivers to earn a living.
The flexibility of gig workers and the fact that they are not subject to minimum wage requirements and insurance protections are driving large companies, such as Amazon, to use gig workers as a cost savings strategy. On the one hand, this may create gig employment opportunities for more people. On the other hand, it may lead to layoffs as companies find they are more profitable when they use gig workers rather than full-time employees.
Views expressed in this article are the opinions of the author and do not necessarily reflect the views of The Epoch Times.