Pandemic Caused Loneliness and Psychological Problems
Ms. Lee, aged 45, is a single Chinese American. She had no history of mental illness or depression before the outbreak of the COVID-19 pandemic in 2020.She lives alone and is an administrative officer of a garment trading company. After work, she frequently searched for the news about COVID and worried that the pandemic would cause a significant change in her life. She had a moderate level of diabetes, which meant a weaker defense mechanism against COVID compared to non-diabetics. She foresaw people would buy fewer new clothes since most people were now working from home. Her company might earn less revenue, so they might reduce her income. Her friends were worried about catching COVID and would not meet her, which made her feel depressed. Her mother lived in an elderly care home that forbade her from visiting amid the pandemic. Since she lived alone, her loneliness deepened when she could not meet her acquaintances as they were concerned with catching the virus. Additionally, she was timid and introverted, and her social network was limited. Her garment company told her to work from home to save electricity and other office costs. This cut out the usual chit-chat and lunches with colleagues. She missed meeting her mother, and it wasn't easy to set up calls or video chats. She could not find anyone she trusted to share her thoughts and feelings. She felt frustrated. Before the pandemic, her mother used to go shopping with her and they enjoyed watching movies and cooking together. Ms. Lee was extremely lonely. She had two elder brothers who had their own families and rarely contacted her. She was worried about her finances. The global economy was deteriorating and many companies and factories were closed for an uncertain period. The garment sector was suffering as most people wanted to save money while facing various uncertainties. They did not need to dress up nicely at home. If her company's revenue decreased, they might lay off some employees. Her administrative role did not require high-level skills, so her job might be cut. Most of her income went on her home's rent and her mother's expenses. She had only little savings. Ms. Lee felt anxious that she would become infected, and feared COVID would further exacerbate her existing illness. She was no longer young and physically fit and the news about COVID, told of damage to the lungs, heart, brain, and other long-term issues. Her worry increased, and she decided to seek online psychological help. The counselor encouraged her to talk more to her family and friends; even short calls by phone or video might relieve her feeling of loneliness. The conversations need not be on serious issues; they can be about hobbies, celebrities, recent movies, and TV series, amongst other things. Meditation might also help, sitting calmly, breathing naturally, concentrating on her breathing, and thinking of nothing. Try growing some plants at home, watering, and admiring the greenery. Alternatively, since she enjoys cooking, try cooking some pastries. Making bread is a good choice as the process takes some hours to complete and would keep her in a calm state. During the process of bread making, she can knead the dough, concentrating on its feel, smell, and appearance. Furthermore, she could do exercises, such as yoga, cycling, or jogging, to take her mind off the problems. The workout does not necessarily need to last long. A short duration of 20 minutes each day could improve her emotional stability. Ms. Lee considered the psychological advice, followed the couselor's suggestions, and reported back weekly. Ms. Lee started by exercising daily in a nearby park. Sunshine made her feel better. Since she was not used to exercising, she started walking for 30 minutes and some stretching for warm-up and relaxation. A week later, she started jogging for 20 minutes each day. Her blood glucose level began to decrease within only two weeks. She tried contacting some of her old friends by telephone and video. Some of them were in Hong Kong, raising concerns over its political issues. Ms. Lee's distress was relieved when she empathized with their situation and temporarily forgot her problems. Additionally, she asked the staff of the elderly care home to assist her mom in connecting by video at a set time daily. The staff helped, and chatting about her mom's health and other things made her feel more secure and connected with her mom. She tried cooking and loved making bread. She spent hours kneading the dough at weekends, mixing it with natural seasonings such as garlic, onion, and sesame. She loved the smell of the herbs and the freshly baked bread. This made her feel better. Two months later, her company altered the working days for staff from five to four days a week. Although their salaries were cut accordingly, she felt satisfied. At least no one was laid-off. This made her feel more confident about her career. While working from home, she took time to learn more IT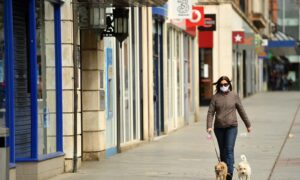 Ms. Lee, aged 45, is a single Chinese American. She had no history of mental illness or depression before the outbreak of the COVID-19 pandemic in 2020.
She lives alone and is an administrative officer of a garment trading company. After work, she frequently searched for the news about COVID and worried that the pandemic would cause a significant change in her life. She had a moderate level of diabetes, which meant a weaker defense mechanism against COVID compared to non-diabetics.
She foresaw people would buy fewer new clothes since most people were now working from home. Her company might earn less revenue, so they might reduce her income. Her friends were worried about catching COVID and would not meet her, which made her feel depressed. Her mother lived in an elderly care home that forbade her from visiting amid the pandemic.
Since she lived alone, her loneliness deepened when she could not meet her acquaintances as they were concerned with catching the virus. Additionally, she was timid and introverted, and her social network was limited.
Her garment company told her to work from home to save electricity and other office costs. This cut out the usual chit-chat and lunches with colleagues. She missed meeting her mother, and it wasn't easy to set up calls or video chats.
She could not find anyone she trusted to share her thoughts and feelings. She felt frustrated. Before the pandemic, her mother used to go shopping with her and they enjoyed watching movies and cooking together. Ms. Lee was extremely lonely. She had two elder brothers who had their own families and rarely contacted her.
She was worried about her finances. The global economy was deteriorating and many companies and factories were closed for an uncertain period. The garment sector was suffering as most people wanted to save money while facing various uncertainties. They did not need to dress up nicely at home. If her company's revenue decreased, they might lay off some employees. Her administrative role did not require high-level skills, so her job might be cut. Most of her income went on her home's rent and her mother's expenses. She had only little savings.
Ms. Lee felt anxious that she would become infected, and feared COVID would further exacerbate her existing illness. She was no longer young and physically fit and the news about COVID, told of damage to the lungs, heart, brain, and other long-term issues.
Her worry increased, and she decided to seek online psychological help.
The counselor encouraged her to talk more to her family and friends; even short calls by phone or video might relieve her feeling of loneliness. The conversations need not be on serious issues; they can be about hobbies, celebrities, recent movies, and TV series, amongst other things.
Meditation might also help, sitting calmly, breathing naturally, concentrating on her breathing, and thinking of nothing. Try growing some plants at home, watering, and admiring the greenery. Alternatively, since she enjoys cooking, try cooking some pastries. Making bread is a good choice as the process takes some hours to complete and would keep her in a calm state. During the process of bread making, she can knead the dough, concentrating on its feel, smell, and appearance.
Furthermore, she could do exercises, such as yoga, cycling, or jogging, to take her mind off the problems. The workout does not necessarily need to last long. A short duration of 20 minutes each day could improve her emotional stability.
Ms. Lee considered the psychological advice, followed the couselor's suggestions, and reported back weekly.
Ms. Lee started by exercising daily in a nearby park. Sunshine made her feel better. Since she was not used to exercising, she started walking for 30 minutes and some stretching for warm-up and relaxation. A week later, she started jogging for 20 minutes each day. Her blood glucose level began to decrease within only two weeks.
She tried contacting some of her old friends by telephone and video. Some of them were in Hong Kong, raising concerns over its political issues. Ms. Lee's distress was relieved when she empathized with their situation and temporarily forgot her problems.
Additionally, she asked the staff of the elderly care home to assist her mom in connecting by video at a set time daily. The staff helped, and chatting about her mom's health and other things made her feel more secure and connected with her mom.
She tried cooking and loved making bread. She spent hours kneading the dough at weekends, mixing it with natural seasonings such as garlic, onion, and sesame. She loved the smell of the herbs and the freshly baked bread. This made her feel better.
Two months later, her company altered the working days for staff from five to four days a week. Although their salaries were cut accordingly, she felt satisfied. At least no one was laid-off. This made her feel more confident about her career.
While working from home, she took time to learn more IT skills, such as using video, meeting software, making social media videos, and editing photos.
She connected with some old friends who she could call for a chat.
"Hopefully, the pandemic will be over soon, and I long to go shopping with mom and friends," She told the counselor.