Pakistan's Politics Fuelling Economic Malaise
CommentaryPakistan faces numerous political problems, including rampant corruption, bad governance, allegations of human rights violations, and perceived interference of international monetary organisations in the domestic affairs of the country. These problems contribute to the economic malaise currently facing the country. In Aug. 2021, Uzair Younus, the author of "The Impact of COVID-19 on South Asian Economies," a special report published by the United States Institute of Peace, lamented the inability or unwillingness of Pakistan's political class to work together with the Khan government—since defeated—to solve the country's intractable economic crisis (pdf): "Furthermore, the resumption of the IMF's stabilization program will likely force the government to pursue deficit-reducing policy measures that could create economic headwinds and inflict additional pain on Pakistani households," he writes. The former Prime Minister Imran Khan was removed from power on April 10 when he lost a no-confidence motion in the Parliament. On Nov. 3, Khan was wounded in his lower leg when a gunman attacked his convoy during an anti-government protest in Wazirabad, approximately 200 kilometres (124 miles) from Pakistan's capital, Islamabad. Pakistan's Prime Minister Imran Khan speaks during a joint news conference with at the presidential palace in Kabul, Afghanistan, on Nov. 19, 2020. (Mohammad Ismail/Reuters) Khan's convoy was on its way to the capital to demand snap elections. His aides claimed that the attack was an assassination attempt by his rivals. The First Information Report (FIR) on this incident was registered with the police on Nov. 8, 2022. Pakistan's current government is an alliance of 14 political parties, known as the Pakistan Democratic Movement, led by Prime Minister Shehbaz Sharif. He is facing multiple corruption charges and lost the regional elections recently held in Punjab. The credibility of Sharif's government was seriously undermined when its efforts to retain power in the province were thwarted by the Supreme Court, which ordered the election of Chaudhry Pervaiz Elahi, an ally of Imran Khan, to the position of the chief minister. Political turmoil has been further fanned by claims, accepted by Pakistan's Election Commission (ECP), that Imran Khan and his Tehreek-e-Insaf (PTI) party had violated campaign finance rules. It disqualified him from sitting as a member of parliament—a finding that could prevent him from seeking another term as prime minister. Historical Instability Even a perfunctory review of Pakistan's 75 years of history reveals that the country has always been politically volatile. Since its independence in 1947, Pakistani governments rarely completed their term of office. Politics is a hazardous and even life-threatening profession in Pakistan. For example, a 15-year-old suicide bomber assassinated Benazir Bhutto on Dec. 27, 2007. She served as the 11th and 13th prime minister and was the daughter of Zulfikar Ali Bhutto, who served as president of Pakistan from 1971 to 1973 and then as prime minister until 1977. Benazir's father was executed on April 4, 1979, by the government of General Zia-ul-Haq. This execution is widely regarded, even today, as an example of judicial murder. It seems fair to conclude that Pakistan's political uncertainty and instability have consequences for the country's economic development. In October 2022, the Pakistani inflation rate was 14.9 percent, and the unemployment rate reached 12.1 percent. According to the Pakistan Institute of Developing Economics, the graduate unemployment rate increased from 4.9 percent in 2007-08 to 16.5 percent in 2018-19. Although higher education opportunities have been expanded in Pakistan, the skills of college graduates do not align with the expectations of employers. The World Banks' Development Update of October 2022 on Pakistan predicts that the economy is expected to grow by only two percent due to the high rate of inflation (pdf). In addition, the recent catastrophic floods are also expected to cause widespread economic dislocations. A displaced man cools off to avoid heat on a flooded highway following rains and floods during the monsoon season in Sehwan, Pakistan, on Sept. 16, 2022. (Akhtar Soomro/Reuters) Economic Consequences Preliminary estimates suggest that the national poverty rate may increase by 2.5 to 4 percentage points, thereby potentially pushing 9 million people into poverty. This situation could only be alleviated if decisive action were to be taken by the government to help the poor. Pakistan also faces challenges caused by large current account deficits, high public debt, and decreasing exports due to diminished global growth (pdf). The uncertain political situation severely impacts Pakistan's foreign exchange reserves. The State Bank of Pakistan's forex report reveals that in September 2021, the total reserves totalled $19.2 billion, decreasing in October 2022 to $8.9 bil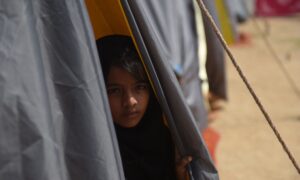 Commentary
Pakistan faces numerous political problems, including rampant corruption, bad governance, allegations of human rights violations, and perceived interference of international monetary organisations in the domestic affairs of the country. These problems contribute to the economic malaise currently facing the country.
In Aug. 2021, Uzair Younus, the author of "The Impact of COVID-19 on South Asian Economies," a special report published by the United States Institute of Peace, lamented the inability or unwillingness of Pakistan's political class to work together with the Khan government—since defeated—to solve the country's intractable economic crisis (pdf):
"Furthermore, the resumption of the IMF's stabilization program will likely force the government to pursue deficit-reducing policy measures that could create economic headwinds and inflict additional pain on Pakistani households," he writes.
The former Prime Minister Imran Khan was removed from power on April 10 when he lost a no-confidence motion in the Parliament.
On Nov. 3, Khan was wounded in his lower leg when a gunman attacked his convoy during an anti-government protest in Wazirabad, approximately 200 kilometres (124 miles) from Pakistan's capital, Islamabad.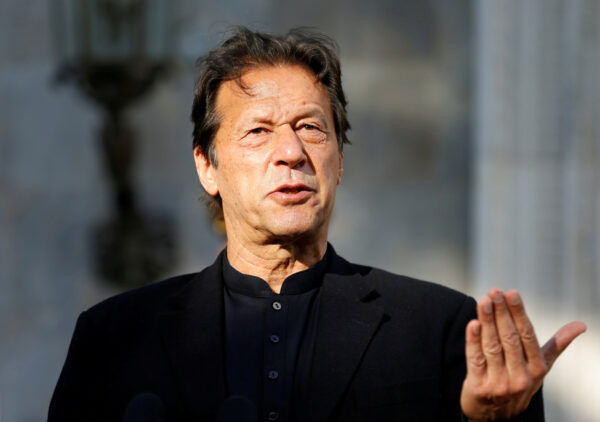 Khan's convoy was on its way to the capital to demand snap elections. His aides claimed that the attack was an assassination attempt by his rivals. The First Information Report (FIR) on this incident was registered with the police on Nov. 8, 2022.
Pakistan's current government is an alliance of 14 political parties, known as the Pakistan Democratic Movement, led by Prime Minister Shehbaz Sharif. He is facing multiple corruption charges and lost the regional elections recently held in Punjab.
The credibility of Sharif's government was seriously undermined when its efforts to retain power in the province were thwarted by the Supreme Court, which ordered the election of Chaudhry Pervaiz Elahi, an ally of Imran Khan, to the position of the chief minister.
Political turmoil has been further fanned by claims, accepted by Pakistan's Election Commission (ECP), that Imran Khan and his Tehreek-e-Insaf (PTI) party had violated campaign finance rules. It disqualified him from sitting as a member of parliament—a finding that could prevent him from seeking another term as prime minister.
Historical Instability
Even a perfunctory review of Pakistan's 75 years of history reveals that the country has always been politically volatile. Since its independence in 1947, Pakistani governments rarely completed their term of office.
Politics is a hazardous and even life-threatening profession in Pakistan. For example, a 15-year-old suicide bomber assassinated Benazir Bhutto on Dec. 27, 2007. She served as the 11th and 13th prime minister and was the daughter of Zulfikar Ali Bhutto, who served as president of Pakistan from 1971 to 1973 and then as prime minister until 1977.
Benazir's father was executed on April 4, 1979, by the government of General Zia-ul-Haq. This execution is widely regarded, even today, as an example of judicial murder.
It seems fair to conclude that Pakistan's political uncertainty and instability have consequences for the country's economic development. In October 2022, the Pakistani inflation rate was 14.9 percent, and the unemployment rate reached 12.1 percent.
According to the Pakistan Institute of Developing Economics, the graduate unemployment rate increased from 4.9 percent in 2007-08 to 16.5 percent in 2018-19. Although higher education opportunities have been expanded in Pakistan, the skills of college graduates do not align with the expectations of employers.
The World Banks' Development Update of October 2022 on Pakistan predicts that the economy is expected to grow by only two percent due to the high rate of inflation (pdf). In addition, the recent catastrophic floods are also expected to cause widespread economic dislocations.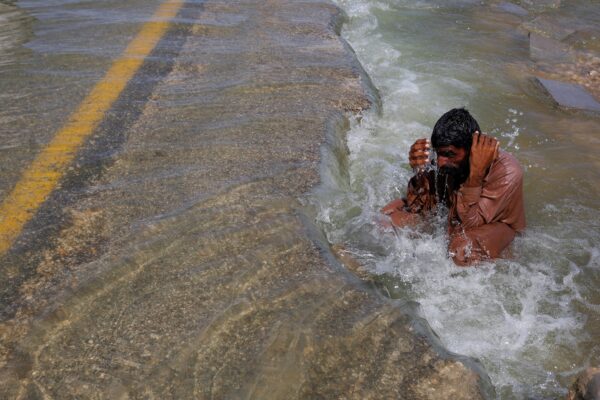 Economic Consequences
Preliminary estimates suggest that the national poverty rate may increase by 2.5 to 4 percentage points, thereby potentially pushing 9 million people into poverty. This situation could only be alleviated if decisive action were to be taken by the government to help the poor.
Pakistan also faces challenges caused by large current account deficits, high public debt, and decreasing exports due to diminished global growth (pdf).
The uncertain political situation severely impacts Pakistan's foreign exchange reserves. The State Bank of Pakistan's forex report reveals that in September 2021, the total reserves totalled $19.2 billion, decreasing in October 2022 to $8.9 billion (pdf).
A decrease in the foreign exchange reserves puts pressure on the Pakistani Rupee (PKR), making it difficult to maintain a credible exchange rate. At present, US$1 equals 222 PKR.
Pakistan is also struggling to secure loans from friendly countries and to roll over its existing debts.
Pakistan's political parties blame each other for the crisis and accuse their opponents of corrupt practices. However, this blame game is not amenable to arresting the economic slide but, instead, may exacerbate and perpetuate the present economic malaise.
Political problems, coupled with a global economic downturn, have thus substantially contributed to Pakistan's economic malaise and prevented the adoption of structural reforms needed to rescue the country from economic ruin.
The task of adopting and implementing genuine reforms requires the collaboration of political parties and a determined effort on the part of politicians to be responsive to the needs of the Pakistani people.
Views expressed in this article are the opinions of the author and do not necessarily reflect the views of The Epoch Times.