Pakistan gives illegal immigrants 28 days to leave
The authorities in Islamabad have said that undocumented Afghans present a security threat Pakistan's caretaker government announced on Tuesday that everyone who is in the country without legal documentation has until the end of the month to depart, or face deportation. "We have given them a November 1 deadline," Interior Minister Sarfraz Bugti told reporters in Islamabad. "If they do not go... then all the law enforcement agencies in the provinces or federal government will be utilized to deport them."Bugti revealed that 1.73 million Afghan nationals are currently in Pakistan without a legal permit, painting them as a security risk following a series of terrorist bombings blamed on the Islamist group Tehreek-e-Taliban Pakistan (TTP)."There are no two opinions that we are attacked from within Afghanistan and Afghan nationals are involved in attacks on us," Bugti said. "We have evidence." Authorities in Islamabad have said that Afghan nationals were implicated in 14 out of 24 suicide bombings in Pakistan this year. At least 57 people were killed in two attacks at Pakistani mosques just last week. One of the bombers was identified as an Afghan national, Bugti said. The TTP has denied responsibility for the blasts.At least 1,000 Afghans have been detained by Pakistani authorities over the past two weeks, according to the Afghan embassy in Islamabad. An estimated 4.4 million Afghan refugees live in Pakistan, including 600,000 that came since August 2021, when the US-backed government in Kabul surrendered to the Taliban. As of November 1, Pakistan will also require valid passports and visas from any Afghans wishing to enter the country, Bugti added. They were previously allowed in with just a national ID card.While Bugti's announcement applied specifically to "illegal residents" of Pakistan, the state news agency APP has quoted an anonymous government official who said that their expulsion would be just the first phase. Everyone with Afghan citizenship would be expelled in phase two, while phase three would apply even to individuals with valid residence permits, according to the APP source.Pakistan began accepting refugees during the Soviet war in Afghanistan (1979-1989). The flow of refugees continues during the civil war in 1990s and the subsequent US-led occupation of Afghanistan (2001-2021). You can share this story on social media: Follow RT on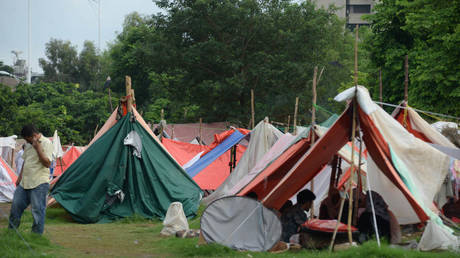 The authorities in Islamabad have said that undocumented Afghans present a security threat
Pakistan's caretaker government announced on Tuesday that everyone who is in the country without legal documentation has until the end of the month to depart, or face deportation. 
"We have given them a November 1 deadline," Interior Minister Sarfraz Bugti told reporters in Islamabad. "If they do not go... then all the law enforcement agencies in the provinces or federal government will be utilized to deport them."
Bugti revealed that 1.73 million Afghan nationals are currently in Pakistan without a legal permit, painting them as a security risk following a series of terrorist bombings blamed on the Islamist group Tehreek-e-Taliban Pakistan (TTP).
"There are no two opinions that we are attacked from within Afghanistan and Afghan nationals are involved in attacks on us," Bugti said. "We have evidence."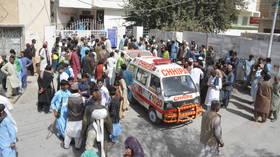 Authorities in Islamabad have said that Afghan nationals were implicated in 14 out of 24 suicide bombings in Pakistan this year. At least 57 people were killed in two attacks at Pakistani mosques just last week. One of the bombers was identified as an Afghan national, Bugti said. The TTP has denied responsibility for the blasts.
At least 1,000 Afghans have been detained by Pakistani authorities over the past two weeks, according to the Afghan embassy in Islamabad. An estimated 4.4 million Afghan refugees live in Pakistan, including 600,000 that came since August 2021, when the US-backed government in Kabul surrendered to the Taliban. 
As of November 1, Pakistan will also require valid passports and visas from any Afghans wishing to enter the country, Bugti added. They were previously allowed in with just a national ID card.
While Bugti's announcement applied specifically to "illegal residents" of Pakistan, the state news agency APP has quoted an anonymous government official who said that their expulsion would be just the first phase. Everyone with Afghan citizenship would be expelled in phase two, while phase three would apply even to individuals with valid residence permits, according to the APP source.
Pakistan began accepting refugees during the Soviet war in Afghanistan (1979-1989). The flow of refugees continues during the civil war in 1990s and the subsequent US-led occupation of Afghanistan (2001-2021).