Overwashed Hands With That Squeaky Clean Feel? Here's What to Do
My clients want me to clean their houses, not fill their homes with chemicals.Ever since I started my business more than two years ago, I have been on the lookout for ways to use fewer chemicals in clients' homes. One of many neat products I have come across in my quest is something called castile soap, a wonderful liquid vegetable soap. It took some getting used to, however. I used to think low viscosity soaps and castile soaps did not have the same make up. After getting used to the watery consistency, I have changed to using castile soaps as hand soap in the washroom, in the shower as a body wash, and as a dish soap and mild cleaner around the house. Castile is an instant classic. The price for a good sized bottle is quite comparable to a standard bottle of soap, however, chances are the castile soap will last longer because it's pure and more concentrated, as opposed to other soaps which are mixed with other chemicals. For castile, a little goes a long way. It lathers nicely and leaves your hands, dishes and just about anything else with that squeaky clean feel that literally squeaks. The soaps come in both scented and unscented varieties, and I have managed to find soaps with the most gorgeous scents-lavender, almond, and tangerine-bergamot. Finally, it is so gentle that it can be used on skin and surfaces alike and is perfect for people with allergies and sensitive skin. Castile soap got its name from its origins in the Castilla region of Spain. Of course, Spain being known for its olive oil, makes it a no-brainer that some of the best of castile soaps are made with 100 percent olive oil and are chemical-free. I really enjoy using castile soap around the house and we suggest this product as part of a good cleaning kit. Many people wonder how to clean hardwood and stone floors, and the secret is in the sauce. If you use a neutral cleaning agent, nothing will get ruined and everything will be cleaned. For floors, simply add half a teaspoon of castile soap to a bucket of warm water and clean floors with a well-wrung out mop. The soap will not leave a residue and will have just enough power to clean the dirt off the floor. If you prefer the flat-head mops, try adding a few drops of soap to a spray bottle filled with water and clean the floor that way. If you have wood furniture and don't want to use furniture polish, but feel that the piece needs a good clean, use a drop of soap on a microfiber cloth, add water and wipe down the furniture. The sheen is restored and the furniture is clean. The same goes for cleaning granite counter tops or stone showers; a few drops of soap and water is all you need to do the trick. For those with stainless steel appliances, we like cleaning them with vegetable based soap as well (add a drop to a damp cloth and wipe down), and then shine the appliance with a dab of olive oil. Finally, castile soap works very well with cleaning pots and pans. I soak mine in warm water and add some baking soda. After 30 minutes, the dirt has no choice-it comes right off and the cleanup is a piece of cake. The best part is, the soap is so gentle I don't even use gloves when doing dishes. I have found many uses for castile soap around my home and encourage you to head to a health food store and pick up a good quality bottle of it today. Republished from NaturallySavvy.com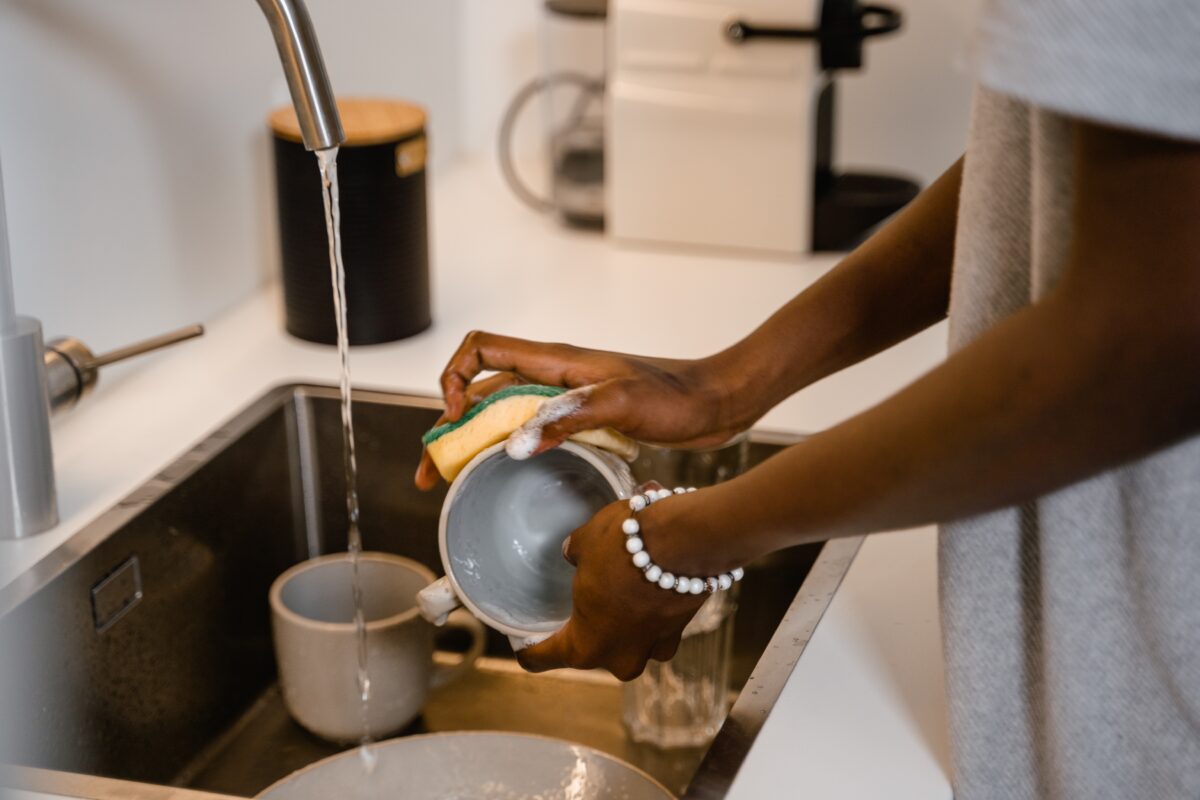 My clients want me to clean their houses, not fill their homes with chemicals.
Ever since I started my business more than two years ago, I have been on the lookout for ways to use fewer chemicals in clients' homes. One of many neat products I have come across in my quest is something called castile soap, a wonderful liquid vegetable soap.
It took some getting used to, however. I used to think low viscosity soaps and castile soaps did not have the same make up. After getting used to the watery consistency, I have changed to using castile soaps as hand soap in the washroom, in the shower as a body wash, and as a dish soap and mild cleaner around the house.
Castile is an instant classic.
The price for a good sized bottle is quite comparable to a standard bottle of soap, however, chances are the castile soap will last longer because it's pure and more concentrated, as opposed to other soaps which are mixed with other chemicals. For castile, a little goes a long way.
It lathers nicely and leaves your hands, dishes and just about anything else with that squeaky clean feel that literally squeaks. The soaps come in both scented and unscented varieties, and I have managed to find soaps with the most gorgeous scents-lavender, almond, and tangerine-bergamot. Finally, it is so gentle that it can be used on skin and surfaces alike and is perfect for people with allergies and sensitive skin.
Castile soap got its name from its origins in the Castilla region of Spain. Of course, Spain being known for its olive oil, makes it a no-brainer that some of the best of castile soaps are made with 100 percent olive oil and are chemical-free.
I really enjoy using castile soap around the house and we suggest this product as part of a good cleaning kit.
Many people wonder how to clean hardwood and stone floors, and the secret is in the sauce. If you use a neutral cleaning agent, nothing will get ruined and everything will be cleaned. For floors, simply add half a teaspoon of castile soap to a bucket of warm water and clean floors with a well-wrung out mop. The soap will not leave a residue and will have just enough power to clean the dirt off the floor.
If you prefer the flat-head mops, try adding a few drops of soap to a spray bottle filled with water and clean the floor that way. If you have wood furniture and don't want to use furniture polish, but feel that the piece needs a good clean, use a drop of soap on a microfiber cloth, add water and wipe down the furniture. The sheen is restored and the furniture is clean. The same goes for cleaning granite counter tops or stone showers; a few drops of soap and water is all you need to do the trick.
For those with stainless steel appliances, we like cleaning them with vegetable based soap as well (add a drop to a damp cloth and wipe down), and then shine the appliance with a dab of olive oil. Finally, castile soap works very well with cleaning pots and pans. I soak mine in warm water and add some baking soda. After 30 minutes, the dirt has no choice-it comes right off and the cleanup is a piece of cake. The best part is, the soap is so gentle I don't even use gloves when doing dishes.
I have found many uses for castile soap around my home and encourage you to head to a health food store and pick up a good quality bottle of it today.
Republished from NaturallySavvy.com