Over 90 Percent of Nutrition Labels Fail to Meet Industry Standard in Hong Kong
According to the latest study by the Consumer Council in Hong Kong, 48 of 55 nutrition labels of pre-packaged food samples failed to meet recommended guidelines, that is, 87 percent of the nutrition labels were non-compliant.The Consumer Council staff randomly purchased 55 pre-packaged food items for the study. The items included five types of bakery items, cakes, cereals, four types of butter and cheese, three types of soy products, four types of chilled and frozen food, three types of dairy and non-dairy milk, eight types of beverages and instant drinks, five types of biscuits, seven types of snacks, five types of instant noodles, four types of canned food, and seven types of cooking oil or sauces. Referencing the industry guidelines, the Council then evaluated three types of data on the product labels to determine their clarity and readability for consumers. Of the 55 items, only the text on seven labels met the minimum size requirements. The print on the labels on the rest of the items in either English or Chinese was smaller than the proposed sizes. Many of them were nutrition labels but unreadable. The Consumer Council invited 15 people with normal eyesight, aged 20 to 61 or older, and categorized them into five age-based groups. The five groups evaluated the information clarity and readability on the food labels. The groups determined that only one item complied with the industry guide. Participants agreed there was room for improvement in the other 54 labels. The text size on over 90 percent of the sample labels was too small to read. On one package of instant noodles, the fonts were only 0.3 mm (0.012 inches) and 0.5 mm (0.02 inches) high—well under the recommended size. Even for those with normal eyesight, the words were too small to read. The Centre for Food Safety in Hong Kong recommends a font height of 1.2 mm (about 0.05 inches) unless package size is too small, in which case a minimum font size of at least 0.8 mm (0.03 inches) English letters and 1.8 mm (0.07 inches) for Chinese characters should be provided. The Consumer Council said the merchants are obligated to provide clear and readable label information so consumers can get accurate product information. It suggested the food industry use larger fonts when printing labels, so that consumers, especially the elderly, can obtain correct information with ease. Follow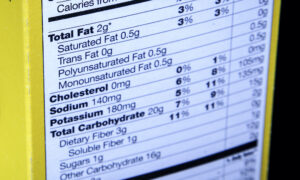 According to the latest study by the Consumer Council in Hong Kong, 48 of 55 nutrition labels of pre-packaged food samples failed to meet recommended guidelines, that is, 87 percent of the nutrition labels were non-compliant.
The Consumer Council staff randomly purchased 55 pre-packaged food items for the study. The items included five types of bakery items, cakes, cereals, four types of butter and cheese, three types of soy products, four types of chilled and frozen food, three types of dairy and non-dairy milk, eight types of beverages and instant drinks, five types of biscuits, seven types of snacks, five types of instant noodles, four types of canned food, and seven types of cooking oil or sauces.
Referencing the industry guidelines, the Council then evaluated three types of data on the product labels to determine their clarity and readability for consumers.
Of the 55 items, only the text on seven labels met the minimum size requirements. The print on the labels on the rest of the items in either English or Chinese was smaller than the proposed sizes. Many of them were nutrition labels but unreadable.
The Consumer Council invited 15 people with normal eyesight, aged 20 to 61 or older, and categorized them into five age-based groups. The five groups evaluated the information clarity and readability on the food labels.
The groups determined that only one item complied with the industry guide. Participants agreed there was room for improvement in the other 54 labels.
The text size on over 90 percent of the sample labels was too small to read. On one package of instant noodles, the fonts were only 0.3 mm (0.012 inches) and 0.5 mm (0.02 inches) high—well under the recommended size. Even for those with normal eyesight, the words were too small to read.
The Centre for Food Safety in Hong Kong recommends a font height of 1.2 mm (about 0.05 inches) unless package size is too small, in which case a minimum font size of at least 0.8 mm (0.03 inches) English letters and 1.8 mm (0.07 inches) for Chinese characters should be provided.
The Consumer Council said the merchants are obligated to provide clear and readable label information so consumers can get accurate product information. It suggested the food industry use larger fonts when printing labels, so that consumers, especially the elderly, can obtain correct information with ease.