Over 110 Degree Historic Heat Impacts 900 Million People in China
A heatwave that is the worst in over 60 years has hit China. China's National Climate Center stated on July 13 that over 900 million people have been impacted.Roofs melted, roads exploded, some living trees smoldered under the baking sun, people called emergencies for heat strokes and several passed away at hospitals. The center warned on July 16 that the heat wouldn't be relieved in the next 10 days, the highest temperatures would be higher than 110 degrees Fahrenheit, and parts of China would suffer floods while other areas would suffer from droughts. Extreme Heat On July 13, state-run The Paper reported the latest official data that was obtained from the center. "[The regional heat waves] are very extreme and caused a big impact in our country," the report stated. "As of July 12, the heat waves have lasted for 30 days, covering an area of 5.021 million square kilometers (1.94 million square miles, or over half of China), and impacting more than 900 million people." Seventy-one national weather stations in China recorded historically high temperatures from June 13 to July 12 and the highest record was 112 degrees Fahrenheit, according to the report. "On average, China has 5.3 35-degrees-Celsius (95 °F) or higher days from June 1 to July 12. It's 2.4 days more than the average, and is the most since 1961," The Paper quoted the center. Weather reporting is a political task in China because announcements on extreme temperatures will have political consequences. Because several Chinese cities have rules that people don't need to work when the temperature is higher than 104 °F, weather reporters will keep on reporting 102 °F for weeks in these cities, even if the actual temperate is actually higher. Road Explosion Throws Man 70 Feet Away The over 100 °F heat caused road explosions in Xuchang, Luohe, and Zhoukou cities in central China's Henan Province, as well as southern China's Henan province in June and July, according to state-run media. Residents from Xuchang wanted to know the real temperature and put a thermometer on a road on June 18. The indicator quickly reached the maximum of 122 °F and the thermometer then exploded, state-run Henan Radio Station reported. In rural China, most of the roads are made of poor-quality cement, which has high thermal expansion and contraction. The roads will crack and even explode if the cement isn't separated into small blocks with enough space. On July 11, a man rode his motorcycle in Hunan's Xiangxiang city. Without any warning, the cement road exploded, throwing the man into the air, state-run Lunan Online reported on July 15. He dropped over 70 feet away and was wounded all over his body. Residents nearby the road heard the blast and found the man. Per the man's request, they transferred him from the burning ground to wooden boards and cardboard to absorb the heat, and called the ambulance. A road exploded under the baking sun and threw a man over 70 feet in Xiangxiang city, southern China's Hunan Province on July 15, 2022. (Jiemian News/Screenshot via The Epoch Times) Roof Melts in Tourist Site A museum in southwestern China's Chongqing city announced a temporary closure on July 11 after the roofs of at least one of its buildings melted and dropped to the ground. The state-run CCTV reported that the roofs melted because of the heat in the past several days. Chongqing health commission warned residents on July 11 that the hot weather would last for at least another five days, and all residents should prepare for a possible heat stroke. The city regime warned that fires are possible in the city's grasses and forests. Heat Stroke Eastern China's Zhejiang and Jiangsu Provinces, southwestern China's Sichuan Province, Henan Province, and Shanghai city reported death cases caused by heat strokes in the past days. State-run The Paper reported on July 12 that a 49-year-old male worker lost consciousness when he was working at a workshop in Lishui city in Zhejiang on July 6. He died at a hospital on July 8. Doctors said the reason is heat stroke. "His body temperature was 40.7 degrees Celsius (105 °F) when he arrived at our hospital," emergency doctor Wu Jianrong at Lishui City Central Hospital told the paper. "The patient's organs had failed at that time. He had disseminated intravascular coagulation all over his body." A man swims in the Liangma River on a hot summer day in Beijing, China on July 12, 2022. Parts of China are enduring some of the worst heat waves in years with temperatures reaching 40 degrees Celsius (104 degrees Fahrenheit) in some areas. (Kevin Frayer/Getty Images) Wu said he had a 70-year-old patient who was treated at the hospital's intensive care unit after she had a heat stroke when she took a nap in the early afternoon at home. "Her body temperature was 42.5 degrees Celsius (108.5 °F) with several organ failures when she arrived at the hospital." The report listed over one hundred heat stroke patients in different cities in Z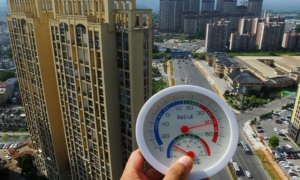 A heatwave that is the worst in over 60 years has hit China. China's National Climate Center stated on July 13 that over 900 million people have been impacted.
Roofs melted, roads exploded, some living trees smoldered under the baking sun, people called emergencies for heat strokes and several passed away at hospitals.
The center warned on July 16 that the heat wouldn't be relieved in the next 10 days, the highest temperatures would be higher than 110 degrees Fahrenheit, and parts of China would suffer floods while other areas would suffer from droughts.
Extreme Heat
On July 13, state-run The Paper reported the latest official data that was obtained from the center. "[The regional heat waves] are very extreme and caused a big impact in our country," the report stated. "As of July 12, the heat waves have lasted for 30 days, covering an area of 5.021 million square kilometers (1.94 million square miles, or over half of China), and impacting more than 900 million people."
Seventy-one national weather stations in China recorded historically high temperatures from June 13 to July 12 and the highest record was 112 degrees Fahrenheit, according to the report.
"On average, China has 5.3 35-degrees-Celsius (95 °F) or higher days from June 1 to July 12. It's 2.4 days more than the average, and is the most since 1961," The Paper quoted the center.
Weather reporting is a political task in China because announcements on extreme temperatures will have political consequences. Because several Chinese cities have rules that people don't need to work when the temperature is higher than 104 °F, weather reporters will keep on reporting 102 °F for weeks in these cities, even if the actual temperate is actually higher.
Road Explosion Throws Man 70 Feet Away
The over 100 °F heat caused road explosions in Xuchang, Luohe, and Zhoukou cities in central China's Henan Province, as well as southern China's Henan province in June and July, according to state-run media.
Residents from Xuchang wanted to know the real temperature and put a thermometer on a road on June 18. The indicator quickly reached the maximum of 122 °F and the thermometer then exploded, state-run Henan Radio Station reported.
In rural China, most of the roads are made of poor-quality cement, which has high thermal expansion and contraction. The roads will crack and even explode if the cement isn't separated into small blocks with enough space.
On July 11, a man rode his motorcycle in Hunan's Xiangxiang city. Without any warning, the cement road exploded, throwing the man into the air, state-run Lunan Online reported on July 15. He dropped over 70 feet away and was wounded all over his body.
Residents nearby the road heard the blast and found the man. Per the man's request, they transferred him from the burning ground to wooden boards and cardboard to absorb the heat, and called the ambulance.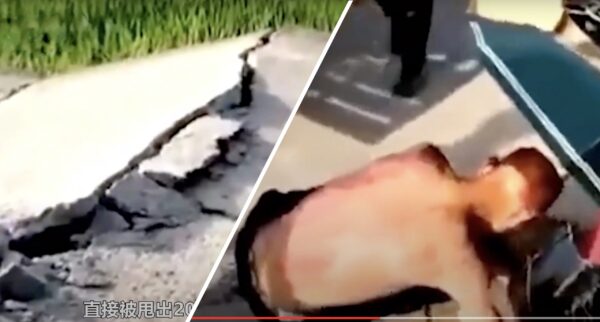 Roof Melts in Tourist Site
A museum in southwestern China's Chongqing city announced a temporary closure on July 11 after the roofs of at least one of its buildings melted and dropped to the ground.
The state-run CCTV reported that the roofs melted because of the heat in the past several days.
Chongqing health commission warned residents on July 11 that the hot weather would last for at least another five days, and all residents should prepare for a possible heat stroke. The city regime warned that fires are possible in the city's grasses and forests.
Heat Stroke
Eastern China's Zhejiang and Jiangsu Provinces, southwestern China's Sichuan Province, Henan Province, and Shanghai city reported death cases caused by heat strokes in the past days.
State-run The Paper reported on July 12 that a 49-year-old male worker lost consciousness when he was working at a workshop in Lishui city in Zhejiang on July 6. He died at a hospital on July 8. Doctors said the reason is heat stroke.
"His body temperature was 40.7 degrees Celsius (105 °F) when he arrived at our hospital," emergency doctor Wu Jianrong at Lishui City Central Hospital told the paper. "The patient's organs had failed at that time. He had disseminated intravascular coagulation all over his body."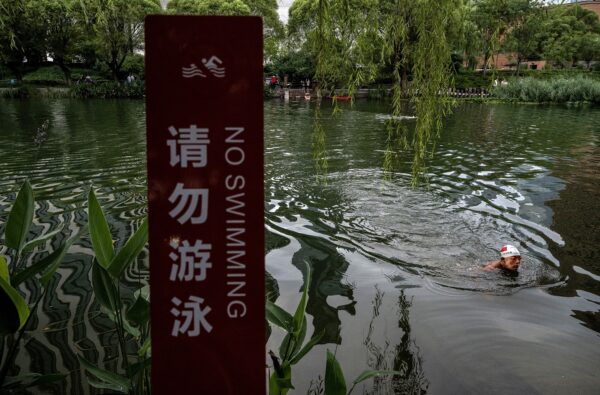 Wu said he had a 70-year-old patient who was treated at the hospital's intensive care unit after she had a heat stroke when she took a nap in the early afternoon at home. "Her body temperature was 42.5 degrees Celsius (108.5 °F) with several organ failures when she arrived at the hospital."
The report listed over one hundred heat stroke patients in different cities in Zhejiang, including children, adults, and seniors.
According to the CDC, a patient's body will lose its capability to control the temperature when having a heat stroke. Body temperatures can rise to 106 °F or higher in 10 to 15 minutes. In this situation, people around should cool the patient quickly while waiting for emergency medical care. The possible solutions include a cold water bath, wetting the skin, placing cold wet clothes on the skin, and soaking clothing with cold water.