Orange Wave Incoming
CommentaryTrying to get a jump on the cataract of commentary, second-guessing, and post-mortem lamentation/celebration that will greet the results of today's midterm elections, I thought I would mention a couple of points that are both obvious and yet undigested. First, the red wave that everyone expects will also be an orange wave. That is, almost all of the most prominent GOP candidates are also Trump-endorsed candidates. J. D. Vance, who is about to crush Tim Ryan in the Ohio senatorial race, was endorsed by the former president last spring to great fanfare, by some, and ridicule by others. The same is true of Blake Masters, who I believe is just about to defeat Mark Kelly in Arizona. Ditto Herschel Walker in Georgia, and Mehmet Oz in Pennsylvania. Will Tiffany Smiley win in Washington against Patty Murray? I'm not sure, but chances are good, itself an amazing turn of events. The same is true of Leora Levy in deep blue Connecticut: The Trump-endorsed, Cuban-born candidate might just prevail over Biden rubber stamp Richard Blumenthal who, no matter what he says, did not serve in Vietnam. It's even more likely that Don Bolduc will beat Maggie Hassan in New Hampshire. A similar story can be told in the important gubernatorial races. Trump endorsed Kari Lake in Arizona, and not only is she just about to grind Katie Hobbs into dust, she has also emerged as a major Trump-infused spokesperson in her own right, parrying and then skewering a hapless media. Trump-endorsed Lee Zeldin is likely to win in New York over Kathy Hochul. New York. Trump-endorsed. I know, it doesn't compute. But it isn't only possible, it's likely. Where is the British band playing "The World Turned Upside Down" as at Yorktown? Will the Trump-endorsed Doug Mastriano beat Josh Shapiro in the Pennsylvania gubernatorial race?  Maybe not. But maybe. Yes, it's a long shot, but I wouldn't be surprised. In Michigan, Tudor Dixon is poised to win over Gretchen Whitmer. And in Wisconsin, Trump-endorsed businessman Tim Michels has a very good shot at the governor's mansion. I could provide a similar inventory for the House races. What are we to make of this wall of orange-blessed candidates taking the election by storm? I think there are three take-aways. First, it's a measure of Donald Trump's political virility. All of these candidates would have climbed naked over broken bottles for the endorsement and, we now know, for good reason: Trump's blessing was the key to exposure, money, and political viability. Second, it's a preview of the 2024 presidential race. We don't yet know who the GOP candidate will be, but the chessboard has been configured by Donald Trump. The issues will be his issues and, even more, the rhetorical weather of the campaign will have been largely determined by Trump. The third point is perhaps the most under-appreciated. Many, maybe most, of these Trump-certified candidates were early on supported by clever, clever Dems who thought that supporting Trumpist candidates was a prescription for Democratic victory. It won't turn out that way. How they salivated over Dr. Oz as the GOP candidate. Surely he would lose. But he will not lose, not if the election is fair. True, no one could have predicted that his opponent, John Fetterman, would suffer a stroke and be rendered Bidenesque in his cognitive abilities. But it was the same with Herschel Walker and many other candidates. They thought that the name of Trump would be the kiss of death. Instead, in most cases, it turned out to be the elixir of life. Blunders were made. Someone miscalculated Trump's appeal with that most-pesky of interest groups, the voters. It's a bit like the story of Br'er Rabbit. The mean fox pushed him into the briar patch. But wouldn't you know it: That's exactly where he wanted to be. Views expressed in this article are the opinions of the author and do not necessarily reflect the views of The Epoch Times. Follow Roger Kimball is the editor and publisher of The New Criterion and publisher of Encounter Books. His most recent book is "The Critical Temper: Interventions from The New Criterion at 40."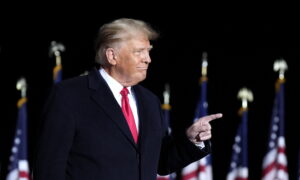 Commentary
Trying to get a jump on the cataract of commentary, second-guessing, and post-mortem lamentation/celebration that will greet the results of today's midterm elections, I thought I would mention a couple of points that are both obvious and yet undigested.
First, the red wave that everyone expects will also be an orange wave. That is, almost all of the most prominent GOP candidates are also Trump-endorsed candidates.
J. D. Vance, who is about to crush Tim Ryan in the Ohio senatorial race, was endorsed by the former president last spring to great fanfare, by some, and ridicule by others.
The same is true of Blake Masters, who I believe is just about to defeat Mark Kelly in Arizona.
Ditto Herschel Walker in Georgia, and Mehmet Oz in Pennsylvania.
Will Tiffany Smiley win in Washington against Patty Murray?
I'm not sure, but chances are good, itself an amazing turn of events.
The same is true of Leora Levy in deep blue Connecticut: The Trump-endorsed, Cuban-born candidate might just prevail over Biden rubber stamp Richard Blumenthal who, no matter what he says, did not serve in Vietnam.
It's even more likely that Don Bolduc will beat Maggie Hassan in New Hampshire.
A similar story can be told in the important gubernatorial races.
Trump endorsed Kari Lake in Arizona, and not only is she just about to grind Katie Hobbs into dust, she has also emerged as a major Trump-infused spokesperson in her own right, parrying and then skewering a hapless media.
Trump-endorsed Lee Zeldin is likely to win in New York over Kathy Hochul.
New York. Trump-endorsed.
I know, it doesn't compute.
But it isn't only possible, it's likely.
Where is the British band playing "The World Turned Upside Down" as at Yorktown?
Will the Trump-endorsed Doug Mastriano beat Josh Shapiro in the Pennsylvania gubernatorial race? Maybe not.
But maybe. Yes, it's a long shot, but I wouldn't be surprised.
In Michigan, Tudor Dixon is poised to win over Gretchen Whitmer.
And in Wisconsin, Trump-endorsed businessman Tim Michels has a very good shot at the governor's mansion.
I could provide a similar inventory for the House races.
What are we to make of this wall of orange-blessed candidates taking the election by storm?
I think there are three take-aways.
First, it's a measure of Donald Trump's political virility.
All of these candidates would have climbed naked over broken bottles for the endorsement and, we now know, for good reason: Trump's blessing was the key to exposure, money, and political viability.
Second, it's a preview of the 2024 presidential race.
We don't yet know who the GOP candidate will be, but the chessboard has been configured by Donald Trump.
The issues will be his issues and, even more, the rhetorical weather of the campaign will have been largely determined by Trump.
The third point is perhaps the most under-appreciated.
Many, maybe most, of these Trump-certified candidates were early on supported by clever, clever Dems who thought that supporting Trumpist candidates was a prescription for Democratic victory.
It won't turn out that way.
How they salivated over Dr. Oz as the GOP candidate.
Surely he would lose.
But he will not lose, not if the election is fair.
True, no one could have predicted that his opponent, John Fetterman, would suffer a stroke and be rendered Bidenesque in his cognitive abilities.
But it was the same with Herschel Walker and many other candidates.
They thought that the name of Trump would be the kiss of death.
Instead, in most cases, it turned out to be the elixir of life.
Blunders were made.
Someone miscalculated Trump's appeal with that most-pesky of interest groups, the voters.
It's a bit like the story of Br'er Rabbit.
The mean fox pushed him into the briar patch.
But wouldn't you know it: That's exactly where he wanted to be.
Views expressed in this article are the opinions of the author and do not necessarily reflect the views of The Epoch Times.