Ontario Election-Focused Group Led by Individual Involved in Initiative Guided by China's United Front
A new Ontario organization that says it aims to promote political candidates with Chinese heritage is led by an individual involved in a group "guided" by China's United Front Work Department, an agency responsible for co-opting opposition inside China as well as carrying out influence activities abroad.Guo Baozhang, chair of the Chinese Council for Western Ontario Elections (CCWOE), said at a Nov. 20 press conference that his organization's goal is to "increase the Chinese voter turnout rate and build a democratic, multicultural society." The organization also held a gathering in Mississauga, Ontario, that day to celebrate Scott Xie's recent victory in becoming Oakville's Ward 7 town councillor in the Oct. 24 municipal election. In addition to his CCWOE role, Guo is affiliated with the Canada Toronto Fuqing Business Association (CTFQBA), whose founding history as described on its website's "Business Association Introduction page" says the organization was established "under the guidance" of various Chinese state-, provincial-, and municipal-level government and official bodies, including the United Front Work Department of the Fuqing Municipal Party Committee. Fuqing is a city south of Fuzhou, the capital of China's Fujian Province. And the CTFQBA, like the CCWOE, is a federally incorporated not-for-profit organization in Canada. Guo is one of nine individuals listed as CTFQBA's executive president. His name is also listed on the CTFQBA website's Introduction page among the more than 50 entrepreneurs who initiated the establishment of the business association. In August 2019, the CTFQBA held an event in Markham that echoed the party line of the Chinese Communist Party (CCP) in condemning pro-democracy demonstrators in Hong Kong who were protesting Beijing's controversial extradition bill. Another CTFQBA-affiliated individual, Weng Guoning, is listed as director of a separate election-focused federally incorporated not-for-profit—The Chinese Council for Canadian Elections (CCCE)—that registered in 2019 and whose name is very similar to that of the CCWOE. A closer look at the CCWOE's corporate history in the Corporations Canada database shows that it was initially registered on Oct. 24 this year and under a name nearly identical to that of the CCCE—The Chinese Council for Canadian Elections (Western Ontario). Then, just seven days later, on Oct. 31, it was renamed as "The Chinese Council for Western Ontario Elections." With respect to the aforementioned Weng Guoning, the CCCE lists an individual by that name as one of its three directors, while the CTFQBA also lists a person by that same name as one of its three permanent honorary presidents and as one of the individuals who initiated that group's founding. The CTFQBA's Weng Guoning is also chair of the Confederation of Toronto Chinese Canadian Organizations (CTCCO), with the same photo of him appearing on both organizations' websites. Founded in 1985, the CTCCO is an umbrella group now consisting of over 100 member associations that has aligned with Beijing on various issues. It participated in the CTFQBA's 2019 event to denounce Hong Kong democracy protesters. In 2020, it asked the Ontario Legislative Assembly to hold a ceremony to raise the flag of the People's Republic of China—a request the legislature later cancelled amid souring Canada-China relations. A Chinese state media outlet lists address "1/2 unit, 220 Royal Crest CT, Markham, Ontario," which corresponds to this commercial building in Markham, as one of three overseas Chinese police "service stations" in Canada. Human rights NGO Safeguard Defenders says these outposts in the Greater Toronto Area are part of the first batch of overseas police service stations established by the public security bureau of Fuzhou, the capital of Fujian Province. (Michelle Hu/The Epoch Times) Chinese Police Overseas 'Service Stations' The CTFQBA website lists the organization's contact address as "220 Royal Crest Crt, Unit 1-2, Markham." This corresponds to one of three Toronto addresses included in a table published on the Fujian provincial government website indicating the locations of 30 overseas "service stations" operated by the Fuzhou Public Security Bureau (PSB). The PSB is a government office that acts as the provincial or local police station. The table was part of a Jan. 22 article reporting on a press conference held by the Fuzhou PSB to announce its new measures for "cross-border convenient overseas Chinese services." That article was removed from the Fujian government website around the end of November or beginning of December 2022, but it is still accessible via the internet archive service Wayback Machine. A land title search by Global News also confirmed that the CTFQBA is the owner of that property, according to a Nov. 16 article by that media outlet. An investigative report released in September by Spain-based human rights NGO Safeguard Defenders said that these "service stations"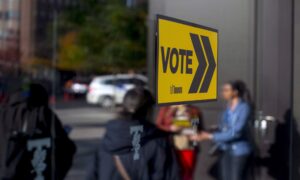 A new Ontario organization that says it aims to promote political candidates with Chinese heritage is led by an individual involved in a group "guided" by China's United Front Work Department, an agency responsible for co-opting opposition inside China as well as carrying out influence activities abroad.
Guo Baozhang, chair of the Chinese Council for Western Ontario Elections (CCWOE), said at a Nov. 20 press conference that his organization's goal is to "increase the Chinese voter turnout rate and build a democratic, multicultural society."
The organization also held a gathering in Mississauga, Ontario, that day to celebrate Scott Xie's recent victory in becoming Oakville's Ward 7 town councillor in the Oct. 24 municipal election.
In addition to his CCWOE role, Guo is affiliated with the Canada Toronto Fuqing Business Association (CTFQBA), whose founding history as described on its website's "Business Association Introduction page" says the organization was established "under the guidance" of various Chinese state-, provincial-, and municipal-level government and official bodies, including the United Front Work Department of the Fuqing Municipal Party Committee.
Fuqing is a city south of Fuzhou, the capital of China's Fujian Province. And the CTFQBA, like the CCWOE, is a federally incorporated not-for-profit organization in Canada.
Guo is one of nine individuals listed as CTFQBA's executive president. His name is also listed on the CTFQBA website's Introduction page among the more than 50 entrepreneurs who initiated the establishment of the business association.
In August 2019, the CTFQBA held an event in Markham that echoed the party line of the Chinese Communist Party (CCP) in condemning pro-democracy demonstrators in Hong Kong who were protesting Beijing's controversial extradition bill.
Another CTFQBA-affiliated individual, Weng Guoning, is listed as director of a separate election-focused federally incorporated not-for-profit—The Chinese Council for Canadian Elections (CCCE)—that registered in 2019 and whose name is very similar to that of the CCWOE.
A closer look at the CCWOE's corporate history in the Corporations Canada database shows that it was initially registered on Oct. 24 this year and under a name nearly identical to that of the CCCE—The Chinese Council for Canadian Elections (Western Ontario). Then, just seven days later, on Oct. 31, it was renamed as "The Chinese Council for Western Ontario Elections."
With respect to the aforementioned Weng Guoning, the CCCE lists an individual by that name as one of its three directors, while the CTFQBA also lists a person by that same name as one of its three permanent honorary presidents and as one of the individuals who initiated that group's founding.
The CTFQBA's Weng Guoning is also chair of the Confederation of Toronto Chinese Canadian Organizations (CTCCO), with the same photo of him appearing on both organizations' websites.
Founded in 1985, the CTCCO is an umbrella group now consisting of over 100 member associations that has aligned with Beijing on various issues. It participated in the CTFQBA's 2019 event to denounce Hong Kong democracy protesters. In 2020, it asked the Ontario Legislative Assembly to hold a ceremony to raise the flag of the People's Republic of China—a request the legislature later cancelled amid souring Canada-China relations.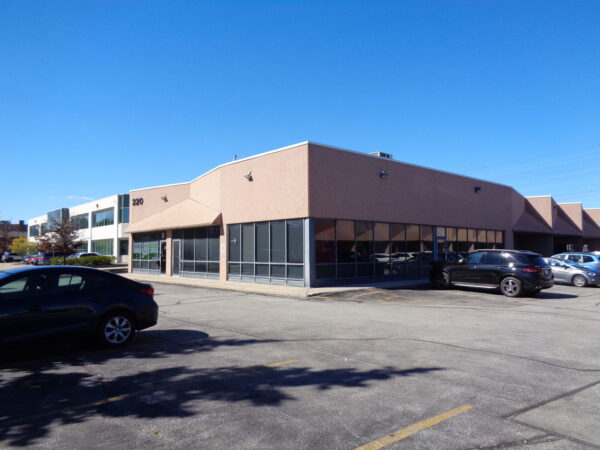 Chinese Police Overseas 'Service Stations'
The CTFQBA website lists the organization's contact address as "220 Royal Crest Crt, Unit 1-2, Markham." This corresponds to one of three Toronto addresses included in a table published on the Fujian provincial government website indicating the locations of 30 overseas "service stations" operated by the Fuzhou Public Security Bureau (PSB). The PSB is a government office that acts as the provincial or local police station.
The table was part of a Jan. 22 article reporting on a press conference held by the Fuzhou PSB to announce its new measures for "cross-border convenient overseas Chinese services." That article was removed from the Fujian government website around the end of November or beginning of December 2022, but it is still accessible via the internet archive service Wayback Machine.
A land title search by Global News also confirmed that the CTFQBA is the owner of that property, according to a Nov. 16 article by that media outlet.
An investigative report released in September by Spain-based human rights NGO Safeguard Defenders said that these "service stations" are among over 50 such offices in dozens of countries operated by police agencies in China. The report said they are unofficial—outside of official bilateral police and judicial cooperation—and some have reportedly targeted Chinese dissidents living overseas and have coerced certain individuals to return to China.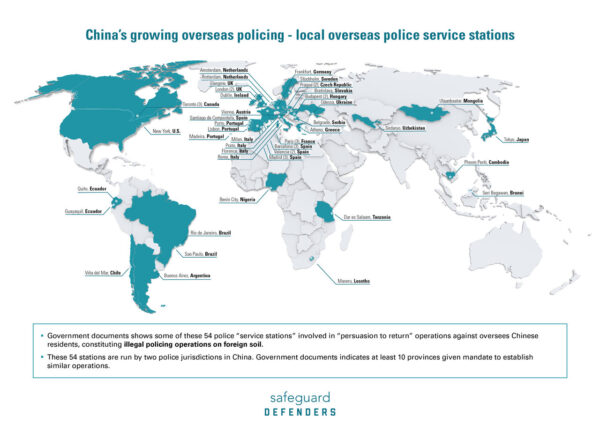 The Epoch Times reached out to Guo for comment but did not hear back. The Epoch Times previously made multiple attempts to contact the CTFQBA for comment. Someone from the organization who answered one of the phone calls didn't respond to questions. Subsequent calls were unanswered.
Alleged Election Interference
Speaking to the Chinese-language media outlet CC Media News on Nov. 17, Wei Chengyi, one of the CTFQBA's permanent honorary presidents and one of the individuals associated with that organization's founding, denied recent allegations reported in a Nov. 16 Global News about a Canadian Security Intelligence Service investigation of him related to Chinese interference.
"It's inexplicable! It's total nonsense!" Wei said in Chinese in an interview with the CC Media News. Global News, noting that Wei hasn't responded to its own series of requests for comment, translated that interview and provided the English text as part of an editor's note in its Nov. 16 article.
"The [Global News] report said I 'acted as a middleman' and 'transferred about 250,000 Canadian dollars.' Not only is it not true, but it is also a complete fabrication," Wei continued in the interview.
Specifically, the Global News article reported that the Canadian Security Intelligence Service has investigated Wei for his alleged role in a covert scheme to provide funding to candidates in Canada's 2019 federal election to advance Beijing's interests.
Wei, like Weng, is not only affiliated with the CTFQBA but also with the CTCCO. Wei is a permanent honorary chairman of the CTCCO, where Weng serves as chair.
Global's sources alleged that Wei and the CTCCO transferred some $250,000 from the Chinese Consulate in Toronto to an Ontario MPP and a federal candidate staff, who then distributed the money to at least 11 candidates and other campaign staffers.
The Global News article also reported, based on information the media outlet received from RCMP sources, that national security investigators are also probing Wei for possible links to several Toronto and Vancouver properties allegedly being used as so-called Chinese government "police stations."
Weng, in his capacity as CTCCO chair, has denied the allegations in defence of both Wei and their organization.
In the same Nov. 17 CC Media News interview where Wei was interviewed, Weng said he has "never heard of and known of any information" about money transfer from the CTCCO as stated in the Global News report.
The CC Media News reporter also asked Weng why some Western media outlets always say the CTCCO is "pro-Beijing." Weng replied that this is "entirely an ideological bias."
Weng was among the attendees at the Nov. 20 gathering celebrating councillor Xie's recent election victory. Other elected officials also in attendance included Oakville's Ward 7 regional and town councillor Nav Nanda and Mississauga-Erin Mills MPP Sheref Sabawy.
Besides contacting Guo of the CCWOE for comment, The Epoch Times also reached out to Wei and Weng of the CTFQBA and CTCCO, along with the two Oakville councillors Xie and Nanda and MPP Sabawy, but didn't hear back.