Only Five Years Left to Prevent War With Beijing: Former Australian PM
Beijing will be at war with the United States and possibly Australia within five years unless the United States and its allies stop it from launching a strike on Taiwan, a former Australian prime minister said.According to former Prime Minister Kevin Rudd, Chinese leader Xi Jinping is more determined than ever to seize the self-ruled island of Taiwan. Rudd served as Australian prime minister from 2007 to 2010 and June 2013 to September 2013. "The next five years will very much shape and arguably determine the future stability of the Indo-Pacific region," Rudd said while delivering a speech at the Australian National University on Nov. 21. "If we fail to navigate the next five years carefully, there is a grave risk that by the late 20s and the early 30s, we could well find ourselves on the cusp of armed conflict." Former Australian Prime Minister Kevin Rudd at the National Press Club in Canberra, Australia, on March 9, 2021. (AAP Image/Mick Tsikas) Rudd said the conflict between China and the United States over Taiwan could reach "an order of magnitude not seen since the Second World War." General Mark Milley, Chairman of the Joint Chiefs of Staff, made it clear in July that the United States expects Australia to stand "shoulder to shoulder" with its Allies in the event of war over Taiwan. Rudd, who has been known for a pro-Beijing stance, welcomed the three-hour meeting between Australian Prime Minister Anthony Albanese and Xi on the sidelines of the G20 summit, saying both sides had expressed a desire to stop the freefall in relations between the two countries. "However, it would be foolish to conclude, at least from the Chinese perspective, that Xi has therefore shelved his aspiration to retake Taiwan," he said. "Nothing could be further from the truth. In fact, his language on Taiwan in the official readout from the Bali Summit is arguably more hardline than before." f Australia's Prime Minister Anthony Albanese meets China's President Xi Jinping in a bilateral meeting during the 2022 G20 summit in Nusa Dua, Bali, Indonesia, Australia, on Nov. 15, 2022. (AAP Image/Mick Tsikas) Currently, the president and CEO of Asia Society, Rudd, said he believed that Xi could act against Taiwan in the late 2020s or 2030s. This means Australia needs to keep "clear-eyed" on the possibility of a military conflict with China, even if it seeks to improve relations in the short term. "The only way to avert medium-to-long-term conflict is for there to be an effective U.S., allied, and Taiwanese deterrence: militarily, technologically, financially, economically, and, of course, in foreign policy and political terms as well," he said. 'Managed Strategic Competition' to Avoid War The former prime minister said the balance of military power across the Taiwan Strait had been shifting in favour of Beijing for some time. "Plainly, both sides are engaged in a strategic competition as to which country emerges as the pre-eminent regional and global power by mid-century,'' Rudd said. He continued that the biggest risk in the short to medium term will be a "war by accident" between the United States and China, describing it as a "real and present danger." The best way for superpowers to avoid accidental war is through a policy of "managed strategic competition," he said. This would require the US and China to agree on a "strategic red line," which, if crossed, could lead to a military escalation. The detained Australian journalist Cheng Lei is seen on a television set in Beijing, China, in this still image taken from undated video footage. (Australia Global Alumni-Australian Department of Foreign Affairs and Trade/Handout via Reuters) With Australia marking 50 years of diplomatic relations with China next month, Rudd said it would be better for Beijing to lift trade restrictions on Australian goods worth AU $20 billion (US$ 13.47 billion ) and release detained Australian journalist Cheng Lei. "That would pave the way for the resumption of normal diplomatic discourse across all the substantive questions which currently confront the bilateral relationship," he said. Follow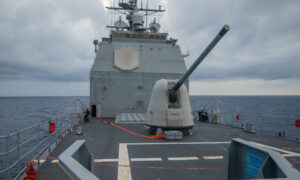 Beijing will be at war with the United States and possibly Australia within five years unless the United States and its allies stop it from launching a strike on Taiwan, a former Australian prime minister said.
According to former Prime Minister Kevin Rudd, Chinese leader Xi Jinping is more determined than ever to seize the self-ruled island of Taiwan. Rudd served as Australian prime minister from 2007 to 2010 and June 2013 to September 2013.
"The next five years will very much shape and arguably determine the future stability of the Indo-Pacific region," Rudd said while delivering a speech at the Australian National University on Nov. 21.
"If we fail to navigate the next five years carefully, there is a grave risk that by the late 20s and the early 30s, we could well find ourselves on the cusp of armed conflict."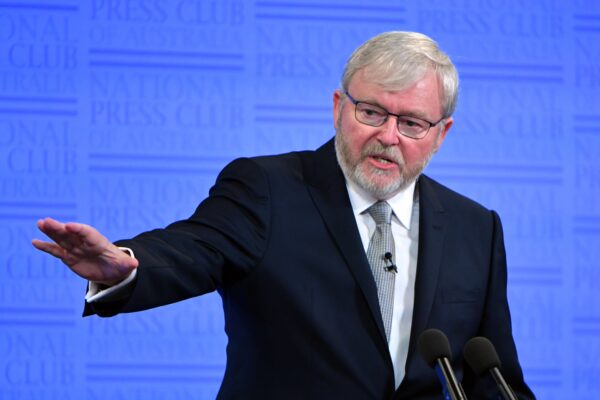 Rudd said the conflict between China and the United States over Taiwan could reach "an order of magnitude not seen since the Second World War."
General Mark Milley, Chairman of the Joint Chiefs of Staff, made it clear in July that the United States expects Australia to stand "shoulder to shoulder" with its Allies in the event of war over Taiwan.
Rudd, who has been known for a pro-Beijing stance, welcomed the three-hour meeting between Australian Prime Minister Anthony Albanese and Xi on the sidelines of the G20 summit, saying both sides had expressed a desire to stop the freefall in relations between the two countries.
"However, it would be foolish to conclude, at least from the Chinese perspective, that Xi has therefore shelved his aspiration to retake Taiwan," he said.
"Nothing could be further from the truth. In fact, his language on Taiwan in the official readout from the Bali Summit is arguably more hardline than before."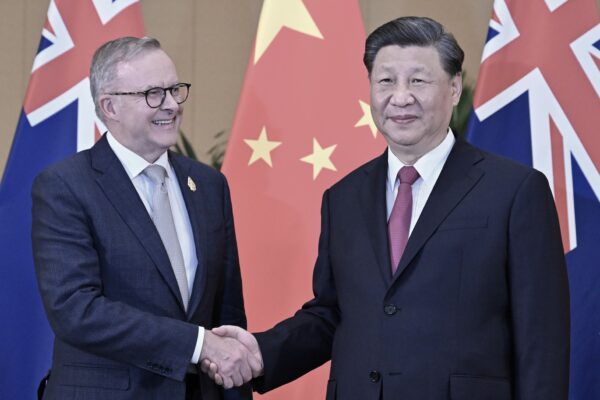 Currently, the president and CEO of Asia Society, Rudd, said he believed that Xi could act against Taiwan in the late 2020s or 2030s.
This means Australia needs to keep "clear-eyed" on the possibility of a military conflict with China, even if it seeks to improve relations in the short term.
"The only way to avert medium-to-long-term conflict is for there to be an effective U.S., allied, and Taiwanese deterrence: militarily, technologically, financially, economically, and, of course, in foreign policy and political terms as well," he said.
'Managed Strategic Competition' to Avoid War
The former prime minister said the balance of military power across the Taiwan Strait had been shifting in favour of Beijing for some time.
"Plainly, both sides are engaged in a strategic competition as to which country emerges as the pre-eminent regional and global power by mid-century,'' Rudd said.
He continued that the biggest risk in the short to medium term will be a "war by accident" between the United States and China, describing it as a "real and present danger."
The best way for superpowers to avoid accidental war is through a policy of "managed strategic competition," he said. This would require the US and China to agree on a "strategic red line," which, if crossed, could lead to a military escalation.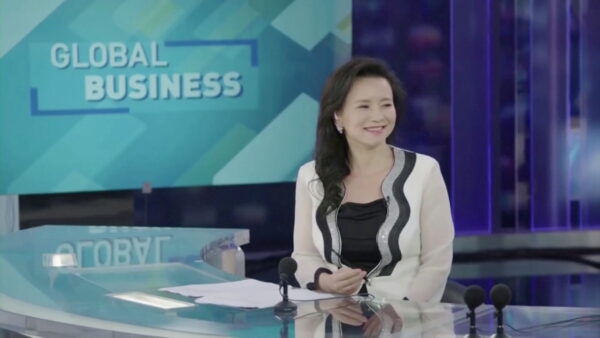 With Australia marking 50 years of diplomatic relations with China next month, Rudd said it would be better for Beijing to lift trade restrictions on Australian goods worth AU $20 billion (US$ 13.47 billion ) and release detained Australian journalist Cheng Lei.
"That would pave the way for the resumption of normal diplomatic discourse across all the substantive questions which currently confront the bilateral relationship," he said.