Officials From Across America Commemorate World Falun Dafa Day
On the 31st anniversary of its introduction to the public, Falun Dafa has been recognized by officials and elected bodies across the United States for the spiritual values of its teachings and adherents' contributions to communities. Falun Dafa, also known as Falun Gong, is a spiritual practice involving meditative exercises and moral teachings rooted in traditional Chinese beliefs in body and mind improvement. It was introduced to the public by its founder Mr. Li Hongzhi on May 13, 1992, in northeast China and is now practiced in over 100 countries worldwide. Official proclamations in various U.S. states and locales credit the practice's slow-moving exercises and core principles—truth, compassion, and forbearance—as the source of its contributions to society. "The Falun Dafa philosophy espouses the idea that when the heart is pure, the mind balanced, and the body energized, health and happiness are a natural outcome," wrote a New York state legislative resolution adopted on April 25 for commemorating World Falun Dafa Day on May 13. "Individuals have been empowered to leave behind addictions and bad habits; families, to live in peace together; and communities, to embrace what is virtuous and life-affirming." In addition, adherents' efforts to share the practice's benefits with communities through free workshops were also highlighted. "Falun Dafa practitioners throughout the world dedicate countless hours to contributing to their communities by participating in local parades and street fairs, organizing free meditation and exercise classes, thousands of which have been offered in libraries, senior centers, public parks, and health clubs, as well as corporate offices and private residences," wrote New Hampshire Gov. Chris Sununu on May 9 in his proclamation for World Falun Dafa Day. His remarks were echoed in other official recognitions, including the New York state legislative resolution and a Texas Senate Resolution adopted on May 11. Both chambers of the Commonwealth of Massachusetts state legislature issued citations to acknowledge World Falun Dafa Day and wished adherents "continued success." Falun Gong practitioners march in Manhattan to celebrate World Falun Dafa Day on May 12, 2023, in New York. (Larry Dye/The Epoch Times) Some federal politicians have also voiced their appreciation of the spiritual practice and pointed out the contrast of brutal persecution by the Chinese communist regime. Sens. John Cornyn (R-Texas) and Ted Cruz (R-Texas), and Reps. Stephen Lynch (D-Mass.) and Mike Kelly (R-Pa.) sent Falun Dafa adherents letters or recognition in commemoration of the anniversary. "I applaud each of you for sharing the illustrious history and rich culture of China as well as drawing attention to the violence and persecution the county has endured," wrote Cruz in his letter to members of the Southern USA Falun Dafa Association. "Falun Dafa practitioners have continued to demonstrate the determination and courage to stand up for Truthfulness-Compassion-Forbearance." Within eight years of Falun Gong's introduction to the public in China, the practice had attracted 100 million adherents. Deeming this popularity a threat to its absolute rule, the Chinese Communist Party launched a nationwide persecution campaign, subjecting adherents to detention, slave labor, torture, psychiatric abuses, and forced organ harvesting. Ambassador Rashad Hussain, principal adviser to the secretary of state and adviser to the U.S. president on religious freedom conditions and policy, wrote in a tweet on May 13: "I am pleased to join the Falun Gong community in recognizing World #FalunDafa Day, a time to remember the peaceful ideals of truthfulness, compassion, and forbearance in solidarity with the many practitioners around the world who continue to suffer for their beliefs." Health Benefits During Post-Pandemic Times Many county- and city-level proclamations highlighted the health effects of Falun Gong. One city, in particular, was specific about the benefit in current times. "In these trying, post-pandemic times, the meditative exercise of Falun Dafa and its health benefits offers an effective option to those seeking peace and healing," wrote Mayor Sumbul Siddiqui of Cambridge, Massachusetts, in his proclamation this month. Falun Dafa practitioner Yu Haoxin before a World Falun Dafa Day parade in New York on May 12, 2023. (Courtesy of Yu Haoxin) That certainly rings true for Yu Haoxin, 29, a Chinese businesswoman who arrived in New York on April 6. The pandemic led her to Falun Gong. On Dec. 21, 2021, she took a second shot of the Sinovac COVID-19 vaccine in southern China's Guangxi Province. Within five days, she experienced symptoms of a fast heartbeat and trembling hands. Her symptoms deteriorated rapidly weeks later during her Chinese New Year holiday visit to her hometown in Harbin, the capital of Heilongjiang Province in northeast China. She still remembers the trip to the hospital; even getting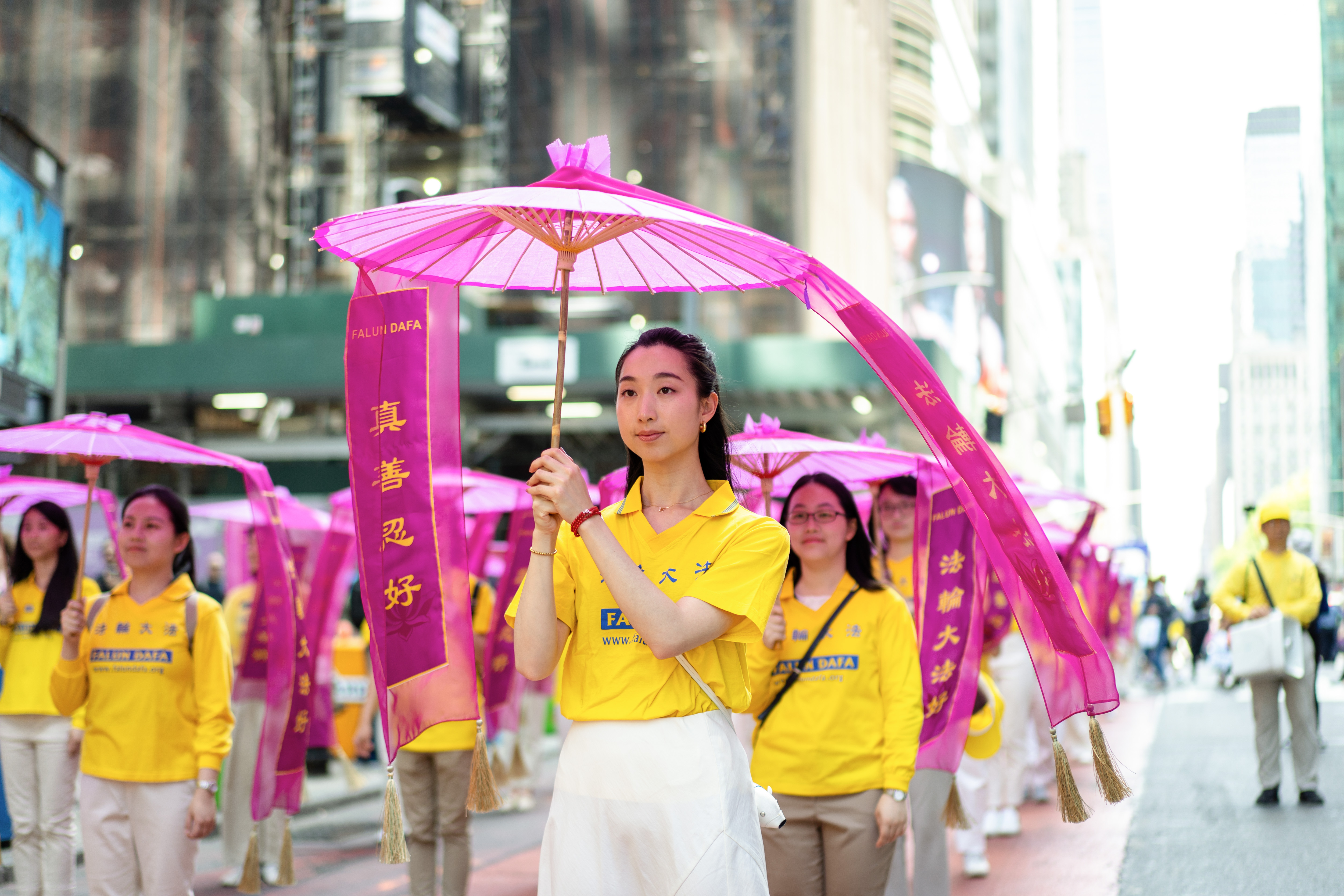 On the 31st anniversary of its introduction to the public, Falun Dafa has been recognized by officials and elected bodies across the United States for the spiritual values of its teachings and adherents' contributions to communities.
Falun Dafa, also known as Falun Gong, is a spiritual practice involving meditative exercises and moral teachings rooted in traditional Chinese beliefs in body and mind improvement. It was introduced to the public by its founder Mr. Li Hongzhi on May 13, 1992, in northeast China and is now practiced in over 100 countries worldwide.
Official proclamations in various U.S. states and locales credit the practice's slow-moving exercises and core principles—truth, compassion, and forbearance—as the source of its contributions to society.
"The Falun Dafa philosophy espouses the idea that when the heart is pure, the mind balanced, and the body energized, health and happiness are a natural outcome," wrote a New York state legislative resolution adopted on April 25 for commemorating World Falun Dafa Day on May 13. "Individuals have been empowered to leave behind addictions and bad habits; families, to live in peace together; and communities, to embrace what is virtuous and life-affirming."
In addition, adherents' efforts to share the practice's benefits with communities through free workshops were also highlighted.
"Falun Dafa practitioners throughout the world dedicate countless hours to contributing to their communities by participating in local parades and street fairs, organizing free meditation and exercise classes, thousands of which have been offered in libraries, senior centers, public parks, and health clubs, as well as corporate offices and private residences," wrote New Hampshire Gov. Chris Sununu on May 9 in his proclamation for World Falun Dafa Day.
His remarks were echoed in other official recognitions, including the New York state legislative resolution and a Texas Senate Resolution adopted on May 11. Both chambers of the Commonwealth of Massachusetts state legislature issued citations to acknowledge World Falun Dafa Day and wished adherents "continued success."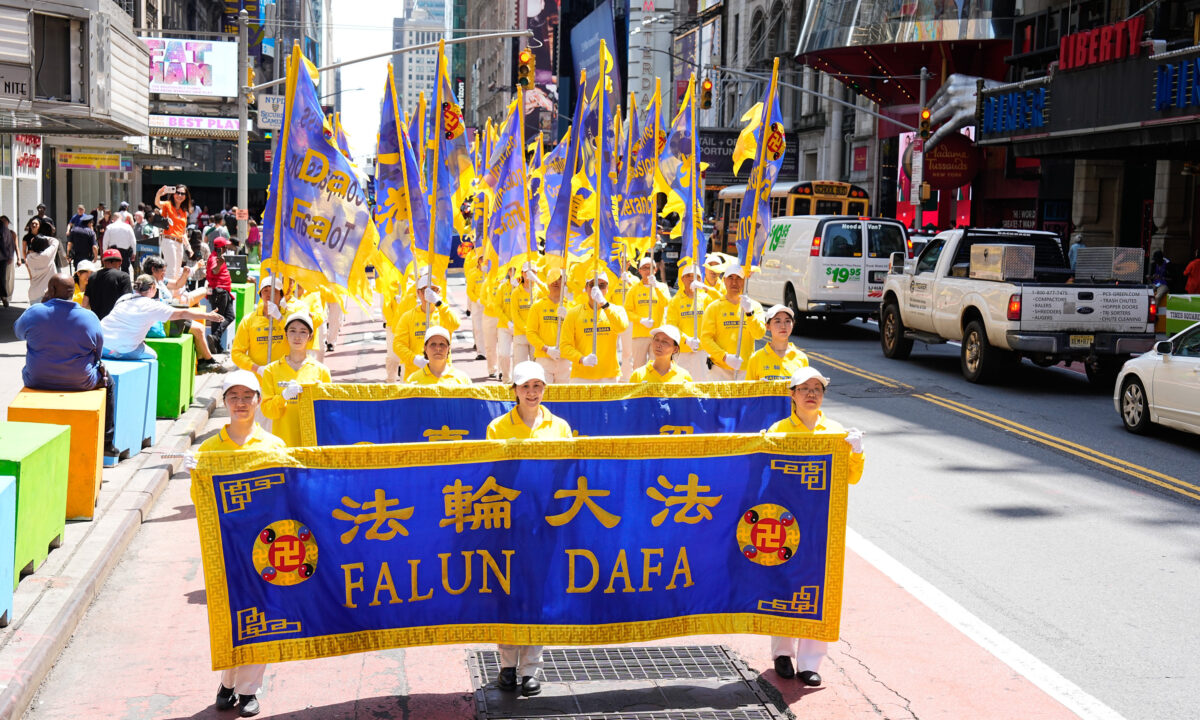 Some federal politicians have also voiced their appreciation of the spiritual practice and pointed out the contrast of brutal persecution by the Chinese communist regime.
Sens. John Cornyn (R-Texas) and Ted Cruz (R-Texas), and Reps. Stephen Lynch (D-Mass.) and Mike Kelly (R-Pa.) sent Falun Dafa adherents letters or recognition in commemoration of the anniversary.
"I applaud each of you for sharing the illustrious history and rich culture of China as well as drawing attention to the violence and persecution the county has endured," wrote Cruz in his letter to members of the Southern USA Falun Dafa Association. "Falun Dafa practitioners have continued to demonstrate the determination and courage to stand up for Truthfulness-Compassion-Forbearance."
Within eight years of Falun Gong's introduction to the public in China, the practice had attracted 100 million adherents. Deeming this popularity a threat to its absolute rule, the Chinese Communist Party launched a nationwide persecution campaign, subjecting adherents to detention, slave labor, torture, psychiatric abuses, and forced organ harvesting.
Ambassador Rashad Hussain, principal adviser to the secretary of state and adviser to the U.S. president on religious freedom conditions and policy, wrote in a tweet on May 13: "I am pleased to join the Falun Gong community in recognizing World #FalunDafa Day, a time to remember the peaceful ideals of truthfulness, compassion, and forbearance in solidarity with the many practitioners around the world who continue to suffer for their beliefs."
Health Benefits During Post-Pandemic Times
Many county- and city-level proclamations highlighted the health effects of Falun Gong. One city, in particular, was specific about the benefit in current times.
"In these trying, post-pandemic times, the meditative exercise of Falun Dafa and its health benefits offers an effective option to those seeking peace and healing," wrote Mayor Sumbul Siddiqui of Cambridge, Massachusetts, in his proclamation this month.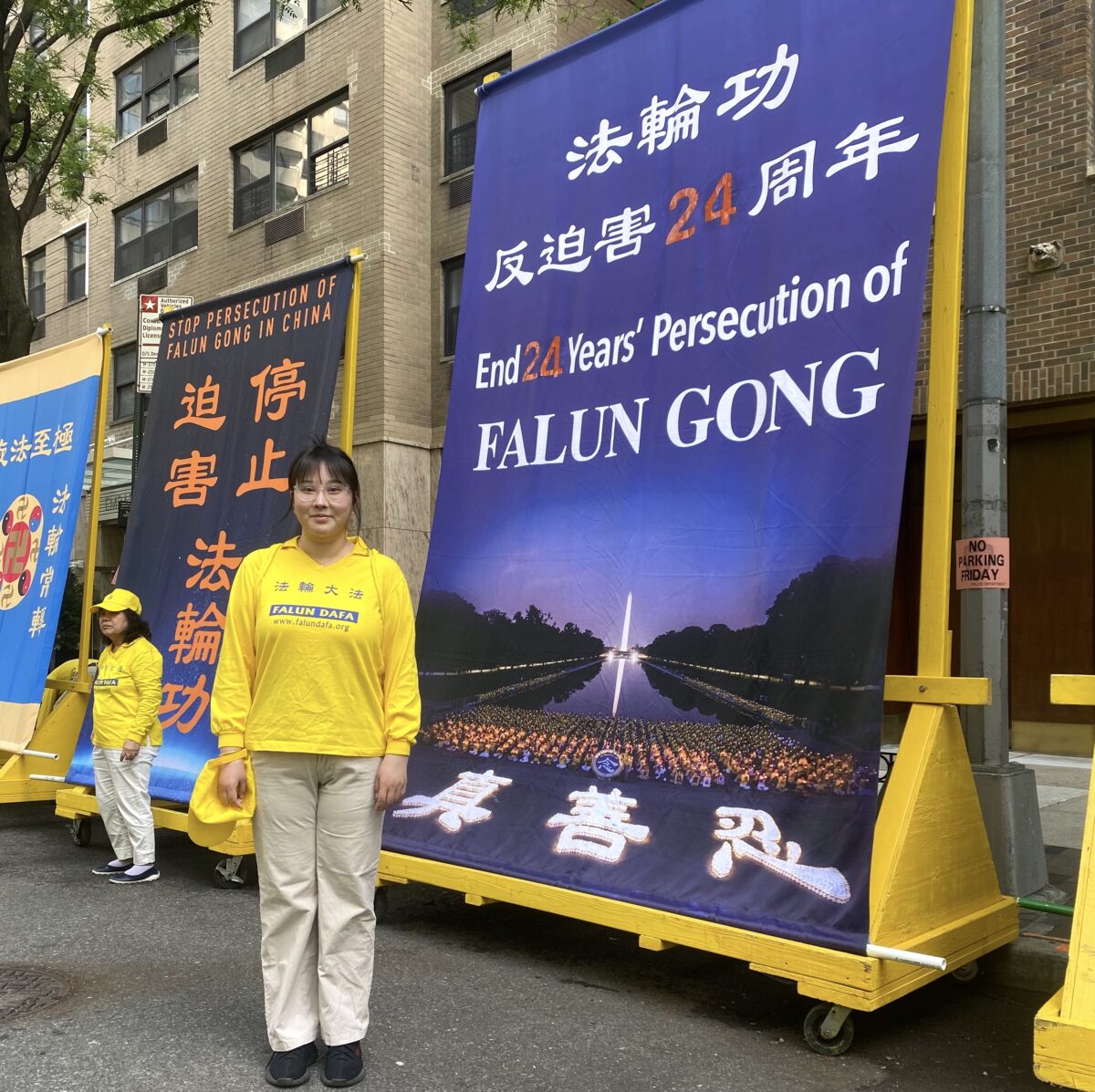 That certainly rings true for Yu Haoxin, 29, a Chinese businesswoman who arrived in New York on April 6. The pandemic led her to Falun Gong.
On Dec. 21, 2021, she took a second shot of the Sinovac COVID-19 vaccine in southern China's Guangxi Province. Within five days, she experienced symptoms of a fast heartbeat and trembling hands.
Her symptoms deteriorated rapidly weeks later during her Chinese New Year holiday visit to her hometown in Harbin, the capital of Heilongjiang Province in northeast China.
She still remembers the trip to the hospital; even getting on and off the taxi took much effort. She couldn't breathe and felt no strength in her limbs. Her younger sister supported her all the way.
Before the hospital visit, Yu had searched online for her symptoms. Based on her online research, she suspected that she had hypothyroidism, a not-so-uncommon condition developed among Sinovac vaccination receivers. She was terrified of acquiring such an illness, a disease in which the thyroid gland produces too much thyroid hormone, which controls how the body uses energy and affects a person's metabolism. Through a customer at her beauty salon, she had learned that the condition would be lifelong.
The doctor's diagnosis confirmed her fear.
At that time, citizens' mobility was still under control. Each time she went out of the complex, she would have to get permission from property management by showing a negative COVID test. And that was limited to up to once every two days.
Seeing Yu becoming very sad, Yu's mother, a Falun Gong practitioner, asked if she wanted to try the practice's exercises. And so, she took up the practice in February 2022.
The following month, her test results showed significant improvement. Her levels of T3, one of the hormones produced by the thyroid, decreased from over 50 in January to below 12. Her T4, another hormone produced by the thyroid, came down from over 100 in January to slightly below 34. She knew she was on track for recovery. After another three months, her symptoms went away completely. A check-up this March confirmed that she had remained healthy.
Yu came on a tourist visa to escape the communist regime's persecution of her faith. She used to run a beauty salon business in China. Now she wants to focus on settling down before making a professional choice.
In 2022, on her first World Falun Dafa Day upon becoming a practitioner, she bowed in front of the founder Mr. Li Hongzhi's picture at her home in China to commemorate the anniversary. This year, however, she joined another 5,000 in a parade in Manhattan to celebrate the occasion.
"I'm very honored," she told The Epoch Times. "Celebrating World Falun Dafa Day in a grand parade was something we didn't dare to even think of in China."