Nursing Community Urged to Stand Against Chinese Regime's Organ Harvesting Crimes
A lack of media coverage, silence from the medical community, and fear of Beijing's retribution, are among the reason why nursing communities around the world are unaware of the Chinese regime's murdering of innocent people for their organs.These comments were made by Géraldine Monti, who has been a nurse for more than 30 years in France, at a nurses summit on combating and preventing the forced removal of organs from unwilling donors in China. Held on Nov. 1, the virtual event was organized by Doctors Against Forced Organ Harvesting (DAFOH) and the Academy of Forensic Nursing. "The killing of innocent people for their organs is the most egregious act," said Deborah Collins-Perrica, director of nursing affairs at DAFOH, a nongovernmental organization based in Washington. However, "in China, the practice is approved as sponsored by the government," Collins-Perrica said. "It is managed by the police and with military oversight." After yearlong investigations, an independent London-based tribunal confirmed in 2019 that state-sanctioned forced organ harvesting has taken place in China for years "on a significant scale." The panel of lawyers and experts, known as the China Tribunal, concluded from witness and various other testimony that such actions amount to crimes against humanity, with persecuted Falun Gong practitioners being a primary organ source. Describing China's organ transplant trade as one of the world's most profitable industries, Collins-Perrica said it generates a billion dollars a year for the Chinese regime. As Chinese people are reluctant to donate organs due to "distrust in the political system and cultural taboos," Collins-Perrica said the Chinese regime expanded the availability of organs for transplants by harvesting organs from living prisoners of conscience. The health care professional cited the persecution of Falun Gong as an example. Falun Gong, a spiritual practice consisting of meditative exercises and moral teachings based on the principles of truthfulness, compassion, and tolerance, became hugely popular in China in the 1990s, with an estimated 70 million to 100 million adherents by the end of the decade. Viewing the popularity of the spiritual practise as a threat to its power, the ruling communist party launched a nationwide persecution in 1999. Since then, millions of Falun Gong adherents have been thrown into prisons, labor camps, and brainwashing centers across the country where they are subjected to torture, forced labor, or even forced organ harvesting. "The victims who are exploited, abused, and prepared for organ harvesting undergo medical testing while in political detention," Collins-Perrica said. "This created an organ on-demand system that can deliver fast-track transplant organs within days of notice." "Now a patient from another country waiting for a life-saving organ transplant can go online and find advertisements for Chinese transplant centers," she continued. "They can call those hospitals and secretly make their own arrangements for a transplant." "This [the business of selling organs to transplant tourism] stands as the most disturbing medical practice in the world." Lack of Awareness Monday's virtual event was "the first time this unique form of human trafficking is being publicly brought to the attention of the nursing community," according to Collins-Perrica, a former psychiatric clinical nurse for the U.S. Department of Defense and Veterans Health Administration. Monti, who serves as secretary of the European branch of DAFOH-France, said most did not understand the seriousness of the crime and the impact on the medical world. "Currently, in the medical world, there is little or no mention of the forced removal of organs from living Falun Gong practitioners. Why is this? "First, there is certainly a lack of information. I find that very few caregivers are aware of these crimes. Despite the articles published in international scientific journals, the caregivers' media never mention it. "Secondly, we sometimes hear: 'China is very far away!' Caregivers may not feel concerned for the victims, the nurses, or the doctors as, 'After all… it's their problem!' "Where are our values, our ethics? Can we allow a patient waiting for an organ to have an innocent person killed so that he can have an organ? No, I think this is not acceptable." The third reason, according to Monti, is the silence among medical professionals and institutions. She said that nurses in most countries often follow the advice of doctors, national health strategies of the government, or advice from prominent medical institutions. "Fourthly, and more specifically in the field of transplantation, health care providers may be afraid of the impression these crimes will give to patients and, as a consequence, of harming organ donation campaigns in their own country." Additionally, Monti said others may not be willing to discuss forced organ harvesting due to their involvement in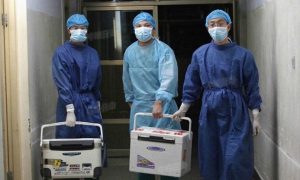 A lack of media coverage, silence from the medical community, and fear of Beijing's retribution, are among the reason why nursing communities around the world are unaware of the Chinese regime's murdering of innocent people for their organs.
These comments were made by Géraldine Monti, who has been a nurse for more than 30 years in France, at a nurses summit on combating and preventing the forced removal of organs from unwilling donors in China. Held on Nov. 1, the virtual event was organized by Doctors Against Forced Organ Harvesting (DAFOH) and the Academy of Forensic Nursing.
"The killing of innocent people for their organs is the most egregious act," said Deborah Collins-Perrica, director of nursing affairs at DAFOH, a nongovernmental organization based in Washington.
However, "in China, the practice is approved as sponsored by the government," Collins-Perrica said. "It is managed by the police and with military oversight."
After yearlong investigations, an independent London-based tribunal confirmed in 2019 that state-sanctioned forced organ harvesting has taken place in China for years "on a significant scale." The panel of lawyers and experts, known as the China Tribunal, concluded from witness and various other testimony that such actions amount to crimes against humanity, with persecuted Falun Gong practitioners being a primary organ source.
Describing China's organ transplant trade as one of the world's most profitable industries, Collins-Perrica said it generates a billion dollars a year for the Chinese regime.
As Chinese people are reluctant to donate organs due to "distrust in the political system and cultural taboos," Collins-Perrica said the Chinese regime expanded the availability of organs for transplants by harvesting organs from living prisoners of conscience.
The health care professional cited the persecution of Falun Gong as an example. Falun Gong, a spiritual practice consisting of meditative exercises and moral teachings based on the principles of truthfulness, compassion, and tolerance, became hugely popular in China in the 1990s, with an estimated 70 million to 100 million adherents by the end of the decade.
Viewing the popularity of the spiritual practise as a threat to its power, the ruling communist party launched a nationwide persecution in 1999. Since then, millions of Falun Gong adherents have been thrown into prisons, labor camps, and brainwashing centers across the country where they are subjected to torture, forced labor, or even forced organ harvesting.
"The victims who are exploited, abused, and prepared for organ harvesting undergo medical testing while in political detention," Collins-Perrica said. "This created an organ on-demand system that can deliver fast-track transplant organs within days of notice."
"Now a patient from another country waiting for a life-saving organ transplant can go online and find advertisements for Chinese transplant centers," she continued. "They can call those hospitals and secretly make their own arrangements for a transplant."
"This [the business of selling organs to transplant tourism] stands as the most disturbing medical practice in the world."
Lack of Awareness
Monday's virtual event was "the first time this unique form of human trafficking is being publicly brought to the attention of the nursing community," according to Collins-Perrica, a former psychiatric clinical nurse for the U.S. Department of Defense and Veterans Health Administration.
Monti, who serves as secretary of the European branch of DAFOH-France, said most did not understand the seriousness of the crime and the impact on the medical world.
"Currently, in the medical world, there is little or no mention of the forced removal of organs from living Falun Gong practitioners. Why is this?
"First, there is certainly a lack of information. I find that very few caregivers are aware of these crimes. Despite the articles published in international scientific journals, the caregivers' media never mention it.
"Secondly, we sometimes hear: 'China is very far away!' Caregivers may not feel concerned for the victims, the nurses, or the doctors as, 'After all… it's their problem!'
"Where are our values, our ethics? Can we allow a patient waiting for an organ to have an innocent person killed so that he can have an organ? No, I think this is not acceptable."
The third reason, according to Monti, is the silence among medical professionals and institutions. She said that nurses in most countries often follow the advice of doctors, national health strategies of the government, or advice from prominent medical institutions.
"Fourthly, and more specifically in the field of transplantation, health care providers may be afraid of the impression these crimes will give to patients and, as a consequence, of harming organ donation campaigns in their own country."
Additionally, Monti said others may not be willing to discuss forced organ harvesting due to their involvement in training Chinese medical professionals or other economic or political reasons.
Take Action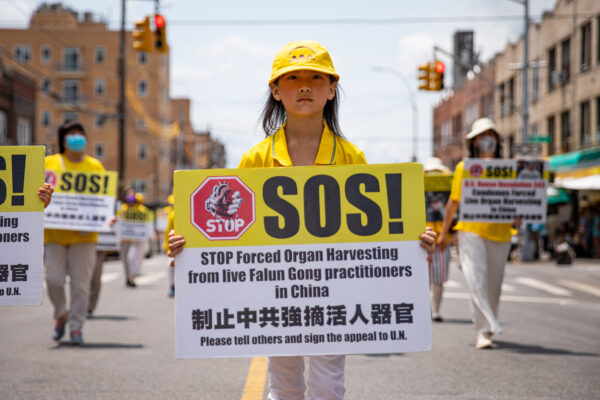 Yet, neutrality and silence to the crimes of forced organ harvesting, Monti said, will only encourage the oppressor.
"If we continue to remain silent, it means that we—as health professionals—accept that innocent and healthy Chinese citizens are killed for their organs."
"If we accept that Chinese citizens are killed for their organs, doesn't that mean that we also accept to lower our human values, our ethical values, and to break our laws? Is this not the destruction of our ethics? What about Chinese research papers on transplants? Can we accept unethically obtained data?
"If we look even further: can we accept the destruction of our human values and our democratic societies?
Monti urged nurses in the democratic world to stand up to the Chinese regime's crime against humanity.
"As nurses in democratic countries, it is important to stand up to China, to defend the values of the nursing profession, medical ethnics, and freedom."
"Each of us has a role to play in stopping this practice, protecting patients, and defending the ethics of our profession."
Eva Fu contributed to this report.