No Relationship Between School Masking and COVID-19 Cases: Study
Requiring masks in schools was popularized during the COVID-19 pandemic, but a new study has concluded there was no link between masking in schools and COVID-19 cases.A widely cited study published by the Centers for Disease Control and Prevention (CDC) in its quasi-journal in 2021 concluded schools without masking requirements were 3.5 times more likely to have COVID-19 outbreaks, defined as a cluster of COVID-19 cases. Researchers, including Ariella Dale with the CDC, reached the conclusion after analyzing data from Maricopa and Pima counties in Arizona. They said it showed that forced masking "remains essential to COVID-19 prevention in kindergarten through 12th grade. The study was published in the Morbidity and Mortality Weekly Report, a CDC publication that only publishes papers after they're reviewed by senior CDC officials and has been said to constitute the "official voice" of the CDC, which has promoted masking throughout the pandemic. In the new study, a different set of researchers replicated the study before extending it to cover more time and a larger sample of school districts. The replication showed "similar results," Ambarish Chandra, an economics professor at the University of Toronto, and Dr. Tracy Høeg, an epidemiologist based in California, wrote. But "incorporating a larger sample and longer period showed no significant relationship between mask mandates and case rates," they added. The study was published as a preprint in The Lancet. The research was funded by the University of Toronto. While the CDC paper included data for 1,020 public noncharter schools in the two Arizona counties, the new paper analyzed data from 565 counties. In addition, while the CDC paper examined the time period of July 15 to Aug. 31, 2021, the new paper extended the time period analyzed by four additional weeks. Chandra and Høeg said that cases quickly declined in the weeks after the CDC's paper cutoff, decreasing faster in counties without mask mandates. In a separate analysis, the pair looked at data from 1,832 counties, including counties that start school later in the year and were thus not included in the CDC paper. That confirmed a lack of a link between mask mandates and COVID-19 cases. "School districts that choose to mandate masks are likely to be systematically different from those that do not in multiple, often unobserved, ways. We failed to establish a relationship between school masking and pediatric cases using the same methods but a larger, more nationally diverse population over a longer interval," the researchers said. "Our study demonstrates that observational studies of interventions with small to moderate effect sizes are prone to bias caused by selection and omitted variables. Randomized studies can more reliably inform public health policy."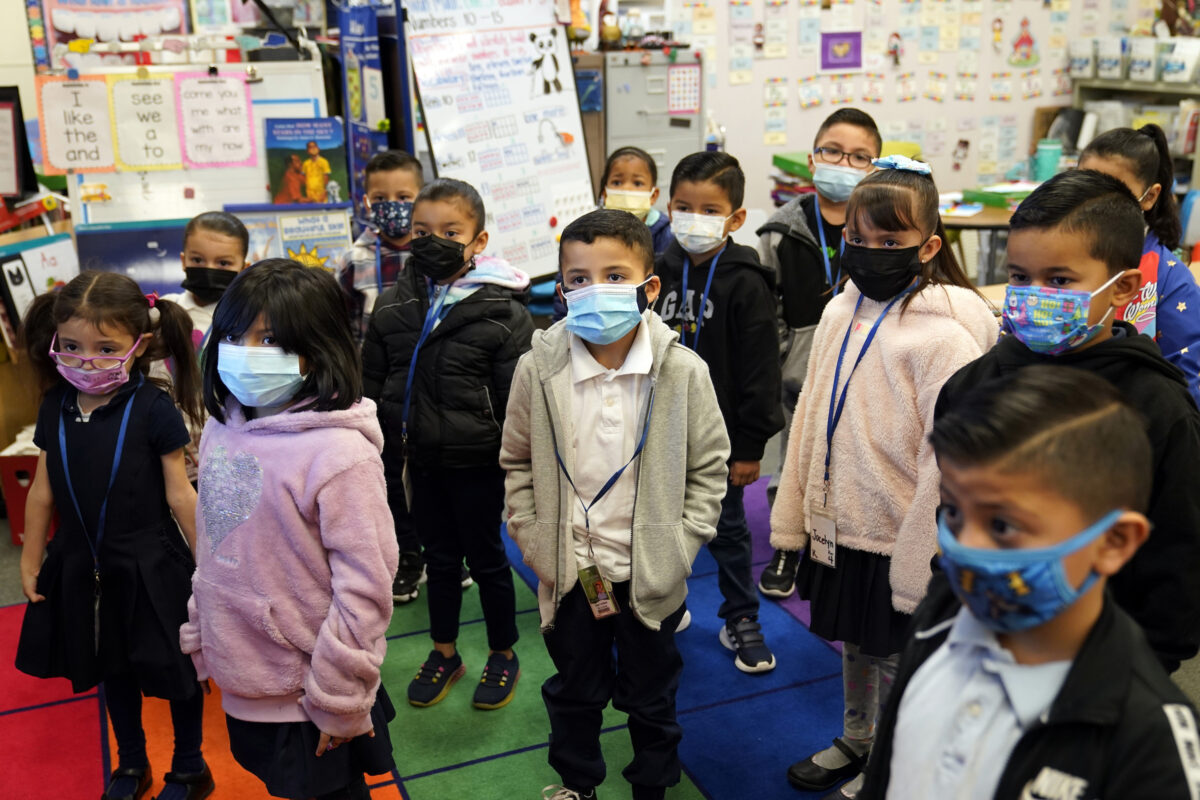 Requiring masks in schools was popularized during the COVID-19 pandemic, but a new study has concluded there was no link between masking in schools and COVID-19 cases.
A widely cited study published by the Centers for Disease Control and Prevention (CDC) in its quasi-journal in 2021 concluded schools without masking requirements were 3.5 times more likely to have COVID-19 outbreaks, defined as a cluster of COVID-19 cases.
Researchers, including Ariella Dale with the CDC, reached the conclusion after analyzing data from Maricopa and Pima counties in Arizona. They said it showed that forced masking "remains essential to COVID-19 prevention in kindergarten through 12th grade.
The study was published in the Morbidity and Mortality Weekly Report, a CDC publication that only publishes papers after they're reviewed by senior CDC officials and has been said to constitute the "official voice" of the CDC, which has promoted masking throughout the pandemic.
In the new study, a different set of researchers replicated the study before extending it to cover more time and a larger sample of school districts.
The replication showed "similar results," Ambarish Chandra, an economics professor at the University of Toronto, and Dr. Tracy Høeg, an epidemiologist based in California, wrote. But "incorporating a larger sample and longer period showed no significant relationship between mask mandates and case rates," they added.
The study was published as a preprint in The Lancet. The research was funded by the University of Toronto.
While the CDC paper included data for 1,020 public noncharter schools in the two Arizona counties, the new paper analyzed data from 565 counties. In addition, while the CDC paper examined the time period of July 15 to Aug. 31, 2021, the new paper extended the time period analyzed by four additional weeks.
Chandra and Høeg said that cases quickly declined in the weeks after the CDC's paper cutoff, decreasing faster in counties without mask mandates.
In a separate analysis, the pair looked at data from 1,832 counties, including counties that start school later in the year and were thus not included in the CDC paper. That confirmed a lack of a link between mask mandates and COVID-19 cases.
"School districts that choose to mandate masks are likely to be systematically different from those that do not in multiple, often unobserved, ways. We failed to establish a relationship between school masking and pediatric cases using the same methods but a larger, more nationally diverse population over a longer interval," the researchers said. "Our study demonstrates that observational studies of interventions with small to moderate effect sizes are prone to bias caused by selection and omitted variables. Randomized studies can more reliably inform public health policy."