'No One Knows What's Happening in This Small City' in China: Resident
A resident in Zhuzhou City, Hunan Province, asks for more media coverage of the chaotic pandemic control policies used by local governments."Your reports are very helpful to us. Our governments are very corrupt. They feel some pressure only when they find reports from the outside. Unlike Beijing, Shanghai, and Shenzhen, ours is a small city; no one knows what's happening in this small city," a resident of Zhuzhou said to the Chinese language edition of The Epoch Times on Nov. 22. Ms. Wang, a resident of Zhuzhou, uses an alias for her safety. She told the publication that the municipal government has censored all media platforms. "It's very chaotic, but people outside the city can't see anything," Wang said. Zhuzhou, a city with a population of 3.9 million in the south of Hunan, officially reported 15 asymptomatic COVID-19 cases on Nov. 24, 2022, according to the Hunan provincial health commission. The municipal government designated nine areas in the city as high-risk as of Nov. 25, and now residents are banned from leaving their homes. Soaring Food Prices The lockdowns began on Nov. 2, according to Wang, and are still in effect. Many families lack food, according to Wang. The shortage of food was caused by the local government appointing the vendors who can supply food, who then sell it at very high prices. Other suppliers are not allowed to deliver food to residential complexes, Wang said. "No matter how high the prices are, people still have to buy from government-designated suppliers, because we have to eat," Wang said. "We have to pay over $8 for one Chinese cabbage," Wang said angrily. A man wearing a face mask and holding a bag of vegetables walks along a street in Beijing on Feb. 12, 2020. (STR/AFP via Getty Images) The Epoch Times couldn't find a listing of recent vegetable prices in Zhuzhou. The municipal market and pricing watchdog published an analysis of prices of important commodities in January this year, which said that vegetable prices increased by 5 to 21 percent due to bad weather during that period. The price of Chinese cabbage in January was two yuan per 500 grams (about $0.25 per pound). The price of Chinese cabbage in November during the lockdown is dozens of times higher than in January. Residents have to bribe government staffers to get access to overpriced food, according to Wang. "I once couldn't get my supplies, even after I had paid them bribery. Only after I complained to them did they have the food delivered to my place," Wang said in the interview. "In China, we have to pay government officials money, otherwise, we will be starving." Garment Business Owners Facing Bankruptcy Zhuzhou's Lusong District has a garment wholesale trading center and November is usually the high time for the wholesalers to sell their winter-season garments—but not this year. The center has been locked down since Nov. 2. "We were allowed to enter the trade center, but we have to live in our shops in a closed center," Ms. Liang (pseudonym), a garment business owner, told the Chinese language edition of The Epoch Times on Nov. 23. Liang has several thousand down jackets ready for the coming winter season. "But I am gradually feeling desperate because I cannot go out and our customers cannot come in. I don't know how much longer I can hold on," she said. Ms. Wang told The Epoch Times that, if the winter garments cannot be sold out in time for the winter and coming holidays, business owners will suffer huge losses and many will go bankrupt. "Those wholesalers are under a lot of financial pressure. They have to pay housing loans, car loans, the cost of fabrics, employee wages, and rent. If they cannot make the sales for the season, they will not be able to make ends meet," Wang said. Employees produce down coats at a factory for Chinese clothing company Bosideng in Nantong in China's eastern Jiangsu Province on Sept. 24, 2019. (STR/AFP via Getty Images) Alleged Suicides China is one of the few countries in the world that still implements draconian COVID measures that are alleged to be causing suicide deaths across the country. Ms. Wang told The Epoch Times that she has heard of five suicide incidents during the recent lockdowns. Two people jumped from buildings opposite Zhuzhou's railway station, which is the hardest hit area during the pandemic. She didn't provide the dates of the suicides. The Epoch Times was unable to confirm the deaths. Ms. Dai (pseudonym), a resident of Zhuzhou, told The Epoch Times that on Nov. 21 three people committed suicide when one jumped off the Gold Dragon Hotel, one person killed himself in the Xiangyin residential compound, and another in the Cuigu residential compound. "Jumping from a building [to commit suicide] has become a more terrifying infectious disease than COVID-19 because it has a 100 percent mortality rate," Dai said. Hua Yong and Wang Qiaoling—Chinese dissidents and rights activists—both tweeted on Nov. 21 that a person killed himself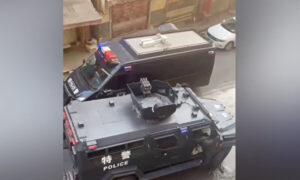 A resident in Zhuzhou City, Hunan Province, asks for more media coverage of the chaotic pandemic control policies used by local governments.
"Your reports are very helpful to us. Our governments are very corrupt. They feel some pressure only when they find reports from the outside. Unlike Beijing, Shanghai, and Shenzhen, ours is a small city; no one knows what's happening in this small city," a resident of Zhuzhou said to the Chinese language edition of The Epoch Times on Nov. 22.
Ms. Wang, a resident of Zhuzhou, uses an alias for her safety. She told the publication that the municipal government has censored all media platforms.
"It's very chaotic, but people outside the city can't see anything," Wang said.
Zhuzhou, a city with a population of 3.9 million in the south of Hunan, officially reported 15 asymptomatic COVID-19 cases on Nov. 24, 2022, according to the Hunan provincial health commission. The municipal government designated nine areas in the city as high-risk as of Nov. 25, and now residents are banned from leaving their homes.
Soaring Food Prices
The lockdowns began on Nov. 2, according to Wang, and are still in effect. Many families lack food, according to Wang.
The shortage of food was caused by the local government appointing the vendors who can supply food, who then sell it at very high prices. Other suppliers are not allowed to deliver food to residential complexes, Wang said.
"No matter how high the prices are, people still have to buy from government-designated suppliers, because we have to eat," Wang said.
"We have to pay over $8 for one Chinese cabbage," Wang said angrily.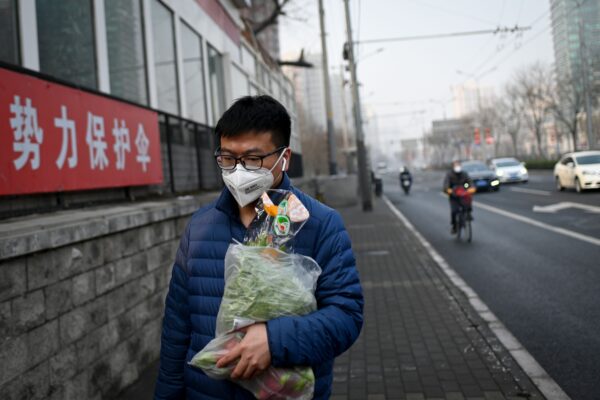 The Epoch Times couldn't find a listing of recent vegetable prices in Zhuzhou. The municipal market and pricing watchdog published an analysis of prices of important commodities in January this year, which said that vegetable prices increased by 5 to 21 percent due to bad weather during that period. The price of Chinese cabbage in January was two yuan per 500 grams (about $0.25 per pound). The price of Chinese cabbage in November during the lockdown is dozens of times higher than in January.
Residents have to bribe government staffers to get access to overpriced food, according to Wang.
"I once couldn't get my supplies, even after I had paid them bribery. Only after I complained to them did they have the food delivered to my place," Wang said in the interview. "In China, we have to pay government officials money, otherwise, we will be starving."
Garment Business Owners Facing Bankruptcy
Zhuzhou's Lusong District has a garment wholesale trading center and November is usually the high time for the wholesalers to sell their winter-season garments—but not this year. The center has been locked down since Nov. 2.
"We were allowed to enter the trade center, but we have to live in our shops in a closed center," Ms. Liang (pseudonym), a garment business owner, told the Chinese language edition of The Epoch Times on Nov. 23.
Liang has several thousand down jackets ready for the coming winter season. "But I am gradually feeling desperate because I cannot go out and our customers cannot come in. I don't know how much longer I can hold on," she said.
Ms. Wang told The Epoch Times that, if the winter garments cannot be sold out in time for the winter and coming holidays, business owners will suffer huge losses and many will go bankrupt.
"Those wholesalers are under a lot of financial pressure. They have to pay housing loans, car loans, the cost of fabrics, employee wages, and rent. If they cannot make the sales for the season, they will not be able to make ends meet," Wang said.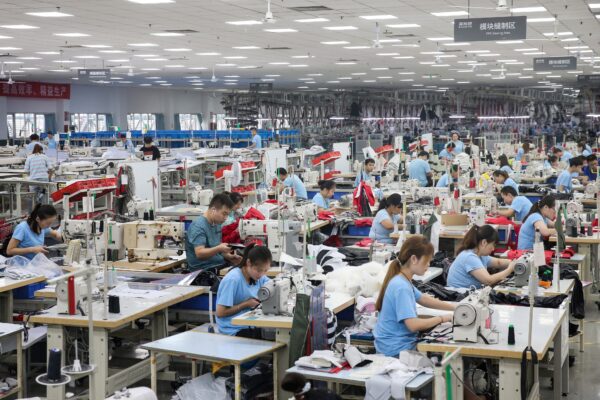 Alleged Suicides
China is one of the few countries in the world that still implements draconian COVID measures that are alleged to be causing suicide deaths across the country.
Ms. Wang told The Epoch Times that she has heard of five suicide incidents during the recent lockdowns. Two people jumped from buildings opposite Zhuzhou's railway station, which is the hardest hit area during the pandemic. She didn't provide the dates of the suicides. The Epoch Times was unable to confirm the deaths.
Ms. Dai (pseudonym), a resident of Zhuzhou, told The Epoch Times that on Nov. 21 three people committed suicide when one jumped off the Gold Dragon Hotel, one person killed himself in the Xiangyin residential compound, and another in the Cuigu residential compound.
"Jumping from a building [to commit suicide] has become a more terrifying infectious disease than COVID-19 because it has a 100 percent mortality rate," Dai said.
Hua Yong and Wang Qiaoling—Chinese dissidents and rights activists—both tweeted on Nov. 21 that a person killed himself by jumping off a building in the Jinxin Garden residential compound, which was the sixth suicidal incident during the recent lockdowns in Zhuzhou.
The Epoch Times reached out to the Zhuzhou Health Commission regarding the suicide allegations but hadn't received a reply as of press time.
Locals Are Against Zero-COVID Measures
Dai blasted the regime for its propaganda and misinformation about COVID-19.
She said that these days, COVID is no different from the cold or flu in terms of symptoms and mortality rate.
"The CCTV [China's state-run propaganda television] broadcasts daily that tens of millions of people in the United States are infected with and die of COVID," Dai said. "This is the main reason for the panic among the Chinese people." She called CCTV an "unscrupulous" medium and blamed it for creating panic in China and brainwashing the public with misinformation.
"If you can't afford an education, no one cares about you; if you can't see a doctor, no one cares about you; if you can't repay a loan, no one cares about you. No one cares if you live or die. But they stab your throat every day [to take a swab for PCR tests]. Do you reckon that they really care about your health?" Dai criticized the regime's mass PCR testing.
Wang told The Epoch Times that business owners in Lusong District fought with police days ago as they struggle to survive with no customers. The local police later patrolled the city in armored vehicles.
She said that her parents no longer trust the regime's rhetoric since they experienced a shortage of food and the lockdowns.
"I hope more people know about the situation in Zhuzhou, which is worse than in Guangzhou," Wang said.
Zhao Fenghua and Hong Ning contributed to this report.