No More Reviews: Veteran Affairs Advocate Says Defence Force Needs Overhaul
It was customary for soldiers of the Australian Defence Force (ADF) to "break in" their standard combat boots."There were not many people who actually had to carry packs and equipment long distances who didn't have to bash these boots in to make sure they didn't hurt their feet," said Heston Russell, a former special forces operative and now-veteran advocate. "We were literally getting our boots, soaking them in the bathtub, and smacking them with hammers," he told The Epoch Times, saying it took five years before a "boot review" was finally kick-started. Russell says this seemingly small issue is an insight into long-running, endemic problems in the Australian armed forces, which have now spilled over into large multi-billion dollar projects. Well-publicised delays in the country's submarine program were one reason (among others) behind the Labor government's recent decision to launch its Defence Strategic Review just two years after the previous Liberal-National Coalition government released its 2020 Defence Strategic Update. "In 2020, the Defence Strategic Update identified that changes in Australia's strategic environment are accelerating more rapidly than predicted in the 2012 Force Posture Review," said Richard Marles, the current defence minister, in a statement. "This necessitates an immediate analysis of where and how Defence assets and personnel are best positioned to protect Australia and its national interests." Australian Deputy Prime Minister and Defense Minister Richard Marles and Japanese Defense Minister Nobuo Kishi (not pictured) attend a joint press conference at the Ministry of Defense in Tokyo on June 15, 2022. (Shuji Kajiyama/Pool/AFP via Getty Images) The Strategic Review will be chaired by former Labor Defence Minister Stephen Smith and retired Chief of the Defence Force Angus Houston. Veterans like Russell, however, are sceptical on the need for another government review. "Why are we bringing back a former minister and former Chief of Defence Force to do a review into our ADF when we have a current defence minister [Marles], a current secretary for defence who earns around a million dollars a year [Greg Moriarty], and a current Chief of Defence Force [Angus Campbell]?" he said. "The biggest thing that needs immediate reviewing is the defence industry portfolio and the way in which we design, develop, procure, and deliver our key projects and assets." Shifting the Defence Portfolio Away From Job Creation Years of peacetime, and a lack of a major threat on Australia's doorstep, has fostered a laidback approach to defence spending, with political leaders opting to use the portfolio as a lever for economic growth. The issue has come to a head in recent times with the acquisition of multi-billion dollar French Attack-class submarines and Hunter-class frigates—with expensive delays dominating the news cycles. A major contributor was the refusal to buy existing (off-the-shelf) vessel designs from overseas partners and to instead opt for entirely new, custom designs that would require extensive construction and fit-outs. In the case of submarines, former Prime Minister Tony Abbott (2013 to 2015) had wanted to purchase Soryu-class vessels—constructed and delivered—from Japan, however, this plan was changed when Abbott was removed and replaced by Malcolm Turnbull. Despite the apparent shortcomings in constructing a new vessel from the ground up, the proposal was attractive for the then-government as it would provide hundreds or thousands of jobs for local manufacturers, notably in Australia's defence hub of Adelaide. The electorate of former Defence Minister Christopher Pyne, who approved the Attack-class and Hunter-class, was in Adelaide. Former Australian Prime Minister Malcolm Turnbull, President of France Emmanuel Macron, along with Australian ministers on the Collins-class submarine HMAS Waller at Garden Island, in Sydney May 2, 2018. (AAP/Brendan Esposito/via Reuters) However, it soon became clear that the commissioning timeframe of these vessels—around the 2030s—was unviable given the increasing aggression of Beijing in the Indo-pacific region. In 2021, the Attack class would finally be cancelled by former Prime Minister Scott Morrison in favour of nuclear-powered submarines from the United States and United Kingdom under the AUKUS deal—a move met with displeasure from the French government. Meanwhile, Labor Defence Minister Marles has indicated that the shift of the defence portfolio away from job creation towards actual national security work was underway. "Capability and strategic need must drive decision-making," he told The Sydney Morning Herald on Aug. 8. "That is how we have to think about it. And there's got to be clarity of thought about that. Industry follows that." An Extra Coat of Paint Is Not Enough Lincoln Parker, chair of the Liberal Party's Defence and National Security Branch, said the timing of the review was critical given the ongoing grey zone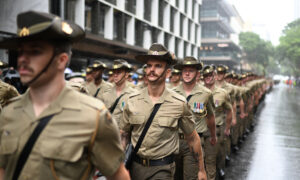 It was customary for soldiers of the Australian Defence Force (ADF) to "break in" their standard combat boots.
"There were not many people who actually had to carry packs and equipment long distances who didn't have to bash these boots in to make sure they didn't hurt their feet," said Heston Russell, a former special forces operative and now-veteran advocate.
"We were literally getting our boots, soaking them in the bathtub, and smacking them with hammers," he told The Epoch Times, saying it took five years before a "boot review" was finally kick-started.
Russell says this seemingly small issue is an insight into long-running, endemic problems in the Australian armed forces, which have now spilled over into large multi-billion dollar projects.
Well-publicised delays in the country's submarine program were one reason (among others) behind the Labor government's recent decision to launch its Defence Strategic Review just two years after the previous Liberal-National Coalition government released its 2020 Defence Strategic Update.
"In 2020, the Defence Strategic Update identified that changes in Australia's strategic environment are accelerating more rapidly than predicted in the 2012 Force Posture Review," said Richard Marles, the current defence minister, in a statement. "This necessitates an immediate analysis of where and how Defence assets and personnel are best positioned to protect Australia and its national interests."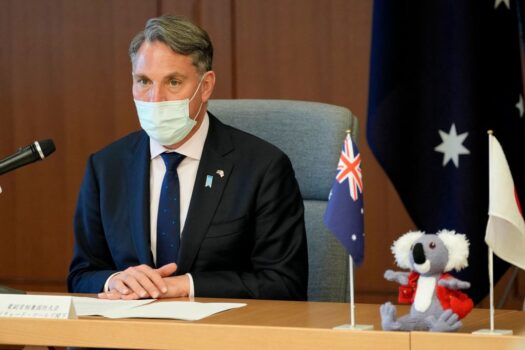 The Strategic Review will be chaired by former Labor Defence Minister Stephen Smith and retired Chief of the Defence Force Angus Houston.
Veterans like Russell, however, are sceptical on the need for another government review.
"Why are we bringing back a former minister and former Chief of Defence Force to do a review into our ADF when we have a current defence minister [Marles], a current secretary for defence who earns around a million dollars a year [Greg Moriarty], and a current Chief of Defence Force [Angus Campbell]?" he said.
"The biggest thing that needs immediate reviewing is the defence industry portfolio and the way in which we design, develop, procure, and deliver our key projects and assets."
Shifting the Defence Portfolio Away From Job Creation
Years of peacetime, and a lack of a major threat on Australia's doorstep, has fostered a laidback approach to defence spending, with political leaders opting to use the portfolio as a lever for economic growth.
The issue has come to a head in recent times with the acquisition of multi-billion dollar French Attack-class submarines and Hunter-class frigates—with expensive delays dominating the news cycles.
A major contributor was the refusal to buy existing (off-the-shelf) vessel designs from overseas partners and to instead opt for entirely new, custom designs that would require extensive construction and fit-outs. In the case of submarines, former Prime Minister Tony Abbott (2013 to 2015) had wanted to purchase Soryu-class vessels—constructed and delivered—from Japan, however, this plan was changed when Abbott was removed and replaced by Malcolm Turnbull.
Despite the apparent shortcomings in constructing a new vessel from the ground up, the proposal was attractive for the then-government as it would provide hundreds or thousands of jobs for local manufacturers, notably in Australia's defence hub of Adelaide. The electorate of former Defence Minister Christopher Pyne, who approved the Attack-class and Hunter-class, was in Adelaide.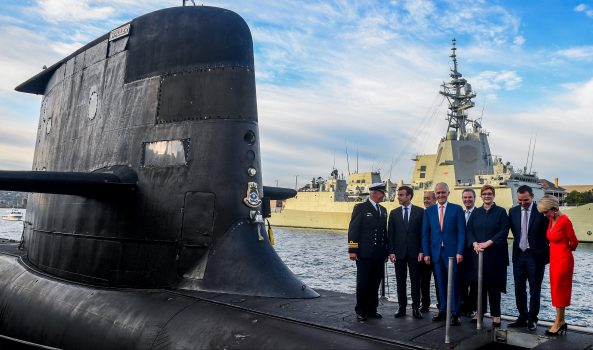 However, it soon became clear that the commissioning timeframe of these vessels—around the 2030s—was unviable given the increasing aggression of Beijing in the Indo-pacific region.
In 2021, the Attack class would finally be cancelled by former Prime Minister Scott Morrison in favour of nuclear-powered submarines from the United States and United Kingdom under the AUKUS deal—a move met with displeasure from the French government.
Meanwhile, Labor Defence Minister Marles has indicated that the shift of the defence portfolio away from job creation towards actual national security work was underway.
"Capability and strategic need must drive decision-making," he told The Sydney Morning Herald on Aug. 8. "That is how we have to think about it. And there's got to be clarity of thought about that. Industry follows that."
An Extra Coat of Paint Is Not Enough
Lincoln Parker, chair of the Liberal Party's Defence and National Security Branch, said the timing of the review was critical given the ongoing grey zone tactics and political coercion being used by Beijing in the South Pacific region.
"We must urgently act to defend ourselves and meet this rising threat, otherwise we will be encircled and cut off," he told The Epoch Times.
"However, the appointment of former Labor Minister for Defence Stephen Smith is worrying. He has been described as Australia's 'worst ever defence minister' who presided over deep budget cuts to Defence and never-ending reviews. Can he make tough decisions without compromise?" he said.
Some of these tough decisions include overhauling the focus of the ADF.
Over the last few decades, the armed forces have largely been engaged in the Middle East, which involves desert fighting and travelling on vast flat plains.
But with the rise of Beijing, questions have been raised over whether the ADF is ready for major engagements in maritime conditions.
"Many commentators have called for the ADF to be structured along the same lines as the U.S. Marine Corps, specifically a Marine Expeditionary Force (MEF). Therefore, spending billions of dollars on Abrams tanks and 400 infantry fighting vehicles does not make sense," he said, in reference to recent acquisitions under the last government.
"This money could be more usefully spent on long range missiles, armed drones, and MEF-like capabilities. We also need a long-range bomber option to replace what we used to have with the F-111. B-2 Bombers or the new B-21 would be good options."
Larger Structural Problems and Corruption Remain
The pivot towards national security will require extensive reform on how the Department of Defence currently operates if it is to have a chance of confronting challenges in the immediate region, Russell believes.
"When I was there, when the former Chief of Army got out, all of a sudden, he was working for the company that providing the military with all of our new boots," he said. "This is what happens throughout, you can draw the lines from senior positions within the Defence Force of people involved with big projects—then they move out into defence industry and find great soft landing jobs.
"There is corruption at that top level that we're seeing throughout the country and our defence industry.
"I speak to contractors, and they say that the easiest way to win a defence contract is to offer the lowest bid, and once you win it, just keep delaying and jacking up the price."
While Parker said a "complete culture change and mindset adjustment" was needed.
"The Department of Defence is mired in bureaucracy, red tape, procedures and a monstrous aversion to any form of risk. How do you procure anything quickly, let alone innovate, under this cultural malaise?" he said.
"The answer, you don't. This is why Australia's defence bang for buck is one of the world's worst."
The Epoch Times reached out to the Department of Defence for a response but did not receive one in time for publication.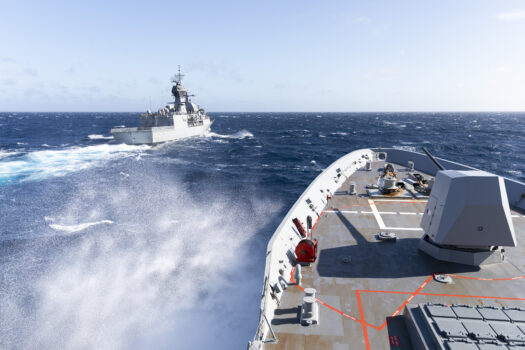 Ministerial Revolving Door Needs to Stop
Russell said a lack of continuity in ministers holding portfolios is another major hurdle to confront.
"Minister for Defence is seen as your third in charge behind Minister for Foreign Affairs, it's literally seen as a stepping stone for politicians as opposed to finding the best person for the job," he said.
Prior to the May election, the veteran affairs advocate spent two years engaging with then-shadow defence and veteran affairs ministers Brendan O'Connor and Shayne Neumann. O'Connor even engaged Peter Dutton, who was then-defence minister, in a formal debate at the National Press Club on national security and China.
Yet with the Labor Party's victory at the election and the subsequent horse-trading for portfolios, both men missed out on positions, and instead, two other MPs were slotted in.
"[The new veteran affairs minister] had no insight on any of the work that I had done with his predecessor, his department, and the Secretary of the Department over the last 18 months on things like how to remove the backlog of veteran compensation claims and other initiatives," Russell said.
"It's all about celebrating a new position, getting around and doing all the handshaking. With the changeover in government, it's going to take them six to 12 months to sort themselves out."
In response, Matt Keogh, the current veteran affairs minister, said that he was under "no illusions" of the task ahead for the government to assist the 581,000 current and former service men and women in the country.
"I know the task ahead is a large one but I'm determined to make sure we deliver the services and supports that our veterans and families not only need but deserve," he said in a statement to The Epoch Times. "I will strive to be as accessible as possible, making sure I'm hearing directly from the front lines, I have already met with many stakeholders across the country."
The minister said he was conscious of the backlog of current veteran compensation claims (37,000 claims) and that the Labor government would employ an additional 500 staff (at a cost of $226.3 million) to bolster the Department of Veteran Affairs.
"Meanwhile, this government is acutely aware of the national tragedy that is defence and veteran suicide," he said. "We will inject $24 million over four years to ensure veterans' skills and experience are valued and appreciated by the wider community."