No Legal Recourse for COVID Vaccine Victims in China
Families of the vaccine-injured in China are calling on the regime to help them. They say Chinese authorities misrepresented the potential for serious harm from COVID-19 vaccines, and are calling on China's National Health Commission to investigate thousands of vaccine-related illnesses. Representatives of the vaccine-injured went to Beijing to file a lawsuit against the State Council and the National Health Commission. However, the court rejected the filing, and the representatives met with police suppression. When victims and their family members gathered in Beijing on Feb. 9, many police were also present. Moreover, in addition to the intimidating police presence, some of the representatives received calls from their hometown police departments, warning them of possible consequences if they pursued the lawsuit. The Epoch Times Chinese language edition spoke to some of those involved in the lawsuit. They described how severe adverse reactions to COVID-19 vaccines have hurt their loved ones, and how their families have suffered as a result of the national policy. COVID-19 vaccines in China are generally inactivated viral vaccines, not the mRNA vaccines common elsewhere in the world. Both types of vaccines have been linked to serious health problems. By June 2022, China had administered nearly 3.4 billion doses of COVID-19 vaccines, according to statista. Victims' Lawsuit Rejected Hua Xiuzhen, who drafted the complaint, said that about a dozen victims and their family members volunteered to serve as representatives on behalf of the vaccine-injured. An earlier lawsuit filed by about 20 victims had also been rejected. This time, however, the class action had grown to include 1,385 victims. They gathered at the Second Intermediate People's Court to file the suit. However, they met with rejection once again. "Unfortunately, the court refused to accept our materials after we said it was a lawsuit against the State Council," Hua said. The representatives experienced harassment by Beijing police. In addition, many received calls from their local police, saying that the lawsuit means "discontent." In other words, it represents a threat to national security. Hua said that although the plaintiffs have a legal right to sue the government, the police have targeted them, ostensibly to keep the peace and maintain stability. She called the police harassment a violation of their right to sue. Hua has been defending the rights of the vaccine injured since her daughter developed epilepsy, sudden deafness, and encephalopathy after getting a rabies vaccine in 2014. The Complaint According to the lawsuit, during a press conference on July 23, 2022, health officials claimed that COVID-19 vaccines produced in China do not cause leukemia and diabetes. The lawsuit alleged that those statements were inaccurate and should be revoked by the State Council. The lawsuit demanded a scientific, open, and fair investigation, and an honest diagnosis of adverse reactions. Among the representatives were many who have suffered adverse reactions to the vaccines. Those reactions include serious and rare diseases such as acute lymphoblastic leukemia and Guillain–Barré syndrome. Victims testified that they were in good health until they received the COVID-19 vaccines. Many of those interviewed were desperately hoping to resolve their heavy medical bills and recover their livelihoods. First-grader Xiao Ziyi was diagnosed with leukemia in December 2021 after receiving a COVID-19 vaccine made by Sinopharm. (Courtesy of Xiao Honghua) A Cough, and Then a Cancer Diagnosis Xiao Ziyi, a first-grader from Wuhan, received her first vaccination on Nov. 8, 2021, and a second on Dec. 4. Both vaccines were made by Sinopharm. However, the first was developed by the Wuhan Institute of Biological Products and the second was developed by the Beijing Bio-Institute of Biological Products. Ziyi developed a cough on Dec. 15, 11 days after the second vaccine. Nine days later—20 days after the second dose—Ziyi was found to have a 5-centimeter (2-inch) lung tumor. Just 25 days after vaccination, she was diagnosed with acute lymphoblastic leukemia. Within a month after vaccination, the tumor had doubled in size to four inches. Her father, Xiao Honghua, said his daughter had been healthy before the vaccination, and there was no family history of illness. There are no known pollutants in their environment, and no one in the family was engaged in work with radiation. Ziyi's school and local health officials enforced mandatory vaccinations. Parents needed to get a doctor's approval to refuse vaccination for their children. According to Xiao, the school's consent form clearly listed 12 possible—and generally mild—adverse reactions: itching, swelling, induration, flushing, fever, muscle pain, headache, cough, diarrhea, nausea, anorexia, and allergies. However, the vaccine instructions listed 4 classes of adverse reactions, with more than 70 symptoms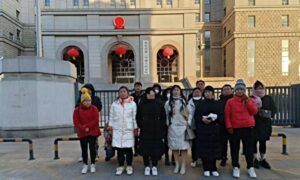 Families of the vaccine-injured in China are calling on the regime to help them. They say Chinese authorities misrepresented the potential for serious harm from COVID-19 vaccines, and are calling on China's National Health Commission to investigate thousands of vaccine-related illnesses.
Representatives of the vaccine-injured went to Beijing to file a lawsuit against the State Council and the National Health Commission. However, the court rejected the filing, and the representatives met with police suppression.
When victims and their family members gathered in Beijing on Feb. 9, many police were also present. Moreover, in addition to the intimidating police presence, some of the representatives received calls from their hometown police departments, warning them of possible consequences if they pursued the lawsuit.
The Epoch Times Chinese language edition spoke to some of those involved in the lawsuit. They described how severe adverse reactions to COVID-19 vaccines have hurt their loved ones, and how their families have suffered as a result of the national policy.
COVID-19 vaccines in China are generally inactivated viral vaccines, not the mRNA vaccines common elsewhere in the world. Both types of vaccines have been linked to serious health problems. By June 2022, China had administered nearly 3.4 billion doses of COVID-19 vaccines, according to statista.
Victims' Lawsuit Rejected
Hua Xiuzhen, who drafted the complaint, said that about a dozen victims and their family members volunteered to serve as representatives on behalf of the vaccine-injured.
An earlier lawsuit filed by about 20 victims had also been rejected. This time, however, the class action had grown to include 1,385 victims.
They gathered at the Second Intermediate People's Court to file the suit. However, they met with rejection once again.
"Unfortunately, the court refused to accept our materials after we said it was a lawsuit against the State Council," Hua said.
The representatives experienced harassment by Beijing police. In addition, many received calls from their local police, saying that the lawsuit means "discontent." In other words, it represents a threat to national security.
Hua said that although the plaintiffs have a legal right to sue the government, the police have targeted them, ostensibly to keep the peace and maintain stability.
She called the police harassment a violation of their right to sue.
Hua has been defending the rights of the vaccine injured since her daughter developed epilepsy, sudden deafness, and encephalopathy after getting a rabies vaccine in 2014.
The Complaint
According to the lawsuit, during a press conference on July 23, 2022, health officials claimed that COVID-19 vaccines produced in China do not cause leukemia and diabetes. The lawsuit alleged that those statements were inaccurate and should be revoked by the State Council.
The lawsuit demanded a scientific, open, and fair investigation, and an honest diagnosis of adverse reactions.
Among the representatives were many who have suffered adverse reactions to the vaccines. Those reactions include serious and rare diseases such as acute lymphoblastic leukemia and Guillain–Barré syndrome.
Victims testified that they were in good health until they received the COVID-19 vaccines.
Many of those interviewed were desperately hoping to resolve their heavy medical bills and recover their livelihoods.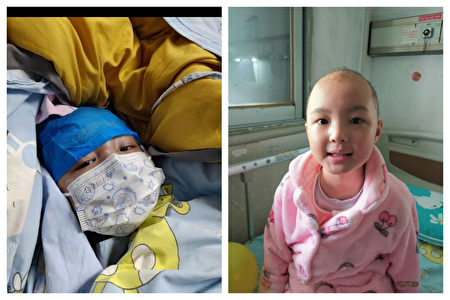 A Cough, and Then a Cancer Diagnosis
Xiao Ziyi, a first-grader from Wuhan, received her first vaccination on Nov. 8, 2021, and a second on Dec. 4.
Both vaccines were made by Sinopharm. However, the first was developed by the Wuhan Institute of Biological Products and the second was developed by the Beijing Bio-Institute of Biological Products.
Ziyi developed a cough on Dec. 15, 11 days after the second vaccine.
Nine days later—20 days after the second dose—Ziyi was found to have a 5-centimeter (2-inch) lung tumor.
Just 25 days after vaccination, she was diagnosed with acute lymphoblastic leukemia. Within a month after vaccination, the tumor had doubled in size to four inches.
Her father, Xiao Honghua, said his daughter had been healthy before the vaccination, and there was no family history of illness. There are no known pollutants in their environment, and no one in the family was engaged in work with radiation.
Ziyi's school and local health officials enforced mandatory vaccinations. Parents needed to get a doctor's approval to refuse vaccination for their children.
According to Xiao, the school's consent form clearly listed 12 possible—and generally mild—adverse reactions: itching, swelling, induration, flushing, fever, muscle pain, headache, cough, diarrhea, nausea, anorexia, and allergies.
However, the vaccine instructions listed 4 classes of adverse reactions, with more than 70 symptoms, ranging from mild to severe, including lymphadenopathy, tonsilitis, and sclerosis.
Xiao feels the Wuhan authorities failed to fully understand the ingredients of the vaccine and the possibility of adverse reactions.
Since Ziyi's diagnosis on Dec. 28, 2021, her family has spent 800,000 yuan ($117,000) on medical bills. A lung transplant would cost 380,000 yuan ($55,000) upfront, not including post-transplant expenses such as anti-rejection medications.
The family is already heavily in debt. Faced with even more astronomical bills in the future, Xiao hoped that Wuhan authorities would cover his daughter's continued treatment expenses until she can recover.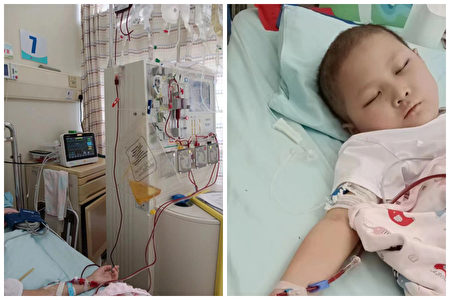 From a Vaccine to Chemo in Less Than Two Months
Zhao Yujuan, a resident of northwest China's Xinjiang region, told The Epoch Times that her daughter received two doses of the COVID-19 vaccine at school, in late 2021—on Oct. 30 and Nov. 29, respectively.
A little over a month later, in early January of 2022, Zhao's daughter was diagnosed with T lymphoblastic lymphoma, a form of non-Hodgkin's lymphoma.
By early February, the child was undergoing chemotherapy at Shanghai Children's Medical Center. Zhao said, "the child endured a lot, and it cost hundreds of thousands of yuan."
In May 2022, Zhao submitted her child's case to the local government. Authorities rejected her multiple online petitions. Her request bounced back and forth as one level of government referred it to another.
Zhao said, "Our request is very clear, [a compensation for] medical treatment, and care and security after the treatment."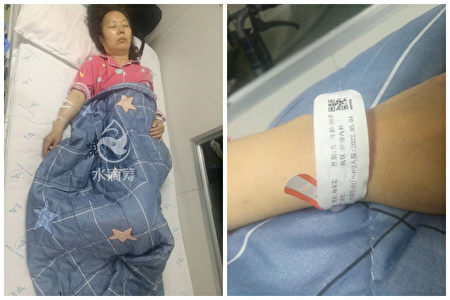 Health Officials Deny a Link
Yang Junhua, a woman from northwest China's Gansu Province, suddenly developed aplastic anemia after receiving a COVID vaccine in 2021. The local pandemic prevention center called the illness a "coincidence."
Yang insisted that her physical exam and blood tests were normal before the vaccination, and there is no family history of chronic illnesses. She challenged local health officials to explain how they concluded that her anemia was "coincidental." She said, "They've been telling me that they will get back to me next week, but they've never called."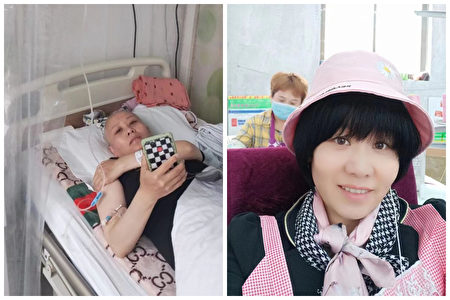 The illness cost her her job, the only source of income for Yang and her invalid mother.
Unsigned Medical Assessments
Zhang Li, a resident of northern China's Hebei Province, received her third shot of Sinovac on Feb. 9, 2022. After a series of adverse reactions, she was diagnosed with acute leukemia. She has been receiving treatment since May 7, 2022.
Zhang has been hospitalized for nine months. She said: "It cost me hundreds of thousands of yuan; I am heavily in debt. I am just a peasant, I have no savings and no insurance."
Zhang requested a medical assessment from local health authorities, in order to receive compensation for her illness. She received an assessment, but it simply stated that her illness could not be caused by the COVID-19 vaccine. It was unsigned and had no official seal.
She has asked for compensation and financial assistance from the local government and health committee, but to no avail.
"I hope the media will help me," she said.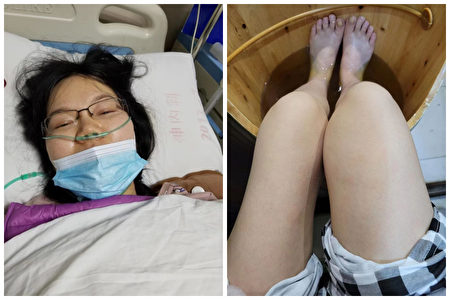 Diagnosed with Guillain Barré Syndrome
Zhang was not the only one who received ill treatment from health officials.
Liu Lifeng is a resident of southwestern China's Yunnan Province.
She received the Sinovac vaccine on March 27, 2021, and a vaccine from Sinopharm a month later. She lost mobility in her left leg on the morning of May 12, 2021.
According to Liu, a doctor in Shanghai believed her symptom was caused by the vaccine and told her she had lower motor neuron syndrome. The doctor prescribed gamma globulin. However, her situation deteriorated, and she was diagnosed with Guillain Barré Syndrome on July 29, 2022.
Guillain Barré Syndrome is a rare disorder in which the immune system attacks the nerves, causing weakness and possible paralysis.
Liu said she has lost hope. Her life is filled with suffering, including weakness, numbness, tingling, and muscle twitches.
Like Zhang, Liu sought an assessment from local health authorities. However, none of the experts would acknowledge a link with the vaccines, and the assessment she received was unsigned.
Health officials dodged her questions about the vaccines. However, "every expert said they've followed the legal and standard protocols," Liu said.
Stepped Up Harassment
After their visit to Beijing, the plaintiffs experienced stepped-up harassment from local police. Several interviewees updated The Epoch Times on their situation.
Qian Dalong, one of the victims and a Beijing resident, said he was forced to give a statement at the police station.
Vaccine victim and group chat organizer Jia Xiaoyu was placed in administrative detention for 15 days.
Hua, who drafted the indictment, said, "They took me to the police station and forcibly extracted a statement from me. They kept me there until 2 a.m."
When she finally arrived home early in the morning of Feb. 10, Hua noticed a new surveillance camera. That made a total of eight around her apartment, in addition to 12 security guards keeping watch.
Li Xi contributed to this report.