Newsom, Foley Distributing Tax Dollars to Californians Before Election
CommentaryWho doesn't like free money? With tax revenues overflowing from a $100 billion surplus, Gov. Gavin Newsom and state legislators "returned" $9.5 billion of that to taxpayers. The checks—really electronic transfers to bank accounts or debit cards—have been going out the last couple of weeks. About two-thirds of California households will receive the Middle Class Tax Refund, as it's called, worth from $200 to $1,050. What a coincidence—just before the election. A similar program last year sent out rebates just before the Sept. 12 recall election of Newsom. Again, what a coincidence. The recall lost overwhelmingly. Orange County Supervisor Katrina Foley has her own additional program: Giving $100 in American Rescue Plan Act (ARPA) money to 750 constituents. On Nov. 1, she even personally handed out the debit cards to those who signed up. It's part of the ARPA money distributed to the County. ARPA was the $1.9 trillion spending plan President Biden and the Democratic Congress passed to deal with the economic problems stemming from the COVID-19 pandemic and the subsequent economic lockdowns. Along with the $737 billion Inflation Reduction Act passed this year, the ARPA actually made inflation worse by pumping extra, unneeded trillions into the economy, while pushing the national debt to a shocking $31 trillion. As a result, inflation now is running at an 8.2 percent annual rate. That has prompted the Federal Reserve Board to begin "cooling" the national economy, most recently a Nov. 2 increase in interest rates, the fourth-straight boost of 0.75 percentage points. The fed funds rate now is 3.75 percent, up from zero percent in March. It could go higher. Yet on her Twitter feed, Foley blamed high prices on "Big Oil." She tweeted, "Don't miss the Gas Card Distribution. Families need relief at the pump now. Deadline to sign up for a $100 gas card is 10/31/22. Sign up at the link below." The link: https://d2.ocgov.com/form/gas-card. Here's the image she put up: You will not be surprised to note Foley is running for reelection against state Sen. Pat Bates, a Republican who doesn't have the privilege of handing out $100 debit cards paid by the taxpayers. It's all legal. But totally cynical. If Foley wins, the 750 cards she handed out, personally and with staff at Orange Coast College, likely will have been the margin of victory. And of course, as a Democrat, she is part of the ruling party that has increased California gas prices, through high taxes and regulations, to nearly $2 above the national average. According to AAA.com, as of Nov. 3, the national average was $3.78 per gallon, but California's was $5.49. That's $1.71 more. Both Newsom and President Biden have called for a "windfall profits" tax on the oil companies. But companies don't collect taxes, they only pass them on to consumers. Such a tax only would raise gas prices, while discouraging new production. A big part of the reason for high gas prices is Biden's shuttering of the KeystoneXL pipeline and pausing new oil leases on federal lands. Oil also is a global commodity—which has been increasing sharply since the start of the Ukraine war in February. Blaming Big Oil for the price increases, while handing the taxpayers' own dollars back to them as "rebates," is just cynical. This long has been a defect in democracy: buying votes with tax dollars. Usually it's more subtle, such as building a bridge in a local community. These state and local direct cash payments are just blatant. (Full disclosure: I was part of former state Sen. John Moorlach's losing campaign against Foley for her current supervisor's slot in March 2021.) Views expressed in this article are the opinions of the author and do not necessarily reflect the views of The Epoch Times. Follow John Seiler is a veteran California opinion writer. He has written editorials for The Orange County Register for almost 30 years. He is a U.S. Army veteran and former press secretary for California state Sen. John Moorlach. He blogs at JohnSeiler.Substack.com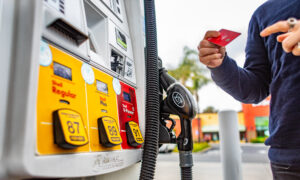 Commentary
Who doesn't like free money? With tax revenues overflowing from a $100 billion surplus, Gov. Gavin Newsom and state legislators "returned" $9.5 billion of that to taxpayers. The checks—really electronic transfers to bank accounts or debit cards—have been going out the last couple of weeks.
About two-thirds of California households will receive the Middle Class Tax Refund, as it's called, worth from $200 to $1,050. What a coincidence—just before the election.
A similar program last year sent out rebates just before the Sept. 12 recall election of Newsom. Again, what a coincidence. The recall lost overwhelmingly.
Orange County Supervisor Katrina Foley has her own additional program: Giving $100 in American Rescue Plan Act (ARPA) money to 750 constituents. On Nov. 1, she even personally handed out the debit cards to those who signed up. It's part of the ARPA money distributed to the County. ARPA was the $1.9 trillion spending plan President Biden and the Democratic Congress passed to deal with the economic problems stemming from the COVID-19 pandemic and the subsequent economic lockdowns.
Along with the $737 billion Inflation Reduction Act passed this year, the ARPA actually made inflation worse by pumping extra, unneeded trillions into the economy, while pushing the national debt to a shocking $31 trillion. As a result, inflation now is running at an 8.2 percent annual rate.
That has prompted the Federal Reserve Board to begin "cooling" the national economy, most recently a Nov. 2 increase in interest rates, the fourth-straight boost of 0.75 percentage points. The fed funds rate now is 3.75 percent, up from zero percent in March. It could go higher.
Yet on her Twitter feed, Foley blamed high prices on "Big Oil." She tweeted, "Don't miss the Gas Card Distribution. Families need relief at the pump now. Deadline to sign up for a $100 gas card is 10/31/22. Sign up at the link below." The link: https://d2.ocgov.com/form/gas-card.
Here's the image she put up: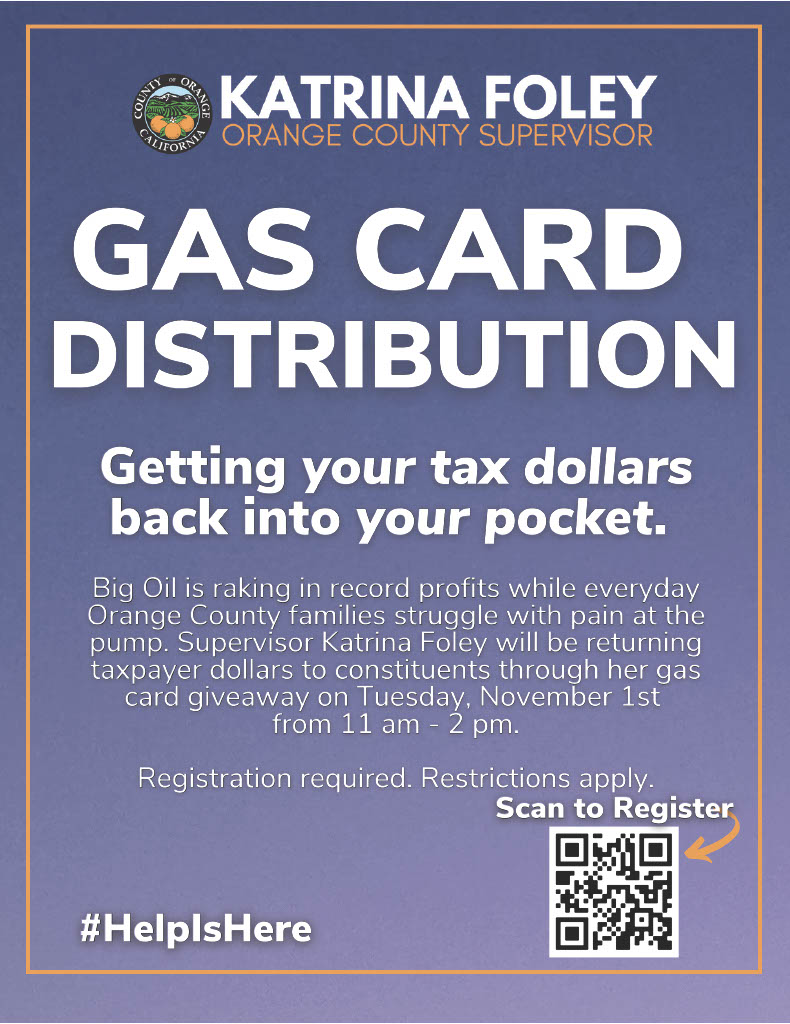 You will not be surprised to note Foley is running for reelection against state Sen. Pat Bates, a Republican who doesn't have the privilege of handing out $100 debit cards paid by the taxpayers.
It's all legal. But totally cynical. If Foley wins, the 750 cards she handed out, personally and with staff at Orange Coast College, likely will have been the margin of victory.
And of course, as a Democrat, she is part of the ruling party that has increased California gas prices, through high taxes and regulations, to nearly $2 above the national average. According to AAA.com, as of Nov. 3, the national average was $3.78 per gallon, but California's was $5.49. That's $1.71 more.
Both Newsom and President Biden have called for a "windfall profits" tax on the oil companies. But companies don't collect taxes, they only pass them on to consumers. Such a tax only would raise gas prices, while discouraging new production.
A big part of the reason for high gas prices is Biden's shuttering of the KeystoneXL pipeline and pausing new oil leases on federal lands. Oil also is a global commodity—which has been increasing sharply since the start of the Ukraine war in February.
Blaming Big Oil for the price increases, while handing the taxpayers' own dollars back to them as "rebates," is just cynical.
This long has been a defect in democracy: buying votes with tax dollars. Usually it's more subtle, such as building a bridge in a local community. These state and local direct cash payments are just blatant.
(Full disclosure: I was part of former state Sen. John Moorlach's losing campaign against Foley for her current supervisor's slot in March 2021.)
Views expressed in this article are the opinions of the author and do not necessarily reflect the views of The Epoch Times.