Newsom Compromises on Union Bill to Maintain Path to White House
CommentaryPotomac Fever strikes politicians seeking the White House. It makes them do anything necessary to win. In that light, Gov. Gavin Newsom's spate of bill signings this past week confirms a year-long series of signs he's obviously running for the prize. The most prominent was Assembly Bill 2183, which ends secret ballots for farmworker unionization votes, a severe blow to "Our Democracy," as Democrats keep calling it. Newsom sensibly originally opposed the bill. I quoted his spokesperson, Erin Mellon, who said, "We cannot support an untested mail-in election process that lacks critical provisions to protect the integrity of the election, and is predicated on an assumption that government cannot effectively enforce laws." Newsom also vetoed a similar bill last year. But Newsom got massive pressure from the unions and President Biden. The latter is significant because in July, Newsom invaded Biden's territory in Washington, D.C., while the president was out of the country. Newsom accepted an award for California's supposed education innovation—even though the state routinely scores near the bottom on national achievement tests. Biden's pressure on AB 2183 showed Newsom who's still boss. Newsom kowtowed and signed the bill, which will bring inevitable court challenges. Yet last Saturday Newsom also implicitly criticized Biden at the Texas Tribune Festival in Austin, saying the president has a "messaging problem" because he is "hardwired for a different world." Actually, Biden must be doing something right because he's president and Newsom isn't. "It's very hard for him," Newsom continued. "His decency, his honor, his character, his moral persuasion … those are tools in his toolkit." Biden "wants to compromise, he wants to find our better angels, and he wants to find that sweet spot in terms of answering our collective vision and values but that's not how the system is designed." Of course, Newsom knows the facts are the opposite: Biden has unilaterally taken numerous actions, from harassing former President Trump and his aides with raids and arrests, to executive orders on abortion, and killing the Keystone XL pipeline. Biden has compromised only when forced to by the realities of a divided Congress—50-50 in the Senate and 221 Democrats to 212 Republicans in the House, with two vacancies. But for Newsom, cutting Biden as weak is a good line, portraying himself as the tough guy. Newsom pointed out how, of the states with the highest murder rates, eight of 10 are governed by Republicans. "How did Democrats not know that? We're losing that message." The problem is murder rates are highest, and continue rising the fastest, in big cities, every one of which is run by liberal Democratic mayors, district attorneys, and city councils. Likewise the homeless crisis. And two of the most scandalous cities are San Francisco and Los Angeles, the features of numerous news articles and TV specials, such as Lester Holt of NBC News' May 2021 report, "Inside Los Angeles' Homeless Crisis." Newsom so far also doesn't seem to be dealing with something else I have highlighted: His aggressive liberal policy stances might play well among liberal Democratic primary voters, but won't sell well to moderates, independents, and working-class Democrats in the general election. That's especially true in the "swing states" of the Midwest. And if Florida's favorite son Gov. Ron DeSantis is not on the Republican ticket, then the Orange State, with 30 electoral votes, is also a swing state a Democrat could flip. What Newsom is marketing might sell in Peoria, as they used to say, because Illinois now is a solidly Democratic state, with its 19 electoral votes. But what about Peoria, Arizona (11 electoral votes)? Peoria, Iowa (six)? Peoria, Kansas (six)? Peoria, Missouri (10)? Peoria, Indiana (11)? And Peoria, Colorado (10)? It's no good gaining the Democratic nomination if you end up losing in the end, like such liberal stalwarts as Walter Mondale, Michael Dukakis, and Hillary Clinton. The scrambling for the Oval Office starts on Nov. 9, the day after the midterm election. Newsom's strategy to gain that post means California will get the brunt of his actions pushing the state to the left. Given Newsom is on track for an easy reelection on Nov. 8, apparently most California voters like that. Views expressed in this article are the opinions of the author and do not necessarily reflect the views of The Epoch Times. Follow John Seiler is a veteran California opinion writer. He has written editorials for The Orange County Register for almost 30 years. He is a U.S. Army veteran and former press secretary for California state Sen. John Moorlach. He blogs at JohnSeiler.Substack.com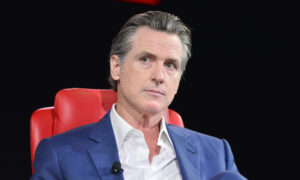 Commentary
Potomac Fever strikes politicians seeking the White House. It makes them do anything necessary to win. In that light, Gov. Gavin Newsom's spate of bill signings this past week confirms a year-long series of signs he's obviously running for the prize.
The most prominent was Assembly Bill 2183, which ends secret ballots for farmworker unionization votes, a severe blow to "Our Democracy," as Democrats keep calling it. Newsom sensibly originally opposed the bill.
I quoted his spokesperson, Erin Mellon, who said, "We cannot support an untested mail-in election process that lacks critical provisions to protect the integrity of the election, and is predicated on an assumption that government cannot effectively enforce laws."
Newsom also vetoed a similar bill last year.
But Newsom got massive pressure from the unions and President Biden. The latter is significant because in July, Newsom invaded Biden's territory in Washington, D.C., while the president was out of the country. Newsom accepted an award for California's supposed education innovation—even though the state routinely scores near the bottom on national achievement tests.
Biden's pressure on AB 2183 showed Newsom who's still boss. Newsom kowtowed and signed the bill, which will bring inevitable court challenges.
Yet last Saturday Newsom also implicitly criticized Biden at the Texas Tribune Festival in Austin, saying the president has a "messaging problem" because he is "hardwired for a different world." Actually, Biden must be doing something right because he's president and Newsom isn't.
"It's very hard for him," Newsom continued. "His decency, his honor, his character, his moral persuasion … those are tools in his toolkit." Biden "wants to compromise, he wants to find our better angels, and he wants to find that sweet spot in terms of answering our collective vision and values but that's not how the system is designed."
Of course, Newsom knows the facts are the opposite: Biden has unilaterally taken numerous actions, from harassing former President Trump and his aides with raids and arrests, to executive orders on abortion, and killing the Keystone XL pipeline.
Biden has compromised only when forced to by the realities of a divided Congress—50-50 in the Senate and 221 Democrats to 212 Republicans in the House, with two vacancies.
But for Newsom, cutting Biden as weak is a good line, portraying himself as the tough guy.
Newsom pointed out how, of the states with the highest murder rates, eight of 10 are governed by Republicans. "How did Democrats not know that? We're losing that message."
The problem is murder rates are highest, and continue rising the fastest, in big cities, every one of which is run by liberal Democratic mayors, district attorneys, and city councils. Likewise the homeless crisis. And two of the most scandalous cities are San Francisco and Los Angeles, the features of numerous news articles and TV specials, such as Lester Holt of NBC News' May 2021 report, "Inside Los Angeles' Homeless Crisis."
Newsom so far also doesn't seem to be dealing with something else I have highlighted: His aggressive liberal policy stances might play well among liberal Democratic primary voters, but won't sell well to moderates, independents, and working-class Democrats in the general election. That's especially true in the "swing states" of the Midwest.
And if Florida's favorite son Gov. Ron DeSantis is not on the Republican ticket, then the Orange State, with 30 electoral votes, is also a swing state a Democrat could flip.
What Newsom is marketing might sell in Peoria, as they used to say, because Illinois now is a solidly Democratic state, with its 19 electoral votes. But what about Peoria, Arizona (11 electoral votes)? Peoria, Iowa (six)? Peoria, Kansas (six)? Peoria, Missouri (10)? Peoria, Indiana (11)? And Peoria, Colorado (10)?
It's no good gaining the Democratic nomination if you end up losing in the end, like such liberal stalwarts as Walter Mondale, Michael Dukakis, and Hillary Clinton.
The scrambling for the Oval Office starts on Nov. 9, the day after the midterm election. Newsom's strategy to gain that post means California will get the brunt of his actions pushing the state to the left. Given Newsom is on track for an easy reelection on Nov. 8, apparently most California voters like that.
Views expressed in this article are the opinions of the author and do not necessarily reflect the views of The Epoch Times.