New Finding Improves Response to Immunotherapy to Fight Tumours
Researchers from the University of Western Australia (UWA) and Olivia Newton-John Cancer Research Institute have discovered a new way to improve response to immunotherapies in mice for the treatment of tumours.Co-authors of the study, Associate Professor Fiona Pixley and Jay Steer from UWA's School of Biomedical Sciences, discovered that isolating a specific molecule present in certain immune cells that hadn't typically responded well to immunotherapy significantly improved the treatment in mice, meaning it could also potentially translate to better responses to immunotherapy in humans. Immunotherapy is a treatment that stimulates or boosts the innate defences of the immune system, enabling it to work harder or smarter to locate and attack cancer cells. It can be done in various ways, such as blocking specific proteins on the surface of T-cells that prevent the immune system from attacking cancer cells, honing the function of T-cells to better recognise cancer cells (CAR T-cell therapy), and using viruses to infect cancer cells. While chemotherapy, radiotherapy, and surgery are still the most widely used cancer treatments, immunotherapy is available in Australia to treat some types of cancers. "Cancer immunotherapy has revolutionised the treatment of several cancers, such as melanoma, in the past decade, but some cancers do not respond to these new therapies," Pixley said in a UWA release on Wednesday. "Non-responding tumours are typically 'immunologically cold' as they contain few of the immune cells called T cells that are targeted by these immunotherapies." T-cell infiltration Can be Ramped Up Instead, these non-responding tumours contain immune cells called macrophages and dendritic cells, which are immunosuppressive and prevent immunotherapy from working. By inhibiting a molecule called Hck—only found in macrophages and dendritic cells—researchers found that these cells behaved differently, enabling a powerful immune response to immunotherapies. "By combining inhibition of Hck with immunotherapy, the growth of cancers poorly responsive to immunotherapy alone was significantly reduced," Pixley said. Researchers found that by stimulating the activation of immune cells while simultaneously inhibiting the immunosuppressive micro-environment, T-cell infiltration ramped up, resulting in a reduction in tumour growth. The study, titled "Therapeutic inhibition of the SRC-kinase HCK facilitates "T cell" tumour infiltration and improves response to immunotherapy", is published in the journal "Science Advances."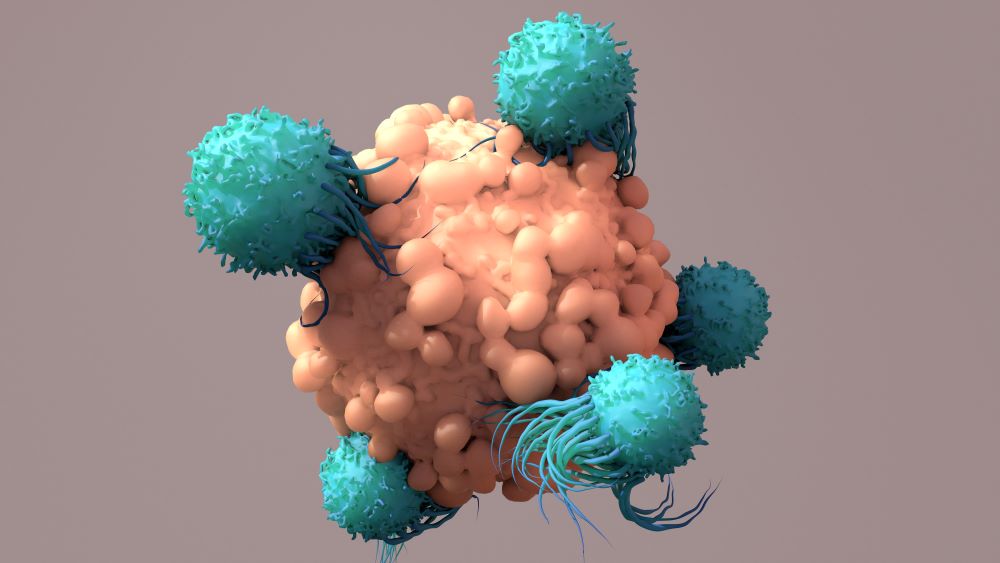 Researchers from the University of Western Australia (UWA) and Olivia Newton-John Cancer Research Institute have discovered a new way to improve response to immunotherapies in mice for the treatment of tumours.
Co-authors of the study, Associate Professor Fiona Pixley and Jay Steer from UWA's School of Biomedical Sciences, discovered that isolating a specific molecule present in certain immune cells that hadn't typically responded well to immunotherapy significantly improved the treatment in mice, meaning it could also potentially translate to better responses to immunotherapy in humans.
Immunotherapy is a treatment that stimulates or boosts the innate defences of the immune system, enabling it to work harder or smarter to locate and attack cancer cells.
It can be done in various ways, such as blocking specific proteins on the surface of T-cells that prevent the immune system from attacking cancer cells, honing the function of T-cells to better recognise cancer cells (CAR T-cell therapy), and using viruses to infect cancer cells.
While chemotherapy, radiotherapy, and surgery are still the most widely used cancer treatments, immunotherapy is available in Australia to treat some types of cancers.
"Cancer immunotherapy has revolutionised the treatment of several cancers, such as melanoma, in the past decade, but some cancers do not respond to these new therapies," Pixley said in a UWA release on Wednesday.
"Non-responding tumours are typically 'immunologically cold' as they contain few of the immune cells called T cells that are targeted by these immunotherapies."
T-cell infiltration Can be Ramped Up
Instead, these non-responding tumours contain immune cells called macrophages and dendritic cells, which are immunosuppressive and prevent immunotherapy from working.
By inhibiting a molecule called Hck—only found in macrophages and dendritic cells—researchers found that these cells behaved differently, enabling a powerful immune response to immunotherapies.
"By combining inhibition of Hck with immunotherapy, the growth of cancers poorly responsive to immunotherapy alone was significantly reduced," Pixley said.
Researchers found that by stimulating the activation of immune cells while simultaneously inhibiting the immunosuppressive micro-environment, T-cell infiltration ramped up, resulting in a reduction in tumour growth.
The study, titled "Therapeutic inhibition of the SRC-kinase HCK facilitates "T cell" tumour infiltration and improves response to immunotherapy", is published in the journal "Science Advances."