Nearly Half of Australians Support Sending Troops to Defend Taiwan: Poll
A new poll shows that almost one in two Australians support Australia sending troops to help defend Taiwan in the event of an invasion by Beijing.This is a much higher percentage of the population than in Japan and the United States, where about one in three respondents supported sending local troops, according to an online poll by YouGov commissioned by the U.S. Studies Centre, University of Sydney. The YouGov survey, conducted between Sept. 5-9, asked a sample of 1,068 Australians: "If China attacks Taiwan, how much do you agree or disagree with Australia responding in the following ways?" Nearly half of the respondents (46 percent) said they agreed or strongly agreed that Australia should "send military forces to help the United States defend Taiwan," with 18 percent strongly agreeing. In the same question, 25 percent of respondents opposed, including nine percent who strongly disagreed. The rest did not commit to either position. Australia, Guam and Japan, which are forming a military stronghold against Beijing's maritime ambition to reach the Pacific Ocean, taken on Sept. 23, 2021. (Screenshot via Google maps) In the survey conducted in Japan, 35 percent of the 1,015 respondents agreed or strongly agreed with sending Japanese troops to help the United States defend Taiwan, while another 29 percent opposed or strongly opposed it. As for the United States, 33 percent of the 1,066 respondents supported or strongly supported sending U.S. troops to help defend Taiwan, while 31 percent opposed or strongly opposed. Respondents from all three countries generally support economically isolating China through sanctions if the CCP were to invade Taiwan, as the West's response to Russia's invasion of Ukraine. Sixty-one percent of Australian respondents were also in favour of such a measure. More than half of the Australian respondents (53 percent) supported supplying weapons to Taiwan. However, 38 percent of the respondents thought that Australia should not get involved at all. Xi May Invade Taiwan to Shift Blame The poll comes at a time after Chinese leader Xi Jinping said at the 20th National Congress of the Chinese Communist Party (CCP) that the regime would never renounce the use of force to achieve "unification" of Taiwan, a self-ruled democracy which the communist regime has long regarded as a renegade province. "We will never promise to renounce the use of force, and we reserve the option of taking all measures necessary," Xi, who has successfully claimed a record-breaking third five-year term in office, told over 2,000 hand-picked CCP delegates in Beijing at the opening of Congress. Chinese leader Xi Jinping attends the meeting between members of the standing committee of the Political Bureau of the 20th CCP Central Committee and Chinese and foreign journalists at The Great Hall of People in Beijing on Oct. 23, 2022. (Lintao Zhang/Getty Images) The communist leader may launch an invasion of Taiwan after the Congress to shift blame for the regime's economic turmoil, according to China economic analyst Antonio Graceffo. "He [Xi] can't actually do anything about the economy. The economy's in such a bad state, there's no way he can fix it. He can't end COVID, so I'm very concerned that the only thing he can really do after the Congress is invade Taiwan," Graceffo said in an interview with "China in Focus" on NTD News, the sister media outlet of The Epoch Times, on Oct. 21. "All they have to do is make a war, and then they can blame every problem on the war. Then it's not Xi Jinping's fault that they would have an economic crisis; it would be the fault of that war." In response to the situation, Australian Prime Minister Anthony Albanese and Japanese Prime Minister Fumio Kishida signed a joint security pact (pdf) in Perth on Oct. 22 to consult on "contingencies" that threaten their national security interests amid growing concerns over China–Taiwan tensions. "Japan regards Australia as a special strategic partner that forms the core within the cooperation by the like-minded countries of Japan, Australia, India, and the United States," Kishida said in a statement a day before the meeting. Australia's Prime Minister Anthony Albanese (L) shakes hands with Japan's Prime Minister Fumio Kishida during their meeting in Tokyo on Sept. 27, 2022, (Japan Pool Via Jiji Press/Jiji Press/AFP via Getty Images) Reasons for Australia's 'Awakening': Taiwanese Expert The YouGov survey is not the first one that shows Australians' concern over Beijing's move into the Pacific. Research by the Australian Institute's International & Security Affairs in August found that nearly half of Australians believe the CCP will launch a military attack on Australia. Nearly one in 10 Australians think China will attack Australia soon, while just one in 20 Taiwanese think that China will attack Taiwan soon. Dr. David Yeau-Tarn Lee, a professor at the Graduate Institute of Development Studies of National Chengchi University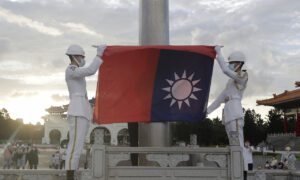 A new poll shows that almost one in two Australians support Australia sending troops to help defend Taiwan in the event of an invasion by Beijing.
This is a much higher percentage of the population than in Japan and the United States, where about one in three respondents supported sending local troops, according to an online poll by YouGov commissioned by the U.S. Studies Centre, University of Sydney.
The YouGov survey, conducted between Sept. 5-9, asked a sample of 1,068 Australians: "If China attacks Taiwan, how much do you agree or disagree with Australia responding in the following ways?"
Nearly half of the respondents (46 percent) said they agreed or strongly agreed that Australia should "send military forces to help the United States defend Taiwan," with 18 percent strongly agreeing.
In the same question, 25 percent of respondents opposed, including nine percent who strongly disagreed. The rest did not commit to either position.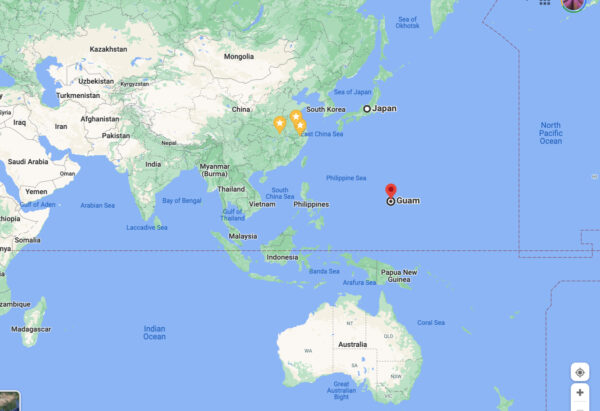 In the survey conducted in Japan, 35 percent of the 1,015 respondents agreed or strongly agreed with sending Japanese troops to help the United States defend Taiwan, while another 29 percent opposed or strongly opposed it.
As for the United States, 33 percent of the 1,066 respondents supported or strongly supported sending U.S. troops to help defend Taiwan, while 31 percent opposed or strongly opposed.
Respondents from all three countries generally support economically isolating China through sanctions if the CCP were to invade Taiwan, as the West's response to Russia's invasion of Ukraine. Sixty-one percent of Australian respondents were also in favour of such a measure.
More than half of the Australian respondents (53 percent) supported supplying weapons to Taiwan. However, 38 percent of the respondents thought that Australia should not get involved at all.
Xi May Invade Taiwan to Shift Blame
The poll comes at a time after Chinese leader Xi Jinping said at the 20th National Congress of the Chinese Communist Party (CCP) that the regime would never renounce the use of force to achieve "unification" of Taiwan, a self-ruled democracy which the communist regime has long regarded as a renegade province.
"We will never promise to renounce the use of force, and we reserve the option of taking all measures necessary," Xi, who has successfully claimed a record-breaking third five-year term in office, told over 2,000 hand-picked CCP delegates in Beijing at the opening of Congress.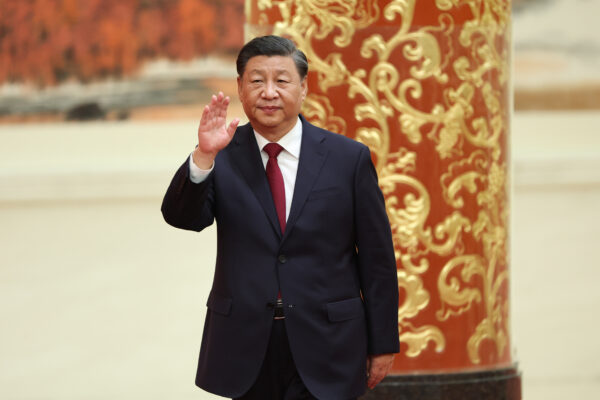 The communist leader may launch an invasion of Taiwan after the Congress to shift blame for the regime's economic turmoil, according to China economic analyst Antonio Graceffo.
"He [Xi] can't actually do anything about the economy. The economy's in such a bad state, there's no way he can fix it. He can't end COVID, so I'm very concerned that the only thing he can really do after the Congress is invade Taiwan," Graceffo said in an interview with "China in Focus" on NTD News, the sister media outlet of The Epoch Times, on Oct. 21.
"All they have to do is make a war, and then they can blame every problem on the war. Then it's not Xi Jinping's fault that they would have an economic crisis; it would be the fault of that war."
In response to the situation, Australian Prime Minister Anthony Albanese and Japanese Prime Minister Fumio Kishida signed a joint security pact (pdf) in Perth on Oct. 22 to consult on "contingencies" that threaten their national security interests amid growing concerns over China–Taiwan tensions.
"Japan regards Australia as a special strategic partner that forms the core within the cooperation by the like-minded countries of Japan, Australia, India, and the United States," Kishida said in a statement a day before the meeting.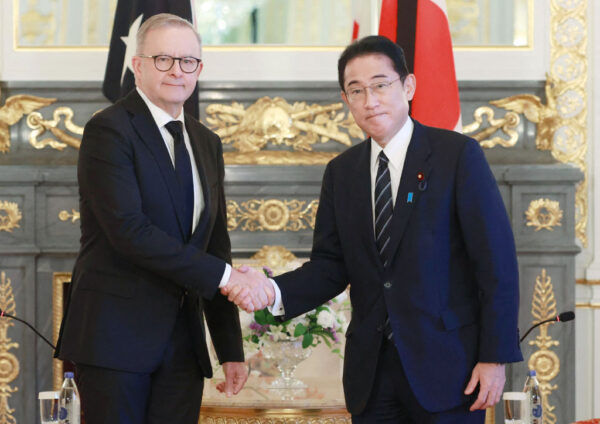 Reasons for Australia's 'Awakening': Taiwanese Expert
The YouGov survey is not the first one that shows Australians' concern over Beijing's move into the Pacific.
Research by the Australian Institute's International & Security Affairs in August found that nearly half of Australians believe the CCP will launch a military attack on Australia. Nearly one in 10 Australians think China will attack Australia soon, while just one in 20 Taiwanese think that China will attack Taiwan soon.
Dr. David Yeau-Tarn Lee, a professor at the Graduate Institute of Development Studies of National Chengchi University in Taiwan, believes that there are two main reasons for the Australian people's "awakening" to Beijing's threat.
The first is that Australia has been subject to stronger economic sanctions by Beijing since the COVID-19 pandemic than Japan and the United States, such as the trade restrictions on Australia's wine and beef.
"The CCP's suppression of Australia over the past two years [has made] Australian people to awake," Lee told The Epoch Times in an interview in Chinese.
The second reason being the CCP's "gnawing-away" operation targeting Pacific island countries, especially the Solomon Islands, which has signed a contentious security deal with Beijing that supports Chinese security forces to conduct training for the Royal Solomon Islands Police Force.
"This also shocked Australia and the U.S., because the Pacific island countries has long been cooperating with the U.S. and Australia, but the CCP is trying to buy these countries over with its external propaganda work and money," Lee said. "That's why Australia is waking up so fast."
"I'm very glad the Australian people have such as response."