Nearly 5 Million CCP Officials Probed for Graft in the Past Decade, Systemic Corruption Revealed: China Observers
The Chinese Communist Party's (CCP) disciplinary watchdog claims to have investigated almost five million Chinese officials of all levels for possible corruption since Xi Jinping became the paramount leader in 2012.Xiao Pei, deputy secretary of the CCP's Committee for Discipline and Inspection, said in Beijing on Oct. 17 that the top disciplinary body filed investigations of 4,648,000 party officials in total in the past decade. Among the probed officials, 553 are senior party officials at the deputy ministerial level and higher, who are directly selected and appointed by the party Central Committee. According to Xiao, 49 of them were voting or alternate members of the 18th Central Committee, and 12 were voting or alternate members of the 19th Central Committee. Xiao said that 207,000 officials who received various forms of punishment are Party officials of lower levels, including county-level officials. Xiao made the comments at a press conference on the sidelines of the CCP's ongoing 20th National Congress. Xi Jinping took over as leader of the Party, the state, and the military, in 2012. Since then, Xi and Wang Qishan, his right-hand man and former anti-graft Czar, launched anti-graft campaigns to eliminate their opponents. The new Chinese communist leadership famously promised that it would tackle both "tigers and flies"—meaning high- and low-level ones—in its thunderous crackdown on corruption over the last decade. The CCP has 96 million party members, Xiao said at the press conference. The CCP's rubber stamp National Congress convenes every five years, and typically runs for a week. This is an important political event for the CCP, at which delegates elect voting members and alternate members to the party's Central Committee, which then selects members for the decision-making Politburo. Xiao boasted that the anti-graft campaign in the past 10 years was "unprecedented" and "had achieved a landslide victory." China observers believe that the shocking numbers reveal that corruption is common in the communist regime's officialdom. Systemic Corruption: China Observers Lan Shu, a China current affairs commentator, said that the Chinese communist regime system is corrupt. Delegates attend the opening session of the 18th Communist Party Congress on Nov. 8, 2012, in Beijing, China. Many Party officials have found themselves wiretapped recently, and paranoia in the ranks increases amidst an anti-corruption campaign led from the top. (Feng Li/Getty Images) In a recent interview with the Chinese language edition of The Epoch Times, Lan said that the CCP has put itself above and beyond Chinese law, which is one reason that corruption has become a common phenomenon in China. "With this system, Chinese law is not binding to CCP officials, especially the senior ones," Lan said. He added that a second reason for corruption is the regime's appointment and dismissal system of its officials. "Officials of each level are appointed by higher-level officials, and they thus develop various intricate relationships in the process," Lan said, "Therefore, CCP officials are corrupt from top to bottom." Lan said that the CCP punishes its corrupt officials when they become a threat to the rule of the party. "The CCP fights graft while graft spreads all the time within its officialdom," Lan said, "That's why the CCP claims that its anti-graft campaign is 'always on the way.'" "Graft in China cannot be removed under the CCP's systemic corruption," Lan said. Li Yuanhua, a Chinese historian now living in Australia, holds a similar view to Lan. Li said that the communist regime is riddled with graft, bribery, and corruption. The handful of top-level officials fall due to political infighting, not because of corruption. "For the Chinese communist officials, there is an unwritten protocol that criminal charges don't extend to standing members of the CCP's Politburo," Li said in a recent interview with the Chinese language edition of The Epoch Times. Li said that former CCP General Secretary Jiang Zemin and his confidants were among the most corrupt officials in the country. After taking power, Xi Jinping focused on purging senior CCP officials, including two vice-chairs of China's Central Military Commission, Guo Boxiong and Xu Caihou, for taking bribes, selling military posts, and getting kickbacks from the purchase of military goods. Former vice chairman of the Central Military Commission Guo Boxiong attends a political meeting in Beijing on March 5, 2013. (Goh Chai Hin/AFP/Getty Images) Guo Zhenggang, son of Guo Boxiong, once boasted that half of China's military officials were promoted by his father, reported the Chinese language edition of VOA in 2014. "Xi purged his opponents in the name of anti-graft to consolidate his power," Li added. Guo was jailed for life in 2017, and Xu died of cancer in 2015 before he could face trial. "When the CCP boasts its purging five million corrupt officials to be a vict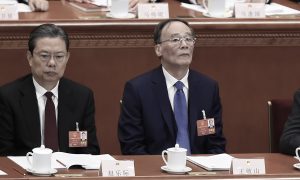 The Chinese Communist Party's (CCP) disciplinary watchdog claims to have investigated almost five million Chinese officials of all levels for possible corruption since Xi Jinping became the paramount leader in 2012.
Xiao Pei, deputy secretary of the CCP's Committee for Discipline and Inspection, said in Beijing on Oct. 17 that the top disciplinary body filed investigations of 4,648,000 party officials in total in the past decade. Among the probed officials, 553 are senior party officials at the deputy ministerial level and higher, who are directly selected and appointed by the party Central Committee.
According to Xiao, 49 of them were voting or alternate members of the 18th Central Committee, and 12 were voting or alternate members of the 19th Central Committee.
Xiao said that 207,000 officials who received various forms of punishment are Party officials of lower levels, including county-level officials.
Xiao made the comments at a press conference on the sidelines of the CCP's ongoing 20th National Congress.
Xi Jinping took over as leader of the Party, the state, and the military, in 2012. Since then, Xi and Wang Qishan, his right-hand man and former anti-graft Czar, launched anti-graft campaigns to eliminate their opponents.
The new Chinese communist leadership famously promised that it would tackle both "tigers and flies"—meaning high- and low-level ones—in its thunderous crackdown on corruption over the last decade.
The CCP has 96 million party members, Xiao said at the press conference.
The CCP's rubber stamp National Congress convenes every five years, and typically runs for a week. This is an important political event for the CCP, at which delegates elect voting members and alternate members to the party's Central Committee, which then selects members for the decision-making Politburo.
Xiao boasted that the anti-graft campaign in the past 10 years was "unprecedented" and "had achieved a landslide victory."
China observers believe that the shocking numbers reveal that corruption is common in the communist regime's officialdom.
Systemic Corruption: China Observers
Lan Shu, a China current affairs commentator, said that the Chinese communist regime system is corrupt.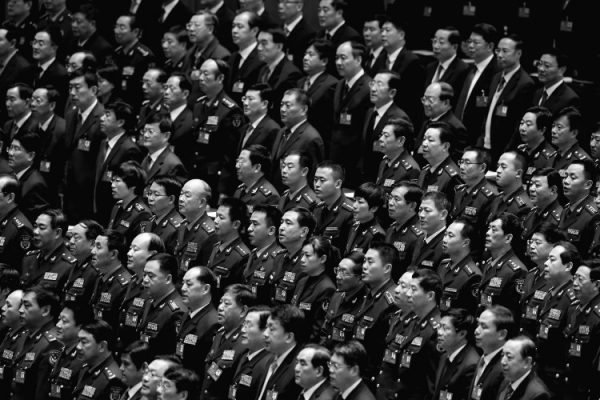 In a recent interview with the Chinese language edition of The Epoch Times, Lan said that the CCP has put itself above and beyond Chinese law, which is one reason that corruption has become a common phenomenon in China.
"With this system, Chinese law is not binding to CCP officials, especially the senior ones," Lan said.
He added that a second reason for corruption is the regime's appointment and dismissal system of its officials.
"Officials of each level are appointed by higher-level officials, and they thus develop various intricate relationships in the process," Lan said, "Therefore, CCP officials are corrupt from top to bottom."
Lan said that the CCP punishes its corrupt officials when they become a threat to the rule of the party.
"The CCP fights graft while graft spreads all the time within its officialdom," Lan said, "That's why the CCP claims that its anti-graft campaign is 'always on the way.'"
"Graft in China cannot be removed under the CCP's systemic corruption," Lan said.
Li Yuanhua, a Chinese historian now living in Australia, holds a similar view to Lan.
Li said that the communist regime is riddled with graft, bribery, and corruption. The handful of top-level officials fall due to political infighting, not because of corruption.
"For the Chinese communist officials, there is an unwritten protocol that criminal charges don't extend to standing members of the CCP's Politburo," Li said in a recent interview with the Chinese language edition of The Epoch Times.
Li said that former CCP General Secretary Jiang Zemin and his confidants were among the most corrupt officials in the country.
After taking power, Xi Jinping focused on purging senior CCP officials, including two vice-chairs of China's Central Military Commission, Guo Boxiong and Xu Caihou, for taking bribes, selling military posts, and getting kickbacks from the purchase of military goods.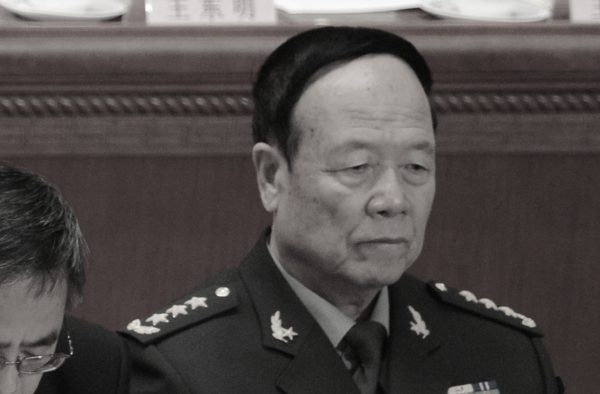 Guo Zhenggang, son of Guo Boxiong, once boasted that half of China's military officials were promoted by his father, reported the Chinese language edition of VOA in 2014.
"Xi purged his opponents in the name of anti-graft to consolidate his power," Li added.
Guo was jailed for life in 2017, and Xu died of cancer in 2015 before he could face trial.
"When the CCP boasts its purging five million corrupt officials to be a victory, it reveals that the whole CCP officialdom has been corrupted," Li said.
Xia Song and Li Yun contributed to this report.