Musso & Frank Grill: Hollywood's Oldest Restaurant
CommentaryWhen you think about restaurants connected to Hollywood history, what famous locations come to mind? The Brown Derby and the Cocoanut Grove probably top your list—but, like many historic landmarks of yesteryear, they no longer exist. There is, however, a very old restaurant in downtown Hollywood which has been a favorite of the film community for over a century. It's called the Musso & Frank Grill, and it's known as Hollywood's oldest restaurant. It was established on September 27, 1919 as Frank's Café, a restaurant opened by entrepreneur Frank Toulet at 6669 Hollywood Blvd. The name changed to the Musso & Frank Grill when restauranteur Joseph Musso became a partner. Musso and Toulet hired French chef Jean Rue to create a unique menu, which has remained largely unchanged to this day. In 1927, Italian immigrants Joseph Carissimi and John Mosso bought the restaurant, keeping the previous owners' name as they moved the restaurant next door to its current address, 6667 Hollywood Blvd. In 1934, Musso & Frank's opened a private space called the Back Room to accommodate celebrities, including movie stars, filmmakers, and writers who wanted to enjoy privacy as well as the restaurant's food, drinks, and impeccable service. The Musso and Frank Grill in Hollywood, Calif. (Public Domain) I first read about this restaurant in "See No Evil: Life Inside a Hollywood Censor," the 1970 memoirs of Jack Vizzard. I love pouring over the details about the inner workings of the Production Code Administration, told firsthand by one of the few members of this exclusive Hollywood organization. While recounting his outrageous stories about Hollywood's big productions and even bigger personalities, he frequently mentions the favorite haunts of his boss, Joseph I. Breen. Amid the names of long dead bars and even longer dead bigshots, I came across the name of Musso & Frank's. To my delight, I learned that this Old Hollywood mainstay is still going strong. I visited the restaurant for the first time four years ago, as an impromptu celebration for my seventeenth birthday. After just one visit, I discovered why it's remained so popular over the last hundred years. The Atmosphere The Musso & Frank Grill is closed on Mondays and only open for dinner from 5 to 11 p.m. Tuesday through Saturday and from 4 to 10 p.m. on Sunday. Unfortunately, they haven't served breakfast or lunch since reopening after the pandemic. From Hollywood Boulevard, the restaurant doesn't look very special. With no windows looking in, it usually looks closed. The neon sign is in the back, where valet parking is provided for $12 to patrons. Whether you enter through the inconspicuous front door or descend the steep stairs from the parking lot, you'll be impressed once you enter the restaurant. The entryway's walls are covered with pictures of old menus, film posters, and patrons from years past. Old phone booths have been preserved decades after Jimmy Stewart must have chatted with his agent between courses. A phone booth at the Musso and Frank Grill in Hollywood, Calif. (Courtesy of Tiffany Brannan) Inside the actual restaurant, the atmosphere is palpable. The rich leather booths are divided by hat racks, reminding gentlemen to politely remove their fedoras. The walls are lined with peacock-decorated wallpaper. The seating arrangements are tighter than in most modern restaurants, but you still have plenty of privacy. Historic details like a vintage screen to camouflage the kitchen provide extra style. There are so many tables to choose from that you have to go back several times to experience every location. In the front room, there are booths on either side of a narrow corridor, or you can sit at the lunch counter and watch the steaks sizzling. In the New Room, you can sit in another comfortable booth, repose at one of the freestanding tables, or grab a seat at the historic bar. The restaurant recently opened two smaller banquet rooms, which are available for special events or can be used for additional seating on busy nights. The all-male wait staff is very classy. The waiters wear smart red jackets, and the busboys wear equally stylish dark green ones. The maître d' is always a charming gentleman and treats every patron like a celebrity. Silly though this sounds, I always find that this restaurant's employees have more old-fashioned looking faces than the average restaurant server; they could have stepped out of a 1930s film! Once you sit down, you'll know that it was worth any wait. The meal starts with delicious sourdough bread and the best butter I've ever tasted, serve in a ceramic dish and covered by wax paper bearing their logo. The service is always gracious and prompt. Whether you want more iced tea, an extra glass of ice, or one more cherry, a waiter, busboy, or even a manager will bring your request on winged feet and with a smile. All this would be enough to bring me back to this restaurant again and again, but we haven't even discuss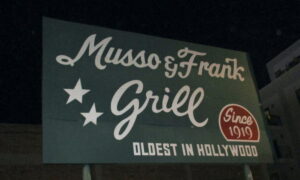 Commentary
When you think about restaurants connected to Hollywood history, what famous locations come to mind? The Brown Derby and the Cocoanut Grove probably top your list—but, like many historic landmarks of yesteryear, they no longer exist. There is, however, a very old restaurant in downtown Hollywood which has been a favorite of the film community for over a century. It's called the Musso & Frank Grill, and it's known as Hollywood's oldest restaurant.
It was established on September 27, 1919 as Frank's Café, a restaurant opened by entrepreneur Frank Toulet at 6669 Hollywood Blvd. The name changed to the Musso & Frank Grill when restauranteur Joseph Musso became a partner. Musso and Toulet hired French chef Jean Rue to create a unique menu, which has remained largely unchanged to this day.
In 1927, Italian immigrants Joseph Carissimi and John Mosso bought the restaurant, keeping the previous owners' name as they moved the restaurant next door to its current address, 6667 Hollywood Blvd. In 1934, Musso & Frank's opened a private space called the Back Room to accommodate celebrities, including movie stars, filmmakers, and writers who wanted to enjoy privacy as well as the restaurant's food, drinks, and impeccable service.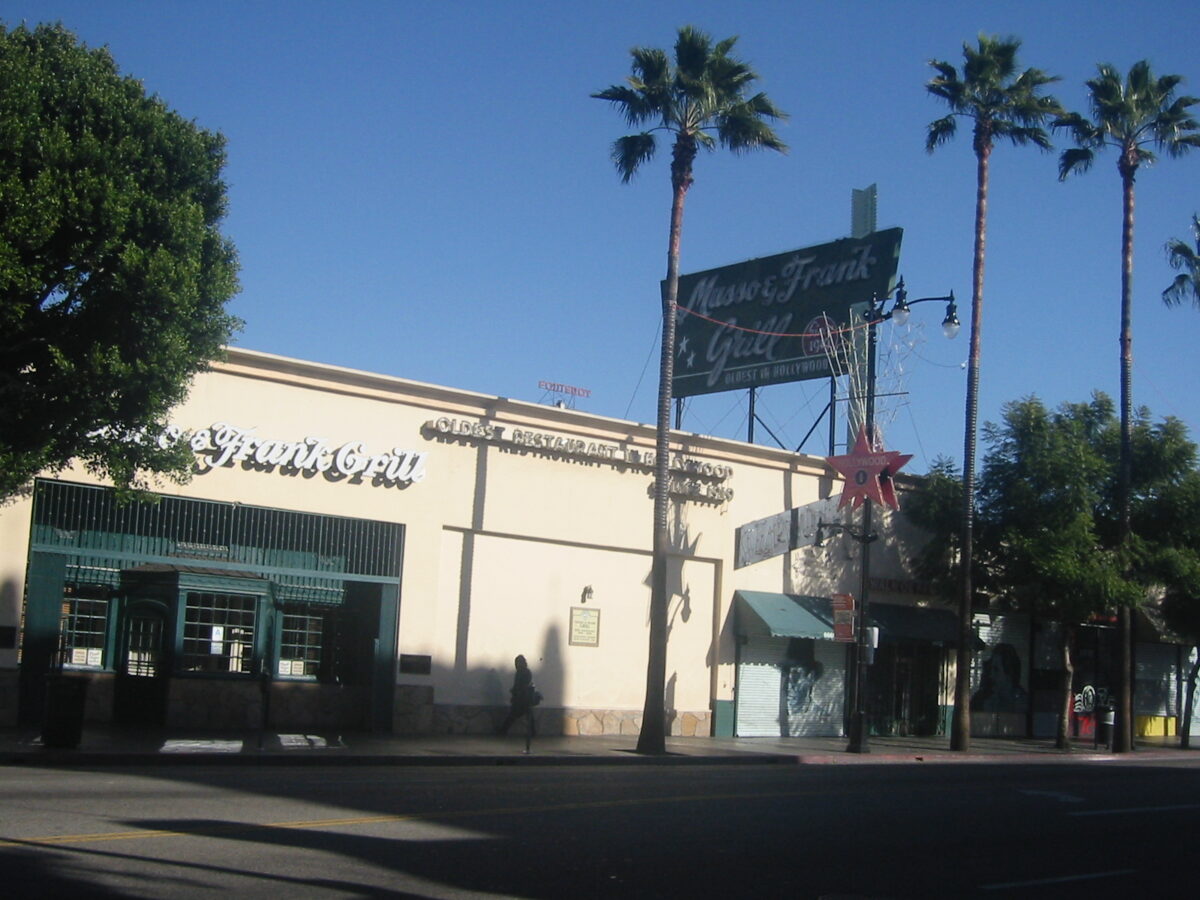 I first read about this restaurant in "See No Evil: Life Inside a Hollywood Censor," the 1970 memoirs of Jack Vizzard. I love pouring over the details about the inner workings of the Production Code Administration, told firsthand by one of the few members of this exclusive Hollywood organization. While recounting his outrageous stories about Hollywood's big productions and even bigger personalities, he frequently mentions the favorite haunts of his boss, Joseph I. Breen. Amid the names of long dead bars and even longer dead bigshots, I came across the name of Musso & Frank's. To my delight, I learned that this Old Hollywood mainstay is still going strong. I visited the restaurant for the first time four years ago, as an impromptu celebration for my seventeenth birthday. After just one visit, I discovered why it's remained so popular over the last hundred years.
The Atmosphere
The Musso & Frank Grill is closed on Mondays and only open for dinner from 5 to 11 p.m. Tuesday through Saturday and from 4 to 10 p.m. on Sunday. Unfortunately, they haven't served breakfast or lunch since reopening after the pandemic. From Hollywood Boulevard, the restaurant doesn't look very special. With no windows looking in, it usually looks closed. The neon sign is in the back, where valet parking is provided for $12 to patrons. Whether you enter through the inconspicuous front door or descend the steep stairs from the parking lot, you'll be impressed once you enter the restaurant. The entryway's walls are covered with pictures of old menus, film posters, and patrons from years past. Old phone booths have been preserved decades after Jimmy Stewart must have chatted with his agent between courses.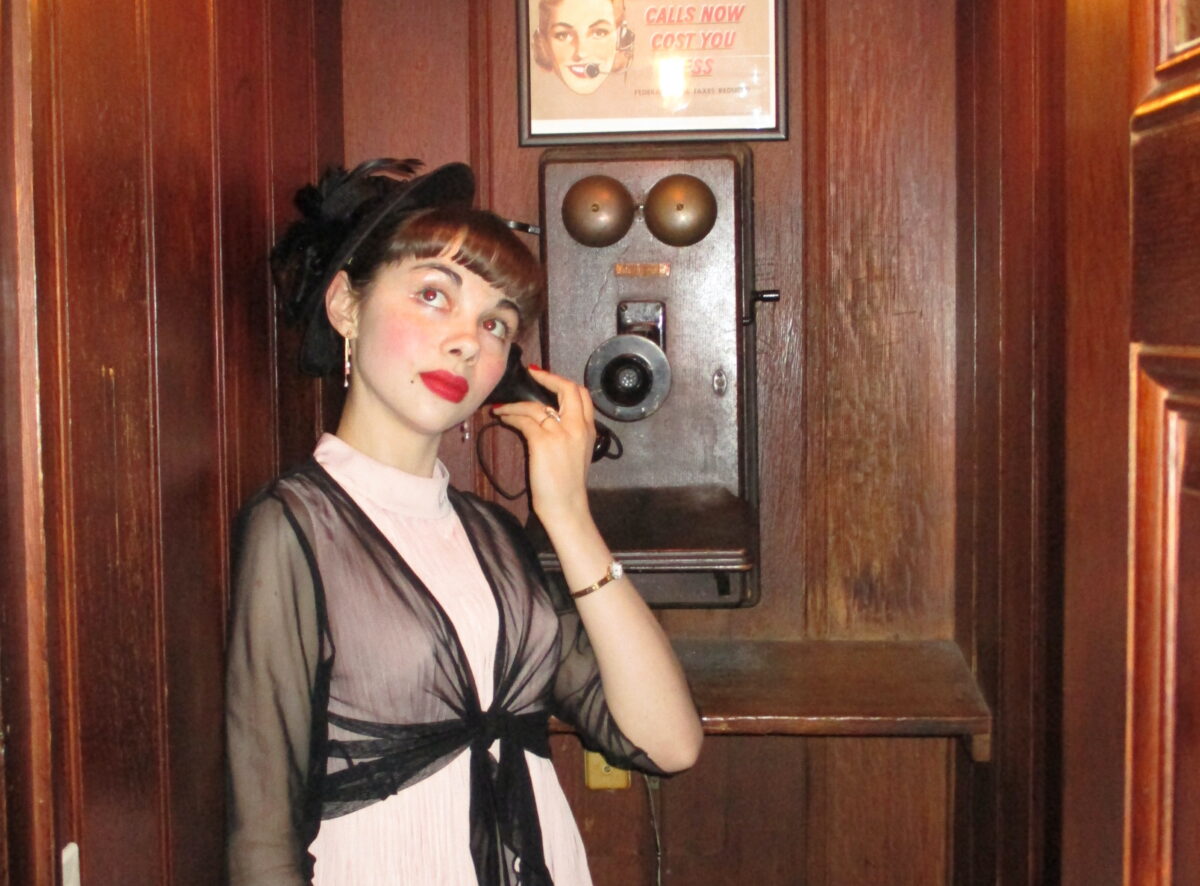 Inside the actual restaurant, the atmosphere is palpable. The rich leather booths are divided by hat racks, reminding gentlemen to politely remove their fedoras. The walls are lined with peacock-decorated wallpaper. The seating arrangements are tighter than in most modern restaurants, but you still have plenty of privacy. Historic details like a vintage screen to camouflage the kitchen provide extra style. There are so many tables to choose from that you have to go back several times to experience every location. In the front room, there are booths on either side of a narrow corridor, or you can sit at the lunch counter and watch the steaks sizzling. In the New Room, you can sit in another comfortable booth, repose at one of the freestanding tables, or grab a seat at the historic bar. The restaurant recently opened two smaller banquet rooms, which are available for special events or can be used for additional seating on busy nights.
The all-male wait staff is very classy. The waiters wear smart red jackets, and the busboys wear equally stylish dark green ones. The maître d' is always a charming gentleman and treats every patron like a celebrity. Silly though this sounds, I always find that this restaurant's employees have more old-fashioned looking faces than the average restaurant server; they could have stepped out of a 1930s film! Once you sit down, you'll know that it was worth any wait. The meal starts with delicious sourdough bread and the best butter I've ever tasted, serve in a ceramic dish and covered by wax paper bearing their logo. The service is always gracious and prompt. Whether you want more iced tea, an extra glass of ice, or one more cherry, a waiter, busboy, or even a manager will bring your request on winged feet and with a smile. All this would be enough to bring me back to this restaurant again and again, but we haven't even discussed the food.
The Menu
Food fads and culinary trends come and go, but the Musso & Frank Grill's enduring popularity is proof that traditional American cuisine is always in style. Take one glance at the stylish paper menu of the day, and you'll see once-popular dishes which you may not have heard mentioned anywhere except in a 1940s film. Marinated herring, jellied consommé, chiffonade salad, and Welsh rarebit were enough to convince me that I'd stepped back in time. There are dishes to suit any palate, no matter how gourmet or how simple. Appetizers include hors d'oevres such as olives antipasto, stuffed celery, baked escargot, and avocado cocktail, as well as cold seafood options including oyster on the half shell and shrimp cocktail. Besides jellied consommé, soups include onion soup au gratin (one of my favorites), cream of tomato, and traditional consommé, which come in reasonably priced cup or bowl options. You can't miss with any of the ten salads, including the Musso-Frank Special, a romaine salad with artichoke hearts and avocado, which I highly recommend.
Besides the Daily Features, which range from Corned Beef and Cabbage on Tuesdays to Duck Confit on Sundays, there are dozens of entrees. The Steaks and Chops include several beef steaks, which I hear are excellent, as well as a pork chop, calf's liver steak, and lamb kidneys. There also is a wide selection of fish, including salmon, lobster two ways, swordfish, trout, scallops, sandabs, oysters, and shrimp. There even is an 18 oz Roast Prime Rib of Beef. There are nine Italian entrees, including eight pasta dishes and one risotto option. Under Classics Made to Order, there are eleven assorted dishes, including Grenadine of Beef, Chicken or Turkey a la King, Oyster Stew, and Charlie Chaplin's favorite, Grilled Lamb Kidneys. My favorite entrée is the Fettuccine Alfredo, a recipe not originally on the restaurant's menu. It was discovered in Italy in 1920 by Douglas Fairbanks and Mary Pickford on their honeymoon, and Jean Rue frequently prepared the secret recipe for the famous couple at Musso & Frank's, where guests can now enjoy it. To complement these main dishes, there are several classic sauces and side dishes available.
For a sweet treat, you have your choice of twelve desserts, which include ice cream, cake, pie, pudding, torte, and crème brulée. If you choose to imbibe, you can sample one of their classic cocktails, which have been served since 1934, the end of Prohibition. Besides their famous martini, they offer a wide selection of fine wines and spirits.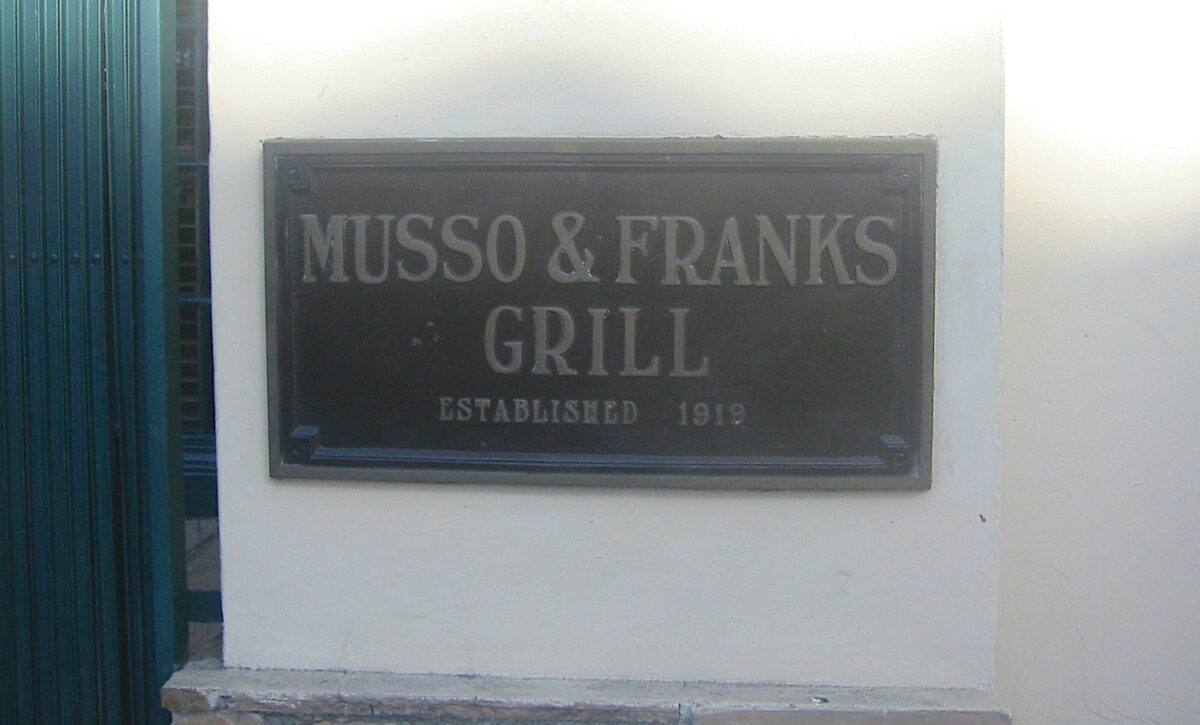 Why Should You Visit
While I was a little late in discovering this hidden gem, the secret is obviously out, considering that Musso & Frank's 100th anniversary in 2019 was commemorated by articles in most major publications. Nevertheless, I thought it was important to highlight this restaurant for readers of The Epoch Times.
Musso & Frank's is more than an unusual destination to check off your bucket list. It's a transportive experience for those who appreciate the history and traditions of our great nation. Personally, I don't know any better restaurant with historic value in California than the Musso & Frank Grill. Its old-school charm reminds me of restaurants I've visited in New York and Chicago.
Whether you are a California native or an out-of-stater planning a trip to the Golden State, I highly recommend you add a Musso & Frank's visit or two (or more) to your to-do list. It's one of the few places left in Los Angeles where you can relive the Golden Days of Hollywood. Now I can't wait until my next trip to Hollywood, so I can travel back in time with a bowl of pasta!
Views expressed in this article are the opinions of the author and do not necessarily reflect the views of The Epoch Times.