More Non-Local Doctors Approved for Limited Practice in Hong Kong
According to the figures from the Hospital Authority (HA), Hong Kong has lost 500 full-time doctors in public hospitals and 2,600 full-time nurses from April 2021 to April 2022, reaching 7.9  percent and 9.5 percent loss rate of doctors and nurses respectively.Seeing the severe loss of medical professionals, the authorities have been trying to introduce more doctors to Hong Kong including those from mainland China. Recently, the HA said on Sept. 7, it was notified by the Medical Council of Hong Kong, that it has confirmed and approved the applications of three more non-locally trained doctors for limited practice registration. Among them, two are new applications and the other is an application renewal. They will serve in the internal medicine, ophthalmology, and radiology wards in public hospitals. A spokesperson for the HA said that to alleviate the workload of frontline doctors in public hospitals, the recruitment of non-locally trained doctors will continue in the future. The HA will arrange for qualified applicants to be interviewed by the relevant clinical departments. On behalf of the successful interviewees, the HA will apply for limited practicing registration to the Medical Council in accordance with the time when they are available to perform their duties in Hong Kong. There are currently 44 non-locally trained doctors on limited practice registration, all of whom work within public hospital departments that suffer chronic staff shortages, such as anaesthesiology, cardiothoracic surgery, emergency department, family medicine, internal medicine, neurosurgery, obstetrics and gynecology, ophthalmology, pediatrics, radiology, and surgery. Now, the HA recruits non-locally trained doctors as resident doctors for all specialties. For those suffering the most serious loss of specialist physicians, they will also recruit qualified non-locally trained doctors as associate consultants. Follow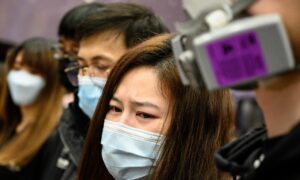 According to the figures from the Hospital Authority (HA), Hong Kong has lost 500 full-time doctors in public hospitals and 2,600 full-time nurses from April 2021 to April 2022, reaching 7.9 percent and 9.5 percent loss rate of doctors and nurses respectively.
Seeing the severe loss of medical professionals, the authorities have been trying to introduce more doctors to Hong Kong including those from mainland China.
Recently, the HA said on Sept. 7, it was notified by the Medical Council of Hong Kong, that it has confirmed and approved the applications of three more non-locally trained doctors for limited practice registration. Among them, two are new applications and the other is an application renewal. They will serve in the internal medicine, ophthalmology, and radiology wards in public hospitals.
A spokesperson for the HA said that to alleviate the workload of frontline doctors in public hospitals, the recruitment of non-locally trained doctors will continue in the future. The HA will arrange for qualified applicants to be interviewed by the relevant clinical departments. On behalf of the successful interviewees, the HA will apply for limited practicing registration to the Medical Council in accordance with the time when they are available to perform their duties in Hong Kong.
There are currently 44 non-locally trained doctors on limited practice registration, all of whom work within public hospital departments that suffer chronic staff shortages, such as anaesthesiology, cardiothoracic surgery, emergency department, family medicine, internal medicine, neurosurgery, obstetrics and gynecology, ophthalmology, pediatrics, radiology, and surgery.
Now, the HA recruits non-locally trained doctors as resident doctors for all specialties. For those suffering the most serious loss of specialist physicians, they will also recruit qualified non-locally trained doctors as associate consultants.