MIRROR Concert Victim Mo Lee Makes Small Improvement After 3 Weeks of Intensive Spinal Cord Injury Care
It has been three weeks since Dancer Mo Lee was rushed to the intensive care unit at Queen Elizabeth Hospital, after a 600 kg LED screen fell onto his head on July 28, 2022, at the MIRROR We Are Live Concert.Mo's dad, Pastor Lee Shing-lam, finally has updates for the public through Shirley Loo, who is an Honorary Fellow of the Family Development Foundation. Loo posted the update on her official Facebook page on Aug. 21, 2022. Loo shared the 4th letter of a prayer written by Pastor Lee while pleading with the public to keep Lee's family in their prayers. Pastor Lee expressed gratitude and appreciation to everyone around the world for their compassion and blessings. In the letter, Lee said he is thankful the entire family could be alongside Mo and battle for his health courageously during this difficult time. Lee said, "After three weeks of intensive treatment, Mo has finally shown some small progress. Right now, Mo still needs to follow the stages of treatment planned by the medical team." Pastor Lee alson shared his concern about whether the physical changes and needs would affect Mo's sleep. Meanwhile, So Ching, Mo's girlfriend from the girl group COLLAR shared a video snippet of her and Mo dancing together on IG Story. The girl group member wrote in the post, "I miss dancing with you. Without you, where is my motivation? Please get well soon." Netizens cheered for So Ching and said, "Don't worry. You two will dance again soon!" Another netizen said, "Mo, your girlfriend is waiting for you! Hang in there. You will be shining your light on stage again soon!" Follow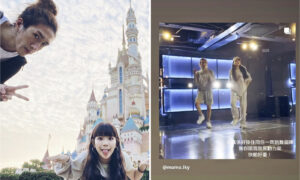 It has been three weeks since Dancer Mo Lee was rushed to the intensive care unit at Queen Elizabeth Hospital, after a 600 kg LED screen fell onto his head on July 28, 2022, at the MIRROR We Are Live Concert.
Mo's dad, Pastor Lee Shing-lam, finally has updates for the public through Shirley Loo, who is an Honorary Fellow of the Family Development Foundation. Loo posted the update on her official Facebook page on Aug. 21, 2022.
Loo shared the 4th letter of a prayer written by Pastor Lee while pleading with the public to keep Lee's family in their prayers.
Pastor Lee expressed gratitude and appreciation to everyone around the world for their compassion and blessings. In the letter, Lee said he is thankful the entire family could be alongside Mo and battle for his health courageously during this difficult time.
Lee said, "After three weeks of intensive treatment, Mo has finally shown some small progress. Right now, Mo still needs to follow the stages of treatment planned by the medical team."
Pastor Lee alson shared his concern about whether the physical changes and needs would affect Mo's sleep.
Meanwhile, So Ching, Mo's girlfriend from the girl group COLLAR shared a video snippet of her and Mo dancing together on IG Story. The girl group member wrote in the post, "I miss dancing with you. Without you, where is my motivation? Please get well soon."
Netizens cheered for So Ching and said, "Don't worry. You two will dance again soon!"
Another netizen said, "Mo, your girlfriend is waiting for you! Hang in there. You will be shining your light on stage again soon!"