Mike Pompeo Offers to Visit Taiwan With Nancy Pelosi Amid Outrage From Beijing
Former Secretary of State Mike Pompeo (R) sent a message to Speaker of the House Nancy Pelosi (D-Calif.) on Twitter on July 24 saying that he would like to visit Taiwan with her if she decides to go in August.The offer is the latest addition to voices of support for a potential Pelosi visit Taiwan, although U.S. President Joe Biden has said he and the military believe "it's not a good idea right now." Several U.S. representatives have also voiced support for a visit by the House speaker. Across the Taiwan Strait, Beijing and Taipei have opposing view on the potential trip, with the Chinese Communist regime opposing the high level visit, threatening "serious consequences." Pelosi said of any intentions to visit Taiwan: "I don't ever discuss my travel plans … it's a security issue," she told reporters on July 21. She then said that deterring China from attacking Taiwan is "a very major issue," and "it's important for us to show support for Taiwan." Pelosi said that supporting Taiwan against Beijing's threats doesn't mean that the United States stands for Taiwan's independence, as the Chinese Communist Party claims. "That's up to Taiwan to decide," the House speaker said. She said that Biden and the U.S. military might have been expressing concerns that Beijing might shoot down her plane "or something like that" in their comments the previous day, adding, "I haven't heard it from the President." The Chinese regime claims the self-ruled liberal democratic island as its own, despite the fact that Taiwan is a de facto independent island, with its own military, democratically-elected government, and constitution. Former U.S. Secretary of State Mike Pompeo speaks during the Conservative Political Action Conference at The Rosen Shingle Creek in Orlando, Florida, on Feb. 25, 2022. (Joe Raedle/Getty Images) "@SpeakerPelosi. Nancy, I'll go with you," Pompeo posted on Twitter on Sunday afternoon. "I'm banned in China, but not freedom-loving Taiwan." U.S. Reps. Brian Fitzpatrick (R-Pa.) and Don Bacon (R-Neb.) expressed their support for a possible Pelosi Taiwan visit on Twitter the same day. "Communist China does not get to dictate who in America can visit Taiwan," Bacon wrote, while Fitzpatrick wrote: "I urge you to show strength and do not cower to the bullying of the Chinese Communist Party." "We strongly encourage you to reject the objections of China's rulers and President Biden and proceed with your planned trip," U.S. Reps. Tom Tiffany (R-Wis.) and Scott Perry (R-Pa.) wrote in a joint letter to Pelosi dated July 22, which was published by Taiwanese state media CNA. "As the Speaker of the United States House of Representatives, you should never have to ask a foreign dictatorship or the State Department for permission to talk to America's friends and allies." Contrasting the above voices of support, Biden said of the trip after arriving at Joint Base Andrews in Maryland on July 20: "I think that—the military thinks it's not a good idea right now, but I don't know what the status of it is." U.S.-based China affairs commentator Wang He told The Epoch Times on July 25, "President Biden said last Wednesday that he would talk to Chinese leader Xi Jinping by end of this month. He doesn't want to anger Beijing now, which is the reason why he doesn't support Pelosi's trip. "Pelosi's possible visit and the strong support from Pompeo and the U.S. lawmakers delivered a strong message to Xi: Beijing should not invade Taiwan." Tension Across the Taiwan Strait Su Tseng-chang, Chairman of Taiwan's Democratic Progressive Party, speaks about "A New Partnership for a New Age: Strengthening U.S.-Taiwan Relations" at the Brookings Institution in Washington, D.C., on June 13, 2013. (PAUL J. RICHARDS/AFP via Getty Images) The Chinese regime threatened "consequences" for a Pelosi August visit after it was first reported by the Financial Times on July 19. "If the U.S. side insists on visiting, the Chinese side will take firm and strong measures to safeguard our sovereignty and territorial integrity," Chinese Foreign Ministry spokesperson Zhao Lijian said on July 25. "The U.S. must assume full responsibility for any serious consequence arising thereof." On the other side of the Taiwan Strait, the government of Taiwan welcomed the U.S. Speaker of the House. "Warmly welcome Pelosi to visit Taiwan," Taiwan Premier Su Tseng-chang told the Legislative Yuan on April 8. "[Pelosi visits Taiwan] because we (U.S. and Taiwan) uphold the common values of democracy and freedom. The Chinese regime should not make irresponsible remarks." "[Pelosi's possible visit] is absolutely a positive message [for Taiwan]. It's a support to Taiwan," Lo Chih-Cheng, a Taiwanese legislator, told RFA on July 21. Chieh Chung, a military expert and a research fellow at Taiwan's Association of Strategic Foresight, told The Epoch Times on July 25 that Taiwan welcomed Pelosi, adding that he doesn't believe the Chinese regime would dare to take military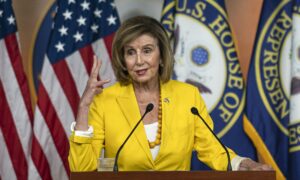 Former Secretary of State Mike Pompeo (R) sent a message to Speaker of the House Nancy Pelosi (D-Calif.) on Twitter on July 24 saying that he would like to visit Taiwan with her if she decides to go in August.
The offer is the latest addition to voices of support for a potential Pelosi visit Taiwan, although U.S. President Joe Biden has said he and the military believe "it's not a good idea right now."
Several U.S. representatives have also voiced support for a visit by the House speaker.
Across the Taiwan Strait, Beijing and Taipei have opposing view on the potential trip, with the Chinese Communist regime opposing the high level visit, threatening "serious consequences."
Pelosi said of any intentions to visit Taiwan: "I don't ever discuss my travel plans … it's a security issue," she told reporters on July 21. She then said that deterring China from attacking Taiwan is "a very major issue," and "it's important for us to show support for Taiwan."
Pelosi said that supporting Taiwan against Beijing's threats doesn't mean that the United States stands for Taiwan's independence, as the Chinese Communist Party claims.
"That's up to Taiwan to decide," the House speaker said.
She said that Biden and the U.S. military might have been expressing concerns that Beijing might shoot down her plane "or something like that" in their comments the previous day, adding, "I haven't heard it from the President."
The Chinese regime claims the self-ruled liberal democratic island as its own, despite the fact that Taiwan is a de facto independent island, with its own military, democratically-elected government, and constitution.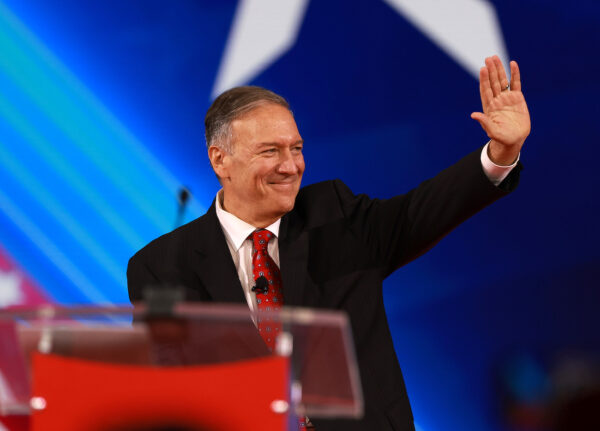 "@SpeakerPelosi. Nancy, I'll go with you," Pompeo posted on Twitter on Sunday afternoon. "I'm banned in China, but not freedom-loving Taiwan."
U.S. Reps. Brian Fitzpatrick (R-Pa.) and Don Bacon (R-Neb.) expressed their support for a possible Pelosi Taiwan visit on Twitter the same day.
"Communist China does not get to dictate who in America can visit Taiwan," Bacon wrote, while Fitzpatrick wrote: "I urge you to show strength and do not cower to the bullying of the Chinese Communist Party."
"We strongly encourage you to reject the objections of China's rulers and President Biden and proceed with your planned trip," U.S. Reps. Tom Tiffany (R-Wis.) and Scott Perry (R-Pa.) wrote in a joint letter to Pelosi dated July 22, which was published by Taiwanese state media CNA. "As the Speaker of the United States House of Representatives, you should never have to ask a foreign dictatorship or the State Department for permission to talk to America's friends and allies."
Contrasting the above voices of support, Biden said of the trip after arriving at Joint Base Andrews in Maryland on July 20: "I think that—the military thinks it's not a good idea right now, but I don't know what the status of it is."
U.S.-based China affairs commentator Wang He told The Epoch Times on July 25, "President Biden said last Wednesday that he would talk to Chinese leader Xi Jinping by end of this month. He doesn't want to anger Beijing now, which is the reason why he doesn't support Pelosi's trip.
"Pelosi's possible visit and the strong support from Pompeo and the U.S. lawmakers delivered a strong message to Xi: Beijing should not invade Taiwan."
Tension Across the Taiwan Strait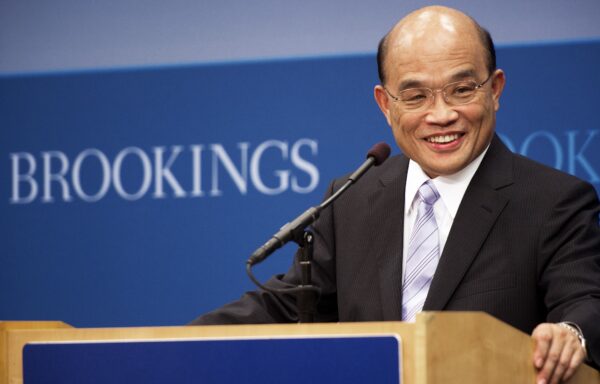 The Chinese regime threatened "consequences" for a Pelosi August visit after it was first reported by the Financial Times on July 19.
"If the U.S. side insists on visiting, the Chinese side will take firm and strong measures to safeguard our sovereignty and territorial integrity," Chinese Foreign Ministry spokesperson Zhao Lijian said on July 25. "The U.S. must assume full responsibility for any serious consequence arising thereof."
On the other side of the Taiwan Strait, the government of Taiwan welcomed the U.S. Speaker of the House.
"Warmly welcome Pelosi to visit Taiwan," Taiwan Premier Su Tseng-chang told the Legislative Yuan on April 8. "[Pelosi visits Taiwan] because we (U.S. and Taiwan) uphold the common values of democracy and freedom. The Chinese regime should not make irresponsible remarks."
"[Pelosi's possible visit] is absolutely a positive message [for Taiwan]. It's a support to Taiwan," Lo Chih-Cheng, a Taiwanese legislator, told RFA on July 21.
Chieh Chung, a military expert and a research fellow at Taiwan's Association of Strategic Foresight, told The Epoch Times on July 25 that Taiwan welcomed Pelosi, adding that he doesn't believe the Chinese regime would dare to take military action to target Pelosi if she visited.
"Once their (China's air force) warplanes approach our airspace, our (Taiwan's) air force will take action immediately. We even will fire missiles to stop the warplanes. This will cause a military conflict," Chieh said. "I don't think mainland China will do this."