Michigan State Legislators Reject Tax Benefits to Ford's New Battery Plant
MARSHALL, Mich.—Michigan House Freedom Caucus held a press conference on Saturday to object to using taxpayer dollars to fund the new Ford electric vehicle battery plant. Two days ago, the state appropriated $630 million for the project that sees Ford partnered with a Chinese EV battery maker with ties to the Chinese Communist Party (CCP). Michigan State Rep. Steve Carra (R-Three Rivers), caucus chair, said that the appropriation didn't follow the Michigan Constitution, which requires a two-thirds majority for funding private purposes. The spending bill passed the state House on a vote of 56 vs. 53. Carra accused the Democrat majority of circumventing the Constitution by calling the project a public purpose, "even though it's giving tax dollars from the hardworking middle class to a private company." "It's a redistribution of wealth from the hardworking middle class to the politically connected, and that's a very big problem," he added. The Epoch Times has contacted the Michigan Democratic Party for comment. Read MoreManchin Calls Out Podesta's Remarks About China Being 'Big Players' in US EV Battery Production Carra has some allies in the state Senate. Before the appropriation bill was passed in the state's upper house, Sen. Jonathan Lindsay (R-Allen Township) proposed an amendment asking for a national security review. The review would ensure no state funds would go to a project with partners who have ties to the CCP military or have any involvement in forced labor. All 20 Democrats voted against the amendment, and all 18 Republican senators voted for it, he said at the press conference. "There's no reason to move forward on a project like this if the people behind it can't go along with a simple review to protect our national security," Lindsay said. During his floor speech on Feb. 28, he cited Virginia's withdrawal from housing the Ford plant over national security concerns as a reason for his amendment. Michigan State Sen. Jonathan Lindsay (R-Allen Township) speaks at a press conference in Marshall, Mich., on Mar. 11, 2023, objecting to using taxpayer dollars to fund a Ford electric vehicle battery plant partnered with a Chinese company with ties to the Chinese Communist Party. (NTD) Michigan State Rep. Rachelle Smit (R-Martin) speaks at a press conference in Marshall, Mich., on Mar. 11, 2023, objecting to using taxpayer dollars to fund a Ford electric vehicle battery plant partnered with a Chinese company with ties to the Chinese Communist Party. (NTD) Virginia Del. Emily Brewer (R-Surry), who carried a bill to ban TikTok on government devices in this year's legislature, recently told NTD's Capitol Report that the Ford plant was not a good deal. "When we start to do partnerships that are directly tied to the Chinese Communist Party, that's exactly the type of business that we don't want in the Commonwealth. Bottom line," she said. Chinese EV battery maker Contemporary Amperex Technology Co. Ltd. (CATL) rose to prominence with the help of $155 million in Chinese subsidies between 2015 and 2017, a time during which foreign providers had no access to the Chinese EV battery market. Since 2018, CATL's chairman Zeng Yuqun has served as a member of the National Committee of the Chinese People's Political Consultative Conference (CPPCC), a political advisory body to the communist regime. Zeng's committee membership was extended this year, until 2028. C Drive North pictured on March 11, 2023. The farmland on the other side of the street is the site slated for the new Ford electric vehicle battery park. (NTD) Joan Chapman, a property owner who hasn't sold her land to the local economic development agency for the Ford-CATL plant, said at the press event that the story of the new project was "a story of loss." "We've lost the feeling of security and home because we live there. We live there," she said, adding that the community was divided, and there were people who accused her family of being "conspiracy theorists" and "crazy." "I don't think it's a done deal," Chapman said to the 60 people in the room, referring to the Ford-CATL plant. Another resident echoed, "It's not a done deal, and we are not finished fighting it." Julie Bryant, who bought a home in Marshall Township about three years ago for the small-town appeal, said she would organize a new Facebook group: "Stop the China Ford mega site." However, whether the group will resort to legal means to stall the Ford-CATL plant is unclear. Community members gather for a press conference objecting to using taxpayer dollars to fund a Ford electric vehicle battery plant partnered with a Chinese company with ties to the Chinese Communist Party in Marshall, Mich., on March 11, 2023. (NTD) On Feb. 16, eight Michigan State Representatives wrote a letter to Gov. Gretchen Whitmer saying: "We ask that you end your discussions with this company [Chinese battery maker], and we strongly object to using any taxpayer dollars to fund the Chinese Commu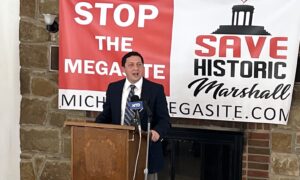 MARSHALL, Mich.—Michigan House Freedom Caucus held a press conference on Saturday to object to using taxpayer dollars to fund the new Ford electric vehicle battery plant.
Two days ago, the state appropriated $630 million for the project that sees Ford partnered with a Chinese EV battery maker with ties to the Chinese Communist Party (CCP).
Michigan State Rep. Steve Carra (R-Three Rivers), caucus chair, said that the appropriation didn't follow the Michigan Constitution, which requires a two-thirds majority for funding private purposes. The spending bill passed the state House on a vote of 56 vs. 53.
Carra accused the Democrat majority of circumventing the Constitution by calling the project a public purpose, "even though it's giving tax dollars from the hardworking middle class to a private company."
"It's a redistribution of wealth from the hardworking middle class to the politically connected, and that's a very big problem," he added. The Epoch Times has contacted the Michigan Democratic Party for comment.
Read More
Manchin Calls Out Podesta's Remarks About China Being 'Big Players' in US EV Battery Production
Carra has some allies in the state Senate. Before the appropriation bill was passed in the state's upper house, Sen. Jonathan Lindsay (R-Allen Township) proposed an amendment asking for a national security review. The review would ensure no state funds would go to a project with partners who have ties to the CCP military or have any involvement in forced labor.
All 20 Democrats voted against the amendment, and all 18 Republican senators voted for it, he said at the press conference.
"There's no reason to move forward on a project like this if the people behind it can't go along with a simple review to protect our national security," Lindsay said.
During his floor speech on Feb. 28, he cited Virginia's withdrawal from housing the Ford plant over national security concerns as a reason for his amendment.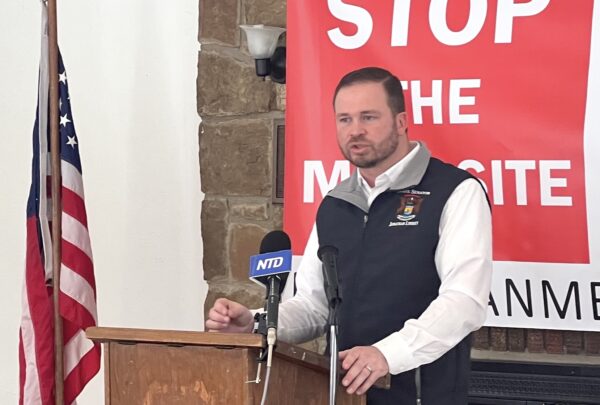 Virginia Del. Emily Brewer (R-Surry), who carried a bill to ban TikTok on government devices in this year's legislature, recently told NTD's Capitol Report that the Ford plant was not a good deal. "When we start to do partnerships that are directly tied to the Chinese Communist Party, that's exactly the type of business that we don't want in the Commonwealth. Bottom line," she said.
Chinese EV battery maker Contemporary Amperex Technology Co. Ltd. (CATL) rose to prominence with the help of $155 million in Chinese subsidies between 2015 and 2017, a time during which foreign providers had no access to the Chinese EV battery market.
Since 2018, CATL's chairman Zeng Yuqun has served as a member of the National Committee of the Chinese People's Political Consultative Conference (CPPCC), a political advisory body to the communist regime. Zeng's committee membership was extended this year, until 2028.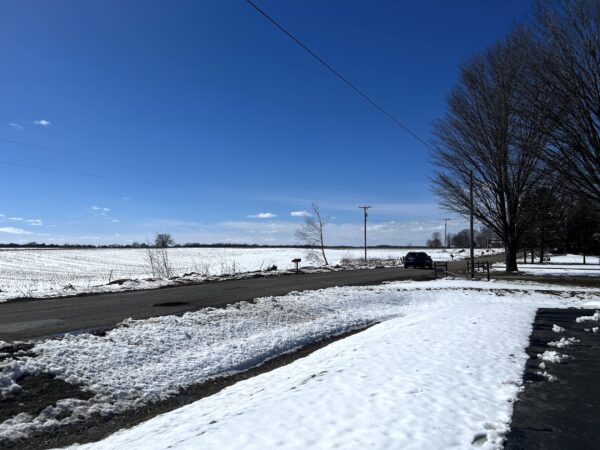 Joan Chapman, a property owner who hasn't sold her land to the local economic development agency for the Ford-CATL plant, said at the press event that the story of the new project was "a story of loss."
"We've lost the feeling of security and home because we live there. We live there," she said, adding that the community was divided, and there were people who accused her family of being "conspiracy theorists" and "crazy."
"I don't think it's a done deal," Chapman said to the 60 people in the room, referring to the Ford-CATL plant. Another resident echoed, "It's not a done deal, and we are not finished fighting it."
Julie Bryant, who bought a home in Marshall Township about three years ago for the small-town appeal, said she would organize a new Facebook group: "Stop the China Ford mega site." However, whether the group will resort to legal means to stall the Ford-CATL plant is unclear.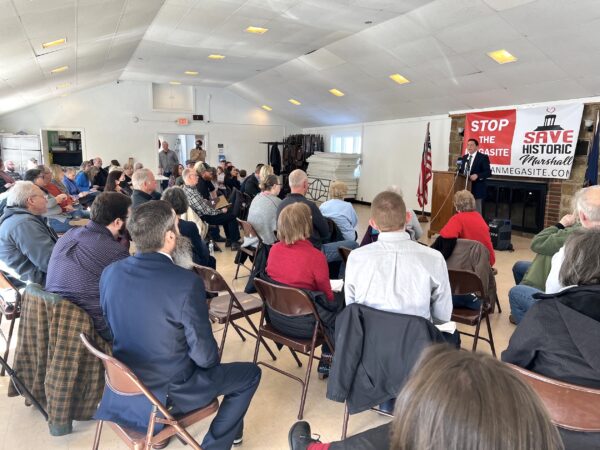 On Feb. 16, eight Michigan State Representatives wrote a letter to Gov. Gretchen Whitmer saying: "We ask that you end your discussions with this company [Chinese battery maker], and we strongly object to using any taxpayer dollars to fund the Chinese Communist Party's efforts to expand its destructive influence in the United States."
The eight legislators are Reps. David Martin, Jaime Greene, Andrew Fink, Mike Hoadley, William Bruck, Bob Bezotte, Greg Markkanen, and Andrew Beeler, a House Freedom Caucus member.
The Epoch Times has reached out to Ford for comment.