Michelle Yeoh Makes History Becoming First Asian Actor to Win Best Actress at the 95th Academy Awards
On March 12, the 95th Academy Awards announced its winners at the Hollywood Dolby Theater in Los Angeles. Malaysian actress Michelle Yeoh won the Best Actress award for her performance as a dissatisfied laundry shop owner in "Everything Everywhere All At Once." Yeoh is the first Asian actor to win the best actress in Oscars history. When Yeoh gave her acceptance speech, she thanked Hong Kong for opening the doors for her acting career and said the tremendous support led her to where she is today. Big Win for 'Everything Everywhere All At Once' "Everything Everywhere All At Once" received 11 nominations at the 95th Oscar. The movie won seven awards, becoming the biggest winner of the 95th Academy Awards, including Best Director, Best Motion Picture, Best Actress, Best Supporting Actor, Best Supporting Actress, Best Original Script, and Best Editing. Before the ceremony, all eyes were on Yeoh to determine whether she could beat Australian actress Cate Blanchett in TÁR for the Best Actress Award. Ultimately, Yeoh made history by becoming the first Asian to win the Best Actress Award. Brendan Fraser, the 54-year-old Canadian actor, won Best Actor with his superb performance in "The Whale" after disappearing from the screen for 12 years. German anti-war-themed film "All Quiet on the Western Front," about World War II, won Best International Film. The film also won Best Cinematography, Best Art Direction, and Best Scoring. American documentary "Navalny" won the best documentary feature. The film documents the plot of the assignation of Alexei Navalny, a Russian opposition leader, lawyer, and anti-corruption activist. The real Navalny is in a Russian prison, but his wife attended the award ceremony. In her speech, she hoped for the quickest release of her husband and that the country could enjoy freedom again. Guillermo del Toro's "Pinocchio," a film about a father's wish to magically turn a wooden boy to life, wins Best Animation. "The Elephant Whisperers" received the Best Short Documentary Award. The Asian-led Movie Becomes the Biggest Winner of the Night Everything "Everywhere All At Once" dominated this year's Oscars and won seven awards. In the evening, Michelle Yeoh took home the little golden man as best actress. In her acceptance speech, Yeoh mentioned and thanked her extended family in Hong Kong for letting her stand on the family's shoulders and carrying her throughout her acting career. She also expressed her gratitude to Hong Kong for being a starting point of her acting career so that she could be on the Oscar stage today. Yeoh also talked of her Asian descent and encouraged other women, "Don't ever let anyone tell you that you have passed your prime."She reminded boys and girls who look like her, "Stick to your dreams because there is a beacon of hope and possibility." She said the award is proof. She thanked her family and said her mom and loved ones were watching the show live broadcast in Kuala Lumpur, Malaysia. Yeoh said she would bring the little golden man home to her hometown. In January 2023, Michelle Yeoh won the 80th Golden Globe Award for Best Actress with "Everything, Everywhere, All At Once." Kelvin Yeung Yun-hung, Secretary for Culture, Sports and Tourism of the Hong Kong government, published a statement congratulating Michelle Yeoh on winning the Academy Award. Yeung said the Hong Kong film industry had raised many outstanding actors and filmmakers. Yeung pointed out that Michelle Yeoh's wins also highlighted the strengths and capabilities of "Hong Kong actors and the potential of the Hong Kong movie industry." In January 2023, when Yeoh won the Golden Globes, the Secretary of culture congratulated and called Yeoh a "Hong Kong actress" and said, "Hong Kong actors made remarkable success in the international film industry." Michelle Yeoh is, in fact, Malaysian. Ke Huy Quan Wins Best Supporting Actor Johnathan Ke Huy Quan played the husband of Michelle Yeoh's character Evelyn Wang in "Everything Everywhere All At Once" and won Best Supporting Actor. Quan was born in Vietnam. At 7, Quan went with his family to Hong Kong and lived in a Vietnamese refugee camp amid the Vietnam War. The family migrated to the United States as political refugees later. Quan broke down in tears of joy when he got the award and told the audience his 85-year-old mother was watching the show on TV before shouting emotionally to the camera, "Mum, I just won an Oscar!" He mentioned it was hard to believe that he had lived in a refugee camp for a year and now stood on Hollywood's biggest stage. He thought his life story would only ever happen in movies, but today it occurred to him. He said it was precisely the "American dream." He thanked his family, particularly his wife, the love of his life, for the past 20 years, encouraging him tirelessly, telling  him "his time would come." He also thanked Hollywood for welcoming him back into the movie world. Quan almost gave up on his dream, bu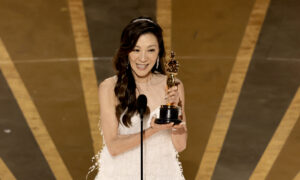 On March 12, the 95th Academy Awards announced its winners at the Hollywood Dolby Theater in Los Angeles.
Malaysian actress Michelle Yeoh won the Best Actress award for her performance as a dissatisfied laundry shop owner in "Everything Everywhere All At Once."
Yeoh is the first Asian actor to win the best actress in Oscars history.
When Yeoh gave her acceptance speech, she thanked Hong Kong for opening the doors for her acting career and said the tremendous support led her to where she is today.
Big Win for 'Everything Everywhere All At Once'
"Everything Everywhere All At Once" received 11 nominations at the 95th Oscar. The movie won seven awards, becoming the biggest winner of the 95th Academy Awards, including Best Director, Best Motion Picture, Best Actress, Best Supporting Actor, Best Supporting Actress, Best Original Script, and Best Editing.
Before the ceremony, all eyes were on Yeoh to determine whether she could beat Australian actress Cate Blanchett in TÁR for the Best Actress Award.
Ultimately, Yeoh made history by becoming the first Asian to win the Best Actress Award.
Brendan Fraser, the 54-year-old Canadian actor, won Best Actor with his superb performance in "The Whale" after disappearing from the screen for 12 years.
German anti-war-themed film "All Quiet on the Western Front," about World War II, won Best International Film. The film also won Best Cinematography, Best Art Direction, and Best Scoring.
American documentary "Navalny" won the best documentary feature. The film documents the plot of the assignation of Alexei Navalny, a Russian opposition leader, lawyer, and anti-corruption activist.
The real Navalny is in a Russian prison, but his wife attended the award ceremony. In her speech, she hoped for the quickest release of her husband and that the country could enjoy freedom again.
Guillermo del Toro's "Pinocchio," a film about a father's wish to magically turn a wooden boy to life, wins Best Animation. "The Elephant Whisperers" received the Best Short Documentary Award.
The Asian-led Movie Becomes the Biggest Winner of the Night
Everything "Everywhere All At Once" dominated this year's Oscars and won seven awards.
In the evening, Michelle Yeoh took home the little golden man as best actress. In her acceptance speech, Yeoh mentioned and thanked her extended family in Hong Kong for letting her stand on the family's shoulders and carrying her throughout her acting career. She also expressed her gratitude to Hong Kong for being a starting point of her acting career so that she could be on the Oscar stage today.
Yeoh also talked of her Asian descent and encouraged other women, "Don't ever let anyone tell you that you have passed your prime."She reminded boys and girls who look like her, "Stick to your dreams because there is a beacon of hope and possibility." She said the award is proof.
She thanked her family and said her mom and loved ones were watching the show live broadcast in Kuala Lumpur, Malaysia. Yeoh said she would bring the little golden man home to her hometown.
In January 2023, Michelle Yeoh won the 80th Golden Globe Award for Best Actress with "Everything, Everywhere, All At Once."
Kelvin Yeung Yun-hung, Secretary for Culture, Sports and Tourism of the Hong Kong government, published a statement congratulating Michelle Yeoh on winning the Academy Award. Yeung said the Hong Kong film industry had raised many outstanding actors and filmmakers.
Yeung pointed out that Michelle Yeoh's wins also highlighted the strengths and capabilities of "Hong Kong actors and the potential of the Hong Kong movie industry."
In January 2023, when Yeoh won the Golden Globes, the Secretary of culture congratulated and called Yeoh a "Hong Kong actress" and said, "Hong Kong actors made remarkable success in the international film industry." Michelle Yeoh is, in fact, Malaysian.
Ke Huy Quan Wins Best Supporting Actor
Johnathan Ke Huy Quan played the husband of Michelle Yeoh's character Evelyn Wang in "Everything Everywhere All At Once" and won Best Supporting Actor.
Quan was born in Vietnam. At 7, Quan went with his family to Hong Kong and lived in a Vietnamese refugee camp amid the Vietnam War. The family migrated to the United States as political refugees later.
Quan broke down in tears of joy when he got the award and told the audience his 85-year-old mother was watching the show on TV before shouting emotionally to the camera, "Mum, I just won an Oscar!"
He mentioned it was hard to believe that he had lived in a refugee camp for a year and now stood on Hollywood's biggest stage. He thought his life story would only ever happen in movies, but today it occurred to him. He said it was precisely the "American dream."
He thanked his family, particularly his wife, the love of his life, for the past 20 years, encouraging him tirelessly, telling him "his time would come." He also thanked Hollywood for welcoming him back into the movie world.
Quan almost gave up on his dream, but as he stood on the Oscar stage, he encouraged everyone watching to keep their dreams alive.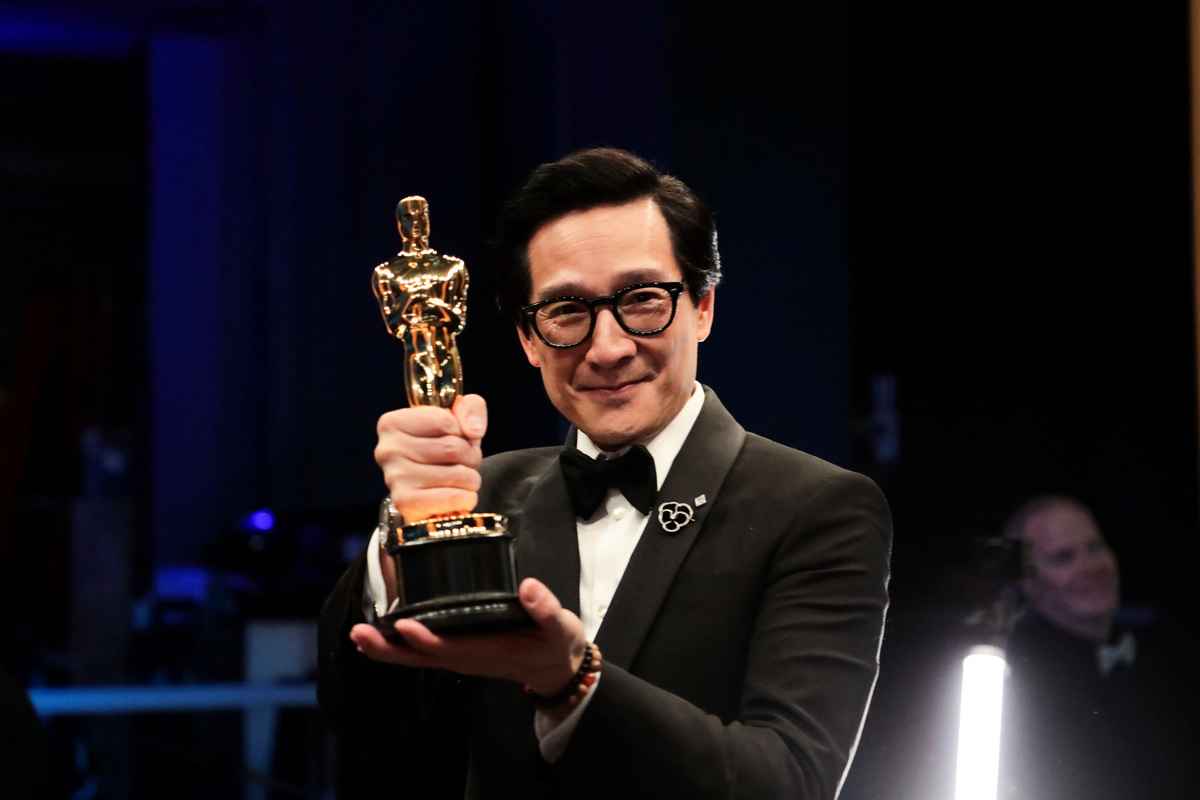 After Quan moved to the States, he went to an audition with his brother when he was 12. Surprisingly Quan ended up being the chosen cast. He played "Short Round" alongside Harrison Ford in Steven Spielberg's Indiana Jones franchise. On the Oscars stage, the two actors crossed paths again, where Ford embraced Quan for his win.
After Quan's appearance in the Asian-led comedy "Crazy Rich Asians" in 2018, Quan decided to try again on his acting journey. He contacted his manager, who got Quan the opportunity in "Everything Everywhere All At Once."
Donnie Yen Showed up Amid Controversy
Hong Kong action actor Donnie Yen attended as a presenting guest at the 95th Oscars.
Amid his recent controversial remarks on the Hong Kong protests and support of the Chinese Communist Party, he attended the award ceremony. The public called on the Oscars Committee to cancel Yen due to his friendly relationship with Beijing, his silence on CCP's human rights violations, and his remarks on the 2019 Hong Kong Protests.
In a recent GQ Hype interview, Yen said in response to a question about the protests, "That is not a protest. Ok? It's a riot." Only the government officials, the regime, and its supporters would describe the protest as "a riot."
He also accused the western media, such as BBC and CNN, of only ever reporting biased, negative stories about China.
Yen is an active member of the CCP's top advisory body.
Petition to Cancel Donnie Yen
A Hong Kong protester named Tong wai-hung, who was previously arrested and tried for "participating in a riot," initiated a petition on change.org.
In the petition, Tong urged the Oscar committee to cancel the invitation of actor Yen, as an award guest, due to his support for suppressing human rights by the CCP.
Yen regularly acted as a hero who would fight injustice against the corrupt in his movies.
The petition gained over 110,000 signatures in just a few days. The Oscars, however, never responded.
Yen, in the end, attended the award ceremony and presented.
Tiananmen Student Activists Protested at the Oscars
Local Hong Kong organizations and former student movement leaders Wang Dan and Fang Zheng protested outside the Oscars venue on March 12.
Wang tweeted a photo and said several friends in Los Angeles said the authorities closed off several streets near the event. "Police are heavily on guard this year."
Wang revealed that nearly 200 people gathered protesting about ten meters from the entrance to the event.
Many people held signs that said "say no to CCP," "Say no to Donnie Yen," and "Not A hero" and labelled Yen for being the regime's biggest fan.
Fan Bingbing's Unexpected Apearance on the Oscar Red Carpet
Fan Bingbing, a mainland Chinese actress who the Chinese government has silenced for five years due to tax evasion, arrived on the Oscar red carpet for the first time since ten years ago.
Fan arrived early dressed in a silver deep V dress, accompanied by an emerald green shawl with shoulder pads.
Fan was fined more than 880 million yuan (US$128 million) for tax evasion. Suddenly her blooming career stopped at its peak.
Not only has she been out of work on the mainland for five years, but Fan's precious work and post-production activities were also banned. The Chinese government killed off and deleted Fan's on-screen appearance altogether from shows and promotion campaigns.
Having been struggling and hanging by a thread, Fan changed her strategy, shifted her career focus to Hong Kong and South Korea, and succeeded in the Korean film festivals.