Michael Zwaagstra: Obsessing About Identity in Schools Is Not Healthy
All students can learn. This should be a basic maxim for every teacher.The last thing any good teacher does is write students off before giving them a fair opportunity to learn. All students, regardless of their race, gender, sexual orientation, or religion, deserve a quality education. Obviously, students do not all come from the same place. Teachers know they need to ensure that students from disadvantaged backgrounds do not fall through the cracks. Among other things, this often means providing nutritious breakfasts and lunches to ensuring that academically weak students receive additional learning supports—the support they deserve to succeed. None of this is new. Taking students' unique circumstances into account has always been a hallmark of good teaching. However, one thing that is new is the present-day obsession with identity politics. Instead of looking at each student as a unique individual with potential, assumptions are made about students based on their racial and/or gender identities. This leads to the perpetuation of misleading stereotypes and the creation of self-fulfilling prophecies. For example, the director of education for the Waterloo Region District School Board recently published an op-ed defending the district's emphasis on "ensuring that students' identities, abilities and lived experiences are fully embraced and honoured." He also stated that it's no secret that identity is a predictor of outcomes. The director is no doubt sincere in his desire to help students, but his diagnosis and prescription are faulty. They stem from the classic error of pushing for equality of outcome rather than equality of opportunity. The reality is that students are unique individuals, and this uniqueness extends far beyond their "membership" in any particular group. Lumping students together based on their race or gender and targeting educational programming at their assumed identities ignores the fact that students do not always fit within these neat and tidy groups. However, this doesn't mean we ignore racism in Canada. The negative effects of the Chinese Head Tax, Japanese internment camps during World War II, and residential schools continue to this day. We cannot deny that our political leaders made major mistakes in the past and students must learn about these things during their education. In addition, while it is now socially unacceptable to openly share racist views and jokes, racism still exists in some circles. We need to be mindful about our words and we need to be careful not to make negative assumptions about other people just because they are different. Few things are more hurtful than being stereotyped based on your race or gender. This is why identity politics is so damaging to the fight against bigotry and racism. At its core, programs aimed at correcting the racist views of students often assume that certain students are privileged and/or have an unconscious racial bias. Of course, this is itself a stereotype, and one that is hurtful to some students. Everyone's life story is different and making sweeping statements about a student based solely on his or her race is far from helpful. Instead of shaming some individuals for their alleged white privilege, we need to promote the dignity and worth of all students, regardless of their race or gender. This doesn't mean we ignore obvious differences, but rather that we accept people in spite of those differences. That is the real meaning of inclusion. Esteemed civil rights leader Martin Luther King Jr. said it best when he spoke of a time when his "four little children will one day live in a nation where they will not be judged by the colour of their skin, but by the content of their character." We live this vision out in the school setting when we provide the best education that we possibly can to each student. This means ensuring that our reading instruction programs are based on the best scientific evidence available. All students, regardless of their race or gender, need to learn how to read if they want to become successful in the future. Similarly, we must ensure that all students receive the type of math instruction that helps them master the basic skills. For example, learning standard algorithms and memorizing the times table have nothing to do with race or sexuality, but they have everything to do with becoming proficient at math. Numbers are numbers, regardless of your race or gender identity. If we want to empower students from disadvantaged backgrounds, then we need to stop assuming that identity is a predictor of outcome. All students can learn, whether they come from a privileged background or not. Our job as teachers is to make this happen. Views expressed in this article are the opinions of the author and do not necessarily reflect the views of The Epoch Times. Follow Michael Zwaagstra is a public high school teacher, a senior fellow with the Frontier Centre for Public Policy, a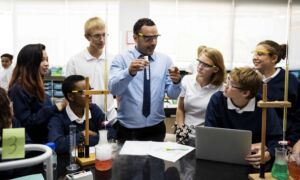 All students can learn. This should be a basic maxim for every teacher.
The last thing any good teacher does is write students off before giving them a fair opportunity to learn. All students, regardless of their race, gender, sexual orientation, or religion, deserve a quality education.
Obviously, students do not all come from the same place. Teachers know they need to ensure that students from disadvantaged backgrounds do not fall through the cracks. Among other things, this often means providing nutritious breakfasts and lunches to ensuring that academically weak students receive additional learning supports—the support they deserve to succeed.
None of this is new. Taking students' unique circumstances into account has always been a hallmark of good teaching.
However, one thing that is new is the present-day obsession with identity politics. Instead of looking at each student as a unique individual with potential, assumptions are made about students based on their racial and/or gender identities. This leads to the perpetuation of misleading stereotypes and the creation of self-fulfilling prophecies.
For example, the director of education for the Waterloo Region District School Board recently published an op-ed defending the district's emphasis on "ensuring that students' identities, abilities and lived experiences are fully embraced and honoured." He also stated that it's no secret that identity is a predictor of outcomes.
The director is no doubt sincere in his desire to help students, but his diagnosis and prescription are faulty. They stem from the classic error of pushing for equality of outcome rather than equality of opportunity.
The reality is that students are unique individuals, and this uniqueness extends far beyond their "membership" in any particular group. Lumping students together based on their race or gender and targeting educational programming at their assumed identities ignores the fact that students do not always fit within these neat and tidy groups.
However, this doesn't mean we ignore racism in Canada. The negative effects of the Chinese Head Tax, Japanese internment camps during World War II, and residential schools continue to this day. We cannot deny that our political leaders made major mistakes in the past and students must learn about these things during their education.
In addition, while it is now socially unacceptable to openly share racist views and jokes, racism still exists in some circles. We need to be mindful about our words and we need to be careful not to make negative assumptions about other people just because they are different. Few things are more hurtful than being stereotyped based on your race or gender.
This is why identity politics is so damaging to the fight against bigotry and racism. At its core, programs aimed at correcting the racist views of students often assume that certain students are privileged and/or have an unconscious racial bias. Of course, this is itself a stereotype, and one that is hurtful to some students. Everyone's life story is different and making sweeping statements about a student based solely on his or her race is far from helpful.
Instead of shaming some individuals for their alleged white privilege, we need to promote the dignity and worth of all students, regardless of their race or gender. This doesn't mean we ignore obvious differences, but rather that we accept people in spite of those differences. That is the real meaning of inclusion.
Esteemed civil rights leader Martin Luther King Jr. said it best when he spoke of a time when his "four little children will one day live in a nation where they will not be judged by the colour of their skin, but by the content of their character."
We live this vision out in the school setting when we provide the best education that we possibly can to each student. This means ensuring that our reading instruction programs are based on the best scientific evidence available. All students, regardless of their race or gender, need to learn how to read if they want to become successful in the future.
Similarly, we must ensure that all students receive the type of math instruction that helps them master the basic skills. For example, learning standard algorithms and memorizing the times table have nothing to do with race or sexuality, but they have everything to do with becoming proficient at math. Numbers are numbers, regardless of your race or gender identity.
If we want to empower students from disadvantaged backgrounds, then we need to stop assuming that identity is a predictor of outcome. All students can learn, whether they come from a privileged background or not. Our job as teachers is to make this happen.
Views expressed in this article are the opinions of the author and do not necessarily reflect the views of The Epoch Times.