Mendicino: Canada Should Be 'Thoughtful and Inclusive' About Creating Foreign Agent Registry
Amid requests by opposition MPs for a foreign agent registry in the face of increased espionage and influence activities by Beijing, Public Safety Minister Marco Mendicino said Canada should be "thoughtful and inclusive" when it comes to creating such a registry. "We need agencies to be inclusive, diverse, culturally sensitive," Mendicino told the House of Commons Committee on the Canada–People's Republic of China Relationship on Feb. 6. Mendicino's remarks come amid heightened attention to China's espionage and influence activities after authorities shot down a high-altitude Chinese surveillance balloon flying over American and Canadian airspace on Feb. 4. Mendicino was asked whether he is hesitant about creating a foreign influence registry when allied countries like the United States have long had such measures in place. "I wouldn't describe it as hesitation," he said. "I think we need to be diligent and thoughtful and inclusive when it comes to bringing all Canadians along in the modernization of the tools and the arsenal that we create for our national security and intelligence communities." A foreign agent registry would require an individual or an entity working for a foreign authority to register with the government. A registry would make such operations more transparent, and failure to comply would likely result in fines or even imprisonment. The minister said there is a need to consider the "historical context" of interactions between "some communities within this country and their relationship with agencies and the law enforcement community." He didn't specify which communities he was referring to. He went on to say that a foreign agent registry could be one of the tools for the government to deal with foreign threats, but discouraged the idea that any one of those tools would work alone. "While there is attention to looking at each of the examples of the tools which we may consult on—including the foreign agent registry—I would discourage the members of this committee from quickly concluding that any one of these in isolation will work by itself," Mendicino said. In February 2021, the federal government said that it was "actively considering" the creation of a foreign agent registry. Nearly two years later in December 2022, Mendicino announced that Ottawa was preparing to consult the public on the possible creation of such registry. A survey released on the heels of the announcement showed that 90 percent of Canadians are in favour of having this mechanism installed to make operations of foreign agents more transparent, as the public grows increasing concerned about interference by China, Russia, and other authoritarian states. At the Feb. 6 committee meeting, MPs also heard testimony from CSIS Director David Vigneault that a foreign agent registry would help with identifying alleged threats from China. "Those individuals would have to publicly state their affiliation and that would help with transparency. And it would help to bring people out of the shadows—those who are trying to interfere—it would be more difficult for them to get their hands on resources and to engage in this interference," Vigneault said. "So yes, it would help to prevent interference in foreign elections." Secret Chinese Police Stations The committee meeting focused on recent media reports about several secret Chinese police stations that are allegedly operating in the Greater Toronto Area and in Vancouver, while over 100 such outposts have also been established in some 50 countries around the world, according to reports published by Spain-based NGO Safeguard Defenders. The issue raised particular concerns as the NGO has reported that some of those Chinese police stations have engaged in forced repatriation of Chinese nationals, including regular citizens. Based on accounts published by Chinese authorities and state media run by Chinese Communist Party, Safeguard Defenders said that the police service stations have supported a national campaign for fighting telecommunication crimes conducted by Chinese nationals living abroad. The Chinese authorities have touted the campaign's success in "persuading" around 230,000 individuals to return to China between April 2021 and July 2022. Brigitte Gauvin, RCMP acting director for federal policing and national security, also confirmed Canadians' concerns regarding these Chinese secret police stations. "This is concerning for several reasons. These alleged police stations may contribute to the involuntary return of individuals to China. Also, families living in both China and Canada may become the target of harassment, intimidation, or experience other negative consequences," she said while also testifying at the House committee on Feb. 6. Mendicino, however, testified that he doesn't remember whether he had learned about these Chinese police stations before the media reports came out. "When did you become aware of the so-called foreign police stations here in Can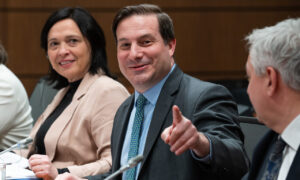 Amid requests by opposition MPs for a foreign agent registry in the face of increased espionage and influence activities by Beijing, Public Safety Minister Marco Mendicino said Canada should be "thoughtful and inclusive" when it comes to creating such a registry.
"We need agencies to be inclusive, diverse, culturally sensitive," Mendicino told the House of Commons Committee on the Canada–People's Republic of China Relationship on Feb. 6.
Mendicino's remarks come amid heightened attention to China's espionage and influence activities after authorities shot down a high-altitude Chinese surveillance balloon flying over American and Canadian airspace on Feb. 4.
Mendicino was asked whether he is hesitant about creating a foreign influence registry when allied countries like the United States have long had such measures in place.
"I wouldn't describe it as hesitation," he said.
"I think we need to be diligent and thoughtful and inclusive when it comes to bringing all Canadians along in the modernization of the tools and the arsenal that we create for our national security and intelligence communities."
A foreign agent registry would require an individual or an entity working for a foreign authority to register with the government. A registry would make such operations more transparent, and failure to comply would likely result in fines or even imprisonment.
The minister said there is a need to consider the "historical context" of interactions between "some communities within this country and their relationship with agencies and the law enforcement community." He didn't specify which communities he was referring to.
He went on to say that a foreign agent registry could be one of the tools for the government to deal with foreign threats, but discouraged the idea that any one of those tools would work alone.
"While there is attention to looking at each of the examples of the tools which we may consult on—including the foreign agent registry—I would discourage the members of this committee from quickly concluding that any one of these in isolation will work by itself," Mendicino said.
In February 2021, the federal government said that it was "actively considering" the creation of a foreign agent registry. Nearly two years later in December 2022, Mendicino announced that Ottawa was preparing to consult the public on the possible creation of such registry.
A survey released on the heels of the announcement showed that 90 percent of Canadians are in favour of having this mechanism installed to make operations of foreign agents more transparent, as the public grows increasing concerned about interference by China, Russia, and other authoritarian states.
At the Feb. 6 committee meeting, MPs also heard testimony from CSIS Director David Vigneault that a foreign agent registry would help with identifying alleged threats from China.
"Those individuals would have to publicly state their affiliation and that would help with transparency. And it would help to bring people out of the shadows—those who are trying to interfere—it would be more difficult for them to get their hands on resources and to engage in this interference," Vigneault said.
"So yes, it would help to prevent interference in foreign elections."
Secret Chinese Police Stations
The committee meeting focused on recent media reports about several secret Chinese police stations that are allegedly operating in the Greater Toronto Area and in Vancouver, while over 100 such outposts have also been established in some 50 countries around the world, according to reports published by Spain-based NGO Safeguard Defenders.
The issue raised particular concerns as the NGO has reported that some of those Chinese police stations have engaged in forced repatriation of Chinese nationals, including regular citizens. Based on accounts published by Chinese authorities and state media run by Chinese Communist Party, Safeguard Defenders said that the police service stations have supported a national campaign for fighting telecommunication crimes conducted by Chinese nationals living abroad. The Chinese authorities have touted the campaign's success in "persuading" around 230,000 individuals to return to China between April 2021 and July 2022.
Brigitte Gauvin, RCMP acting director for federal policing and national security, also confirmed Canadians' concerns regarding these Chinese secret police stations.
"This is concerning for several reasons. These alleged police stations may contribute to the involuntary return of individuals to China. Also, families living in both China and Canada may become the target of harassment, intimidation, or experience other negative consequences," she said while also testifying at the House committee on Feb. 6.
Mendicino, however, testified that he doesn't remember whether he had learned about these Chinese police stations before the media reports came out.
"When did you become aware of the so-called foreign police stations here in Canada? " asked Conservative MP Garnett Genuis.
"With regards to police stations, I would say to you that was certainly within the last year," Mendicino replied.
"Did you become aware of it before or after it was reported in the media or at the same time?" Genuis asked.
"I don't remember when they first became public report," the minister said.
The Feb. 6 committee also touched on other accusations of communist China's espionage and interference activities in Canada, including a Hydro-Québec employee who became the first person in Canada to be charged with economic espionage under the Security of Information Act for sending trade secrets to China.
Mendicino was also grilled on recent reports of a Chinese surveillance balloon that drifted across Canadian and U.S. airspace.