'Malign Behaviour': Australian Navy Divers Injured by Sonar From Chinese Destroyer
'This is incredibly risky, inappropriate behaviour, and frankly, not the act of a friend,' said Shadow Home Affairs Minister.Australian Defence Minister Richard Marles has condemned the behaviour of a Chinese destroyer after it turned on a sonar device near an Australian ship, causing injuries to Australian Navy divers.In a statement, Mr. Marles criticised the Chinese vessel for its "unsafe and unprofessional conduct" and said the Australian government has expressed "serious concerns" to the Chinese regime regarding the event.On Nov. 14, divers of the Navy's HMAS Toowoomba were clearing fishing nets that had become entangled around the ship in international waters inside of Japan's exclusive economic zone.While divers were under the waters, a Chinese destroyer (DDG-139) operating nearby moved closer to the Australian vessel, which responded by requesting that the Chinese ship keep clear and informing that diving operations were underway."At all times, HMAS Toowoomba communicated its intention to conduct diving operations on normal maritime channels, and using internationally recognised signals," Mr. Marles said.Despite acknowledging the Australian vessel's communications, the Chinese destroyer approached at a closer range and then turned on its hull-mounted sonar, forcing Australian divers to exit the water due to safety risks.Related StoriesMedical professionals later concluded that the divers had sustained minor injuries, likely due to being exposed to the sonar pulses from the Chinese warship.The defence minister said that Australia "expects all countries, including China, to operate their militaries in a professional and safe manner.""The safety and wellbeing of our ADF personnel is our utmost priority," he said.Mr. Marles added that for decades, Defence has undertaken maritime surveillance activities in the region in accordance with international law regarding the right to freedom of navigation and overflight in international waters and airspace.A destroyer is a fast and long-endurance warship intended to escort larger vessels in a fleet or convoy and defend them against a wide range of general threats. The Danger Of Sonar Exposure Sonar, which stands for Sound Navigation and Ranging, is a device used to locate objects underwater using high-frequency sound waves.Developed in World War I, sonar can be used to develop nautical charts, measure distance, locate icebergs, search for shipwrecks, and map the seafloor.An active sonar device emits an acoustic pulse or signal into the water, which can create pressure waves compatible with those from an exploding mine.Exposure to sonar vibrations at 200 decibels can cause the lung to rupture for those with high blood pressure, while vibrations at 210 decibels can cause brain hemorrhage.Other potential health risks of being exposed to high-intensity sonar include hearing loss, blood pressure, and motion sickness.Marine biologists have also criticised the impact of sonar on submarine wildlife, such as causing dolphins and whales to become disoriented, leading to death by stranding. Government Criticised For Not Being 'Upfront' The defence minister unveiled the interaction between the Australian and Chinese vessels on Nov. 18, four days after the event took place, leading to criticism from the opposition that the Australian government wasn't "upfront" with the public.The announcement came one day after Australian Prime Minister Anthony Albanese met with Chinese Communist Party leader Xi Jinping at the APEC summit in San Francisco."Now this apparently happened on Tuesday, but the government has waited until today to tell us after the Prime Minister has jumped back on the plane in San Francisco back to Australia from APEC," Shadow Home Affairs Minister James Paterson told a press conference in Melbourne on Nov. 18Mr. Paterson described the Chinese vessel's conduct as a "provocative," "dangerous," and "particularly malign behaviour" that "must be robustly taken up with the Chinese side.""The question really is, did the prime minister use the opportunity of his time with Xi Jinping in San Francisco to raise this issue with him? And what other steps will the government take to deter this malign behaviour and make sure that it never happens again?" he said.Mr. Paterson added that since the prime minister went overseas to "stand up for Australia and stand up for our interests," there could be "nothing more important than him raising this directly with Xi Jinping.""This is incredibly risky, inappropriate behaviour, and frankly, not the act of a friend. They were apparently warned that there were Australian Navy divers in the water." Previous Interactions This was not the first conflict that broke out between the Australian and the Chinese regime's navy.In February 2022, the Australian government criticised Beijing for "an act of intimidation" after a Chinese warship pointed a laser at a Royal Australian military aircraft, an action the Australian Defence Force (ADF) s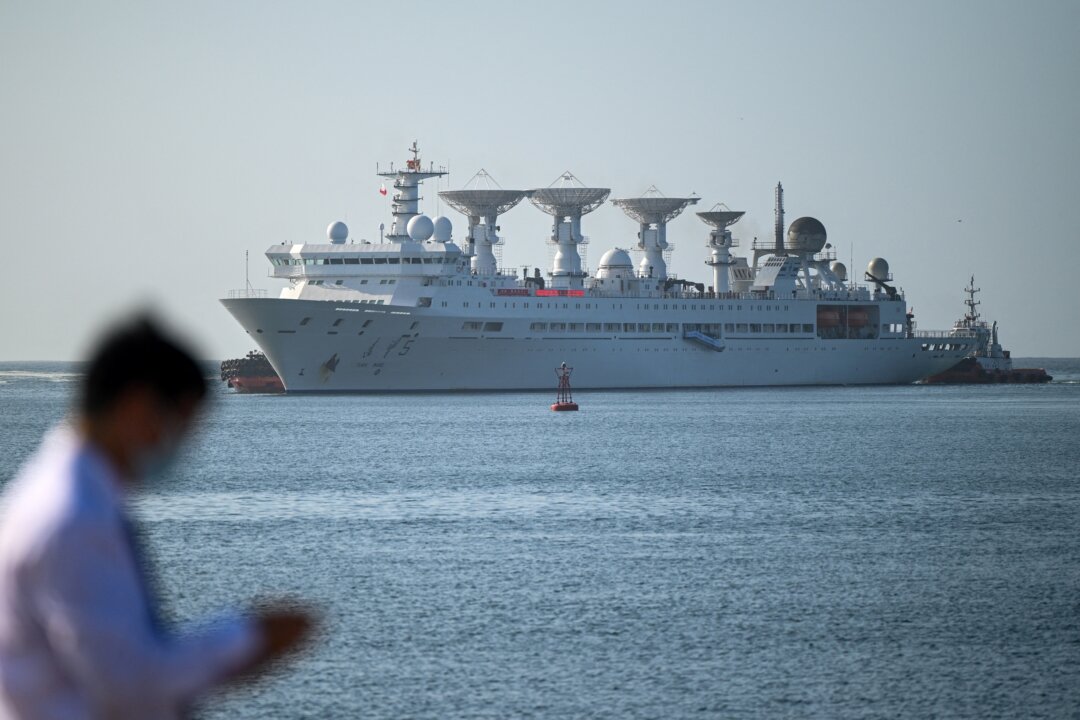 .
'This is incredibly risky, inappropriate behaviour, and frankly, not the act of a friend,' said Shadow Home Affairs Minister.
Australian Defence Minister Richard Marles has condemned the behaviour of a Chinese destroyer after it turned on a sonar device near an Australian ship, causing injuries to Australian Navy divers.
In a statement, Mr. Marles criticised the Chinese vessel for its "unsafe and unprofessional conduct" and said the Australian government has expressed "serious concerns" to the Chinese regime regarding the event.
On Nov. 14, divers of the Navy's HMAS Toowoomba were clearing fishing nets that had become entangled around the ship in international waters inside of Japan's exclusive economic zone.
While divers were under the waters, a Chinese destroyer (DDG-139) operating nearby moved closer to the Australian vessel, which responded by requesting that the Chinese ship keep clear and informing that diving operations were underway.
"At all times, HMAS Toowoomba communicated its intention to conduct diving operations on normal maritime channels, and using internationally recognised signals," Mr. Marles said.
Despite acknowledging the Australian vessel's communications, the Chinese destroyer approached at a closer range and then turned on its hull-mounted sonar, forcing Australian divers to exit the water due to safety risks.
Medical professionals later concluded that the divers had sustained minor injuries, likely due to being exposed to the sonar pulses from the Chinese warship.
The defence minister said that Australia "expects all countries, including China, to operate their militaries in a professional and safe manner."
"The safety and wellbeing of our ADF personnel is our utmost priority," he said.
Mr. Marles added that for decades, Defence has undertaken maritime surveillance activities in the region in accordance with international law regarding the right to freedom of navigation and overflight in international waters and airspace.
A destroyer is a fast and long-endurance warship intended to escort larger vessels in a fleet or convoy and defend them against a wide range of general threats.
.
The Danger Of Sonar Exposure
Sonar, which stands for Sound Navigation and Ranging, is a device used to locate objects underwater using high-frequency sound waves.
Developed in World War I, sonar can be used to develop nautical charts, measure distance, locate icebergs, search for shipwrecks, and map the seafloor.
An active sonar device emits an acoustic pulse or signal into the water, which can create pressure waves compatible with those from an exploding mine.
Exposure to sonar vibrations at 200 decibels can cause the lung to rupture for those with high blood pressure, while vibrations at 210 decibels can cause brain hemorrhage.
Other potential health risks of being exposed to high-intensity sonar include hearing loss, blood pressure, and motion sickness.
Marine biologists have also criticised the impact of sonar on submarine wildlife, such as causing dolphins and whales to become disoriented, leading to death by stranding.
.
Government Criticised For Not Being 'Upfront'
The defence minister unveiled the interaction between the Australian and Chinese vessels on Nov. 18, four days after the event took place, leading to criticism from the opposition that the Australian government wasn't "upfront" with the public.
The announcement came one day after Australian Prime Minister Anthony Albanese met with Chinese Communist Party leader Xi Jinping at the APEC summit in San Francisco.
"Now this apparently happened on Tuesday, but the government has waited until today to tell us after the Prime Minister has jumped back on the plane in San Francisco back to Australia from APEC," Shadow Home Affairs Minister James Paterson told a press conference in Melbourne on Nov. 18
Mr. Paterson described the Chinese vessel's conduct as a "provocative," "dangerous," and "particularly malign behaviour" that "must be robustly taken up with the Chinese side."
"The question really is, did the prime minister use the opportunity of his time with Xi Jinping in San Francisco to raise this issue with him? And what other steps will the government take to deter this malign behaviour and make sure that it never happens again?" he said.
Mr. Paterson added that since the prime minister went overseas to "stand up for Australia and stand up for our interests," there could be "nothing more important than him raising this directly with Xi Jinping."
"This is incredibly risky, inappropriate behaviour, and frankly, not the act of a friend. They were apparently warned that there were Australian Navy divers in the water."
.
Previous Interactions
This was not the first conflict that broke out between the Australian and the Chinese regime's navy.
In February 2022, the Australian government criticised Beijing for "an act of intimidation" after a Chinese warship pointed a laser at a Royal Australian military aircraft, an action the Australian Defence Force (ADF) said had put the lives of ADF personnel in danger.
The attack took place as an Australian aircraft was monitoring a Chinese navy vessel sailing through the Arafura Sea—inside Australia's exclusive economic zone.
In November 2021, a Chinese spy ship was spotted circling Australia for three weeks collecting intelligence off the east coast. It entered Australia's 200-kilometre exclusive economic zone near Darwin in August and September, hugging the coastline and heading as far south as Sydney before turning towards New Zealand.