Los Angeles Times Distorts Newsom's New Gas Tax
CommentaryNow and then the Los Angeles Times comes out against a tax increase, as with Proposition 30 this year, the added income tax on millionaires. But Gov. Gavin Newsom's proposed new gas tax isn't one of those times. Unfortunately, the L.A. Times is one of the most influential powers in the state. Fortunately, we now have The Epoch Times to counter it. Let's look at the L.A. Times' editorial in favor of Newsom's proposed new gas tax, which the Legislature will take up in January in a special session. It's otherwise called a "windfall profits tax"—or, in Newsom's parlance, a "price gouging penalty" on supposedly excessive profits. As I've written on The Epoch Times, it really is a tax, and it will just be passed on to consumers, as are all taxes on corporations. And if the corporations can't do business paying the tax, they will just leave the state or go broke. The L.A. Times's headline: "Editorial: Big Oil shouldn't be able to fleece Californians while polluting the planet." Notice how they automatically make a moral judgment about you driving your wheezing old gas-powered car, which you can barely afford to operate in expensive California, instead of buying a new Tesla. Or maybe a different electric car now that Elon Musk is being demonized for restoring free speech to Twitter. The L.A. Times: Gov. Gavin Newsom's proposal to penalize excessive oil refinery profits is a relatively straightforward effort to prevent price gouging that reached new heights this year as gas prices in the state spiked to more than $6.40 a gallon. While Californians paid $2.60 a gallon more than the average American motorist to fill their tanks, companies such as Chevron, Valero and Phillips 66 raked in billions in record profits. But nowhere do they say these companies lost record amounts during the spring of 2020, when the COVID-19 lockdowns cut the price of oil to $0 per barrel. Would the L.A. Times survive if subscribers and advertisers paid $0 for its services? Then another moral judgment: It's bad enough that oil companies peddle a product that pollutes the air and heats the planet while using their money and influence to block climate action. They shouldn't be allowed to fleece Californians while they do it. Is the L.A. Times going to buy me a new electric car, and the charging station for my apartment complex, which doesn't have any? No. Moreover, it's this "product," carbon-based energy, that since the late 19th century has fueled almost all the progress the world enjoys. This product—fossil-fuel based fertilizers and a carbon-based global transportation system—made possible the end of starvation and the growth of populous cities where most people live. End carbon-energy use, and at least half the global population would starve and freeze to death. The L.A. Times: The details of Newsom's proposal are still being worked out, but it's essentially a cap on excessive oil refinery profits. If a refiner's profit margin per gallon of gasoline exceeds a yet-to-be-determined threshold, the state would issue a penalty, claw back a percentage of those profits and return it to California consumers. This is a fantasy greater than the latest Hollywood superhero flick. Notice there are no details we can check. It's all speculative, "yet-to-be-determined." The use of "claw back" is ridiculous, because the profits weren't the state's to begin with. They're private property. And how would the "profits" be returned to Californians? The recent minuscule return of the state's now-vanished surpluses devolved into a contentious mess in the Legislature, with a small amount trickled back to Californians. The L.A. Times: It's good to see the governor put his political muscle behind curbing oil companies' greed and give it prominence by convening a special legislative session this week. It's really a political stunt in Newsom's quest for the Oval Office. And talk of "greed" like this is just socialism. Does the L.A. Times think its owner, Patrick Soon-Shiong, currently worth $9.49 billion, greedily ripped off the customers of his several businesses? Should he have a "price-gouging penalty" imposed on his "excess profits"? The L.A. Times: Now is a crucial time to rein in this industry. As the state advances a zero-emissions vehicle mandate and a suite of other measures that are expected to reduce petroleum consumption by more than 90% over the next two decades, oil companies will seek to squeeze as much profit from Californians for as long as they can. And in an atmosphere of dwindling demand for their product, you can expect them to keep blaming the state's climate policies for the high prices, even though they are only partly responsible. At least they admit the state politicians themselves have some responsibility for the high gas prices. In fact, the politicians, the special-interest groups, and the L.A. Times itself bear all the blame for the approximately $2 to $2.50 more per gallon Californians pay above the national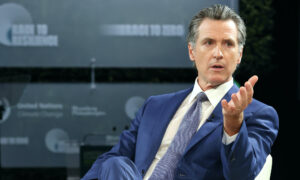 Commentary
Now and then the Los Angeles Times comes out against a tax increase, as with Proposition 30 this year, the added income tax on millionaires. But Gov. Gavin Newsom's proposed new gas tax isn't one of those times. Unfortunately, the L.A. Times is one of the most influential powers in the state. Fortunately, we now have The Epoch Times to counter it.
Let's look at the L.A. Times' editorial in favor of Newsom's proposed new gas tax, which the Legislature will take up in January in a special session. It's otherwise called a "windfall profits tax"—or, in Newsom's parlance, a "price gouging penalty" on supposedly excessive profits.
As I've written on The Epoch Times, it really is a tax, and it will just be passed on to consumers, as are all taxes on corporations. And if the corporations can't do business paying the tax, they will just leave the state or go broke.
The L.A. Times's headline: "Editorial: Big Oil shouldn't be able to fleece Californians while polluting the planet."
Notice how they automatically make a moral judgment about you driving your wheezing old gas-powered car, which you can barely afford to operate in expensive California, instead of buying a new Tesla. Or maybe a different electric car now that Elon Musk is being demonized for restoring free speech to Twitter.
The L.A. Times:
Gov. Gavin Newsom's proposal to penalize excessive oil refinery profits is a relatively straightforward effort to prevent price gouging that reached new heights this year as gas prices in the state spiked to more than $6.40 a gallon. While Californians paid $2.60 a gallon more than the average American motorist to fill their tanks, companies such as Chevron, Valero and Phillips 66 raked in billions in record profits.
But nowhere do they say these companies lost record amounts during the spring of 2020, when the COVID-19 lockdowns cut the price of oil to $0 per barrel. Would the L.A. Times survive if subscribers and advertisers paid $0 for its services?
Then another moral judgment:
It's bad enough that oil companies peddle a product that pollutes the air and heats the planet while using their money and influence to block climate action. They shouldn't be allowed to fleece Californians while they do it.
Is the L.A. Times going to buy me a new electric car, and the charging station for my apartment complex, which doesn't have any? No. Moreover, it's this "product," carbon-based energy, that since the late 19th century has fueled almost all the progress the world enjoys. This product—fossil-fuel based fertilizers and a carbon-based global transportation system—made possible the end of starvation and the growth of populous cities where most people live. End carbon-energy use, and at least half the global population would starve and freeze to death.
The L.A. Times:
The details of Newsom's proposal are still being worked out, but it's essentially a cap on excessive oil refinery profits. If a refiner's profit margin per gallon of gasoline exceeds a yet-to-be-determined threshold, the state would issue a penalty, claw back a percentage of those profits and return it to California consumers.
This is a fantasy greater than the latest Hollywood superhero flick. Notice there are no details we can check. It's all speculative, "yet-to-be-determined." The use of "claw back" is ridiculous, because the profits weren't the state's to begin with. They're private property. And how would the "profits" be returned to Californians? The recent minuscule return of the state's now-vanished surpluses devolved into a contentious mess in the Legislature, with a small amount trickled back to Californians.
The L.A. Times:
It's good to see the governor put his political muscle behind curbing oil companies' greed and give it prominence by convening a special legislative session this week.
It's really a political stunt in Newsom's quest for the Oval Office. And talk of "greed" like this is just socialism. Does the L.A. Times think its owner, Patrick Soon-Shiong, currently worth $9.49 billion, greedily ripped off the customers of his several businesses? Should he have a "price-gouging penalty" imposed on his "excess profits"?
The L.A. Times:
Now is a crucial time to rein in this industry. As the state advances a zero-emissions vehicle mandate and a suite of other measures that are expected to reduce petroleum consumption by more than 90% over the next two decades, oil companies will seek to squeeze as much profit from Californians for as long as they can. And in an atmosphere of dwindling demand for their product, you can expect them to keep blaming the state's climate policies for the high prices, even though they are only partly responsible.
At least they admit the state politicians themselves have some responsibility for the high gas prices. In fact, the politicians, the special-interest groups, and the L.A. Times itself bear all the blame for the approximately $2 to $2.50 more per gallon Californians pay above the national average.
And the oil companies are seeking profits, just like any company, including those of Patrick Soon-Shiong, because that's what companies do. Profits are a signal that people like a company's product and should make more of it. When there's no profit, the company stops making it. Then if the product is essential, as oil is, the only alternative is the government takes over the production, which is called socialism. And which well may happen if all the oil companies are pushed out of California.
The L.A. Times quotes Jamie Court, president of Consumer Watchdog, a leftist group that pushed for the Newsom gas tax. He said, "If you want to achieve your climate goals, you need to have a price-gouging penalty to prevent the oil companies from weaponizing gas prices." Again more moralizing. What overheated socialist rhetoric: "climate goals … price-gouging penalty … weaponizing."
The L.A. Times:
The petroleum industry and other business interests have already begun fighting the anti-price-gouging proposal, calling it "Gavin's New Gas Tax" and suggesting it would lead to higher prices at the pump.

But if structured right, it should do the opposite.

Severin Borenstein, an energy economist at UC Berkeley's Haas School of Business, said the anti-gouging policy needs to be crafted carefully to claw back excess oil profits without disrupting the market by reducing supply.

Well, it really is Gavin's New Gas Tax, which is why I'm using that phrase. Because I don't want to pay it myself.
As to an "anti-gouging policy… crafted carefully to claw back"—there's that ludicrous phrase again—"excess oil profits," etc. Well, have Borenstein and the L.A. Times editorialists ever observed the California Legislature do craft anything "carefully"? I suggest they go to Sacramento and get a legislator to let them onto the Senate or Assembly floor and watch what's going on. Every year, the Legislature enacts around 700 to 1,000 laws, most signed by the governor, and almost all badly written and unneeded. As this bill will be if it becomes law, in whatever form.
A real newspaperman, Gideon John Tucker, aptly wrote in the 19th Century: "No man's life, liberty or property are safe while the Legislature is in session."
The L.A. Times is right about one thing. Newsom's New Gas Tax would reduce greenhouse gas production in the state. Because prices would go up, people would drive less—and millions more would be pushed to drive clear out of the state to someplace they can afford to live.
Views expressed in this article are the opinions of the author and do not necessarily reflect the views of The Epoch Times.