Lockdown Almost Killed Me—That Makes Me One of the Lucky Ones
Commentary I've been writing critical articles on COVID policies ever since the virus came to the West. I think I was the first to suggest China should foot the bill—instead, it charged the world for its masks and potentially toxic testing kits. In September 2022, the Center for Strategic and International Studies reported that "more than 99 percent of China's exports of personal protective equipment (PPE) in 2020 were sold, not donated, and about 96 percent of its vaccine exports were likewise sold," while insisting that "recipient countries provide public displays of gratitude" to China. The West eagerly hyped up the virus's dangers when the average age of fatalities was around 81 years and could be higher, with 96 percent of those having other co-morbidities. The World Health Organization kept flights from China running while advocating its brutal lockdown policy, and everyone pushed the speedy roll-out of the experimental vaccines, for all ages. But then I, too, got caught up in that terrible story. No, I didn't get COVID, despite having my immune system impaired, and I certainly didn't take the jab. I just got cancer during lockdown. I now feel a duty to highlight the lockdown atrocities committed against millions around the world—for those who died and for those who have no means to share their own stories of how they became the victims of the brutal policy conceived by the Chinese Communist Party and adopted, almost in lockstep, by other governments. Dancing With the Grim Reaper In November 2020, I was about to take the last Eurostar train to Paris before France went into its own lockdown when a kidney stone made its painful presence known and I found myself in a hospital instead. Thankfully, by the end of the day it had gone, and so had I, but not before having a scan to see if it had left any friends behind. About a week later, I got the call that everyone dreads to say that the scan had instead revealed a tumor in my pancreas. I was assured that, because it was still so small, removing it would be no problem. One consultant said it was "the luckiest kidney stone anyone ever had," while the doctor who carried out a biopsy called it "a blessing in disguise." Surgery was set for Jan. 12, 2021, but was then canceled after it was decided the pandemic was so bad that other operations would have to be stopped. It was explained to me that the hospital could not guarantee there would be an intensive care bed available after I had been operated on. The very day that my procedure should have happened, the House of Commons issued a spurious report (pdf) by a committee headed up by the former health secretary and now finance minister, Jeremy Hunt MP, stating that "total cancer treatments are now back at or above the levels seen in 2019." Will his forthcoming economic stability plan be any more believable? I was told that the same surgeons could operate on me if I went to a private hospital just two miles down the road at a cost of around $30,000. I guess COVID hadn't reached that far. Were private hospitals still open so that the elites had somewhere to go? Given the high fatality rate of pancreatic cancer, I seriously considered taking that expensive option. Then I was phoned by a senior consultant to say they were having wonderful results from people who had chemotherapy prior to their operations. He was sure that, once the three-month course would be over, they would be operating again. I foolishly believed him—imagine believing a doctor? Just as I finished the course of full-strength chemo, the government issued the following direction (pdf) to National Health Service (NHS) hospitals: "Postpone all non-urgent elective operations from April 15 at the latest. … Emergency admissions, cancer treatment and other clinically urgent care should continue unaffected." Was this further evidence that the government was operating in a parallel universe, or had individual hospitals refused care for the three previous months prior to that missive being circulated on a unilateral basis? It actually turned out to be a six-month wait before I would get my operation. Another scan I had pre-surgery showed the tumor had grown, so they decided to remove half my pancreas. This was the "wonderful result" the senior consultant had recommended—and it would get worse. After my eventual ten-hour operation, I was awoken the next day by a very distressed Spanish surgeon with his hand on my arm saying, "I am sorry, Mr. Davies—we discovered the tumor was so big that most hospitals would not have operated on it, but we did. Unfortunately, as well as the tumor, we had to remove your entire pancreas, spleen, and part of your liver." As he walked out of the room carrying this heavy burden, I felt so sorry for him that I summoned up all the energy I had to say, "God bless you." After all, I was going to live because of him. Later, I got a note from the hospital to say that my spleen had been perfectly normal, so I guess he re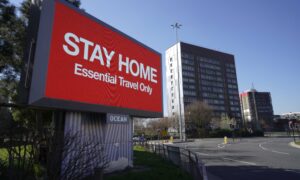 I've been writing critical articles on COVID policies ever since the virus came to the West. I think I was the first to suggest China should foot the bill—instead, it charged the world for its masks and potentially toxic testing kits.
In September 2022, the Center for Strategic and International Studies reported that "more than 99 percent of China's exports of personal protective equipment (PPE) in 2020 were sold, not donated, and about 96 percent of its vaccine exports were likewise sold," while insisting that "recipient countries provide public displays of gratitude" to China.
The West eagerly hyped up the virus's dangers when the average age of fatalities was around 81 years and could be higher, with 96 percent of those having other co-morbidities. The World Health Organization kept flights from China running while advocating its brutal lockdown policy, and everyone pushed the speedy roll-out of the experimental vaccines, for all ages.
But then I, too, got caught up in that terrible story. No, I didn't get COVID, despite having my immune system impaired, and I certainly didn't take the jab. I just got cancer during lockdown.
I now feel a duty to highlight the lockdown atrocities committed against millions around the world—for those who died and for those who have no means to share their own stories of how they became the victims of the brutal policy conceived by the Chinese Communist Party and adopted, almost in lockstep, by other governments.
Dancing With the Grim Reaper
In November 2020, I was about to take the last Eurostar train to Paris before France went into its own lockdown when a kidney stone made its painful presence known and I found myself in a hospital instead. Thankfully, by the end of the day it had gone, and so had I, but not before having a scan to see if it had left any friends behind.
About a week later, I got the call that everyone dreads to say that the scan had instead revealed a tumor in my pancreas. I was assured that, because it was still so small, removing it would be no problem. One consultant said it was "the luckiest kidney stone anyone ever had," while the doctor who carried out a biopsy called it "a blessing in disguise."
Surgery was set for Jan. 12, 2021, but was then canceled after it was decided the pandemic was so bad that other operations would have to be stopped. It was explained to me that the hospital could not guarantee there would be an intensive care bed available after I had been operated on.
The very day that my procedure should have happened, the House of Commons issued a spurious report (pdf) by a committee headed up by the former health secretary and now finance minister, Jeremy Hunt MP, stating that "total cancer treatments are now back at or above the levels seen in 2019." Will his forthcoming economic stability plan be any more believable?
I was told that the same surgeons could operate on me if I went to a private hospital just two miles down the road at a cost of around $30,000. I guess COVID hadn't reached that far. Were private hospitals still open so that the elites had somewhere to go?
Given the high fatality rate of pancreatic cancer, I seriously considered taking that expensive option. Then I was phoned by a senior consultant to say they were having wonderful results from people who had chemotherapy prior to their operations. He was sure that, once the three-month course would be over, they would be operating again. I foolishly believed him—imagine believing a doctor?
Just as I finished the course of full-strength chemo, the government issued the following direction (pdf) to National Health Service (NHS) hospitals: "Postpone all non-urgent elective operations from April 15 at the latest. … Emergency admissions, cancer treatment and other clinically urgent care should continue unaffected."
Was this further evidence that the government was operating in a parallel universe, or had individual hospitals refused care for the three previous months prior to that missive being circulated on a unilateral basis?
It actually turned out to be a six-month wait before I would get my operation. Another scan I had pre-surgery showed the tumor had grown, so they decided to remove half my pancreas. This was the "wonderful result" the senior consultant had recommended—and it would get worse.
After my eventual ten-hour operation, I was awoken the next day by a very distressed Spanish surgeon with his hand on my arm saying, "I am sorry, Mr. Davies—we discovered the tumor was so big that most hospitals would not have operated on it, but we did. Unfortunately, as well as the tumor, we had to remove your entire pancreas, spleen, and part of your liver."
As he walked out of the room carrying this heavy burden, I felt so sorry for him that I summoned up all the energy I had to say, "God bless you." After all, I was going to live because of him. Later, I got a note from the hospital to say that my spleen had been perfectly normal, so I guess he removed it just in case.
After two weeks, I was back home with my family. Apart from becoming a Type 1 diabetic and not being able to absorb food without swallowing up to six capsules of pig's enzymes, life is as normal as it can be.
For how long, I have no idea—so far, it's been 15 months of saying thank you to God and my wife for her care and her herbal remedies.
Lockdowns: A Crime Against Humanity
Countless numbers of people have already died, and more will do so, leaving their loved ones to grieve needlessly, while many others suffer the consequences of having their treatment deferred due to the arbitrary lockdown mandate.
Two months after my operation was canceled, an article appeared in The Guardian titled, "Surgeons fear wave of lawsuits over delays to cancer patients." Yet I have been told by a leading claims lawyer that no compensation has so far been paid in the UK.
Most victims are too afraid they will lose and that court costs will be awarded against them. Law firms that normally offer a no-win-no-fee service can't get insurance to do so for that same reason, so don't take the cases on.
This summer I sent a Freedom of Information (FOI) request to the hospital where I was treated to find out just how many intensive care beds were empty on a week-by-week basis during the six months that non-COVID patients were refused an operation.
There's a statutory four-week limit to respond to FOI requests in the UK, but it took them six weeks to conjure up a response. They wrote, "It is likely the Trust does hold all of the information you have requested; however, we are withholding it for the following reasons:
"The information requested is not held in a format that allows us to easily access and extract the relevant data. We estimate in order to provide a response it will take well in excess of the limit defined under the FOI Act."
By that they mean more money than the $600 they get from the government, so I wrote back and offered to pay the difference. I am not expecting a reply anytime soon, but why would they store documents in a format they cannot retrieve one year later?
While in hospital, a nurse told me the wards had been quiet for months as they'd had fewer—not more—patients. Emergency "Nightingale hospitals" that were constructed at huge cost by the army were largely empty throughout the lockdowns. Yet it was at least six months before the decision to stop treating seriously ill non-COVID patients was reversed.
Was the NHS following orders, or is it now seeking to cover up vital information on bed usage because it was complicit and potentially liable in the decision not to operate on cancer and other non-COVID patients?
A former judge in the UK Supreme Court, Lord Sumption, has described the enforcement of lockdowns by ministers with minimal parliamentary involvement as constituting "the most significant interference with personal freedom in the history of our country. We have never sought to do such a thing before, even in wartime and even when faced with health crises far more serious than this one."
People should be held accountable for the unnecessary deaths and suffering that resulted due to lockdown restrictions, but we know that's unlikely to happen.
Life has always been cheap under communism. With the West adopting the same practices, it has become cheap here too.
Views expressed in this article are the opinions of the author and do not necessarily reflect the views of The Epoch Times.